State Auditor David Vaudt has been a heck of a surrogate for Iowa Republicans. Dozens of candidates have adopted his rhetoric about Iowa being on the edge of a budget "cliff." His false assertions have been featured in television commercials for Terry Branstad, and he joined the GOP nominee for governor on a so-called "truth in budgeting" tour this summer.
There are a few problems with Vaudt's analysis. Iowa is running a larger than expected surplus, not a deficit. Independent analysts have confirmed our state finances weathered the recession well. Those analysts include all three major bond rating agencies, which have given Iowa the highest possible credit rating.
As the Des Moines Register reports today, however, Vaudt's management decisions may bring down that credit rating despite Iowa's relatively strong fiscal position.
From Jason Clayworth's front-page story:
In a document filed with the state, auditor David Vaudt states that he did not "perform sufficient audit procedures" in completing the state's Comprehensive Annual Financial Report. The report is classified as "qualified," which means the auditor believes it is limited.

Iowa's chief deputy auditor, Warren Jenkins, said that budget cuts forced the limited audit and that legislators had been warned of that possibility.

The report is considered the baseline of financial statements for state and local governments and allows investors to compare states' finances apples to apples. [...]

The "qualified" description of the audit does not mean that the state failed to make a complete audit of the accounts of every department, Jenkins said. Instead, it means that the auditor's office was unable to reconcile the accounts from a cash basis with generally accepted accounting principles, which are used for the Comprehensive Annual Financial Report.

State law requires the auditor to at least annually "make a complete audit of the books and accounts of every department of the state." However, state law does not require the report be submitted without qualifications.
I encourage you to click through and read the whole Register article. Vaudt refused to respond to repeated requests for comment. His deputy blamed budget cuts.
Current state officials as well as Vaudt's Democratic opponent question that explanation, noting that preparing the Comprehensive Annual Financial Report is among the office's chief responsibilities. Vaudt did not request a midyear extra appropriation, as departments sometimes do in emergency situations to cover their most important responsibilities, said Dick Oshlo, director of the Iowa Department of Management. Jenkins said the office did not request more money midyear because officials didn't believe any money was available to help pay for the report, which state government insiders call the CAFR (pronounced caffer).
All state department directors have had to make do with less money. While Vaudt's office faced a significant cutback, that is no excuse for failing to perform a core duty of his office. Iowa's state finances are in good shape, but Vaudt knows that if his failure to produce the an unqualified CAFR causes Iowa's credit rating to be downgraded, the media won't blame his department. Rather, Republicans will jump up and down about how Vaudt was right, our state budget must be on shaky ground.
Again, from Clayworth's article:
Vaudt's critics note that, despite budget difficulties across the country, only three states failed to submit a complete comprehensive annual financial report for the 2009 fiscal year.

The two others, Missouri and Louisiana, submitted limited audits because of accounting-related issues specific to those states, not because of budget problems in the state auditor's offices, said Kinney Poynter, executive director of the National Association of State Auditors, Comptrollers and Treasurers.

"In my mind, I would think the most important issue the auditor has is to audit the state," said Iowa Treasurer Michael Fitzgerald, a Democrat whose office had to help explain to the state's creditors why the report was qualified. "I mean, do we have a deficit or don't we? When we didn't get a complete audit, it was 'Wow.' Especially when we pick up the paper every day and the guy is involved in the campaigns and doing presentations on future years and this and that."
Jon Murphy, the Democratic candidate for state auditor, released this statement in response to the Register's report. Excerpt:
"The State Auditor's job is do everything possible to save Iowans money, not cost them more by failing to perform important responsibilities. But David Vaudt once again put partisan politics first. As our state works to recover from a severe economic downturn, it's amazing he would fail to do something that could cost taxpayers millions. It's breathtakingly irresponsible."
Murphy also posted this video response:
Murphy has previously criticized Vaudt for politicizing the office of state auditor:
In the campaign, Murphy has been billing himself as the state's "chief transparency" officer - should he win election. He pledges to create user-friendly Web tools that will allow Iowans to search and track how their tax dollars are being spent - similar to what he did with the stimulus money that flows through state government into the Iowa economy. That money can be tracked though the public website, www.recovery.iowa.gov.

"I've been an advocate and implementer of state and federal programs for nearly a dozen years," Murphy said. "Now I want to make sure they are being executed in an accountable and transparent way."

There is currently no centralized location when an Iowan goes to track tax dollars, he said.

"What I want to do is take the model that we've built and expand it across a broader part of state government," Murphy said. [...]

Murphy said he believes Vaudt has been overly partisan, going so far as to appear with former Gov. Terry Branstad at events and in campaign commercials and mailings for the Republican gubernatorial candidate who is seeking his fifth term.

"He (Vaudt) has politicized an office in which Iowans have rightfully come to expect a high degree of impartiality, objectivity and independence out of," Murphy said.

Murphy says he will not endorse candidates for state and local office if elected as auditor.

"There shouldn't even be a perception of partisan politics," Murphy said.

He charged that Vaudt is making more headlines with political appearances than doing the actual job of state auditor.
Even before Vaudt formally endorsed Branstad for governor and started campaigning with him, he tried to help Republicans build a case against Governor Chet Culver. In February, Vaudt asked Attorney General Tom Miller to probe whether the governor's proposed budget was "illegal." Miller had to school Vaudt on the budget process (click on the letter to enlarge):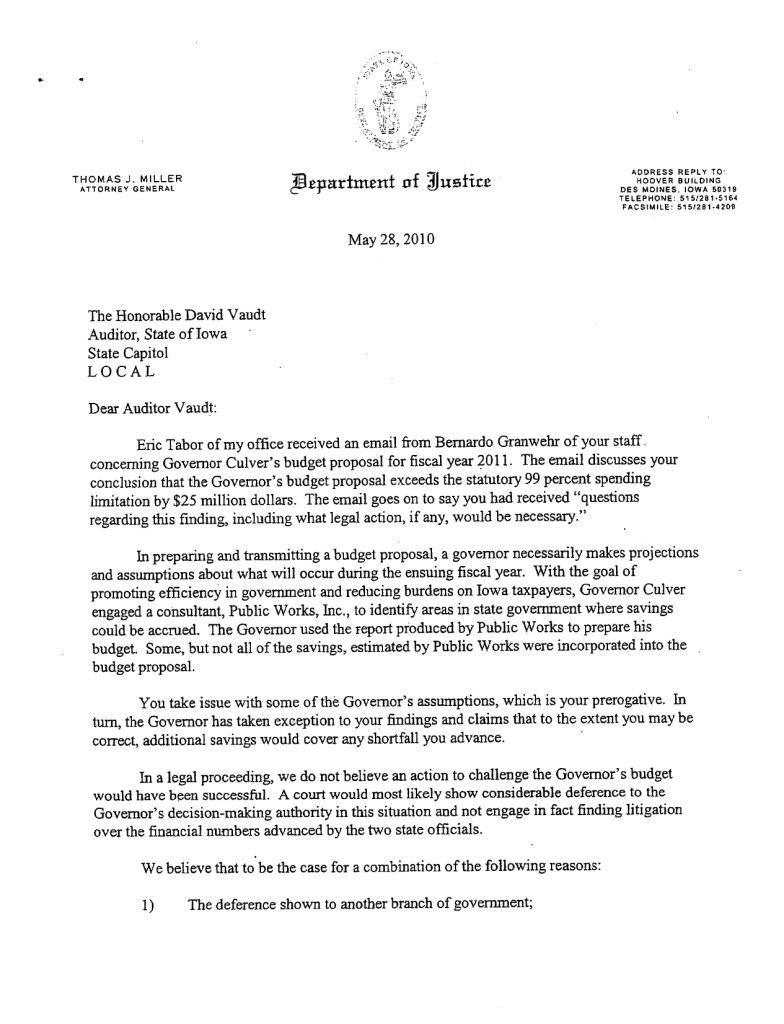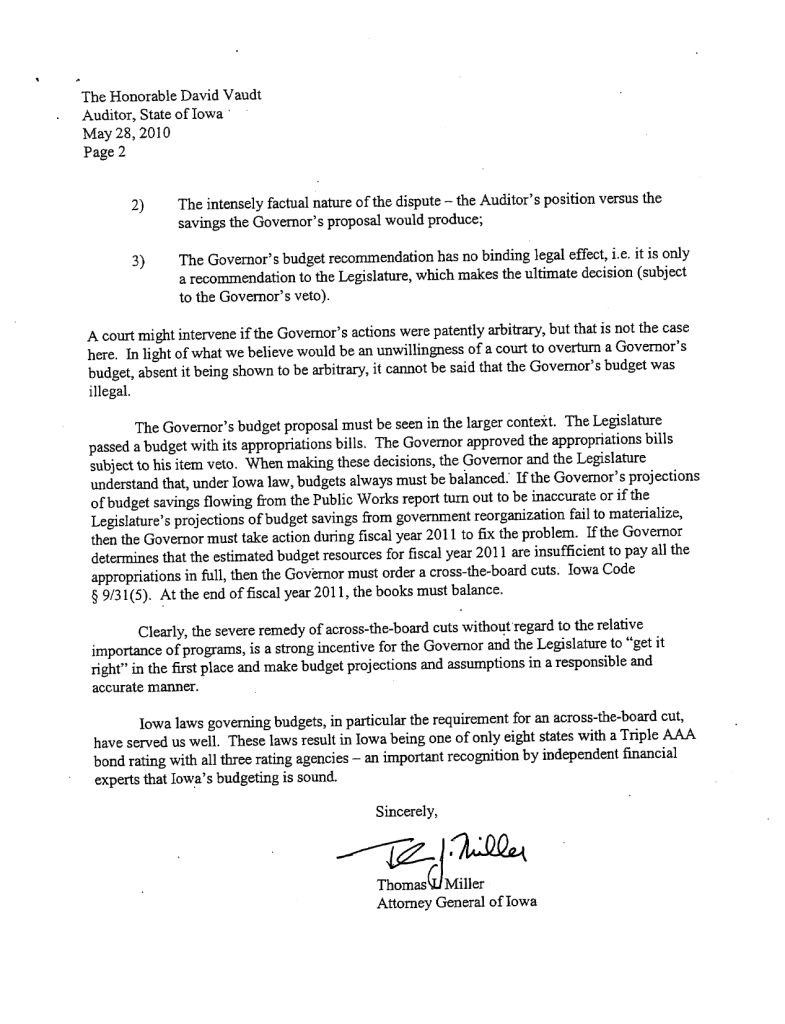 Culver's staff have also raised questions about the timing of some of Vaudt's released audits.
Vaudt's re-election campaign recently began running a radio commercial touting his role in uncovering malfeasance at the Central Iowa Employment and Training Consortium (background and timeline on the CIETC scandal here). I will update this post with the ad and transcript when I find it on YouTube. Murphy's campaign released this statement about the Vaudt radio spot.
David Vaudt is currently running campaign advertisements that seek to rewrite history and paint him as the hero that uncovered the Central Iowa Employment and Training Consortium (CIETC) scandal. In running these ads, Mr. Vaudt is missing a few facts about CIETC. "David Vaudt has selective memory when it comes to the history of CIETC," said Jon Murphy, Democratic candidate for State Auditor.

While Vaudt takes bows for CIETC, he should also take some time to explain to Iowans how the State Auditor could have allowed this scandal to take place right under his nose. David Vaudt should explain:

* How a person that worked for him in the State Auditor's office could also moonlight at CIETC.

* How the same employee that moonlighted at CIETC could be married to one of CIETC's major players and yet the office had no clue as to what was happening at CIETC.

* How his own office didn't have the internal controls in place to detect such a major conflict of interest.

* Why he dragged his feet in firing the employee that was so heavily connected to CIETC.

"Mr. Vaudt is hoping Iowans won't ask questions about how he could have a scandal like this occurring right under his nose. Like a lot of politicians running for re-election, David Vaudt is hoping his campaign commercials can gloss over the facts. This campaign ad makes it clear -- David Vaudt the CPA was replaced by David Vaudt the politician a long time ago," Murphy said.

I suppose it makes sense that Vaudt would campaign on work his office did four years ago. That sounds a lot better than saying that he wasn't able to complete the Comprehensive Annual Financial Report because "overspending" Iowa Democrats didn't give his office enough money.
Share any thoughts about the state auditor's race in this thread.