Interested in many political issues, this is my first diary here. I publish previously this bid for redistricting Iowa in SwingStateProject, and desmoinesdem tell me for publish it here. Then, I'm here. I hope the people find it interesting.
Sorry if you see some mistake writing, but I'm not a native speaker.
The best luck for the democrats from Iowa 🙂
I have some trouble for include the image. The html text what I copy from photobucket run not, but I will bid include the image again. While I can, you can see the image in my diary in Swing State Project:
http://www.swingstateproject.com/diary/8110/redistricting-iowa-211
[note from desmoinesdem: I added the image]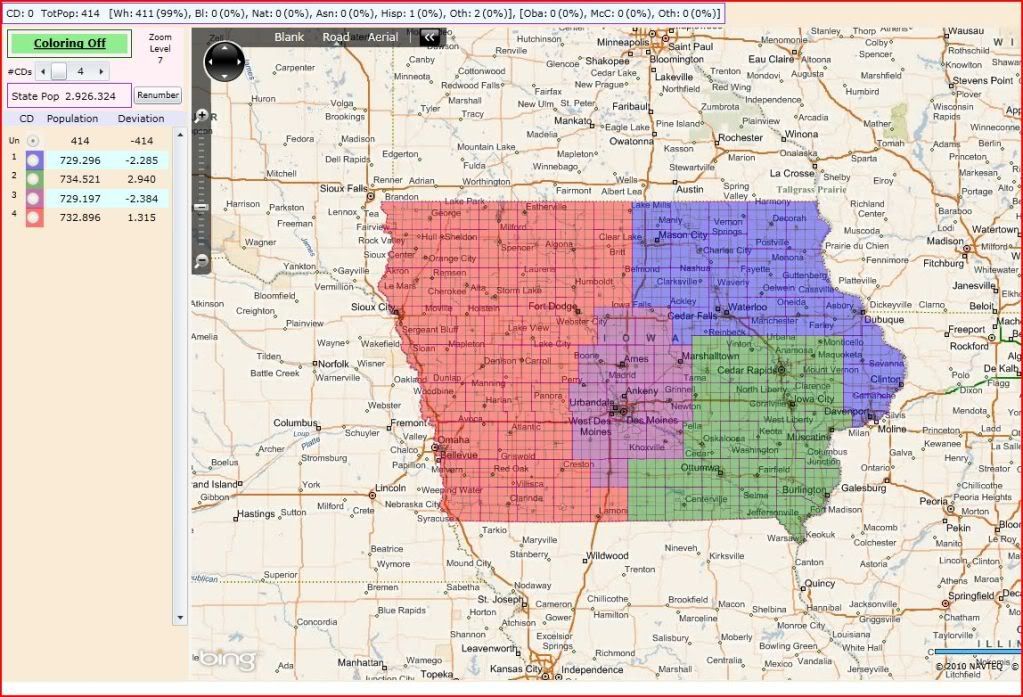 CD-01: B Braley (D)
57.98% Obama => D+5 (Currently D+5)
Based in Davenport (3rd city in Iowa)
Includes all of: Scott, Clinton, Jackson, Dubuque, Delaware, Clayton, Allamakee, Buchanan, Fayette, Winneshiek, Black Howk, Bremer, Chickasaw, Howard, Grundy, Butler, Floyd, Mitchell, Worth, Cerro Gordo and Franklin counties.
CD-02: D Loebsack (D)
57.97% Obama => D+5 (Currently D+7)
Based in Cedar Rapids (2nd city in Iowa)
Includes all of: Jones, Cedar, Muscatine, Louisa, Des Moines, Linn, Johnson, Washington, Henry, Lee, Benton, Iowa, Keokuk, Jefferson, Van Buren, Tama, Poweshiek, Mahaska, Wapello, Davis, Monroe, Appanoose, Lucas and Wayne counties.
CD-03: L Boswell (D) and T Latham (R)
53.75% Obama => D+1 (Currently D+1 and EVEN)
Based in Des Moines (1st city in Iowa)
Includes all of: Hardin, Marshall, Jasper, Marion, Hamilton, Story, Polk, Warren, Clarke, Boone, Dallas and Madison.
CD-04: S King (R)
46.05% Obama => R+7 (Currently R+9)
Based in Sioux City (4th city in Iowa)
Includes all of: The rest of the counties.
They are compact districts what respect the boundaries of the counties and respect the unity of the metropolitan areas in the state.
In every bid for redistricting the new CD-01 and CD-02 districts are in risk of lose some point in the Cook PVI rating because both districts must asume new areas from districts with less democratic rating. Still I think this model for redistricting Iowa keep both enough safe. The same reason makes the future CD-04 down from R+9 until R+7.
The new CD-03 can give a decent chance to L Boswell because every bid for make a new district here what keep all the Polk county (and Marshall too) inside the district will give a strong position to L Boswell against T Latham. And it is so difficult to divide this strong area for L Boswell without an agressive republican gerrymander. I think L Boswell can be competitive in 2012 if he runs.
This bid find not the limits, but I think the limits are not far from here.
(Update) For this type of polls I give habitually a numerical average of the results. In a 0-10 scale, like this:
— 00.000 —

Safe Republican

— 01.429 —

Likely Republican

— 02.857 —

Leans Republican

— 04.286 —

Toss-Up

— 05.714 —

Leans Democratic

— 07.142 —

Likely Democratic

— 08.571 —

Safe Democratic

— 10.000 —
After 10 votes = 04.667 => Toss-Up Tilt Republican