Iowa's third and fourth Congressional districts are on track to have high-spending races in 2012, judging from the latest campaign finance reports.
Details from all the Federal Election Commission filings by Iowa Congressional candidates are after the jump. The big news comes from IA-03, where Republican Representative Tom Latham is building a huge money edge over Democratic Representative Leonard Boswell, and IA-04, where former First Lady Christie Vilsack out-raised Republican Steve King for the quarter.
Reminder: Iowa will be divided into the following four Congressional districts for the 2012 election: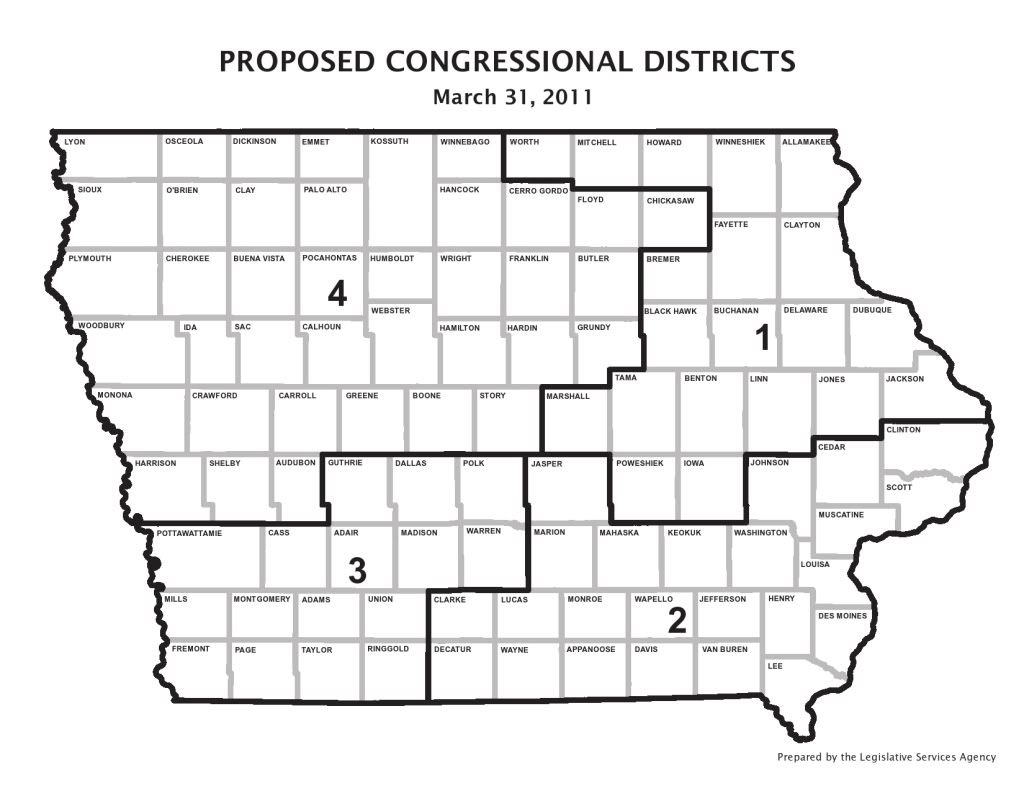 IA-01
In the new first district, incumbent Democrat Bruce Braley is so far the only declared candidate. His campaign reported raising $280,185 during the second quarter and spending $146,492, leaving $304,015 cash on hand and $9,000 in campaign debts. Braley's campaign raised $168,918 from individuals and about $111,250 from political action committees (PACs) from April through June. Click here for itemized individual and PAC contributions.
The new Iowa map was kind to Braley, but he might want to pick up his fundraising a bit. The partisan voting index of the new IA-01 is D+5, about the same as the old IA-01 Braley has represented since 2007. In other words, during the last two presidential elections, the counties in the new IA-01 voted collectively about five points more Democratic than the national average. Arguably the new district is better for Braley than his old one, because he trades Scott County (Quad Cities area) for Linn County (Cedar Rapids area, more friendly for Democrats) and picks up Poweshiek County, containing his home town Brooklyn. Democratic turnout should be stronger in a presidential election year than it was in 2010, when Braley barely survived a challenge from little-known Republican Ben Lange. Still, the incumbent shouldn't assume he will have an easy ride in 2012. Lange just endorsed no-hoper Rick Santorum for president, and I don't think it's a coincidence that American Future Fund co-founder Nick Ryan is a paid consultant for the Santorum campaign. The American Future Fund spent more than a million dollars attacking Braley during the 2010 campaign. Ryan has a special interest in northeast Iowa, where he grew up and later worked for Republican Representative Jim Nussle. The American Future Fund may spend heavily against Braley again.
IA-02
In the second district, only Democratic incumbent Dave Loebsack filed a financial report. His campaign raised $138,220 during the second quarter, spent about $43,143 and had $216,951 cash on hand as of June 30 with no debts. Loebsack raised about $54,720 from individuals during the quarter and $83,500 from PACs. Click here to view itemized individual and PAC contributions.
Three Republican candidates are considering running against Loebsack, and two of them (John Archer and Richard Gates) have filed paperwork declaring their candidacies with the FEC. Neither Archer nor Gates filed reports on financial activity during the second quarter.
Loebsack's new district leans slightly less Democratic than the old IA-02, with a partisan index of D+4. He will be favored for re-election in a presidential year, but Republicans could make this race competitive, especially if the GOP candidate has strong connections in the Quad Cities area. Loebsack's never represented the most populous county in the new IA-02 (Scott).
IA-03
The third district race pits eight-term Democratic incumbent Leonard Boswell against nine-term Republican incumbent Tom Latham in a district with an even partisan voting index. Boswell's never been a particularly strong fundraiser, but he has typically outspent his Republican opponents (with help some years from the Democratic Congressional Campaign Committee). That's going to change in 2012.
Boswell's campaign reported raising about $187,816 during the second quarter and spending $75,995, leaving $285,986 cash on hand as of June 30. Boswell received $68,510 in individual contributions and $119,250 from PACs. Click here to view all itemized contributions. The Democratic Congressional Campaign Committee has already kicked in more than $9,000 to Boswell's campaign, and several of his fellow House Democrats made significant donations too. Tom Harkin's To Organize a Majority PAC gave $2,500 during the quarter, and House Minority Leader Nancy Pelosi's PAC to the Future gave $5,000.
If the reported attempted break-in at the Boswell farm in southern Iowa was the scariest thing that happened to Boswell this past week, looking at Latham's disclosure form must have been a close second. Latham's campaign reported raising $581,428 during the quarter and spending $100,254, leaving $1,471,509 cash on hand nearly a year and a half before the election. Not only does Latham have five times Boswell's cash on hand, he has almost as much in the bank as Boswell spent during the entire 2010 election cycle.
Latham has a lot going his way: he's in the House majority party, he chairs an Appropriations subcommittee, and he's a close friend of House Speaker John Boehner. All of those factors helped him raise $407,741 from PACs during the second quarter, dwarfing the $173,687 he raised from individuals. Click here to view Latham's itemized individual and PAC contributions (a huge list of corporate interest groups). A handful of corporate PACs hedged their bets by giving to Boswell and Latham, but Latham got far more from that pot of money.
IA-04
The fourth district race features a challenger who may be able to match the incumbent's spending, a rarity in Congressional races not involving self-funders. Republican Steve King now represents IA-05 and will run in the new IA-04 in 2012. His campaign reported raising $168,628 during the quarter and spending $81,067, leaving $229,972 cash on hand as of June 30.
King and Braley were the only Iowa incumbents to raise more from individuals than from PACs during the second quarter of 2011. King brought in $129,629 from individuals and $39,000 from PACS; the itemized donor list is here.
During the 2010 election cycle, King raised and spent a little more than $1 million. He posted similar numbers during the 2008 cycle. With a well-financed challenger, I expect him to raise considerably more than that before the 2012 election. King has fans across the country because of his frequent appearances on national television and conservative talk radio. Major Republican donors in Iowa will likely contribute more to him this cycle than in the past, with no U.S. Senate race or statewide elected offices on the 2012 ballot. Next week New Jersey Governor Chris Christie is scheduled to headline a big fundraiser for King in West Des Moines. (Christie's coming to town for Governor Terry Branstad's education policy summit.)
The partisan tilt of the district works in King's favor, even if he doesn't end up with a big money advantage. The new IA-04 has a partisan voting index of R+4 and contains about 40,000 more registered Republicans than Democrats.
Former First Lady Christie Vilsack is scheduled to announce her candidacy officially in Ames, Sioux City and Mason City on July 19, but she clearly committed to this race months ago. You don't raise $424,339 in one quarter for a Congressional race in Iowa if you're just "exploring." Vilsack's campaign reported spending about $41,264 during the quarter, leaving an impressive $383,075 cash on hand as of June 30. That's more money in the bank than King has--or Braley, or Loebsack, or Boswell.
Republican blogger Craig Robinson made a big deal out of Vilsack's relatively few donations from IA-04 residents. Looking at her itemized receipts, there are a lot more donors from the Des Moines metro area than from the 39 counties in IA-04. The largest group of donors who would be her constituents live in Ames, where the Vilsacks moved this year. Story County is one of the more Democratic-leaning parts of the district.
Prediction: Vilsack's staff and the Democratic county committees in IA-04 will make sure next quarter's FEC filing lists multiple donors from every county in the district.
Like King, Vilsack raised most of her campaign money from individuals ($371,339) rather than PACs ($53,000). I love how Craig Robinson tried to make hay out of Vilsack bringing in more from PACs than King, when Latham raises far more from PACs than any other Iowa candidate for the U.S. House.
The Vilsack campaign made a splash late last week by releasing its second quarter fundraising total before the FEC report was filed. I was more interested in her itemized receipts, which make clear that Vilsack will be the first King opponent to receive significant help from national Democrats.
The Democratic Congressional Campaign Committee has already given $11,500 to the Vilsack campaign. This spring DCCC leaders strongly discouraged Vilsack from running against Loebsack in IA-02. The second district contains Vilsack's home base in southeast Iowa, and she would have had a good shot against Loebsack in a Democratic primary.
Not only did Vilsack raise money from the DCCC, she raised $4,000 from Nancy Pelosi for Congress and another $3,000 from Pelosi's PAC to the Future. DCCC Chair Steve Israel's campaign committee kicked in $2,000, House Assistant Minority Leader Jim Clyburn's BRIDGE PAC gave $2,500, the We the People PAC of DCCC vice chair Allyson Schwartz gave $1,000.
In Iowa, Leonard Boswell's BosPAC chipped in $2,500. For much of the past year, Vilsack was rumored to be considering a primary challenge against the IA-03 incumbent. Harkin's PAC also gave Vilsack $2,500; he had made clear that he didn't support her challenging Boswell or Loebsack in a primary.
Several organizations that support pro-choice women candidates donated to Vilsack's campaign during the second quarter: $2,500 from the Planned Parenthood Action Fund, $1,500 from the Women's Campaign Forum PAC, and $2,375 from various donors through EMILY's List. EMILY's List recognized Vilsack as a "promising" candidate in April. That's no surprise, since King is one of the most persistent advocates of defunding Planned Parenthood in Congress.
In my view, Vilsack has gone out of her way to keep her distance from Planned Parenthood. Why else would she create and help run The Iowa Initiative, a separate non-profit supporting contraception programs (not abortion) for adult women between the ages of 18 and 30? Nevertheless, King and other Republicans will try to define Vilsack as the "pro-abortion" candidate in the race.
Any comments about the 2012 Congressional races in Iowa are welcome in this thread.