One of the most surprising Iowa House Republican winners from 2010 now has a Democratic challenger. Altoona City Council member Joe Riding announced yesterday that he will run against State Representative Kim Pearson in the new House district 30, a swing seat covering much of eastern Polk County.
House district 30 covers the Des Moines suburbs Altoona, Bondurant and Carlisle (the Polk County part), as well as rural areas and small towns Elkhart, Mitchellville and Runnells.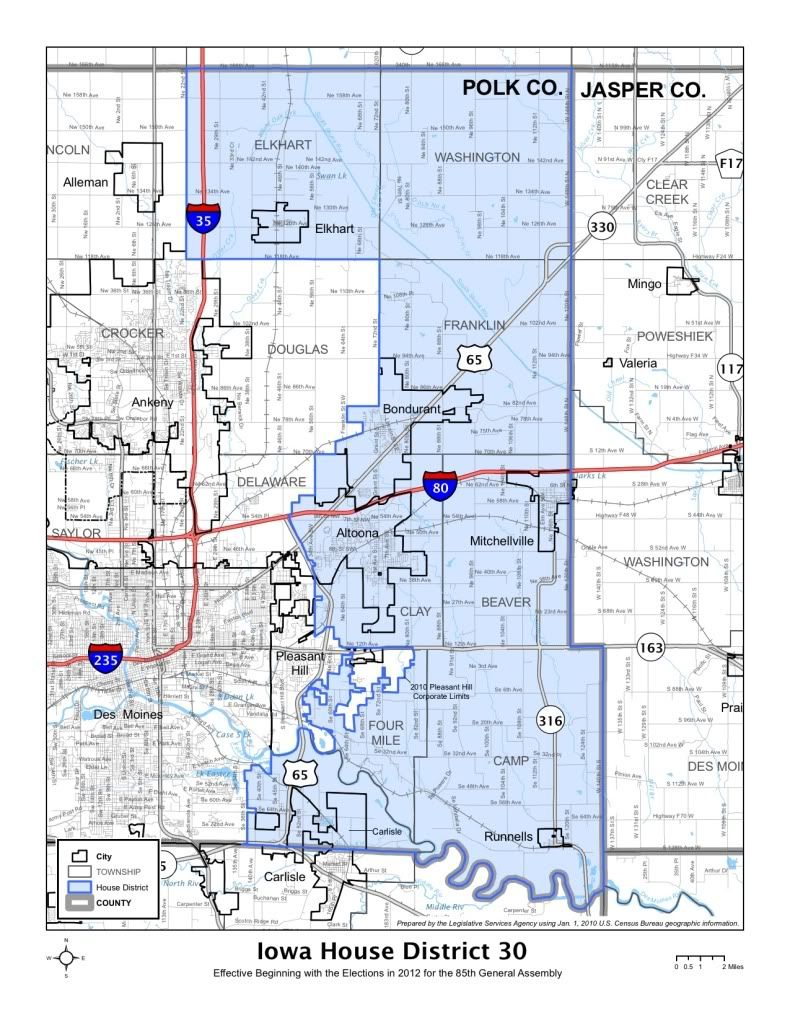 As of spring 2011, the new House district 30 contained 6,629 registered Democrats, 6,523 registered Republicans and 5,756 no-party voters. It leans less Democratic than the old House district 42, where Pearson shocked State Representative Geri Huser in 2010. Huser hadn't faced a Republican opponent in 2006 or 2008. She was endorsed by the conservative Iowa Association of Business and Industry's PAC and was the only House Democratic candidate backed by the Iowa Farm Bureau Federation. Nevertheless, she fell 126 votes short of Pearson; an independent candidate drew more than 500 votes in that race.
Pearson had never run for office before taking on Huser. In contrast, her Democratic challenger is an experienced candidate. From the Iowa House Democrats' August 4 press release:
Small business owner and three-term Altoona City Council member, Joe Riding, announced today that he will run for state representative in the new House District 30, which includes all of Altoona and large parts of Eastern Polk County.

Joe Riding is a lifelong resident of Eastern Polk County and Altoona. He has served twice as President of the Altoona Chamber of Commerce. Riding is also past President of the Altoona Community Campus, a multi-purpose recreational facility, which currently has 9,000 local members.

He is part-owner and general manager of Terrace Hills Golf Course in Altoona, a family-owned business since 1964.
Altoona is by far the largest city in House district 30, with a population of 13,903 according to the 2010 census. Riding's biography looks promising, as many Iowa legislators had prior experience on city councils or chambers of commerce. It's not clear where Riding stands on any contentious political issues. His press release suggests that he will be running as the right kind of person to serve in the Iowa House, not as an advocate for specific policies:
"Our current political system is broken, with too many legislators putting their own partisan ideology before the needs of their constituents," Riding said today. "Growing up in a family business has taught me important values, like working with others to find pragmatic solutions to problems. I am running to bring some needed civility and common sense back to the statehouse for the citizens of Eastern Polk County."
Sounds a lot like Christie Vilsack's rhetoric against Representative Steve King in Iowa's fourth Congressional district. Riding didn't mention the incumbent by name in his press release, but we can already see the case he'll make against Pearson: she is too partisan, not pragmatic enough, uncivil and lacking in common sense.
Pearson quickly became one of the most controversial Iowa House Republicans when she and a colleague refused to support a bill banning abortions after 20 weeks gestation, because it didn't go far enough to stop abortions in Iowa. Her opposition forced GOP leaders to run that bill through another committee. Pearson was one of three Republicans to vote against the 20-week abortion ban on the House floor. She later caused turmoil in her caucus by trying to suspend the rules to bring a "personhood" bill to a vote in the House.
Pearson was also among five House Republicans who filed articles of impeachment against the four remaining Iowa Supreme Court justices. Their supposedly impeachable offense was concurring in the 2009 Varnum v Brien ruling on same-sex marriage rights. GOP leaders distanced themselves from the impeachment drive.
Reid Forgrave's must-read Des Moines Register profile of Pearson mentions several other votes that were out of step with the majority caucus:
She began building a voting record that didn't fall in line with Republican orthodoxy. She voted against tax-credit bills to help businesses and to subsidize ethanol and wind power, ideas she views as part of "crony capitalism." She voted against Republican Gov. Terry Branstad's proposed revamp of the economic development department because she said it put government in the position of picking winners and losers. She voted against all but one of the Republican-backed budget bills because she thought they gave too much power to the executive branch. She backed a law to open up sales of raw milk, which she framed not as a local-food question but as a freedom issue.
I would add that Pearson was one of only two House Republicans to vote against a nuclear energy bill in April. That bill was tailor-made for one corporation and would have forced higher utility bills on hundreds of thousands of MidAmerican customers. Not many so-called small-government, anti-tax Republicans came down on the side of the little guy's wallet.
In Iowa Democratic circles, it's common to hear people dismiss Pearson as "crazy" or "scary." Reality: her views are no more crazy or scary than those held by many other elected officials. Scores of Republican state senators and representatives claim to believe that life begins at conception, or that government should not pick winners and losers. Few have the courage to vote their conscience against the wishes of their party's leaders.
I couldn't disagree more strongly with House File 153, the "personhood" bill that would in effect prohibit all abortions and several forms of birth control. That said, I give Pearson credit for not being easily intimidated by hypocrites. There's not a single pro-choice Republican serving at the state capitol. Why shouldn't the party with a 60-40 Iowa House majority enact a bill stating that life must be protected from conception? The tenets underlying that bill are in the very first planks of the Iowa GOP platform.
Pearson endorsed Ron Paul for president rather than safer choices like Tim Pawlenty, Michele Bachmann or Mitt Romney. She cited Paul's "experience, integrity and tenacity" as well as his small-government views. I oppose most of what Paul stands for, but he does think for himself.
Republican leaders didn't target Pearson's long-shot race against Huser in 2010. She received only token support of $2,500 toward the end of the campaign.
Pearson said that after spending one month in the Legislature, she returned the money to the party.

"I wrote a check, gave it to them and they came running after me, asking, 'What does this mean?' and I went, 'I don't owe you a thing,'" Pearson said.

"I am shocked with what happens behind closed doors when I have grown men that will stand up and say that they have all of these problems with a bill, but if leadership tells me to vote for it I'll do it."
That sounds crazy if you view an Iowa House seat as a way up the political ladder. Don't make waves, learn to get along, do as you're told. Yet if you think legislators should use their own best judgment, Pearson's stance isn't crazy at all.
Pearson has said she might endorse primary challengers to some Republican lawmakers. That won't win her many brownie points, but so what? She is not focused on being popular at the statehouse. She is trying to change Iowa law to reflect her agenda.
John Deeth suggests that Pearson might face a Republican primary challenger herself. I'd be surprised to see that. Although GOP leaders may privately worry that Pearson can't hold a swing district in a presidential election year, she has many strong supporters in the anti-choice and tea party movements. Poking those constituencies in the eye doesn't seem like a good strategy for holding the seat.
Pearson may prove too conservative for the electorate in the new House district 30. On the other hand, I don't consider this an easy pickup for Iowa Democrats. If Riding argues that Pearson is "too partisan," she can recite a long list of votes cast against the majority in her own party. Maybe her legislative crusades aren't always pragmatic, but she has honestly tried to do what she campaigned on. "Common sense" is in the eye of the beholder, and I'm not convinced voters will prefer a candidate who is "civil" over one who speaks out for what she believes, no matter who is offended.
Any relevant thoughts are welcome in this thread.