Iowa House Assistant Majority Leader Renee Schulte confirmed yesterday that she will seek a third term in the state legislature in 2012. Her announcement sets up a likely rematch with former State Representative Art Staed, the Democrat Schulte defeated by 13 votes in 2008.
The new House district 66 covers much of northern Cedar Rapids in Linn County: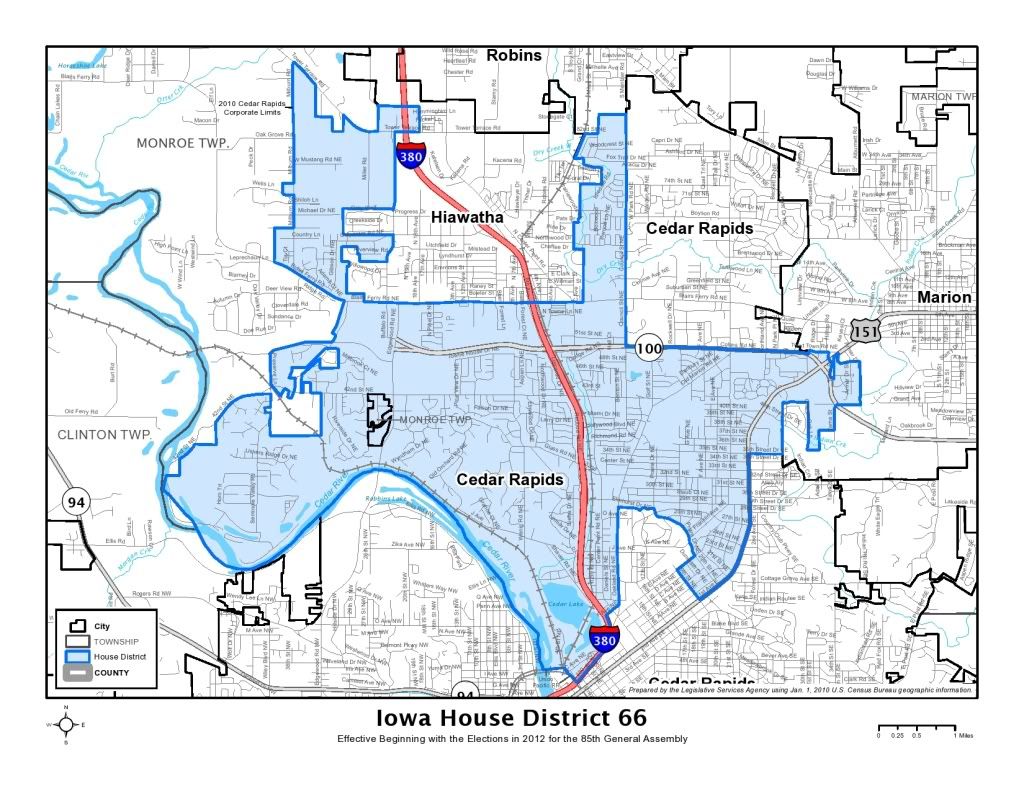 At first glance, the top part of the district looks gerrymandered, but the Cedar Rapids city limits take some strange twists and turns, bordering the suburb of Hiawatha on three sides.
The new district leans more Democratic than Schulte's current House district 37. As of spring 2011, the new House district 66 contained 7,540 registered Democrats, 6,334 Republicans and 7,338 no-party voters.
Schulte was one of only seven Iowa House Republicans to vote against the state's redistricting plan in April. John Deeth has suggested that she opposed the redistricting plan because the new map gave her about 900 additional Democrats as constituents. She explained her vote this way:
She had heard from community members, including business leaders who have been working to create a "Corridor" brand, linking Iowa City, Coralville, Cedar Rapids and other communities along the Interstate 380 corridor. The brand has been used to promote the region for economic development and professional recruitment.

They told Schulte the congressional redistricting plan that put Linn County in the new 1st District and Johnson in the 2nd could weaken the region's ability to attract federal assistance - funding and otherwise. [...]

Her vote, she said, reflected the "angst" of people who spoke to her about the plan.

"Besides, I'm more of a 'Deal or No Deal' kind of girl and I wanted to see what was behind Door No. 2," Schulte said. A second plan, she said, "might have been better."
Announcing her re-election bid yesterday, Schulte said she wanted to keep working to reduce "out-of-control" spending and create a business climate to spur job creation.
"I am encouraged by the progress that has been made to make state government more responsive, transparent and efficient, however there is still work to be done," she said. [...]

"We need to get government out of the way and encourage employers to invest in our state and workforce," she said.
Iowa House Speaker Kraig Paulsen, who represents a neighboring district in Hiawatha, chose Schulte as one of four assistant majority leaders at the start of her second term. She also chairs the House Administration and Rules Committee. Earlier this year, Schulte was one of the leading proponents of a bill to require all election-day voters to show photo ID in Iowa.
"But where is the fraud?" [Democratic State Representative Mary] Gaskill asked. More than 1.13 million Iowans voted in the 2008 presidential election "and there were zero cases of voter fraud. Zero."

That doesn't mean there's no fraud, Schulte said.

"It means we have a problem with the system," she said, and referred to irregularities in her district when she won her first election by 13 votes. "This system will make it easier to prove intent" to commit voter fraud.

She also referred to a recent report found seven counties in Iowa have more registered voters than people of voting age.

"That's a problem," Schulte said.
Schulte is echoing a misleading claim Matt Schultz made during last year's Secretary of State campaign. Bleeding Heartland user IowaVoter explained basic facts about Iowa voter roll maintenance here and here. Iowa county auditors oppose introducing photo ID requirements, and Linn County Auditor Joel Miller has disputed the alleged "evidence" of voter fraud cited by Schulte and other House Republicans. Miller notes, "We've never proven someone has come in and cast an impostor vote for somebody else." Former Story County Auditor Mary Mosiman, who is now deputy of elections for Schultz in the Secretary of State's Office, was unable to name a single example of someone fraudulently voting on behalf of another Iowan.
Schulte's likely Democratic opponent is educator Art Staed. He represented House district 37 for one term before losing to Schulte by those agonizing 13 votes in 2008. After that election, some Democrats grumbled that Staed hadn't worked hard enough on his campaign. Others grumbled that House Democratic leaders took this swing district for granted and left Staed hanging, for instance by not running a positive television commercial on his behalf.
Staed announced his candidacy in the new House district 66 last month. Excerpt from his press release:
"I have decided to run again because I fear that our state is heading in the wrong direction. Rather than prosperity for the hand-picked few, I believe that we must have prosperity for all Iowans who are willing to spend their days working hard and taking care of their families," said Staed.

"We can build a brighter future for our state. However, to do so, we need to create an economy centered on innovation and focused on both new and existing businesses. These businesses will create more good-paying jobs if we spread the responsibility of taxation equitably, rather than picking winners and losers. This will also allow every Iowan a fair opportunity to prosper."

As both an educator and small business owner, Staed says he knows that "for Iowa to remain competitive and innovative, we must continue to support a world-class, well-funded public education system with the highest standards for every child and school. We need well-trained teachers who will nurture our children's minds and provide them with the opportunity to fulfill their full potential."

Art Staed has been a teacher, administrator, sales manager, training specialist, workforce development counselor, state legislator, and business owner. "This wealth of experiences has given me unique and valuable insight into the challenges and responsibilities faced every day by Iowa businesses, workers, and families. And that, along with my willingness to listen and to work in a bipartisan manner, will allow me to better represent the people of House District 66."
It sounds like Staed plans to run against Republican budget and tax priorities. The 2012 state budget provides for zero allowable growth for K-12 education, the first time that has happened since Iowa adopted its current school funding system four decades ago. This year Iowa House Republicans approved income tax cuts that would disproportionately help wealthy Iowans and a property tax cut plan that Democrats faulted for reducing local government revenue while not targeting help to small businesses.
Given the partisan tilt of the new House district 66, I wouldn't be surprised to see another Democrat jump into this race. Iowa Democratic leaders are allergic to competitive primaries, but I think a couple of candidates pounding the pavement and mobilizing voters for the 2012 primary would bode well for the general election campaign against Schulte.
Although Democratic turnout should be much higher in a presidential election year than it was in 2010, President Barack Obama is much less popular now than he was in 2008. In addition, Schulte now has the advantages of incumbency, which she lacked in 2008. It's a safe bet that Paulsen will spend plenty of money to defend her district.
In addition to the points Staed raised when announcing his campaign, the Democratic nominee here should remind constituents that Schulte voted against the I-JOBS infrastructure bonding initiative in 2009. It's hard to overestimate how much I-JOBS contributed to rebuilding key sites in Cedar Rapids and Linn County after the 2008 floods. Republicans have never explained how they would have financed those projects.
Last month Cedar Rapids ranked number 9 on Kiplinger's 2011 list of "Best Value Cities" nationwide. Analysts cited strong local employers, good amenities, reasonable home prices, and a good recovery from the 2008 flooding. The major downtown renovation projects mentioned in Kiplinger's report would not have been possible without I-JOBS. Schulte cheered the praise from Kiplinger but has never acknowledged that Cedar Rapids would be in worse shape without the projects I-JOBS bonds supported.
Share any comments about the upcoming House district 66 race in this thread.
Final note: both Schulte and Staed are involved in Four Oaks, a private agency serving troubled children in the Cedar Rapids area. Schulte is a strategic planning adviser to the organization, and Staed is a secondary education teacher for Cedar Rapids Schools at the Four Oaks Phase program.