(Fascinating precinct-level analysis. - promoted by desmoinesdem)


The early voting numbers appear quite promising for Democratic candidate Liz Mathis. As of 2 November, the Democrats have exceeded their 2010 general election return total, while the Republican ballot requests (thus far) fall short of 2010 early voting, with a substantially larger lag in returns.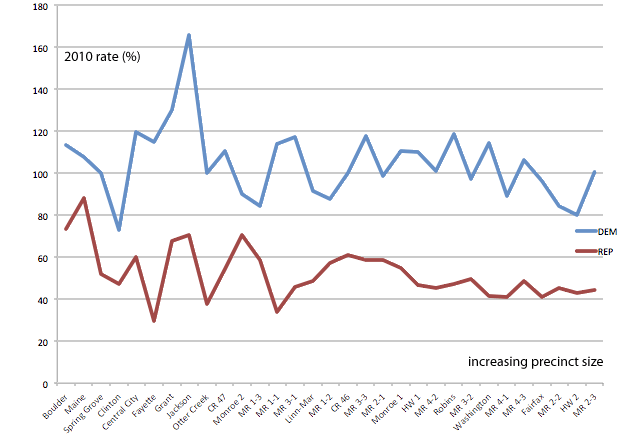 The ballot return numbers for Democrats and Republicans are displayed in order of increasing precinct size with percentages expressed relative to 2010. The volatility early in the series for the smaller precincts is not significant. All precincts are shown except for the "split" Cedar Rapids precincts that account for only a minuscule fraction of the electorate.
Based on the above, the relevant number is 2987 already banked for Democrats, just past their 2978 total in 2010. The Republicans, on the other hand, have not hit the 50% mark yet, with only 1426 banked compared to 2902 total in 2010. The number of Republican requests is 2066, 72% of their 2010 early voting total, so election day turnout will be critical for Cindy Golding's prospects.
The No Party "independent" returns are approaching 2010 levels with 1349 in as compared to 1528 cast in 2010. The precinct-level results are shown in order of increasing youth density, or number of voters in the 18-34 range normalized by precinct canvassing area:
The precinct-level view suggests that a successful effort is underway to galvanize younger independent voters to participate in this election. The key precincts to note are shown below in purple (very high value) and blue (high value), followed by green (medium) and yellow (low). In this context, "very high value" means the greatest density of youth voters. Note that this is very much a "shoe leather" exercise as this district does not have many obvious sources (colleges, trendy urban neighborhoods) to draw on beyond the Marion campus of Kirkwood Community College.
Note that all the large townships are (very) low-value targets. Central City (not shown) is medium (green).
The importance of the youth vote for Democrats cannot be overstated. Consider that the minority vote is almost non-existent. Only four precincts are below 90% White Non-Hispanic: Hiawatha 1 (84.9 2010 Census), Marion 4-3 (88.2) Cedar Rapids 46 (89.4) and Marion 1-3 (89.8).
Next, consider some of the head-to-head results of the 2010 election in this district:
Loebsack 47 Miller-Meeks 53
Mauro 46.5 Schultz 53.5
Culver 46 Branstad 54
Ternus retention: 53.4 NO
and compare, for example, to the 2008 result for IA-02:
Loebsack 55 Miller-Meeks 45.
A look at voter turnout by age group and party identification in 2010, relative to the 2008 electorate, shows clearly that the collapse in Democratic turnout was due to lack of Democratic/NP youth participation.
It is premature to extrapolate from the elevated Democratic and independent early voting trends, but by Monday, this post will be updated with turnout scenarios based on the final figures. At present, the numbers should be viewed as a hint at what is developing. Nevertheless, the poor GOP performance coupled to elevated Dem and NP returns in the more youthful precincts that posted some of the more favorable results for 2010 judicial retendtion bodes well for Democrats retaining the senate majority.