Jim Carley announced last week that he is running as a Republican in the new Iowa House district 30. Carley's background is typical for a GOP statehouse candidate, but his announcement was unusual in one respect. A Republican incumbent already represents Iowa House district 30, and State Representative Kim Pearson has not decided yet whether to seek re-election.
Comments from both candidates about a possible primary contest are after the jump.
First, here's a close-up view of the new House district 30. It covers a large area in eastern Polk County, including Des Moines suburbs Altoona, Bondurant and Carlisle, as well as rural townships and the towns of Elkhart, Mitchellville and Runnells.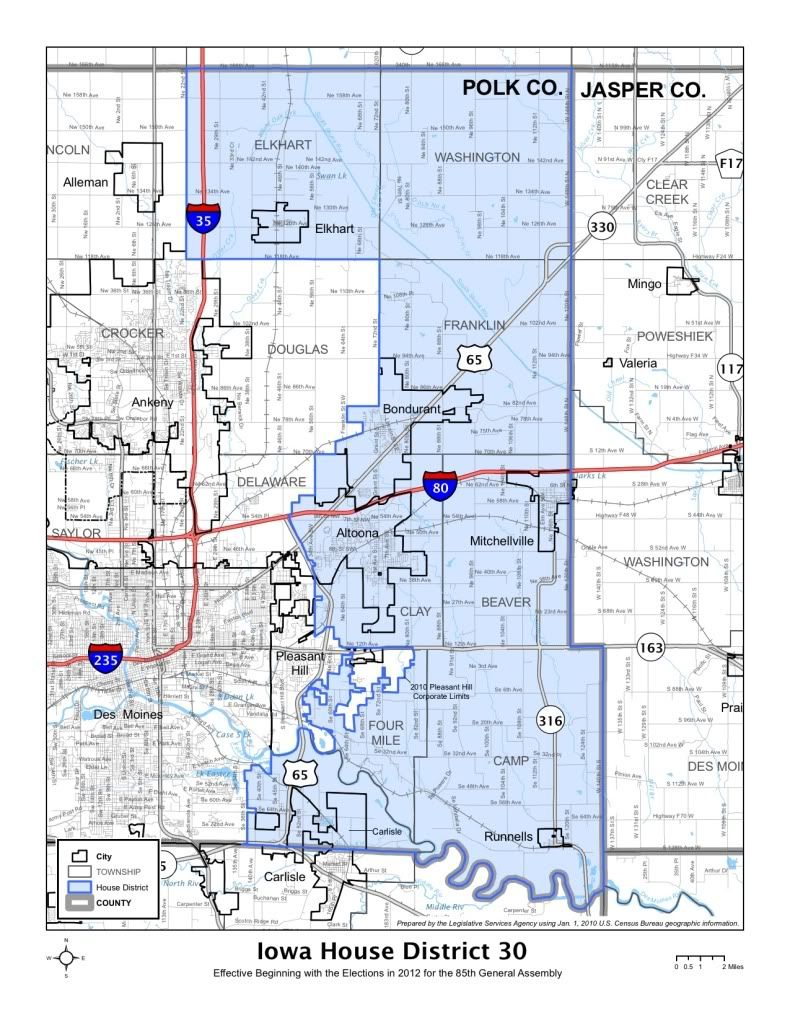 Several rapidly growing suburbs of Des Moines are in this district, which should be highly competitive in 2012. House district 30 contained 6,629 registered Democrats, 6,523 registered Republicans and 5,756 no-party voters as of April 2011.
Carley announced his candidacy on November 3 at the Eastern Polk County Conservative Club Breakfast in Altoona. He indicated that Pearson was among the Republicans who have urged him to run for office, fueling some speculation that the incumbent might be leaning against running for a second term.
Pearson provided this statement to me on November 4:
One: As of this moment, I am undecided on whether to seek re-election. I don't have a time table and I simply won't be pressured by anyone to rush into a decision. Two: I encourage people to participate in the political arena. I am adamantly opposed to the permanent political class (both Democrats and Republicans) with their crony capitalism and their "heir apparent." While primaries may not be good for party "unity", I believe they are good for the Republic. I have encouraged people across the State of Iowa to engage in either a primary or a general election. I have encouraged a handful of people, including Mr. Carley, to run in the newly created House District 30 in the event that I decide not to seek re-election.

Just as I never sought anyone's clearance/permission to announce/run for office, I don't expect primary/general election opponents to inform me of their decision to run for office. Primaries are not to be feared and I anticipate there will be a spirited Republican primary in HD 30. I also expect there to be an Independent challenger in HD 30. This, too, is good for the people of HD 30 and the State of Iowa. I hope more independents decide to run for office. Our founding fathers saw the danger of factions/political parties.

George Washington said, "However [political parties] may now and then answer popular ends, they are likely in the course of time and things, to become potent engines, by which cunning, ambitious, and unprincipled men will be enabled to subvert the power of the people and to usurp for themselves the reins of government, destroying afterwards the very engines which have lifted them to unjust dominion."
Some state legislators choose not to announce their retirements until a day or two before the filing deadline, which leaves the field clear for successors hand-picked by party leaders. (Members of the public typically need more than 24 hours to consider a race and collect 50 signatures in time to file for the ballot.) Three Iowa House members pulled that stunt in 2010: Republican Doug Struyk and Democrats Wayne Ford and Elesha Gayman. Speaking to me by telephone on November 4, Pearson said she would not wait that long to announce her re-election plans.
Pearson received three times as many votes as her Republican primary rival in the old House district 42 in 2010. That was a lower-profile race, because few people thought the GOP had any chance. Democratic State Representative Geri Huser had not faced a Republican opponent in 2006 or 2008 and was backed by some conservative interest groups.
I have not heard of any candidates planning to run as independents in the new House district 30, but Dan Nieland drew 522 votes in House district 42 in 2010. Nieland's total was four times larger than Pearson's winning margin against Huser (pdf).
Some primary challengers are motivated to run against an incumbent because of disagreements on the issues, or a sense that the incumbent is a poor fit for the district. That's not the impression I got from talking to Jim Carley on November 6. The founder of the Save Our American Republic group in central Iowa, Carley is not a moderate Republican by any means. Nor did he criticize Pearson, who has sometimes been a thorn in the side of House Republican leaders.
Carley told me he has considered running for office for at least 30 years, but had time to take on the challenge only after leaving the workforce three years ago. A former U.S. Army lieutenant colonel who served two tours in Vietnam, Carley was a branch manager for Bearing Headquarters before retiring. He said if a person has the values to serve and something to offer voters, it doesn't matter whether the incumbent is running again or not.
Carley indicated that he will not step aside if Pearson decides to seek a second term, so I asked how he would describe the differences between himself and the incumbent to potential Republican primary voters. He responded that "on a lot of things we're similar," but perhaps he would bring a "broader issue focus" to the legislature.
I asked Carley about his stand on abortion, because that issue became a flashpoint between Pearson and the House GOP leadership during the 2011 legislative session. Less than a month into her term, Pearson refused to support a bill banning abortions after 20 weeks gestation, because in her view, the bill didn't go far enough to stop abortions in Iowa. After Republicans ran the bill through another committee, Pearson voted against it on the House floor. She later put everyone in her caucus on the spot by trying to suspend the rules to bring a "personhood" bill to a vote in the House. The Iowa GOP platform states unequivocally that all life should be protected from conception, but only about half the Iowa House Republicans co-sponsored the personhood bill. Legislative leaders prefer not to push the issue, perhaps because the bill's language might be interpreted as banning certain forms of birth control.
Carley told me that he believes abortion is wrong and would support incremental efforts to reduce the number of abortions performed. Specifically, he would support legislation to ban the procedure after 20 weeks gestation. Carley believes the way to eliminate abortion is to educate and "change the mindset" of the public, so that people understand why abortion is a bad thing. While he did not argue against the principles underlying the personhood bill, he characterized that legislation as as politically unrealistic and said he doesn't believe it will pass.
I asked Carley about the "broader issue focus" he would bring to the table, and he mentioned state budgeting and immigration laws as high priorities. As for what kind of immigration laws he would support, Carley called for enforcing the laws already on the books. Does that mean the stat should be allowed to enforce federal immigration laws? In Carley's view, yes, if the federal government is not enforcing those laws. When I mentioned that many people say Arizona-style crackdowns on undocumented immigrants cost lots of money and use substantial local law enforcement resources, Carley replied, "Are we going to sacrifice our liberty just because of cost?"
I frankly do not understand why any candidate would consider cracking down on undocumented immigrants a top priority for state government in Iowa. Taking on that responsibility would be far from fiscally prudent. Any number of issues (education, health care, transportation, water quality) affect the daily lives of more Iowans. Maybe Carley believes false GOP talking points about state government spending lots of money on direct benefits for undocumented immigrants.
Regarding economic issues, Carley supports the usual Republican prescription for a good business climate: lower corporate taxes and fewer "excessive regulations."
Pearson generally supports lower taxes but parted ways with her Republican colleagues on certain tax credits and Governor Terry Branstad's reorganization of economic development efforts. She considers such policies to be "crony capitalism" rather than a free-market approach.
Pearson has endorsed Ron Paul for president. I am seeking comment on whether Carley has publicly backed a presidential candidate or plans to do so before the January 3 Iowa caucuses.
The eventual Republican nominee in Iowa House district 30 will face Democrat Joe Riding, a business owner and three-term Altoona City Council member.
Share any relevant thoughts in this thread.
UPDATE: Carley sent me the following statement:
I would like to concisely sum up my stance on abortion and the sanctity of life. I believe that life begins at conception and ends at death. I feel that every human life is a precious gift and although my first option would be to support a personhood bill, I would not be averse to looking at legislation that would advance the cause of saving babies lives.

At this point in time I have not endorsed any presidential candidate and doubt that I will prior to the presidential caucuses.