NOTE: On March 12, Democrat Shelley Parbs announced her candidacy in this district, and a third Democrat, Nick Volk, filed nominating papers on March 15.
Iowa Senate Democrats finally announced their challenger to first-term Republican Tim Kapucian last week, setting up a potentially competitive race in the new Iowa Senate district 38.
The new Senate district 38 covers all of Benton, Iowa, and Poweshiek counties: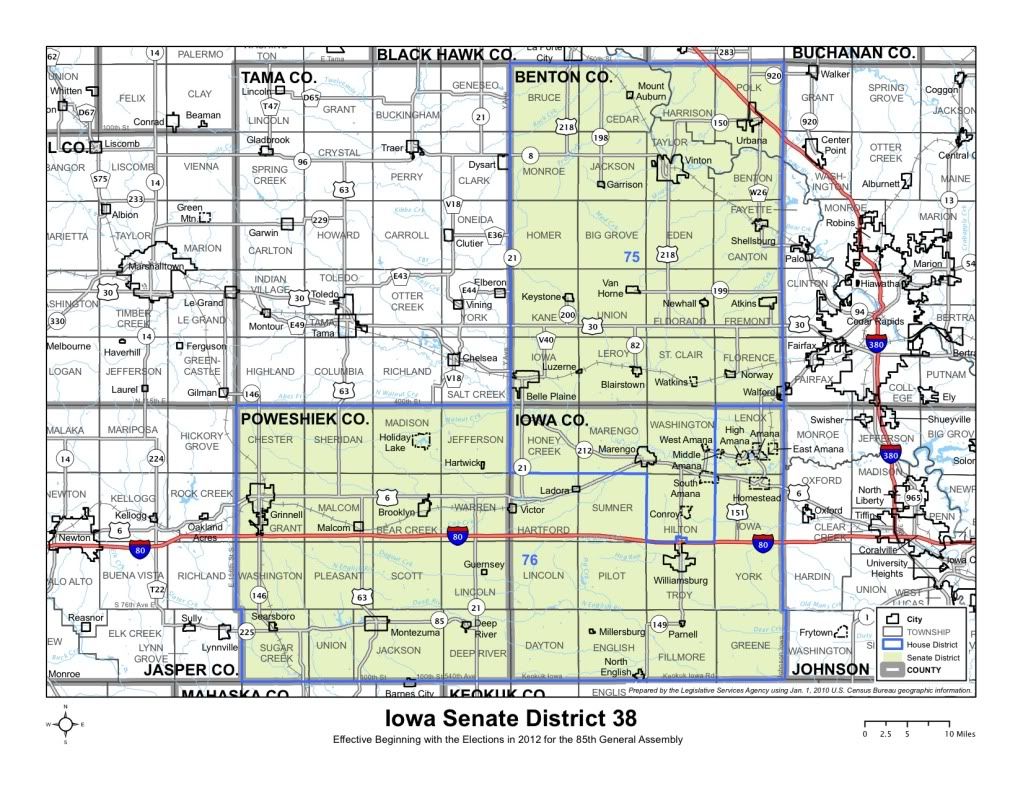 According to the Iowa Secretary of State's office, Senate district 38 contained 12,758 registered Democrats, 13,134 Republicans, and 18,557 no-party voters as of March 2012. If you add the active registered voter numbers in each county, the Senate district numbers look a bit better for the GOP: 10,845 active Democrats, 12,405 active Republicans, and 16,480 active no-party voters. Still, GOP incumbent Tim Kapucian is running for re-election in a more competitive district than the open seat he won in 2008.
Kapucian rose to an assistant minority leader position in the middle of his first Senate term. He remained on the Iowa Republican Senate leadership team after Jerry Behn took over from Paul McKinley as minority leader last fall. Here is his official bio from the Iowa Senate Republicans website:
State Senator Tim Kapucian of Keystone, an active family farmer and agricultural leader, launched his re-election campaign for the Iowa Senate and will run to represent the newly drawn Senate District 38, which includes all of Benton, Iowa and Poweshiek Counties in East Central Iowa.

The Ranking Member of the Senate Transportation Committee and Transportation, Infrastructure and Capitals Appropriations Subcommittee, Kapucian additionally serves as a member of the Senate Agriculture Committee and Senate Natural Resources Committee and recently co-chaired the "Re-Open Iowa for Business" Rules and Regulations Tour. Kapucian was also recently appointed to serve on the governor's 20-20 Transportation Commission.

In addition to his work in the Senate and on his family farm near Keystone, Kapucian is past president of the Iowa Pork Producers Association and served on the Agricultural Advisory Board to the Federal Reserve Bank of Chicago. He was named a "Friend of Agriculture" by the Iowa Farm Bureau in 2008.

Kapucian is a member of the St. John's Lutheran Church in Keystone and is married to his wife Brenda and he has two step-daughters and two step-grandchildren.
During the 2011 legislative session, Kapucian was the Senate Republicans' point person on efforts to force state employees to pay at least $100 per month in health insurance premiums. For that reason, I expect that AFSCME, the largest labor union representing state employees in Iowa, will actively support his Democratic opponent.
Kapucian's work on the transportation advisory commission may become an important campaign issue. That commission recommended a gasoline tax increase last fall. Kapucian has been quoted in the media supporting a gas tax hike and voted for the proposal in an Iowa Senate Transportation subcommittee as well as on the full committee. But rising gasoline prices and a statewide poll showing broad opposition to raising the gasoline tax have lowered the odds that the legislature will approve this proposal this year.
Rod Boshart reported from the capitol a few days ago,
"I think it's losing energy. I don't think it has the requisite support in the Legislature and Iowans sure don't support it right now," House Speaker Kraig Paulsen, R-Hiawatha, told reporters at a Statehouse news conference on Thursday.

Sen. Tom Rielly, D-Oskaloosa, and Rep. David Tjepkes, R-Gowrie, leaders of House and Senate transportation committees that have pushed a per-gallon gas tax increase between eight and 10 cents, concede that the recent jump in gasoline prices and the prospects for hitting $4 a gallon later this year have created political hurdles in the election-year Legislature.[...]

Tjepkes said there is a bipartisan recognition that Iowa's system of roads and bridges is deteriorating and current constitutionally protected revenue flowing into the state's road use tax fund is not keeping pace with critical needs.

He said an equivalent 10-cent-per-gallon gas tax increase phased through January 2014 would generate about $220 million annually to address that deficit, but the ongoing petroleum pinch on consumer pocketbooks is creating a political reality that may doom the issue for 2012.

"Every day you turn on the TV and you see the news coverage about gas prices going up, that does make the hill more steep for us to climb," Tjepkes said. "The infrastructure system is going to have to be addressed at some point, but politically it does make it that much tougher to sell."[...]

Tjepkes said he could envision a scenario where the proposed gas tax increase gets rolled into a comprehensive tax package designed to deliver property tax relief to commercial businesses and other property classes that also raises the earned income tax credit for working families.

He said the higher gas costs would be offset by tax relief that would be going to lower-income Iowans and property owners, and would shift some of the local infrastructure costs being borne by property taxes to out-of-state motorists who would pay more to use Iowa highways.

"Somewhere in that whole mix I would suspect that some form of a gas tax component might find its way into something like that," he said. "I don't think gas tax on its own would go any place."
Whether or not a gas tax increase becomes law, I expect voters in Iowa Senate district 38 will hear about Kapucian's multiple votes for a gas tax hike in direct-mail pieces and campaign advertising this fall.
For a long time I heard nothing about a possible Democratic challenger to Kapucian, but one finally emerged last week. From the Iowa Senate Democrats March 2 press release:
Grinnell area activist LaForest Sherman has announced plans to run for Iowa State Senate in District 38. District 38 includes Benton, Iowa and Poweshiek counties. Sherman is a long-time Poweshiek County Resident and lives across the road from his family's centennial farm.

"My family has resided in Poweshiek County for four generations. We've lived through many economic ups and downs-but few like this one we're in now," Sherman said. "And I believe at this critical time for Iowa, the Legislature has spent far too much time focused on divisive, social issues and not nearly enough time on economic issues to help middle class families get back on their feet."

Sherman added: "If I'm fortunate enough to earn the votes, I pledge to the people of district 38 that I will go to the Iowa Capitol and work to bring people together for common sense solutions to thechallenges we're facing today."

Sherman, a Democrat, is a Systems QA Analyst for Wells Fargo. He's a certified computer professional, as well as an analyst, trainer and author of business applications for several different industries, including medical, insurance, banking and publishing companies. LaForest and his wife Winnie have two grown children.

"Winnie and I have raised our kids and for the past several years have dedicated our free time to the betterment of our community," Sherman added. "It's important to take an active role to ensure that the future is bright for the next generation. I'm going to knock on doors and meet as many people as possible over the next several months. I'm going to listen to what people in Senate District 38 have to say and then I'm going to do my best to make sure our concerns and ideas are heard up at the State Capitol."
I haven't seen a campaign website for Sherman yet. His Facebook page lists several interests, including Democracy for America and the movement supporting a constitutional amendment to "firmly establish that money is not speech, and that human beings, not corporations, are persons entitled to constitutional rights."
Benton County has the largest population of the three counties in the district. If Kapucian runs up the score there, he will be favored to survive even solid presidential-year turnout in Grinnell. Sherman will need not only strong turnout among Democrats, especially in Poweshiek County, but also to do well among no-party voters. The good news for him is that the incumbent is probably not very well-known in Poweshiek or Iowa counties.
A Republican represents one of the two Iowa House seats that make up Senate district 38, while the other House seat is open.
To my knowledge, Democrats do not have a candidate in Iowa House district 75, which covers Benton County and a small area in northern Iowa County. The Republican incumbent is four-term State Representative Dawn Pettengill. She originally won a seat in the Iowa House as a Democrat in 2004 but switched parties in the spring of 2007. House Democrats vowed an aggressive effort to win back her seat, but Pettengill won re-election in 2008 by about 1,400 votes. Democrats did not field a candidate against her in 2010. The new Iowa House district 75 contained 5,755 registered Democrats, 6,247 Republicans, and 9,352 no-party voters as of March 2012.
MARCH 10 UPDATE: Sandra Cronbaugh will be the Democratic candidate in House district 75.
Sandra Cronbaugh, a Democrat, owns the von Essen Galerie in Williamsburg and maintains a family farm with her husband. She also serves on the Iowa County Economic Development Commission.

In a press release announcing her candidacy, Cronbaugh emphasized state efforts to attract and retain businesses.

"As a small business owner and farmer, I understand the challenges business owners face every day and will make sure the state does more to help Iowa businesses succeed," she said in the release.
House district 76 covers all of Poweshiek and most of Iowa counties. Grinnell City Council member Rachel Bly is the Democratic candidate here. She'll be working with Sherman to maximize turnout in the Grinnell area. Republican David Maxwell announced his candidacy last October. Neither Bly nor Maxwell filed nomination papers with the Secretary of State's office last week. The latest voter registration numbers show 7,003 Democrats, 6,887 Republicans, and 9,205 no-party voters in House district 76.
Share any relevant thoughts in this thread.