Two-term Democratic State Senator Tom Rielly announced today that he will not seek re-election in the new Iowa Senate district 40. That seat was arguably the Senate Republicans' best pickup opportunity even before Rielly confirmed his retirement plans.
The new Senate district 40 contains all of Mahaska, Monroe and Appanoose counties, plus most of western Wapello County (but not Ottumwa) and the corner of Marion County that includes Pella.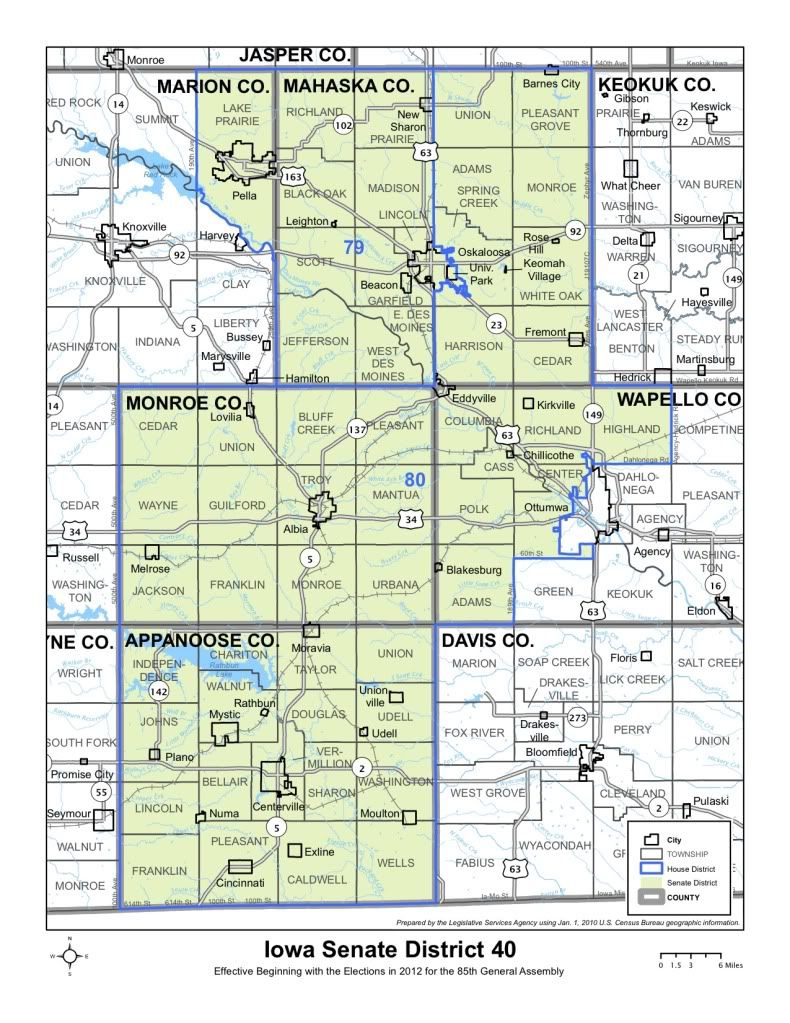 Redistricting dealt Rielly a worse hand than most Iowa House or Senate incumbents. In 2008 he won re-election in the old Iowa Senate district 38 with a roughly 4,000 vote margin of victory (pdf). But the new map of political boundaries took the Democratic-leaning Grinnell area out of Rielly's district while adding Pella, one of Iowa's most notoriously conservative towns. (The rest of Marion County is in the open Senate district 14.)
According to the Iowa Secretary of State's Office, the new Senate district 40 contained 11,309 registered Democrats, 16,838 Republicans, and 14,388 no-party voters as of March 2012 (pdf).
Those numbers presented a huge hurdle for Rielly, despite his strong roots in Mahaska County. He was mayor of Oskaloosa before winning his first term in the legislature.
As chair of the Iowa Senate Transportation Committee, Rielly has been one of the legislature's leading proponents of raising the gasoline tax to pay for road and bridge repairs. In the statement he released today, he pledged to continue to fight for that "crucial cause." He hinted that redistricting hadn't forced his hand ("I am confident that I could make this a competitive race in the new district") but said he chose family responsibilities and "an exciting new business opportunity" instead.
March 6, 2012

'I will not seek re-election….It's just time for me to stay closer to home.'

A statement by State Senator Tom Rielly:

After many months of consideration and thought, I am announcing today that I will not seek re-election to a third term to the Iowa State Senate. Please believe me, my wife, Mary and I are not making this decision on a whim, and it was not an easy one to make.

For the past 15 years, as a Mayor and State Senator, I have had the honor and privilege of representing the many great citizens of Oskaloosa, as well as other communities in Mahaska, Poweshiek, Tama, Iowa and Keokuk counties. Since 2005, I am proud to have:

· Improved Iowa's business climate by creating more opportunities for Main Street businesses to expand and hire more employees.

· Made Iowa is a more inviting place for retirees and other senior citizens by phasing out state income taxes on Social Security benefits and pension income.

· Helped enact the Smoke Free Air Act

· Stood up for the civil rights of all Iowans

· Ensured universal pre-school

· Guaranteed that all Iowa children have access to affordable health insurance and that kids can stay on their parents' plans until the age of 26

· Made it easier for small employers to obtain health insurance by authoring the uniformed health insurance application

· Fought for autistic children to get the proper care they need

· Helped make higher education more affordable for students at our small colleges, community colleges and state universities

· Improved the quality of life in smaller Iowa communities by expanding cultural and recreational opportunities across ourstate.

I am proud of the crusade I lead to improve the safety of our roads and bridges, while putting people back to work. While I am disappointed and concerned that they will yet again be kicked down the road, I will continue to fight for this crucial cause.

I guess what I am most proud of is that I did work in a bi-partisan manner. I did reach across party lines and tried to the best of my ability to pass good policy and put politics on the sideline. While I have not been afraid of facing controversial issues head on, I tried to do so in a respectful, civil and professional manner.

Recently, I have had many changes in my life. I am committed to staying closer to home because I have an exciting new business opportunity that I will be announcing over the next few weeks; and because Mary and I are "empty nesters" for the first time in our marriage.

I am not saying good-bye to public service. I always have and always will be committed to public service, it's just time for me to stay closer to home.

I am confident that I could make this a competitive race in the new district. Believe me, I like a good fight and robust debate. However, I have to weigh the time needed to run an effective race versus expanding my business, spending more time with Mary, visiting our daughters as that participate in collegiate volleyball, and doting over our two little pooches, Bean and Lucy.

This is one of the most difficult decisions that I have made in quite some time. While it has been an honor to represent the citizens of Senate District 38 for the past eight years and while I remain more committed than ever to Public Service, I choose Family.
I wonder whether Democrats will even field a candidate in Iowa Senate district 40. If anyone does take on this challenge, I doubt s/he will get significant help from the Senate Majority Fund or outside groups. Other districts are far more likely to help Democrats keep their slim advantage in the upper chamber.
The favorite to win the new Senate district 40 is Mahaska County Supervisor Ken Rozenboom, a Republican who announced his campaign in December and filed nominating papers last week. The Iowa Senate Republicans sent out this press release announcing his candidacy on January 27:
OSKALOOSA – Mahaska County Supervisor Ken Rozenboom today announced his candidacy for the newly drawn Senate District 40, a seat which includes all of Mahaska, Monroe and Appanoose Counties in addition to the City of Pella in Marion County and western Wapello County.

A farmer, agri-businessman and lifelong Iowan who was born and still resides in Mahaska County, Rozenboom, 60, is a graduate of Pella Christian High School and attended Calvin College in Michigan. After college, he moved back home to farm with his father and brother for a few years before taking a position in sales and production management for Wake's Inc., a local agricultural supplier. After 30 years with Wake's, he and his Brother now operate VG Farms, a family farming operation in rural Mahaska County.

Rozenboom, who was elected to the Mahaska County Board of Supervisors in 2010, is running for the Iowa Senate because he says Southern Iowa needs a strong advocate for more private sector jobs, lower taxes, less government and he wants to give Iowans a greater say in their own government.

"We need to open our state up for business and economic development and create a climate where entrepreneurs are able to thrive, invest in our workforce and create jobs," said Rozenboom. "Iowans need good private sector jobs, they want their government to quit the out-of-control spending and they are worried about ever higher property taxes and onerous rules and regulations," he continued.

Besides jobs, taxes and Iowa's rule and regulatory climate, Rozenboom is adamant about giving Iowans a vote on the definition of marriage and he is passionate about education reform. He says it is unacceptable that Iowa has slipped to the middle of the pack at a time when our kids need the skills to compete in an increasingly competitive global economy.

"When we get back to the fundamentals of education, we will again be able to put our students first by preparing them to be productive citizens who possess the necessary knowledge to compete with anyone else in the world," said Rozenboom.

Rozenboom has been married to his wife Becky for 40 years and they have a daughter and son-in-law who have three children and one adult son, an Army paratrooper awaiting his second deployment to Afghanistan.

Beside his farm and family life and Board of Supervisors work, Rozenboom is an elder and deacon in his (enter name of Church) and served nine years on the board for the (enter name of Christian School). He has served many years, including a stint as chairman on two local agencies: the Human Services Resource Council, an organization that provides emergency needs for low income families as well as on the Christian Opportunity Center board, an organization that provides residential and vocational services for special needs adults. Additionally, Rozenboom is a member of the Mahaska County Farm Bureau and Oskaloosa Rotary Club.

"I look forward to bringing my optimistic message and hardworking grassroots campaign to every voter in the district as we all join together with the goal of bringing about a better direction for Iowa and a brighter future for our children and grandchildren," he concluded.
For a brief time, a competitive GOP primary appeared likely in Senate district 40. Mark Doland, pastor of Park Church of Christ in Oskaloosa, announced his candidacy in early January. Longtime Bleeding Heartland readers may recognize Doland's name. While on the staff of the Iowa Family Policy Center (now part of the FAMiLY Leader organization), Doland was a key campaign worker for Republican Stephen Burgmeier in the 2009 Iowa House district 90 special election. He was active in the campaign against retaining three Iowa Supreme Court justices in 2010.
Less than two weeks after launching his campaign, Doland dropped out of the Senate race and endorsed Rozenboom. He added in a press release, "After Ken Rozenboom wins the general election in November, his county supervisor seat will be vacant, and that looks very appealing to me." Republicans have a strong voter registration advantage in Mahaska County.
Share any relevant thoughts in this thread.