Iowa is second only to Vermont in the number of farmers markets and community-supported agriculture farms per capita, according to data compiled by the Vermont-based non-profit Strolling of the Heifers.
Strolling of the Heifers created a "Locavore Index" as a rough measure of local food access and demand in each of the 50 states.
Using data exclusively from government sources (principally USDA and US Census data) dating from 2010 and 2011, the Locavore Index measures the commitment of states to locally-sourced foods by measuring the per-capita presence of Community-Supported Agricultural enterprises and Farmers Markets, each of which is an indication of both the availability and demand for locally-produced food.

CSAs are a cooperative agreement between farmers and consumers; consumer buy shares in the farm's output and have some say in what is grown. When crops come in, they are divided among shareholders according to the volume of their shares, and the rest may be sold at market. CSA farmers get revenue in advance to cover costs of tilling, soil preparation and seed. Shareholders get fresh produce grown locally and contribute to sustainable farming practices.

Farmers Markets are generally cooperative efforts to market locally produced food in a central location where consumers can select and purchase food from multiple farm enterprises.

The Index incorporates both CSAs and Farmers Markets in its per-capita, 50-state comparison of consumers' interest in eating locally-sourced foods – also known as locavorism.
Strolling of the Heifers released this chart yesterday, showing the state rankings along with supporting data. I was surprised to see that Iowa was the only Midwestern state in the top five on the Locavore Index.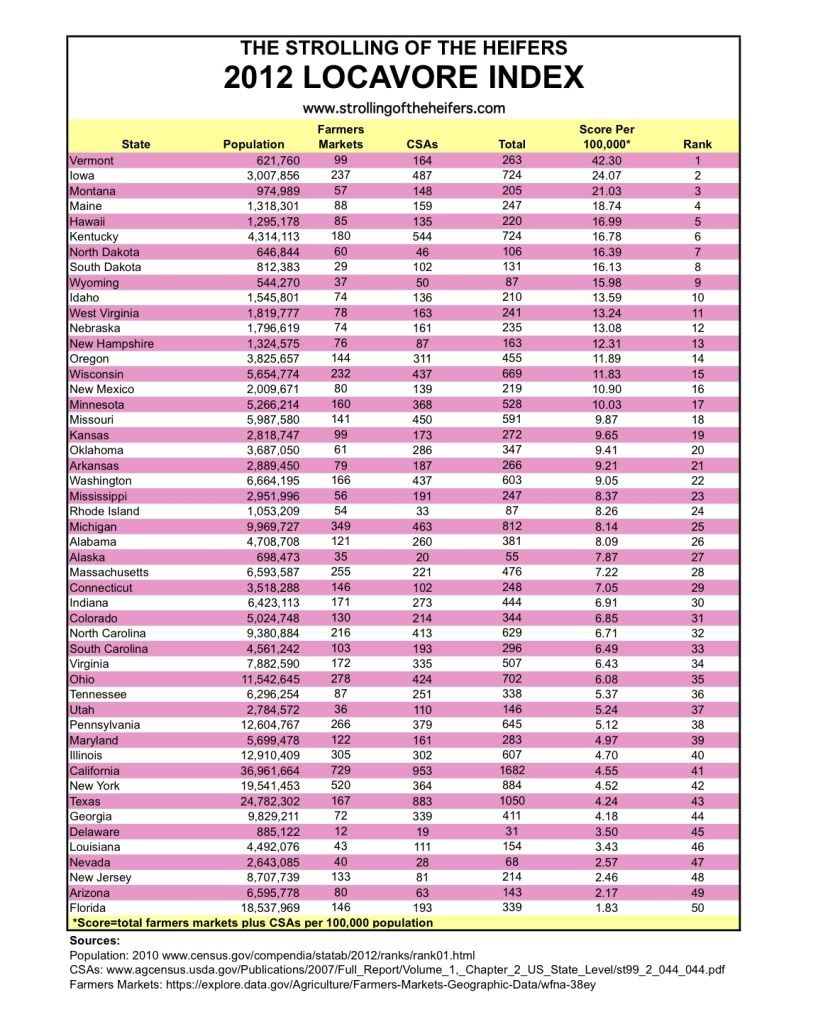 It's encouraging to see so many farmers markets and CSA farms succeeding in Iowa, but we could do much more to make local produce, meat and dairy a larger share of the food Iowans eat. Last year the state legislature approved a new Local Food and Farm Initiative with the following goals:
• Promoting the production of Iowa-grown food, including but not limited to livestock, eggs, milk, fruit, vegetables, grains, herbs, honey, and nuts;

• Supporting the processing and packaging of Iowa-grown agricultural products into food products, including canning, freezing, dehydrating and bottling;

• Aiding the distribution and marketing of fresh and processed Iowa-grown agricultural food products to markets in this state and neighboring states;

• Increasing consumer and institutional spending on Iowa-produced and marketed foods;

• Boosting the profitability of farmers and businesses engaged in enterprises related to producing, processing, distributing, and marketing local food;

• Creating new jobs in the state's farm and business economies associated with producing, processing, distributing, and marketing local food.
I hope this program accomplishes more than the farm to school initiative the Iowa legislature approved in 2007. Few Iowa school districts have incorporated a significant amount of locally-grown food in school lunches.
The Leopold Center for Sustainable Agriculture at Iowa State University has published many studies on the economic impacts of local food production and farmers markets.