Preliminary results from the Iowa Secretary of State's website show that President Barack Obama defeated Mitt Romney in Iowa by 807,146 votes to 720,323 (51.89 percent to 46.31 percent) amid record participation of 1,555,570 voters statewide.
As expected, the president won a plurality of the vote in fewer Iowa counties this year than in 2008, but he did pick up one county that was a big surprise for me. Some thoughts about the presidential vote in Iowa are after the jump, along with maps showing which counties Obama, Romney, and John McCain carried. You can find vote totals for every county on the Iowa Secretary of State's website.
In 2008, Barack Obama carried 53 Iowa counties, while John McCain carried 46.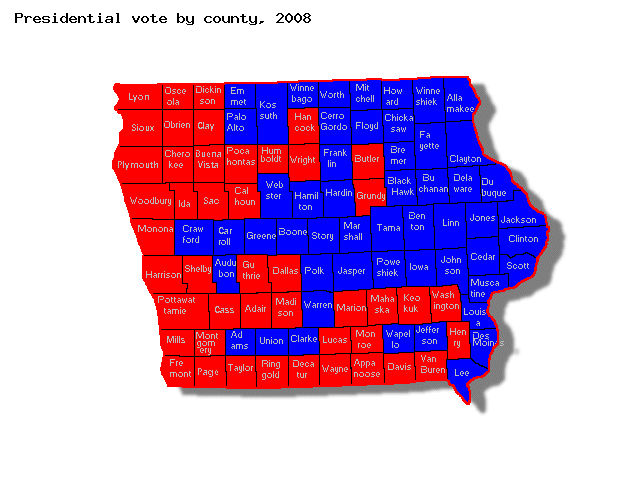 It looks like Obama carried 38 counties this year, Romney 61.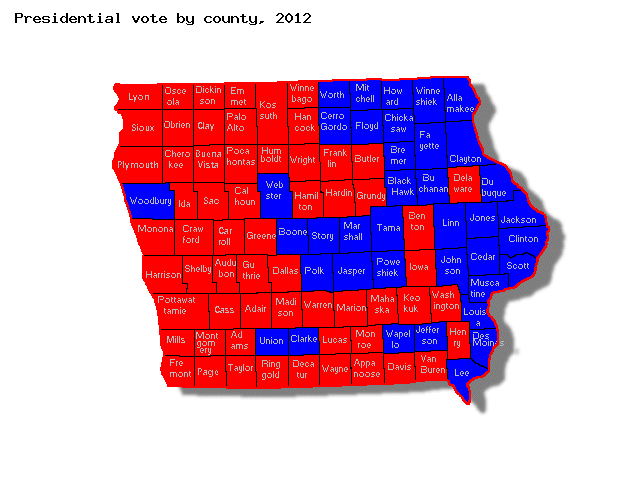 Note: at this writing, Romney leads Obama in Winnebago County by just two votes. That margin could shift in the president's favor during the official canvass. UPDATE: After the canvass, Romney led Obama by three votes in Winnebago.
Woodbury County, containing the Sioux City metro area, jumps out as the only county Obama carried this year that he lost in 2008. I was surprised to see that.
Jennifer Jacobs had an interesting piece in today's Des Moines Register on the Obama campaign's turnout operations in five counties: Polk (Des Moines area), Linn (Cedar Rapids area), Scott (Quad Cities), Dubuque, and Woodbury. Excerpts:
Robust get-out-the-vote operations in Polk, Linn, Scott, Dubuque and Woodbury counties alone raked in about 73,000 more votes than Republican Mitt Romney, helping clinch Obama's victory by nearly 87,000 votes statewide. […]

Obama collected 807,146 votes, or 52 percent, according to unofficial results from the Iowa secretary of state's office, with 100 percent of precincts reporting.

That's 21,794 short of Obama's 828,940 votes four years ago, an all-time high for a presidential candidate in Iowa. […]

The Democrats rallied 32,000 more Obama voters in Polk County than four years ago, and 12,358 more in Scott.

Obama won Linn County by 17.5 points (20,601 more voters than 2008), Dubuque County by 14.5 points (7,335 more voters), and Woodbury County by about half a point (43 more voters), unofficial results showed. […]

Obama pulled Woodbury into his column, boosting his vote total here by 43, while Romney drummed up 440 fewer than McCain four years ago.

Woodbury is in the heart of Iowa's red west, but is home to an outpost of urban Democrats. This is a river county where three states come together, and voters worry about competing with neighbors for jobs. The Obama campaign headquarters here was in a Hispanic neighborhood in Sioux City. GOP and Democratic voter registration is nearly tied here, with a 79-voter edge to the Republicans as of the start of November.
Given the state of the economy, I didn't expect the president to win more votes in any of Iowa's metropolitan counties than he did four years ago.
The Obama campaign's GOTV surely helped Democratic candidates win several hard-fought Iowa House races.
In Linn County, Art Staed and Daniel Lundby defeated Republican incumbents Renee Schulte and Nick Wagner in Iowa House districts 66 and 68, respectively.
In Scott County, Frank Wood defeated Ross Paustian in House district 92.
In Woodbury County, Sioux City Democrats Chris Hall and David Dawson won House districts 13 and 14, respectively. (I wish Iowa Senate district 7 had been on the ballot this year.)
In Polk County, winning Democratic candidates John Forbes (House district 40) and Joe Riding (House district 30) may have benefited from the Obama campaign's outreach too.
Any relevant thoughts are welcome in this thread.
Counties Obama won in 2008 and 2012 (37)
Allamakee

Black Hawk

Boone

Bremer

Buchanan

Cedar

Cerro Gordo

Chickasaw

Clarke

Clayton

Clinton

Des Moines

Dubuque

Fayette

Floyd

Howard

Jackson

Jasper

Jefferson

Johnson

Jones

Lee

Linn

Louisa

Marshall

Mitchell

Muscatine

Polk

Poweshiek

Scott

Story

Tama

Union

Wapello

Webster

Winneshiek

Worth
Counties Obama won in 2008 and Romney won in 2012 (16)
Adams

Audubon

Benton

Carroll

Crawford

Delaware

Emmet

Franklin

Greene

Hamilton

Hardin

Iowa

Kossuth

Palo Alto

Warren

Winnebago (that result could change after official canvass)
Counties McCain won in 2008 and Romney won in 2012 (45)
Adair

Appanoose

Buena Vista

Butler

Calhoun

Cass

Cherokee

Clay

Dallas

Davis

Decatur

Dickinson

Fremont

Grundy

Guthrie

Hancock

Harrison

Henry

Humboldt

Ida

Keokuk

Lucas

Lyon

Madison

Mahaska

Marion

Mills

Monona

Monroe

Montgomery

O'Brien

Osceola

Page

Plymouth

Pocahontas

Pottawattamie

Ringgold

Sac

Shelby

Sioux

Taylor

Van Buren

Washington

Wayne

Wright
County McCain won in 2008 and Obama won in 2012
Woodbury