Iowa Economic Development Authority Director Debi Durham went to the statehouse yesterday to advocate for more tax credits to use as business incentives during the next fiscal year. She inadvertently revealed that in the negotiating department, she could benefit from wisdom that President Ronald Reagan borrowed from a Russian proverb.
According to Dar Danielson's report for Radio Iowa, Durham is asking state legislators "to raise the cap on economic development tax credits from $120-million to $185-million." The Iowa Economic Development Authority uses those tax credits to encourage corporations to invest in Iowa or expand their existing operations here.
Democratic State Senator Bill Dotzler chairs the Iowa Senate Economic Development budget subcommittee. During yesterday's hearing he challenged Durham on a deal finalized last September. A multinational corporation received more than $100 million in state tax incentives and $130 million in local tax incentives in exchange for promising to build a new fertilizer plant in Lee County. Senate Democrats have argued persuasively that the Orascom company would have built its facility in Iowa anyway.
Danielson reported on part of Dotzler's exchange with Durham.
"There are those who would say that maybe the governor's willingness to try to get to 200,000 jobs that we're overbuying on a deal," Dotzler said to Durham. Durham answered quickly, "Governors never negotiate deals. I did this deal, I own this deal and I did what I thought we had to do based on the evidence."

She said she trusted the fertilizer company CEO's when he told her the plant would go somewhere else without the incentives. But Dotzler wondered if the plant would have been built here anyway.

"Should we raise these caps and are you gonna continue to make those kind of deals where we're giving too much out?," Dotzler asked. Durham said it was fair to look at the fertilizer deal, but she said incentives have to be viewed in a broader picture.

"Let's look at all the deals combined. And you look what little investment we're getting for the kind of return we're having on our books," Durham said.
First off, I don't think Terry Branstad will like that "Governors never negotiate deals" talking point. He's about to launch a re-election campaign based on his alleged job creation prowess, which is one part fuzzy math and one part "I know how the business world works." When announcing the fertilizer plant deal, he gave the impression that he was very involved in the negotiations.
I'm more intrigued by Durham's comment that she "trusted the fertilizer company CEO" when he told her he would take the project elsewhere if Iowa authorities did not put up tax incentives totaling nearly $1 million per permanent job to be created.
Really?
Durham has enough experience in the business world to know that this kind of deal requires due diligence.
Iowa Senate Ways and Means Committee Chair Joe Bolkcom learned from staff in Durham's own department,
Orascom was approved for $1.2 billion in Midwestern Disaster Area (MDA) bonds by the Iowa Finance Authority on April 13, 2012. MDA bonds were created to help businesses recover from the historic 2008 floods that devastated parts of the Iowa and the Midwest. Every site under consideration in Iowa qualified for the bonds; the competing Illinois sites did not. [...]

The bonds allow private companies to borrow at tax-exempt rates, meaning they save 1 to 2 percent on their borrowing costs. Assuming the bonds produce a net savings of $300 million to Orascom, the corporation would receive a total of $550 million in taxpayer subsidies from federal, state and local governments. This means that 165 permanent jobs created will cost approximately $3.3 million per job.

Midwestern Disaster Area (MDA) bonds were created to help businesses recover from the historic 2008 floods that devastated parts of the Iowa and the Midwest. These bonds were created after the floods of 2008. They were modeled after bonds created after 9/11 (Liberty Zone bonds) and after Hurricane Katrina (Gulf Opportunity bonds). They expire at the end of the calendar year.

MDA bonds allow private companies to borrow at tax-exempt rates. The bonds are purchased by anyone from insurance companies, pension funds, investment funds, to private individuals. The interest earned on the bonds is exempt from federal taxes (not Iowa state taxes).

MDA bonds are only available in counties that received a FEMA Disaster Declaration after the 2008 floods. Lee County, where the Orascom plant is to be located, received this Disaster Declaration in 2008. The Illinois sites under consideration were Peoria (Peoria County) and Pekin (Tazewell County). Neither was eligible for federal Midwest Disaster Area bonds.
Governor Branstad may sincerely believe that Iowa got the fertilizer plant "by the skin of our teeth" against Illinois. But the governor's economic development team should have realized that Orascom was never going to build east of the Mississippi. Bolkcom distributed these maps last September: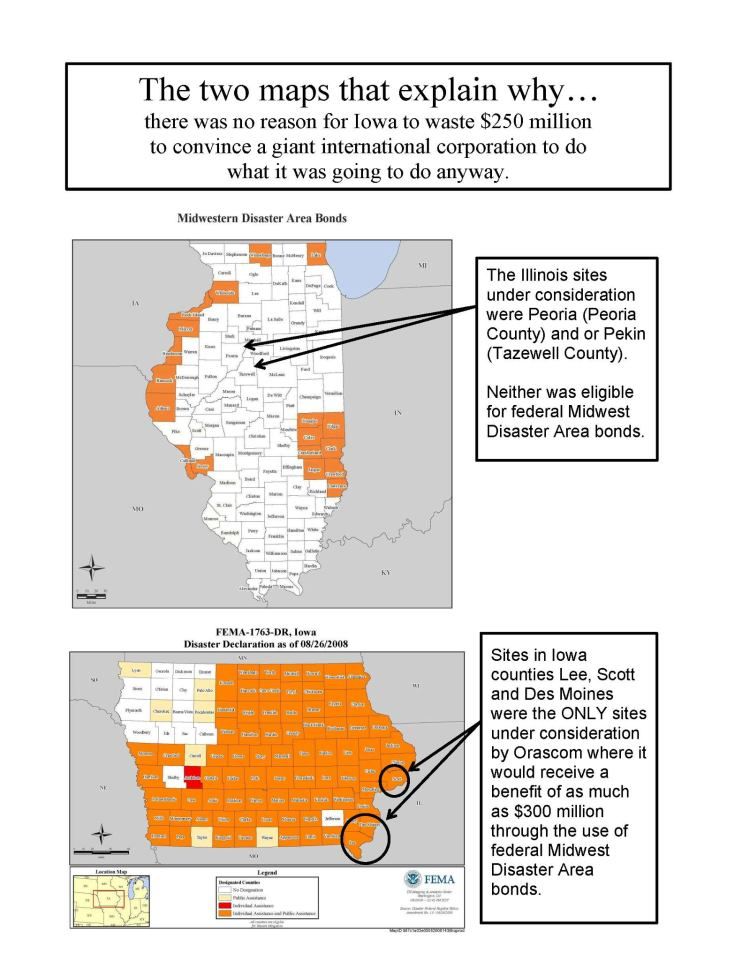 All of that information was available to Durham last summer, if she had researched whether Orascom was truly in a position to walk away from Iowa. I don't admire much about Ronald Reagan, but he had good taste in Russian proverbs. "Trust, but verify" was one of his favorite expressions.
Branstad is so pleased with Durham's performance that he has repeatedly given her $30,000 bonuses to raise her salary well above the ceiling established by state law. Legislators should think hard before giving her 50 percent more tax credits to offer large corporations next year.
FEBRUARY UPDATE: More signs that Durham and her staff failed to do basic due diligence before signing off on this deal.