Expanding Medicaid in Iowa would add nearly $2.2 billion to the state's economy, create an estimated 2,362 jobs, and save state government about $1.6 billion, according to a new study. For now, Governor Terry Branstad is sticking to his alternative plan for covering some low-income Iowans, but Senator Tom Harkin predicted last week that federal officials will not approve a waiver for Branstad's approach.
Follow me after the jump for details on those stories and more about Medicaid in Iowa. I've also enclosed a moving personal statement State Senator Mary Jo Wilhelm delivered today about Iowans who can't afford health insurance.
The Iowa Hospital Association's blog published highlights today from a new study on the economic impact of Medicaid expansion in Iowa. Five researchers from Regional Economic Models, Inc. and George Washington University prepared the study, which you can download here (pdf). The American Hospital Association funded the study; that group supports the Medicaid expansion foreseen in the 2010 health insurance reform law. This table illustrates some of the findings.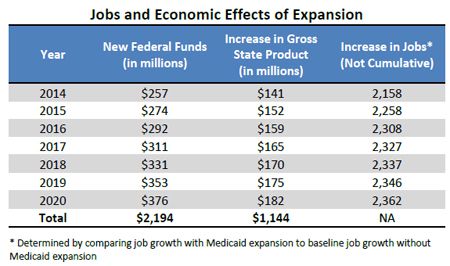 Scott McIntyre summarized other conclusions on the Iowa Hospital Association's blog.
"Expanding Medicaid to non-elderly adults with family incomes up to 138 percent of the federal poverty level will provide considerable economic benefits to Iowans," is the conclusion of the report that was prepared by Regional Economic Models, Inc. and George Washington University. "Medicaid expansion will reduce direct Medicaid costs to the state and enable the state to draw down billions of dollars in additional federal funding that will support jobs and maintain the state's health care infrastructure."

The economic benefits of Medicaid expansion are in addition to providing physical and mental health care coverage to an estimated 115,000 uninsured Iowans. [...]

The report, which was funded by the American Hospital Association, found that while most of the 2,362 jobs created by Medicaid expansion would be in the health care sector, a substantial share will occur in other areas, reflecting the broad multiplier effect of Medicaid expansion. Furthermore, the $2.2 billion economic impact of expansion would be felt in all parts of the state. [...]

A combination of direct state Medicaid savings, new state revenues and offsetting savings related to Medicaid expansion would bring a total net savings of $1.607 billion from 2014 (when Medicaid expansion would kick in) to 2020.
Note: the Affordable Care Act called for states to expand Medicaid to cover all adults earning up to 133 percent of the federal poverty level. However, 5 percent of a person's income is disregarded when calculating Medicaid eligibility. For that reason, this study assumes that all Iowans earning up to 138 percent of the federal poverty level would be covered under the Medicaid expansion. Iowa Medicaid Director Jennifer Vermeer used the same assumption in calculating the potential savings to Iowa counties from expanding Medicaid.
The new study reached a different conclusion from the Milliman, Inc. report Governor Terry Branstad commissioned regarding the costs and benefits of expanding Medicaid. Excerpt from page 8 of the pdf file:
State and Federal Expenditures for Expansion

Our estimates of new federal and state spending resulting from Medicaid expansion in Iowa differ from the Milliman, Inc. estimates.7 For example, this report uses the Urban Institute estimates of $459 million in direct Medicaid savings from 2014 to 2020 due to the Medicaid expansion, while Milliman estimates that the state will save $118 to $206 million, exclusive of the "woodwork" enrollment effect which would occur regardless of whether the state expands Medicaid.8 While the estimates vary in magnitude, they are similar in that they indicate a net state savings associated with a Medicaid expansion because of the higher federal matching rates for those who are newly eligible in an expansion. In contrast, our estimates for additional federal matching revenues generated by the Medicaid expansion ($4.1 billion from 2014 to 2020) is in the range of the federal revenue estimates produced by Milliman ($2.7 to $4.8 billion), so those are closer. All estimates-others and ours-are approximate since it is impossible to know in advance exactly what the condition will be of the state's economy, how many people will participate or how high medical costs will be in the future. However, our projections provide a general sense of the overall magnitude and direction of expected economic and budgetary impacts.

Total Change in Employment and Earnings

One of the most obvious ways that the economy affects people's lives is through creation of new jobs. The additional spending made necessary by expanding Medicaid will lead to millions of dollars of new money going into the health care industries noted above. Most beneficial to Iowa is the commitment of the federal government to cover 100% of the cost through 2016. Figure 1 shows the expected change in employment resulting from the increase in demand for health care and the ripple effects and these changes. The net increase in overall state employment will be between 2,100 and 2,400 jobs. While the majority of these jobs will be in the health care sector, a substantial share will occur in other economic sectors, reflecting the broad multiplier effect of the Medicaid expansion on many sectors of the state economy. For example, to the extent that health care facilities need to expand to serve the newly covered patients, there will be real estate and construction costs that will boost employment in those sectors as well.
From page 13 of the study:
These estimates suggest that the combination of new state revenues and offsetting savings related to Medicaid expansion could actually lead to substantial state savings over the 2014-2020 period of more than $1.6 billion. Again, we note that these costs are the incremental costs associated with expanding Medicaid vs. not expanding Medicaid. The state will have to cover ongoing Medicaid expenditures and other ACA-related changes, including a significant woodwork effect, regardless of the decision to expand Medicaid eligibility or not.
I don't understand why the U.S. Health and Human Services Department would grant a waiver to Iowa for a program that even Branstad admits would cover tens of thousands fewer people than the Medicaid expansion. Senator Tom Harkin, who chairs the Health, Education, Labor and Pensions Committee, told Iowa reporters last week that federal officials are likely to reject Branstad's plan.
Harkin said he spoke to U.S. Health and Human Services Secretary Kathleen Sebelius after Branstad outlined his proposal to her last month. Harkin said Sebelius agreed with him that Branstad's idea was "not acceptable." [...]

Harkin noted that under Branstad's proposal, the state would have to pay a much larger share of the cost than it would under the Medicaid expansion, which would cover many more people. The senator said he doesn't understand Branstad's fears that the federal government would renege on its promise to finance the expansion. He noted that dozens of states, including several with Republican governors, have agreed to the proposal. "If a future administration ever decided to cut back on that, what do think the Congressmen and the senators from those states would do? Would they allow that to happen? No way." [...]

The Iowa senator said many Iowa interest groups, including those representing hospitals, patients and doctors, support expanding Medicaid. "I can't find anyone who's opposed to this expansion of Medicaid," he said. "Why the governor's digging in his heels on this, it's just bizarre."

When asked for response, Branstad spokesman Tim Albrecht did not directly address Harkin's report of Sebelius' opinion on the matter. "Gov. Branstad had a productive meeting with Secretary Sebelius on the Healthy Iowa Plan and we will continue to work with U.S. Health and Human Services," Albrecht wrote. The proposal, which has not been finished or formally filed, also would need approval from the Iowa Legislature. Democrats leading the Senate have criticized the idea, but Albrecht wrote that his boss will keep talking with them. "Gov. Branstad remains committed to working with leaders in the Iowa House and Iowa Senate to finding thoughtful solutions for Iowans."

An HHS spokeswoman said the agency's only comment on Harkin's report of his conversation with Sebelius was that the agency has not received a formal proposal from Branstad.

Harkin is chairman of the Health, Education, Labor and Pensions Committee. The committee helps oversee the Health and Human Services Department, which would have to approve Branstad's proposal. When asked if he would use that position to try to sway Sebelius to reject the proposal, Harkin replied: "I don't think I need to."
I haven't heard of any stakeholder groups endorsing Branstad's approach, but he still seems to have the support of Iowa House and Senate Republicans. GOP State Senator Amy Sinclair explained her thoughts on the subject in a recent blog post:
Let me share my concerns about the federal government's request to expand Medicaid. First of all our government is $16 trillion in debt. For states electing to expand Medicaid, it isn't as easy as saying, "sure, we're in." The risky expansion of Medicaid comes with promises of additional money only if conditions are met. I believe those funds could be very uncertain as the federal government struggles with its own spending issues. The reason for my skepticism is due to how the federal government has reimbursed the state in the past 10 years. Since fiscal year 2004, the federal reimbursement rate has dropped from 63.82 to 58.35 percent, which is a funding decrease of 5.47 percent.

Iowa's expansion of Medicaid would include growing the enrollment by an additional 150,000 Iowans at a projected cost up to $537 million through 2020. Proponents see the Medicaid expansion as free federal money with few strings attached; rather, it is an unsustainable program with massive costs, few measurable outcomes, and no new solutions for making Iowans healthier.

Here is the question I ask of you: would you keep taking your car to a mechanic who fails to fix your vehicle properly the first, second, third and even eleventh time. Probably not, right? The last thing you want to do is spend your hard-earned money on something you know could come to a screeching halt in a matter of seconds, minutes or days. That is how I view the federal government's specific strings-attached proposition.

I truly believe there are more affordable and better options to give all Iowans the healthcare they deserve with the overhaul of the IowaCares program, which is currently in place to help low-income Iowans receive healthcare. I would propose the state reimburse local hospitals when qualified low-income Iowans receive care. There are less than a handful of IowaCares facilities and expanding the number that provide care could be a significant first step in insuring low-income Iowans. Expanding IowaCares seems more reasonable instead of throwing millions of taxpayer dollars into a system that is currently flawed and its funding future uncertain from the federal government. Instead of just jumping in to say, "sure, we're in," it might behoove us to bring our hospital administrators, physicians, legislators and interested parties to discuss this further to address any potential problems with this expansion.
Sinclair's arguments don't make sense. Iowa receives about $2 billion in Medicaid funding per year already. Should be we sending that back because of the federal debt? Branstad is still seeking federal funding for his Healthy Iowa Plan; the main differences are that Iowa's state budget would pay more to provide less extensive coverage to fewer people.
The Sunday Des Moines Register included two strong unsigned editorials on Medicaid. In this piece, the Register's editors noted the obstacles to getting a federal waiver to pursue an alternative to Medicaid expansion. The lengthy process will likely not be completed before the state legislature finishes its work for this year.
If the Iowa Legislature adjourns without expanding Medicaid, lawmakers are positioning Iowa for a scenario in which the state does not extend the program to cover thousands of low-income Iowans and Washington does not approve a waiver for Branstad's Healthy Iowa Plan.

On Jan. 1, thousands of poor Iowans may not have health insurance or access to government-assisted health care. They will have nothing, and our elected officials will be to blame.
This Des Moines Register editorial pointed out Branstad's very subjective attitude toward taking federal money in a time of deficits.
Nearly every department and agency in state government relies on money from Washington. In 2012, for example, the cost of operating Iowa's state government and its programs that millions of Iowans depend on was about $14.6 billion. While $6.1 billion came from state tax revenues, and other sources provided $2 billion, the federal government provided $6.5 billion, according to the Legislative Services Agency.

The governor's position on Medicaid - that the feds can't afford to spend that money on poor Iowans - raises a worrisome question: Does Branstad also want Iowa to forfeit federal money we receive for other programs?

Let's hope not. Iowa would lose the majority of funding for everything from nursing home inspectors to foster care services. Almost the entire Department on Aging - and its programs that provide meals to seniors - is paid for with federal money. So is the $556 million in food stamps that are spent at Iowa grocery stores. Should Iowa decline to accept the $59 million that the state receives for Head Start or the $860 million for Pell Grants that help Iowans obtain early and higher education?

If Branstad wants to save the federal government money, is he going to find hundreds of millions of additional state dollars to fund education, natural resources and public health?

Branstad talked at length last week about "unsustainable" and "unaffordable" federal entitlement programs, including Social Security, Medicare and Medicaid. But does he think 430,000 Iowa seniors should send their Social Security checks back to Washington next month, or that they shouldn't use their Medicare health insurance, which is largely paid for with general tax revenues from Washington?

Here's the irony of the governor not wanting to expand Medicaid because of fears about federal finances: He plans to ask Washington to help fund his Healthy Iowa Plan for the poorest 90,000 Iowans. He also wants the federal government to foot the bill for tax credits so about 60,000 low-income people can buy private health insurance instead of relying on Medicaid.
Since Branstad seems to believe the Des Moines Register holds a particular grudge against him on Medicaid, let's hear from the editors of the Cedar Rapids Gazette, which endorsed Branstad for governor in 2010. The Gazette's editors concluded a few days ago that Branstad's plan is "not a better deal than Medicaid."
Branstad's plan would cover many services now covered under IowaCare. It also would cover prescription medication, something IowaCare does not, and expand patients' options for providers. Like IowaCare, but unlike Medicare [sic], Branstad's plan as outlined Monday does not include coverage for mental health services.

The plan would require users to make some financial contribution toward their coverage or participate in a Healthy Behaviors Program. It would use a value-based reimbursement model to encourage quality care and better patient outcomes. All worthy improvements.

On the other hand, Medicaid expansion would add about 150,000 more Iowans to the federal program, with 100 percent of the cost covered for the first three years and at least 90 percent after that. If federal administrators approved Branstad's plan, only 60 percent of the program's costs would be covered by federal funding.

Branstad's plan to date has good ideas, but, bottom line, it offers less at more cost to the state.
Democrats who have an Iowa Senate majority remain committed to expanding Medicaid. Today Senator Mary Jo Wilhelm spoke passionately to her colleagues in the chamber about the struggles of people without access to health care. You can watch the video here. The Iowa Senate provided a transcript of her personal point:
To Governor Branstad, living without health care is something to ridicule, something to joke about.

What happens when Governor Branstad is asked about helping Iowans too poor to afford health insurance?

He starts talking about health care savings accounts, about increasing co-pays, and about people getting drunk at open bars at weddings.

Governor, if you can't afford health insurance, making health care more expensive will not help.

The problem is that Iowa's Governor has no idea what it is like to be unemployed or to work for the minimum wage.

He's been on the state payroll for almost all of his adult life. His family has never had to live without health insurance. That's the plain and simple truth.

It's not the Governor's fault that he apparently has no idea what it is like to live in poverty. But, it is his fault that he is failing to help Iowans who do.

I wish Governor Branstad would listen to some of the Iowans who have testified about what it is like to live without health insurance.

One retired Iowa teacher came to Room 22 and cried while describing her adult daughter's life without mental health care.

Governor Branstad doesn't know these people.

They aren't foreign business investors.

They aren't campaign contributors.

They don't live in fancy houses on the west side of Des Moines.

They are not living the life of Rielly.

But they are still Iowans, and, Governor Branstad, you are just as much their governor as the rich investors and business people you surround yourself with.

Let me tell you the story of one of these people.

This is someone I know very, very well.

As a young woman in her mid-twenties, she was going through a difficult time. She was getting divorced, and she didn't have much money.

She lived in a small Iowa town. No matter how hard she tried, the only job she could find was a part time job.

She was able to make ends meet, but just barely. After paying for rent, gas, and groceries, there was nothing left.

Governor, like many part time and full time Iowa jobs, her job did not include health insurance.

Now this young woman developed a medical problem.

It was a painful, painful problem. Repeated doctor visits, visits she paid for out of pocket, did not solve the problem. She needed to have an operation.

That operation was going to cost $3,000. That's a good chunk of money now, and it was a whole lot more back then.

Governor Branstad, this young woman put off having that operation. She lived and worked in the pain for several, difficult months.

Finally, she was able save up enough money to afford the operation and her recovery went well, she got a full time job, she remarried, she had children, and eventually, she was elected to the Iowa Senate.

Yes, Governor Branstad, I was one of those people you feel so free to laugh about. Some poor shlump living without health insurance.

Guess what, Governor, there are tens of thousands of Mary Jo Wilhelms in Iowa right now, living without health insurance. Each with their own story.

Some are in their 20's, some in their 40's. Many of them are taking care of children. Most of them are working. Some have several jobs and still can't afford health insurance.

Governor Branstad, instead of talking about free bars, cash bars, the failure of politicians in Washington DC, let's talk about Iowans.

Iowans that deserve to have access to affordable health care.

You are the Governor of Iowa. Act like it.

UPDATE: The Clinton Daily Herald covered a legislative coffee held on March 9 with Democratic State Senator Rita Hart, Democratic State Representative Mary Wolfe, and Republican State Representative Steve Olson, who is also House Speaker Pro-Tem.
"That's what I don't understand. How long have we known this is on the table. Why is that plan not fleshed out? The other thing that doesn't make sense to me is his plan is going to cost Iowa money," Hart said.

Under the federal expansion the state would be reimbursed 100 percent for the first three years and 90 percent in the following years. Branstad's plan on the other hand would require $23 million coming from the state's general fund. This is slightly more than the Iowa Care program, which is set to expire.

The federal funds for Medicaid would be around 58 percent under Branstad's plan.

The plan would require federal approval before it could be enacted.

"It's my understanding he's got approval for his plan," Olson said. "As Mary said, various people have different opinions. I have had private industry tell me well, if the nonprofits are in favor of this maybe they should be switched over to paying taxes like everybody else. So you have that debate."

"So there's a lot of pros and cons and this will not be an easy issue," he added.

Branstad has said he would like the program to be active by January of next year.

"If he won't OK the Medicaid expansion, my understanding is there's nothing we can do about it," Wolfe said. "So we're going to have to hope to hell that his plan actually will work and that we have the money to make it work and that it will be better than nothing."
I don't know where Olson got that information--maybe from someone in the governor's office? Also, plenty of people in private industry support the Medicaid expansion, though Olson is correct that a lot of non-profits are on board too.