One of the ten closest Iowa legislative races last year was in House district 68, where Democrat Daniel Lundby defeated two-term State Representative Nick Wagner by 117 votes, 50.3 percent to 49.6 percent. I've been expecting Wagner to attempt a political comeback in 2014, as Governor Terry Branstad recently withdrew his nomination to serve on the Iowa Utilities Board.
If Wagner attempts to return to the statehouse, he will need to get through a GOP primary first, because yesterday Ken Rizer announced his campaign in House district 68. I've posted background on Rizer and Lundby after the jump, along with a district map and the latest voter registration totals.
House district 68 covers part of Marion (a Cedar Rapids suburb), Bertram, Ely, and some rural areas in Linn County. Here's a closer view: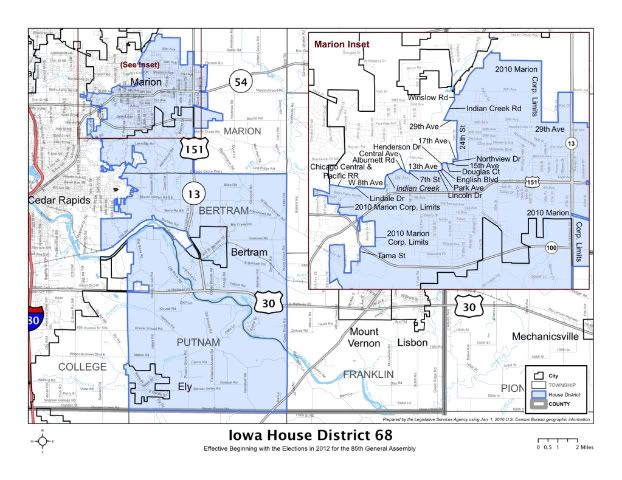 As in most Iowa swing districts, independents have a plurality in House district 68. The latest figures from the Iowa Secretary of State's office show that the district contained 6,986 registered Democrats, 6,447 Republicans, and 8,786 no-party voters as of May 2013. The slight advantage for Democrats is balanced by the fact that it tends to be harder to get Democrats out to vote in a midterm election.
Ken Rizer announced his candidacy yesterday. His campaign website is here, and he has a presence on Facebook and twitter. Here's his official bio:
Ken proudly served 25 years as an Air Force commander & fighter pilot, and is currently the Senior Vice President of Operations for Goodwill of the Heartland.

Ken flew the RF-4C, F-16, & UH-1 through 15 assignments, including leading men and woman in combat during tours in Iraq. He commanded an F-16 figher squadron, an F-16 fighter group, and Andrews Air Force Base, the home of Air Force One. At Andrews, where he was responsible for 60,000 military personnel and their families around the world, he balanced a $252 million budget, opened DoD's first combined charter school, ensured security for all senior U.S. and foreign officials, and procured a $30 million helicopter operations facility. His efforts resulted in Andrews being named the #1 Air Force-led Joint Base in the Department of Defense.

Ken and his wife of 25 years, Cheri (Ek), have deep Linn County roots going back to their early childhoods. After a whirlwind romance, they married in 1988. Despite the Air Force assigning them to 8 different states and 4 foreign countries, Linn County was always their home base. They spent 5 of their 25 years in the Air Force apart due to war and remote tours of duty, during which Cheri and their 4 children would come home to Iowa until the family could reunite. It was during one of those separations that Cheri graduated from the University of Iowa. Finally, after retiring from the Air Force in 2012, Ken, Cheri, and the kids were able to put down permanent roots in Marion Township. Their oldest son Andrew is finishing his junior year at Iowa State University, and Nicole, Anna, and Will are looking forward to the summer after their 10, 9th, and 8th grade years. The family has a mutt named Sparky, a cat named Monty, and a fish named Alejandro.

Ken was a distinguished graduate of the U.S. Air Force Academy, earning a B.S. in Foreign Affairs. He was a Barry Goldwater Scholar to Georgetown University's Institute on Comparative Political and Economic Systems, during which he served as a U.S. House of Representatives intern. Selected as an Olmsted Scholar, he learned Swedish at the U.S. State Department's Foreign Service Institute prior to studying International Security at the University of Stockholm, Sweden. He completed an M.S. with Highest Academic Distinction in Strategic Studies at Air University's Air War College, as well as an MPA in Leadership, Politics, and National Security from Harvard's Kennedy School of Government. He is working on an MBA from the University of Iowa, with projected completion in the spring of 2014. Ken is a published author and speaker, Ironman triathlete, RAGBRAI rider, and occasional dog walker.
That is a strong resume for an Iowa House candidate. I will be seeking comment from Nick Wagner on whether he is considering an Iowa House bid next year. Branstad may end up appointing Wagner to the Iowa Utilities Board after the legislative session wraps up. A primary campaign would be an interesting test of whether Republicans prefer a "non-political" voice like Rizer or legislative experience. Wagner was the heir apparent to chair the House Appropriations Committee after Scott Raecker retired. Coincidentally, Wagner is a triathlete too, but I don't know whether he's ever completed an Ironman.
Here is Rizer's campaign press release of May 8:
(MARION) - Retired Air Force Colonel Ken Rizer announced today that he will be seeking the Republican nomination in House District 68.

The district, created in the 2010 redistricting, covers the eastern section of Linn County. Stretching from Marion in the northern part of the district to Ely in the south, it also encompasses Bertram.

Rizer, who served as an Air Force officer and fighter pilot for 25 years, is looking for another way to give back to his community.

"Since leaving the Air Force, I've been working to employ people with disabilities and homeless vets, so I know what it means to give a hand up to those in need," said Rizer. "Service to others is in my blood, which is why I'm running for the Iowa House."

Rizer brings a great deal of leadership and experience to the House. He's led men and women in combat and was the base commander for Andrews Air Force Base, the home of Air Force One. While at Andrews, Rizer balanced a $252 million budget, opened a charter school for children of deployed military parents, ensured the safety of senior U.S. and foreign leaders, and increased area small business contracts by $4 million. His efforts led to Andrews' selection as the #1 Air Force-led joint base in the Department of Defense.

If elected, Rizer will work to make government more efficient and effective, create a stronger Iowa economy and promote opportunities for future Iowa generations to prosper.

"Iowans deserve certainty from their state government, not burdensome regulations and out of control spending," said Rizer. "Now is the time to increase opportunities for Iowans by investing in a skilled and competitive workforce. I'll work tirelessly to create a vibrant Iowa economy that will be the envy of the nation, expanding economic growth and creating better paying jobs for all Iowans."

Ken and his wife, Cheri, both have deep Iowa roots in Linn County. After 15 moves in 25 years in the Air Force, they chose to come home for good and settle in Marion Township. The two will celebrate their 25th wedding anniversary this year, and together they have four children.
So far Rizer's website is thin on the issues. Like his press release, this statement on the "vision" page hits a lot of generic Republican notes:
I'm not a politician, but rather a regular guy who wants to make a difference for our state and community. I intend to listen to and well represent the issues, beliefs, and desires of my constituents, serving them with integrity and vigor.

I'll work tirelessly to create a dynamic Iowa economy that will be the envy of the nation, expanding growth and creating better paying jobs for all Iowans. I did this as a commander at Andrews, expanding small business contracts by $4 million and creating good, local, high-paying jobs.

I'll fight for a state government that is a good steward of your money and worthy of your trust, by controlling spending and eliminating burdensome regulations. I've done it before in the Air Force, when I balanced a $252 million budget and cut wasteful spending and unnecessary red tape. Key to good stewardship is government living within its means.

Finally, now is the time to increase opportunities for Iowans by investing in a skilled and competitive workforce. I'm dedicated to doing so through support for higher education and job training. Through innovative partnerships with our high schools, community colleges, and regents universities, we must work to equip all Iowans with the education and professional skill necessary to succeed.
Lundby is definitely running for re-election and is on Facebook and twitter. His 2014 campaign website is still under construction. Here is the bio posted on last year's campaign website:
Daniel was born and raised in Marion and a fifth generation Iowan. His mother, Mary Lundby, served Iowa in the House of Representatives and Senate from 1987-2009. His father, Michael, works at Quaker Oats. Daniel's experience in politics started at a young age while working side-by-side on his mother's political campaigns and continued working towards her successful elections over the next twenty years. She taught him as a mother and a legislator that listening to the voters in the district, protecting their rights, and working in a bipartisan effort to protect the important qualities that makes Iowa great is what made her a successful public servant respected by everyone. Daniel promises to return these qualities back to the district, qualities that have been missing from our current representative since he took office.

Daniel attended St. Joseph's Catholic Elementary in Marion and Regis High School in Cedar Rapids. Earning his AA degree from Kirkwood C.C. and continuing his education at Iowa State University, earning his B.S in 2003. Upon graduation, he accepted work as a technician in New York City, and entered the workforce. He returned to Iowa to be at his mother's side and aid his father with her care during her battle with cancer. At this time Daniel chose to return to Iowa permanently and offer his family support. He returned to Iowa State University, where he obtained his Master's degree in December 2011. While at Iowa State, Daniel studied the impact of small businesses on local communities by participating in a main street revival program in Grinnell where he designed and renovated a vacant space into a retail Co-op to attract new businesses to the small community. As a student, Daniel represented Iowa State and traveled to Montreal and Philadelphia for educational conferences, where he presented several examples of his work, earning top honors.
Lundby's victory last November surprised many Iowa politics-watchers. Democrats had not even fielded a candidate against Wagner in 2010, and he was not considered one of the most vulnerable House Republicans. President Barack Obama's campaign generated an impressive turnout in the Cedar Rapids metro area, which probably affected the outcome. It must have helped too that Mary Lundby commanded huge respect across the ideological spectrum during her long political career.
Two years ago, Lundby launched his campaign against Wagner promising to emulate his mother's values and "common-sense approach." I expect he will emphasize a similar message next year. The majority Iowa House Republicans have passed or attempted to pass a lot of bills that are way outside the mainstream in the Cedar Rapids suburbs. While Rizer acknowledges the need for strong higher education, Lundby can say he's been working in the trenches to secure adequate education funding. He serves on the House Education Appropriations Subcommittee as well as on committees for Environmental Protection, Natural Resources, and Local Government.
UPDATE: On May 9, Lundby was named to the conference committee for the "standings" bill. This is an important piece of legislation passed at the end of each year's session. Proposals that were left for dead weeks ago can be revived in the standings bill.
Any relevant thoughts are welcome in this thread.