State Representative Mark Lofgren of Muscatine will formally announce tomorrow that he is running against four-term Representative Dave Loebsack in Iowa's second Congressional district, James Q. Lynch reported today for the Cedar Rapids Gazette. After the jump I've posted Lofgren's official bio and material from the "issues" and "endorsements" pages of his campaign website. Of the seventeen current Iowa House Republicans and four former state representatives who have endorsed Lofgren, four live in Loebsack's district. Dan Dolan, who lost last year's GOP primary in IA-02 to John Archer, has also endorsed Lofgren.
As of June 2013, the 24 counties in IA-02 contain 170,130 active registered Democrats, 138,390 Republicans, and 180,950 no-party voters. Loebsack defeated Archer by a comfortable margin in 2012, but in the 2010 midterm election he needed help from the Democratic Congressional Campaign Committee to fend off a challenge by Mariannette Miller-Meeks, winning by only about 11,000 votes in what was then a more Democratic-leaning district.
Governor Terry Branstad appointed Miller-Meeks to lead the Iowa Department of Public Health in 2011. The GOP challenger to Loebsack in 2008 as well as 2010, Miller-Meeks has attended some Republican Party events this year and confirmed last week that she is still considering a third Congressional bid. Having fallen short in the 2010 Republican wave, Miller-Meeks would likely face an uphill battle persuading GOP primary voters that she deserves another chance to win this district.
Lofgren's decision leaves Iowa House district 91 open for the 2014 election cycle. This swing district currently contains 6,300 registered Democrats, 6,291 Republicans, and 8,401 no-party voters. A detailed district map is at the bottom of this post. Democrat Nathan Reichert represented the Muscatine area in the Iowa House for three terms, losing to Lofgren in the 2010 wave. Lofgren defeated Democratic challenger John Dabeet last year by 915 votes.
Lofgren's website describes the candidate "at a glance" this way:
Small Business Owner: Lofgren Investments

Previous Owner of a Real Estate Business

Lifetime Resident of Muscatine, Iowa

Muscatine High School Graduate

University of Iowa Graduate: BBA Finance

Holds a Chartered Financial Consultant (ChFC) Designation

Leadership Muscatine Graduate

Married to Paula for 23 Years

Father of Emily, Olivia, Maggie, and Markus

Volunteer Coach for the Muscatine Community Y and Youth Sports Foundation

Attends Grace Lutheran Church

Avid Runner
Under "service to Iowa," Lofgren's website lists these accomplishments:
Two-term State Representative, District 91

Chair, International Relations Committee

Vice Chair, Appropriations Committee

Economic Growth Committee

Human Resources Committee

Labor Committee

Public Retirement Systems Committee

State Government Efficiency Review Committee Iowa Capital Investment Board

Mississippi River Partnership Council
Full text from the issues page of Lofgren's website:
[Detailed Issues information will be coming soon.]

As a top priority, Mark is focused on taking the Iowa House Republicans' 4 Budget Principles to Congress.

They are:

1. We will spend less than we take in.

2. We will not use one-time money to fund on-going needs.

3. We will not balance the budget by intentionally underfunding programs.

4. We will return unused tax dollars to Iowa's taxpayers.
Full text from the endorsements page:
Endorsements

"As a former Speaker Pro Tem of the Iowa House, I am in a position to assess whether lawmakers can truly 'make a difference.' Mark Lofgren combines the qualities of conservative leadership, methodical study, and sincere caring. His work ethic is without rival. I have absolutely no doubt that Mark Lofgren will make a great Congressman and advocate for Iowa's Second District."

Former Speaker Pro Tem, Jeff Kaufmann

Cedar County Supervisor

Community College Professor

"In all of my years in the Legislature, I have never seen anyone who works as tirelessly as Mark Lofgren does for his constituents. After watching my grandpa serve the people of Iowa, I can strongly predict that Iowa will be a better place with Mark in Congress."

State Representative Pat Grassley

"Mark Lofgren is a dedicated, competent, articulate lawmaker. He responds to constituent concerns in a timely, effective manner. His peers respected his ability by selecting him to their leadership team. He is a visionary, capable, compassionate legislator. We need Mark Lofgren in the US Congress to bring Midwest values to our nation."

Sarah Lande, Friend of China's President Xi JinPing

Current State Representatives

Rob Bacon - Story County

Clel Baudler - Adair County

Mark Brandenburg - Pottawattamie County

Joshua Byrnes - Mitchell County

Jack Drake - Cass County

Greg Forristall - Pottawattamie County

Pat Grassley - Butler County

Lee Hein - Jones County

Megan Hess - Clay County

Jake Highfill - Polk County

Bobby Kaufmann - Cedar County

Jarad Klein - Washington County

John Landon - Polk County

Brian Moore - Jackson County

Walt Rogers - Black Hawk County

Quentin Stanerson - Linn County

Ralph C. Watts - Dallas County

Former State Representatives

Bob Hager - Allamakee County

Lance Horbach - Tama County

Jeff Kaufmann - Cedar County

Dan Petersen - Muscatine County

Other Endorsements

Dan Dolan - Former Candidate for Congress

DeWayne Hopkins - Mayor of Muscatine

Sarah Lande - Friend of China's President Xi JinPing
Iowa House district 91, which Lofgren is leaving open, covers the city of Muscatine, the small town of Fruitland and some rural areas in eastern Muscatine County.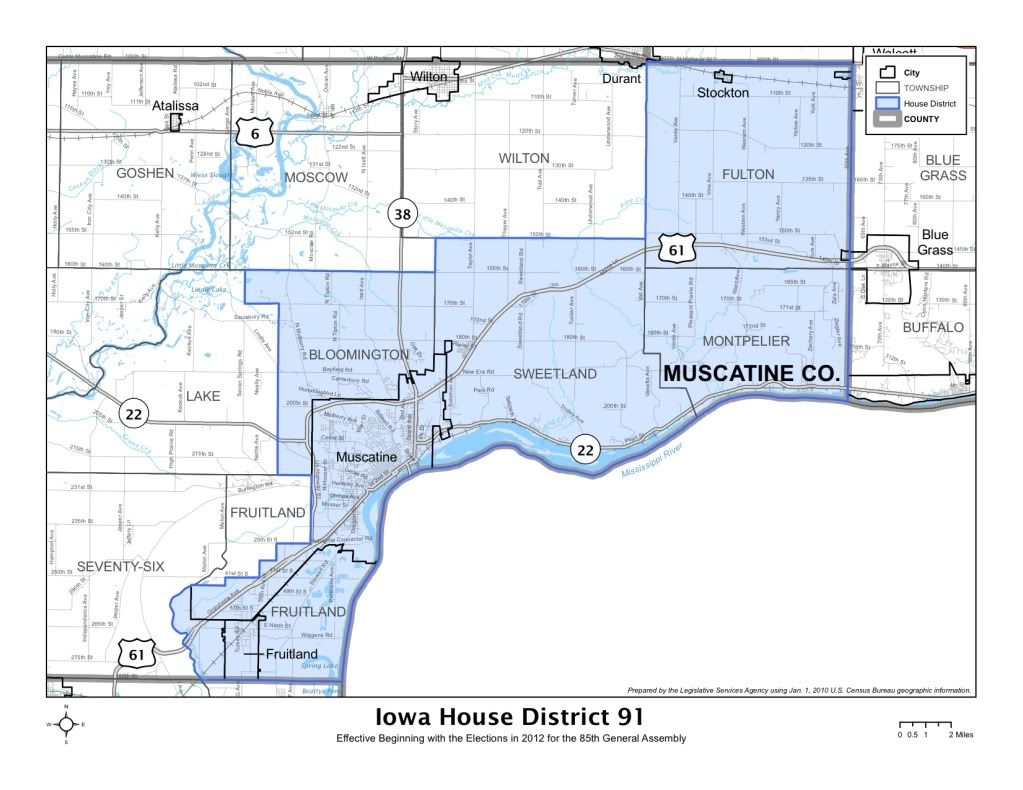 UPDATE: In the comments, John Deeth speculates that Lofgren's daughter Emily Lofgren may be poised to run for the Iowa House seat. She managed her father's 2010 campaign.
SECOND UPDATE: Lofgren spoke to Radio Iowa's O.Kay Henderson:
"My biggest concern is, you know, basically the finances of the federal government are just a mess," Lofgren said during an interview with Radio Iowa.

Lofgren graduated from the University of Iowa with a degree in finance and worked in real estate for a decade. He then went into investment sales.

"Basically I've started two businesses from scratch and I've had Lofgren Investments for, I think, 17 years and I pretty much do retirement investments - that type of planning," Lofgren said.

Lofgren has been the top Republican on the Iowa House Appropriations Committee and he intends to argue the financial turn-around at the statehouse could be done in D.C.

"Right now we have a $17 trillion national debt...There's a budget gap of about over a trillion dollars, so that's my big concern," Lofgren said. "I guess that's the area I'm going to focus my efforts on."

Lofgren will speak at 9 a.m. today in Muscatine before making campaign "announcement" stops in Durant, the Quad Cities, Clinton and Coralville.
Technically, Lofgren was vice chair of the Iowa House Appropriations Committee this year, not the "top Republican" on the committee. He has chaired the House International Relations Committee.
Memo to Lofgren: the federal deficit is dropping fast already and "will shrink this year to $642 billion."
THIRD UPDATE: The Iowa Republican's Kevin Hall wasn't wowed by Lofgren's kickoff.
Lofgren officially announced his challenge to Dave Loebsack in front of 20 Johnson County Republicans at the Coralville Library on Wednesday. It was a lackluster event.

There were no campaign signs, no sign-in sheets or ballot petitions. Lofgren read his campaign kickoff announcement from a prepared script, only occasionally glancing up at the audience. The well-regarded Republican House representative did not impress many attendees with this appearance.
My favorite curiosity on the [Lofgren] endorsement list [...] is "Sarah Lande - Friend of China's President Xi JinPing." Sounds too much like the fictional vice president bragging that he was Julia Roberts' cousin and bonus points if you can name the movie.