State Senator Joni Ernst made her U.S Senate campaign official last week by bringing her Joni for Iowa website live and posting several slogans on a campaign Facebook page. She plans several public events around Iowa later this week, beginning at the Montgomery County courthouse in Red Oak.
Ernst is the fifth candidate in the Republican field, after Matt Whitaker, David Young, Sam Clovis, and Paul Lunde--or the sixth if you count Mark Jacobs, who has formed an exploratory committee but not announced his candidacy. Lots of links and early thoughts about her campaign are after the jump.
JULY 17 UPDATE: Adding news from Ernst's campaign kickoff events below.
As a marketing decision, I'm intrigued by "Joni for Iowa." As with Hillary Clinton's 2008 presidential campaign, branding the candidate with a first name underscores that she is the only woman in the field. One of her key consultants worked for Michele Bachmann's presidential campaign, but Bachmann never branded herself as "Michele."
Governor Terry Branstad has already emphasized the history-making potential of Ernst's Senate bid: "We've never had a woman senator from Iowa. I think she's a prospect that could do it." I expect to hear much more from other Republicans along these lines before the primary. Lieutenant Governor Kim Reynolds has made clear that she supports her friend's Senate aspirations. The two women walked together in the Clear Lake parade on the July 4. Ernst carried a hand-made "Happy 4th of July" sign.
The Joni for Iowa website doesn't contain a lot of content yet, just this statement on the landing page:
As a mother, soldier, and a conservative, the values I hold dear, and have fought more than 20 years to protect, are being threatened by the failed policies of this president.

Washington has failed us. We need and deserve better leadership. And that's why I am running for U.S. Senate.
Ernst has posted a few versions of this "elevator speech" on her Facebook page. July 10:
As a mother, veteran and conservative, I have loved serving Iowa in the state senate, as the Montgomery County Auditor and as a soldier in the U.S. Army Reserves and Iowa National Guard. I plan to continue serving by representing Iowans in Washington.
I have fought more than 20 years to protect the values I hold dear as a mother, solider and a conservative. These values are being threatened by the failed policies of this president. And that's why I'm running for U.S. Senate.
I am running for the United States Senate because as a Lt. Colonel in the Iowa Army National Guard, I understand the importance of a strong national defense at home and abroad. SHARE this photo to spread the word about my run for Senate!
Incidentally, Ernst is not the only veteran in the GOP field. Sam Clovis had a long military career as well, although he has not put that experience at the center of his early campaign rhetoric.
Ernst will need to add more substance later, but there are clearly a lot of Iowa Republicans excited about her campaign. At this writing her Facebook page has more than 900 "likes." Clovis's page has garnered only 558 in the last month. In the Facebook race they're both way behind Matt Whitaker, who has more than 28,000 likes. I assume many of those are from Republicans living outside Iowa. It just goes to show you how well a good list-building campaign can work.
As for high-profile support, I mentioned above that Branstad and Reynolds look favorably on Ernst's campaign. I've only seen on official state legislator endorsement so far, from State Representative Cecil Dolecheck.
"Senator Ernst is a great candidate," said Dolecheck. "She's conservative, she's got great Republican values. She's got a great background with the military. I think she would be a great representative for the state of Iowa."

Dolecheck says he'll fully support Ernst's bid for the GOP nomination in next June's primary, having recruited her to run for the State Senate position vacated by Kim Reynolds' selection as lieutenant governor. Ernst won a special election to full Reynolds' vacancy in January, 2011, and was elected to a full legislative term in November.

Ernst joins a long list of candidates seeking the Republican nomination, including Ames lawyer Matt Whitaker, David Young, a former aide to U-S Senator Charles Grassley, Sioux City talk show host Sam Clovis, and attorney Paul Lunde. While saying they're all good candidates, Dolecheck believes they're all on equal footing in terms of name recognition.

"There's nobody that's stepped up with a tremendous amount of statewide name recognition," he said. "Joni has earned a reputation in southwest Iowa with what she's done, and the role she plays. It's just going to be a matter of getting into the race, and touring the state, and getting to meet people, and getting some state recognition. I think they're all in the same boat right now."
One GOP lawmaker who won't be backing Ernst is State Representative Josh Byrnes, who tweeted last week,
I see Joni Ernst is running for US Senate, late in the session she flipped on her constituents and I can not support a person who does that.
Byrnes was referring to Ernst abandoning her support for a gasoline tax increase to pay for road and bridge work. Most Republican primary voters probably prefer Ernst's new stand to her earlier support for the tax hike, although it never looks good to flip-flop for blatantly political reasons.
The Iowa Democratic Party greeted Ernst's campaign with a press release and website labeling her "establishment-approved."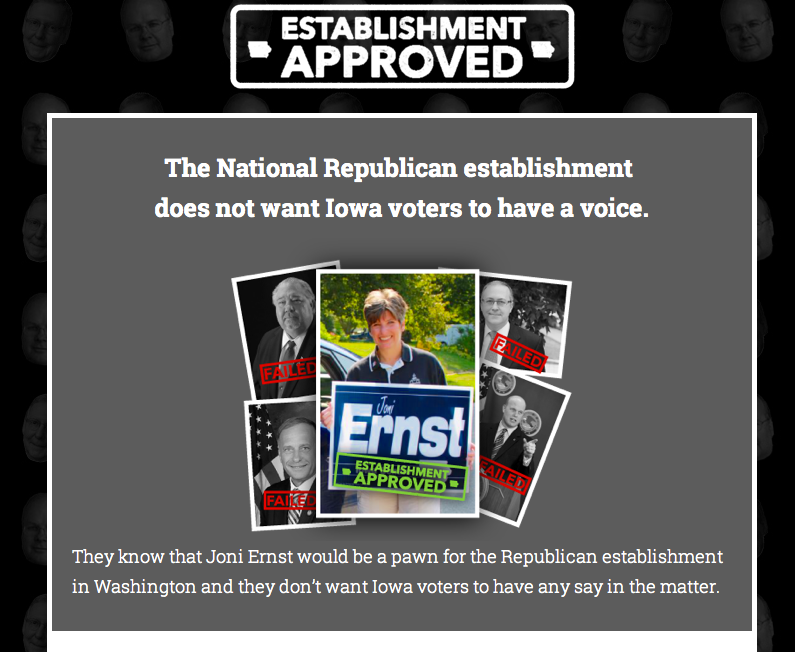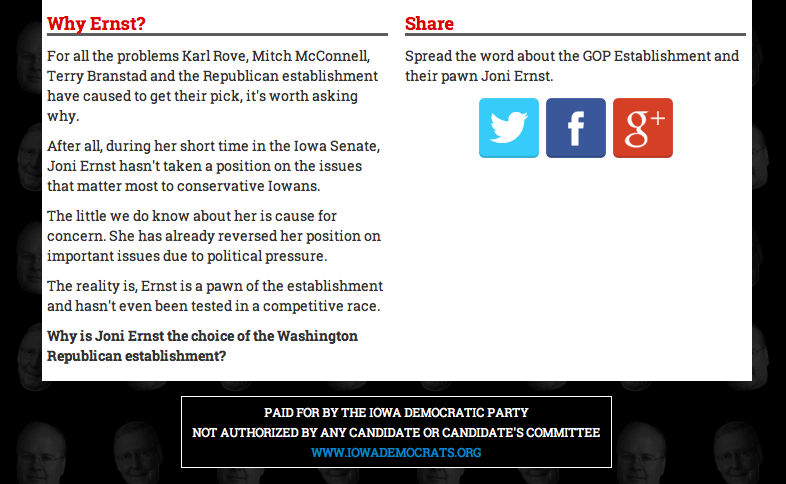 I don't understand this tactic when the entire Iowa Democratic establishment closed ranks quickly around Representative Bruce Braley for the Senate seat. We're not going to have a competitive primary for this office--is the Iowa Democratic Party now suggesting that's such a horrible thing?
Also, everyone and his brother jumped on Brad Anderson's steering committee for Iowa Secretary of State almost a year and a half before the June 2014 primary. That was an unsubtle "don't even think about it" message for other prospective candidates.
Anyway, no one in the Republican establishment is trying to prevent GOP voters from having a say in the primary. People in Senator Chuck Grassley's circle are working for David Young. Appearing on Iowa Public Television's Iowa Press program last month, Governor Terry Branstad had high praise for Ernst and admitted he "encouraged" her to run for Senate. But even if Branstad's people are helping to orchestrating Ernst's campaign, they're not strong-arming other candidates to drop out.
Any comments about the IA-Sen race are welcome in this thread.
UPDATE: Forgot to mention that in addition to David Polyansky, the consultant who has worked for presidential candidates Mike Huckabee and Michele Bachmann, Ernst has hired the media consultant Todd Harris, whose other clients include Senator Marco Rubio.
WEDNESDAY UPDATE: Ernst scheduled campaign events in Red Oak, Council Bluffs and Sioux City on July 17, and in Waukee, Cedar Rapids and Davenport on July 18. She gave Radio Iowa another version of her "elevator speech":
"I am a mother, I am a soldier and I'm a conservative and you're going to hear that again and again," Ernst said during an interview with Radio Iowa. "...Those are the core things that really define me and who I am." [...]

Ernst is stressing her status as the mother of three daughters rather than as the lone female candidate in the Republican ranks.

"I think it will be very beneficial in the fact that I can relate very well to those average Iowans that are mothers. I think that is an important aspect because not only as a mother are we connected with our children, but we want the best for our children," Ernst says. "...Making sure that we have opportunity, whether it's economic or otherwise, opportunity for our generation, but our children's generation. We want to protect that."

Iowa has never elected a woman to the U.S. Senate, to the U.S. House or as governor. Ernst said being a woman candidate in Iowa "very well could be" a detriment.

"I can't make that determination today," Ernst told Radio Iowa. "However when I look at my own candidacy, it's about making sure that people understand that I am a viable, competent candidate, regardless of my gender."
Ernst emphasized the same "mother, soldier, conservative" slogan in an interview with the Des Moines Register:
Joni Ernst says she has never run into any career obstacles for being a woman, even in the military, where she often was the only female soldier in the room.

"If you're competent, people understand you for who you are, regardless of race or gender," said Ernst, a southwest Iowa native who has been in the U.S. Army Reserves and Iowa National Guard for 21 years. "And in some cases, you have to be a little exceptional too. Always lead from the front." [...]

Those who know her well describe her quiet confidence, a certain fearlessness, and some unexpected talents - like for firing weapons, driving heavy construction equipment, and castrating hogs.