Yesterday the U.S. Environmental Protection Agency released the final version of its Clean Power Plan for existing power plants, the "first-ever national standards to limit carbon pollution from power plants." The final rule differs from the EPA's original proposal last June in several respects. An EPA fact sheet spells out the key changes to the Iowa targets:
The goals are much closer together than at proposal. Compared to proposal, the highest (least stringent) goals got tighter, and the lowest (most stringent) goals got looser.

o Iowa's 2030 goal is 1,283 pounds per megawatt-hour. That's on the high end of this range, meaning Iowa has one of the least stringent state goals, compared to other state goals in the final Clean Power Plan.

o Iowa's step 1 interim goal of 1,638 pounds per megawatt-hour reflects changes EPA made to provide a smoother glide path and less of a "cliff" at the beginning of the program.
You can read the final Clean Power Plan and related documents here. The EPA has posted a good summary of current climate change research here. After the jump I've enclosed excerpts from a White House list of benefits from the plan, the EPA's two-page fact sheet about Iowa, and a graphic showing how much power plants contribute to U.S. carbon emissions relative to other major sources.
Renewable energy resources should make it easy for Iowa to meet the carbon emissions targets. I've also enclosed below excerpts from Donnelle Eller's report for the Des Moines Register and Alisa Meggett's commentary for the Cedar Rapids Gazette. The facts about wind and solar power's potential belie scary rhetoric from the U.S. Chamber of Commerce and various groups funded by fossil fuels interests about how the Clean Power Plan will affect businesses and consumers.
Reducing carbon emissions will incur massive collateral health benefits. The Physicians for Social Responsibility report Coal's Assault on Human Health is still the best one-stop shop on why coal combustion causes so many premature deaths and chronic health problems. On the editorial page of today's Des Moines Register, Dr. Yogesh Shah, associate dean of global health at Des Moines University, outlined the "human health effects of climate change," which "are real and already being felt in Iowa." Scroll to the end of this post to read excerpts, or better yet, click through to read his whole piece.
From a White House fact sheet:
The final Clean Power Plan sets flexible and achievable standards to reduce carbon dioxide emissions by 32 percent from 2005 levels by 2030, 9 percent more ambitious than the proposal. By setting carbon pollution reduction goals for power plants and enabling states to develop tailored implementation plans to meet those goals, the Clean Power Plan is a strong, flexible framework that will:

• Provide significant public health benefits – The Clean Power Plan, and other policies put in place to drive a cleaner energy sector, will reduce premature deaths from power plant emissions by nearly 90 percent in 2030 compared to 2005 and decrease the pollutants that contribute to the soot and smog and can lead to more asthma attacks in kids by more than 70 percent. The Clean Power Plan will also avoid up to 3,600 premature deaths, lead to 90,000 fewer asthma attacks in children, and prevent 300,000 missed work and school days.

• Create tens of thousands of jobs while ensuring grid reliability;

• Drive more aggressive investment in clean energy technologies than the proposed rule, resulting in 30 percent more renewable energy generation in 2030 and continuing to lower the costs of renewable energy.

• Save the average American family nearly $85 on their annual energy bill in 2030, reducing enough energy to power 30 million homes, and save consumers a total of $155 billion from 2020-2030;

• Give a head start to wind and solar deployment and prioritize the deployment of energy efficiency improvements in low-income communities that need it most early in the program through a Clean Energy Incentive Program; and

• Continue American leadership on climate change by keeping us on track to meet the economy-wide emissions targets we have set, including the goal of reducing emissions to 17 percent below 2005 levels by 2020 and to 26-28 percent below 2005 levels by 2025.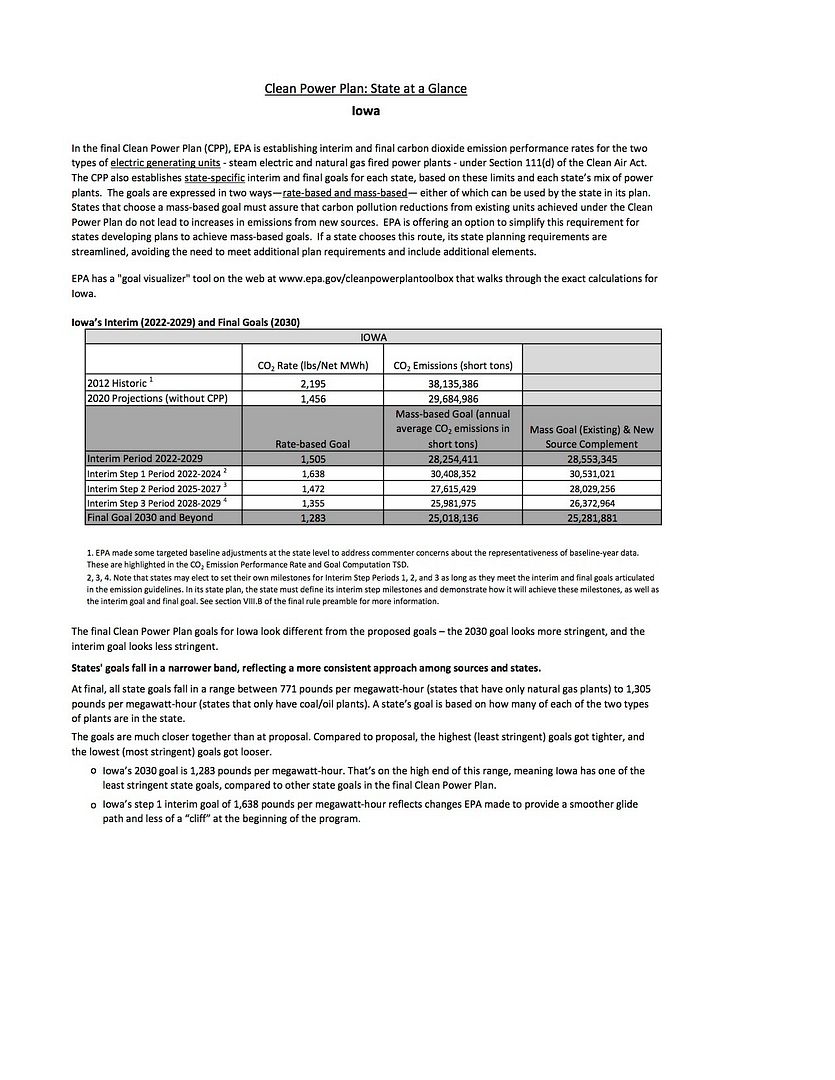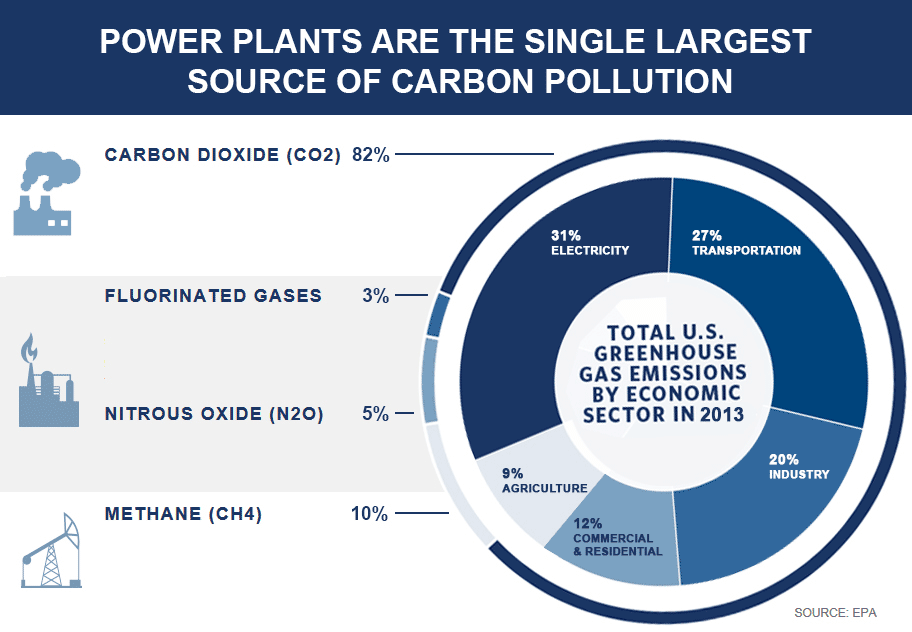 From Donnelle Eller's front-page story in the August 4 Des Moines Register:
The federal government did not take into account states' renewable energy and energy efficiency gains, said Nathaniel Baer, energy program director for the Iowa Environmental Council.

Baer said Iowa should be able to meet the goals, especially given the state's strength in wind. "Iowa has one of the least stringent 2030 targets of all states," Baer said. […]

MidAmerican Energy and Alliant Energy, Iowa's largest utilities, said they're still evaluating the plan and its impact on customers.

But MidAmerican said it doesn't "anticipate that the ruling will have a significant impact on our customer rates," given the company's growing investment in wind energy. MidAmerican's CEO Bill Fehrman last week said the Des Moines-based company expected to get 57 percent of its energy from wind after adding 552 megawatts of wind energy.

The $900 million project will increase the company's investment in wind to $6 billion. […]

"Iowa's technical potential for solar energy is enormous and it provides significant economic benefits," said Tim Dwight, president of the Iowa Solar Energy Trade Association. "Last year, solar energy employed 900 Iowans and supports nearly 50 Iowa businesses." The plan "will encourage more growth while keeping valuable dollars and jobs in our state."
From a guest editorial for the August 3 Cedar Rapids Gazette by Alisa Meggett, a global studies teacher in Iowa City schools:
Iowa is well on our way to meeting the modest goals of the Clean Power Plan, as we already get more than 28 percent of our electricity from clean, renewable wind power. A recent report by the Iowa Wind Energy Association (IWEA) shows the Clean Power Plan offers Iowa major economic opportunities to help neighboring states meet their carbon reduction targets by selling them wind energy, infrastructure and services.

According to the IWEA report, If Iowa stays on track with its current wind energy growth rate, we'd meet carbon reduction targets with wind alone, while producing enough excess power to help Missouri or Wisconsin meet their clean power requirements. New demand for Iowa wind means adding to the 6,000 people across the state already working for wind energy businesses.
From a guest editorial in the August 4 Des Moines Register by Dr. Yogesh Shah, associate dean of global health at Des Moines University:
As a physician, I firmly believe that these carbon pollution safeguards are essential for us to protect the health of our children and families. By reducing the largest source of our country's carbon pollution, we will help clean the dirty air that contributes to both climate change and public health disasters.

Infectious diseases are on the rise as organisms that carry them move north due to rising temperatures.

Mosquitoes and ticks that transmit diseases such as West Nile fever, dengue fever, malaria, and chikungunya are living longer, multiplying faster, and expanding their range.

Diseases that were formerly unknown in Iowa are now being contracted here. An example of this is Lyme disease. According to the Iowa Department of Public Health information, there were 247 cases of Lyme disease reported in Iowa in 2013, a 110.5 percent increase over the previous three-year period and the highest number of cases recorded since 2002 when reporting first began.