(Although I've been following Iowa politics for a long time, some of these patterns were news to me. Looking forward to the rest of this series. - promoted by desmoinesdem)


This is part of a series on primary polling history. Over the next three weeks we will do a detailed look at the history of the Iowa Caucuses from 1980 to now. This piece will start with an initial look at the data.
I should note that I firmly believe that most writing about politics is rather ignorant. Few political writers about primary politics know very much about the history of the events they are covering. As I hope to show, if you look at the history, you can find lessons that you can apply to our understanding of the 2016 Caucuses.
This table compares the winner in Iowa with their average in polling in the two weeks before and after September 1st.
That table contains a lot of information. Let's start with some basic observations.
1. The size of the lead matters.
I have long thought that 40% is a key number for front runners. Those above 40% tend to win, those below 30% tend to lose. This table tests the hypothesis:
The only two candidates to lose who were over 40% in Iowa were Kennedy and Reagan, and we will get to them in a moment. In general candidates over 40% win.
Something to think about: in every race since 1980 where a candidate was over 40, they did not lose their lead until the year of the Caucus.
The last Iowa poll actually had Bernie Sanders ahead. Hillary's trajectory in Iowa in this cycle is without precedent.
2. If the country is unhappy, expect volatility
The last four leaders at this point in Iowa lost. It is interesting to ask why. One reason can be found in the following table: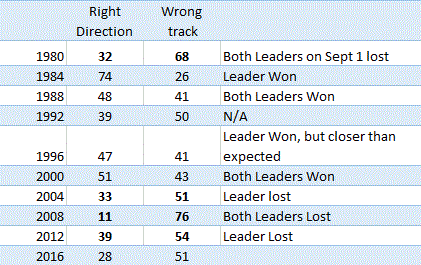 When leaders lose their leads, usually the country is not happy with the direction it is headed. Volatility appears to be the product unhappiness.
Something else to note. As Pew noted in 2009, views about the direction of the country are increasingly partisan. This explains, in part, why every leader since 2004 in Iowa has lost. Members of the party that is out of power are increasingly frustrated with their own party's leadership. This frustration had led to wild Iowa Caucuses. The 2012 and 2008 Caucuses saw an unprecedented number of lead changes. In fact, lead changes in Iowa were EXTREMELY rare in the year before the primary before 2004.
Of course, this increased volatility may also be a product of a feedback loop that did not exist in the 80's. For example, in the 1980 cycle there were four Iowa Caucus polls. In 2012 there were over 75. Minor shifts in the electorate that were not captured previously now drive coverage. The proliferation of Iowa polling killed the Iowa straw poll – who needs a straw poll when Iowa polling is available on a near weekly basis?
It is easy to overstate this. Cable news covers Iowa in far more detail than was the case when there were 3 networks that had only a half-hour of news. There is certainly more noise around the Caucuses than existed previously. Yet in the end it is still voters, most of whom do not watch cable news everyday, making decisions, often very late in the process.
3. Beware social conservatives.
In every GOP cycle except 2000, a candidate of the evangelical right has made a surprise showing.
What this chart does not show is how late the movement has been. Polling in general missed Robertson beating Bush in '88 and Santorum winning in '12. I did not include Forbes in 2000 as my perception is he was more focused on economic rather than social issues.
What is interesting is how consistent the % of the social conservative has been. Robertson, Buchanan and Santorum's totals are within a few points of each other. With the GOP field badly split in this cycle, 25 may be enough to win. I would not bet against a social conservative winning Iowa as a result.
4. Second place is irrelevant in September
When you look at numbers like these, you always run the risk of just running into flukes. Surely the record of candidates who were in second in Iowa in September may be one. Still, only one candidate in second place at this point has won: Jimmy Carter. But the list is interesting.
The next piece will be a deep dive into the Caucuses of the 1980's.