Claire Celsi announced on Monday that she is running against Republican State Representative Peter Cownie in Iowa House district 42, which covers most of West Des Moines in Polk County. A detailed district map is below, along with background on both candidates. Celsi's campaign is on the web at Claire4Iowa.com and on Facebook here. Celsi is also on Twitter. Her key campaign promises are to "fight for strong public education, protecting our environment and for sensible economic development that includes the district's small business owners in the mix."
House district 42 is relatively balanced politically, with 6,242 active registered Democrats, 7,097 Republicans, and 6,676 no-party voters, according to the latest figures from the Iowa Secretary of State's office. The HD-42 precincts voted slightly more Republican than Iowa did as a whole in the 2012 presidential election, giving Barack Obama 49.85 percent of the vote while Mitt Romney won 48.83 percent. On the other hand, Joni Ernst outpolled Bruce Braley here in the 2014 U.S. Senate race by a little less than her winning margin statewide: 51.55 percent to 45.51 percent.
Cownie outperformed the top of the Republican ticket in the last two general elections, winning 56.61 percent of the vote in 2012 and 60.17 percent of the vote last year. He comes from a well-connected family in Polk County, which helped him raise far more money than a typical Iowa House incumbent for his 2012 and 2014 re-election campaigns. Cownie spent very little of those funds on his own race, kicking most of the cash over to the Republican Party of Iowa and its Eisenhower Club for use in other statehouse contests.
First elected in 2008 to replace retiring Republican lawmaker Libby Jacobs, Cownie has chaired the House Commerce Committee since 2013 and led the State Government Committee for two years before that. He is not what you'd call a workhorse at the Capitol. He has co-sponsored various bills and resolutions, but I'm not aware of any particular legislative achievements or causes he has tried to advance. Although many moderate Republicans live in West Des Moines, I can't think of a time Cownie voted independently from his caucus or stuck his neck out to advocate a less conservative stance on a high-profile issue. For instance, even though he represents an LGBT-friendly district and is of a generation that mostly supports marriage equality, Cownie voted just like everyone else in the GOP caucus for a constitutional amendment to ban same-sex marriage in 2011. (He opted not to co-sponsor the marriage amendment in subsequent legislatures, but to my knowledge he has never spoken out for equal marriage rights.) Nor did Cownie criticize, let alone try to over-ride, Governor Terry Branstad's education funding vetoes this summer, which blew a $1 million hole in the West Des Moines school district's budget after the start of the current fiscal year.
Cownie was rumored to be interested in the House speaker's chair in 2013, but when the position became available this summer, he did not put his name in as an alternative to Linda Upmeyer.
Iowa House Democratic leaders have not made this district a top target in the past. However, Celsi has been involved with enough Democratic campaigns to understand what successful candidates need to do. If she can raise enough money to run a credible effort, HD-42 could become a targeted race. At the very least, Cownie will need to spend more of his energy and money on his own turf. I consider Celsi a friend and will make time to volunteer for her campaign next year, when I'm not knocking doors for the Democratic nominee in my own House district. (Jennifer Konfrst and Jon Neiderbach are competing for the chance to take on House Majority Leader Chris Hagenow in HD-43.)

Iowa House district 42 covers most West Des Moines precincts in Polk County and the northwest corner of Warren County (Cumming and Linn township).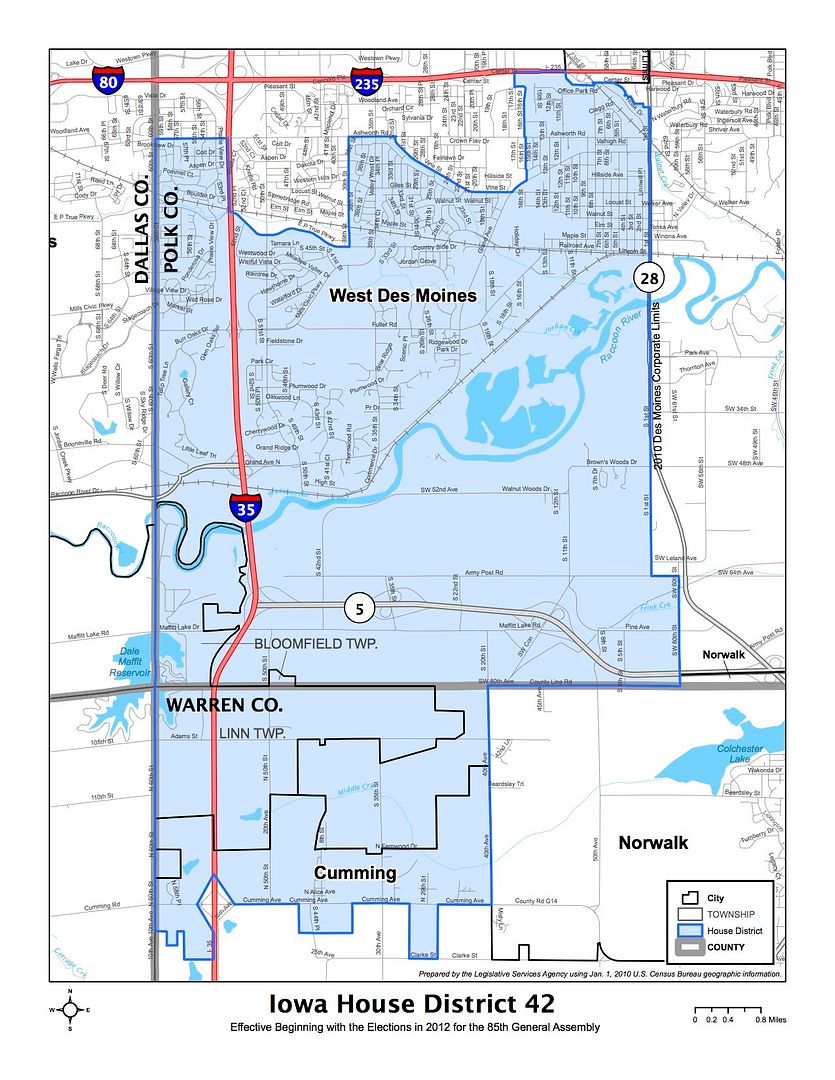 Excerpt from an Iowa House Democrats press release, November 2:
"I'm running because like many Iowans, I am disturbed that we are backsliding on our commitment to public education in our state. We have to prepare our young people for jobs that will require training beyond a high school education. To do that, we need to invest in public schools from preschool through college. We need to provide our school districts more transparency and responsiveness. Iowans care about our kids," said Celsi. [...]

"I plan to get out in the district and talk to individuals and groups and get their input on how we can better represent our diverse community and help our kids be productive citizens of the world. In a state with a slow-growing population, we need to make sure there are opportunities for every Iowan to live and work here. That starts with providing opportunities to be successful in school."
Claire Celsi's official bio from her campaign website:
Claire Celsi is a Des Moines native and has lived in West Des Moines for 14 years. She is a graduate of Dowling Catholic High School and Drake University. Claire has owned her own public relations and marketing firm, The Public Relations Project, since 2009. Her PR practice focuses on renewable energy, financial services, sustainable agriculture and education clients.

Claire is a believer that people should be the driving force behind smart policies that the government can adopt to increase the quality of life for all Iowans. Her goal in running for office is to involve the citizens of the district and of Central Iowa to be more involved in the political process and know how to make their voices heard at the Iowa Statehouse.

Claire is married to Jim Walczyk, who works at Farm Bureau as an IT professional. He is a graduate of the University of Iowa and grew up in Waverly, Iowa. Jim was the long-time coach of Westside Track Club and is also an assistant coach for the Lincoln High School boys track team.

Jim and Claire have four children: Debbie, who is an Iowa State civil engineering graduate and lives in Denver, CO. Chelsey is a CNA and is a currently studying to obtain her nursing degree. Marcus is a Wartburg College graduate and works as a landscaping supervisor at Ted Lare Garden Center. Bailey is a graduate of the University of Iowa and an investment assistant at Bankers Trust. She and her husband Nick reside in Des Moines.

Claire is very active in the community. She has served on numerous boards and commissions, including: Clegg Park Elementary PTO (President), Ruth Harbor Board, Beacon of Life Board, Social Media Club Des Moines Board, 21st Century Forum Board (President), Iowa Alcoholic Beverages Commission (Secretary, Vice Chair, Chair and Past Chair), Iowa Great Places Advisory Board, St. Ambrose Parish Council and the Dowling Catholic High School Board of Education.

She currently serves on the Booster Pak West Des Moines Board, Central Iowa Shelter and Services Board, Drake School of Journalism and Mass Communications National Advisory Board and the West Des Moines Board of Adjustment.

Claire is an active member of the West Des Moines Chamber of Commerce and a graduate of the West Des Moines Leadership Academy.

Claire's career in the advertising and public relations arena has put her in direct contact with business leaders from all corners of the state. She's helped very diverse clients execute strategic marketing and public relations plans to help them reach business goals. Some of these clients include Pella Windows, the Ethanol Industry, Kinze Manufacturing, The Weitz Company, The Iowa Lottery, Des Moines Area Community College, the Iowa Department of Economic Development, Greenspire Global, Inc., the Sustainable Iowa Land Trust, Green Light Renewables and Premier Lending Alliance.
Peter Cownie's official bio from the Iowa House Republicans website:
Peter Cownie, resident of West Des Moines, Iowa was born and raised in Des Moines, Iowa. Peter graduated from Dowling High School in West Des Moines in 1999. Peter then graduated from the University of Virginia in Charlottesville, Virginia in 2003 after receiving his B.A in American Government.

After college Peter moved to Washington D.C. and worked at the Department of Transportation as an assistant to then Secretary of Transportation, Norman Mineta. Peter worked as a scheduling and advance assistant for Secretary Mineta traveling the United States and the world furthering the United States' transportation interests.

After living in Washington D.C. for three years, Peter then moved back to his home state of Iowa. Peter worked at the Iowa Statehouse for the Iowa Senate Republican Caucus staff. Peter was a legislative analyst staffing the State Government Committee and the Health and Human Services Budget Subcommittee. While working at the Iowa Statehouse, Peter received his Masters in Public Administration with an emphasis in Public Policy from Drake University.

Peter is now serving as President of Junior Achievement of Central Iowa. Junior Achievement is a nonprofit organization located in Des Moines with a mission of teaching students K-12 the merits of entrepreneurship, financial literacy, savings and economics. Junior Achievement of Central Iowa reaches over 27,500 students annually.

In the election of 2008, Peter was elected to his first term in the Iowa House of Representatives. Peter represented District 60 which is a majority of West Des Moines in Polk County. Peter won re-election in 2010 with over 60% of the vote. Peter has served on the Education Committee, Ways & Means Committee and was Chair of the State Government Committee in the Legislature. Peter is also Chair of the State Government Efficiency Review Committee and served on the Iowa Commission of Interstate Cooperation. Peter won re-election to his third term representing District 42 after redistricting. Peter currently serves as Chair of the House Commerce Committee as well as the Agriculture, Government Oversight and Ways and Means Committees.

Peter also serves his community as Chair of the West Des Moines Community Enrichment Foundation, the West Des Moines Human Services Board, the Dowling Catholic High School Foundation Board, the Greater Dallas County Development Alliance Board and the Successful Iowa Families Caucus. Peter volunteers for Junior Achievement of Central Iowa, Boys & Girls Club, and Variety Club of Central Iowa. Peter is a member of Sacred Heart Catholic Church in West Des Moines and is married to his high school sweetheart, Mary. Peter and Mary have one son.