Credit for this week's edition of Iowa wildflower Wednesday goes to Matt Hauge. In September, he posted a gorgeous picture of wildflowers I'd never seen before. They turned out to be Wild blue sage (Salvia azure grandiflora), also known as Pitcher sage, after "Doctor Zina Pitcher, a 19th century U.S. Army field surgeon and amateur botanist." Matt found these flowers at the Kuehn Conservation Area in Dallas County. I enclose below his picture as well as some photographs of wild blue sage I took a few days later in a field dominated by Maximilian sunflowers.
Wild blue sage is native to much of the American South, Midwest, and plains states, but it is relatively rare. In fact, the plant is a state-listed "threatened" species in Illinois. Although wild blue sage does not appear on Iowa's lists of "endangered, threatened, and special concern plants," knowledgeable people tell me they have not seen this plant often in Iowa. According to Leland Searles, wild blue sage used to grow along the Neal Smith Trail in Polk County, between the Saylorville Visitors Center and the Butterfly Garden. He does not know whether those colonies still exist.
Unseasonably warm weather this fall has produced some surprisingly late blooms in central Iowa. Scroll to the end of this post for two bonus shots of common evening primrose and goldenrods that were flowering on November 7 in Windsor Heights.

Here is the photo from Matt Hauge's Flickr account that caught my eye two months ago:
The Illinois Wildflowers website describes the foliage and flowers of this member of the mint family in detail, commenting, "This is a wonderful plant with attractive blue flowers – a pleasant alternative to the preponderance of goldenrods and asters during the fall. It can be confused with no other plant within the state." A close look at the flowers:
According to this U.S. Department of Agriculture fact sheet,
The flowers, which are deep blue and attractive to pollinators such as bumble bees and hummingbirds, have a persistent, long bloom period late into the fall when little else is blooming. The plants are also attractive to migrating monarch butterflies and other insects. […]

Pitcher sage is easy to grow in a wide range of soil types that have dry to medium amounts of moisture. It prefers sandy to gravelly soils, and the number one consideration is for soils to be well drained, otherwise the roots are subject to root rot. This species tolerates heat, humidity and drought very well. Full sun is required for this plant to thrive, but some shade is tolerated.
The plants can grow to around 5 feet, but at the Kuehn Conservation Area many stems were growing almost horizontally: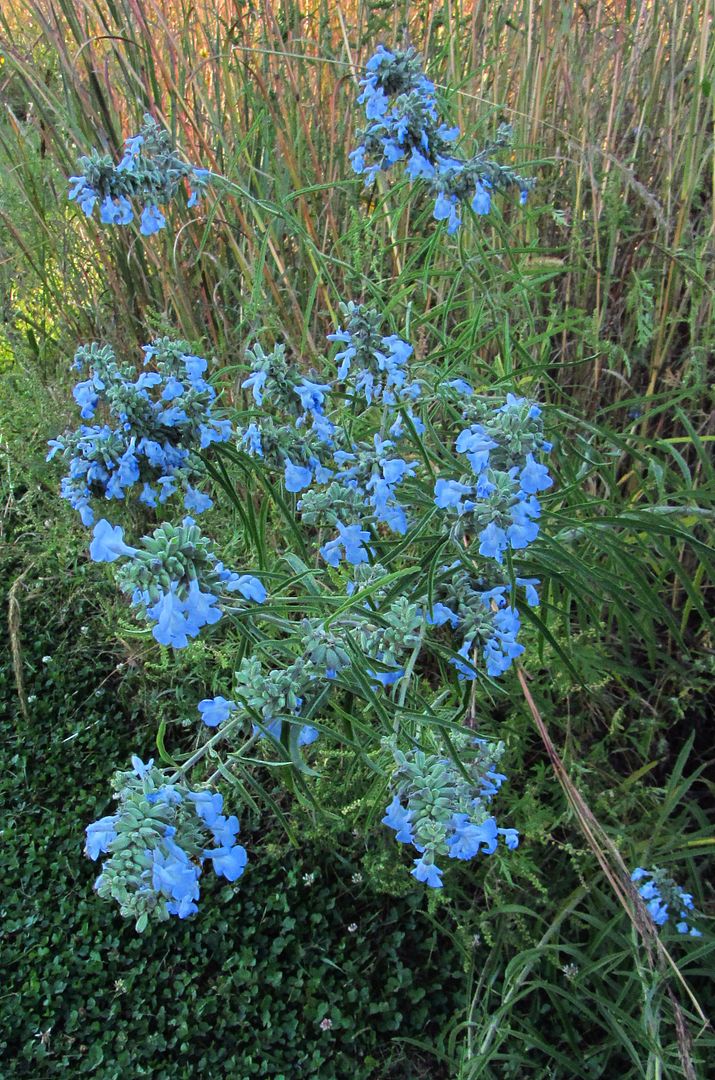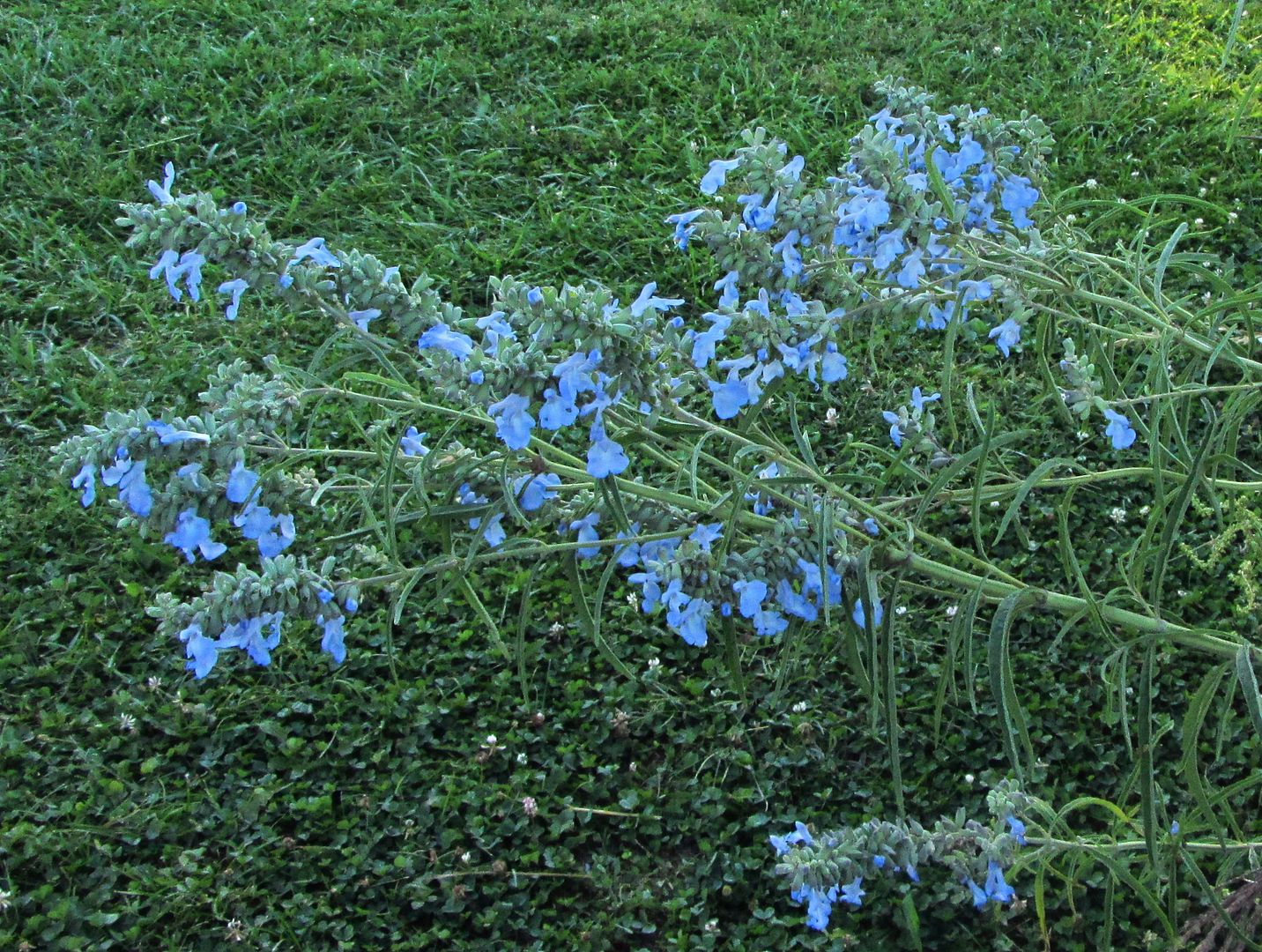 Two pictures of wild blue sage and Maximilian sunflowers: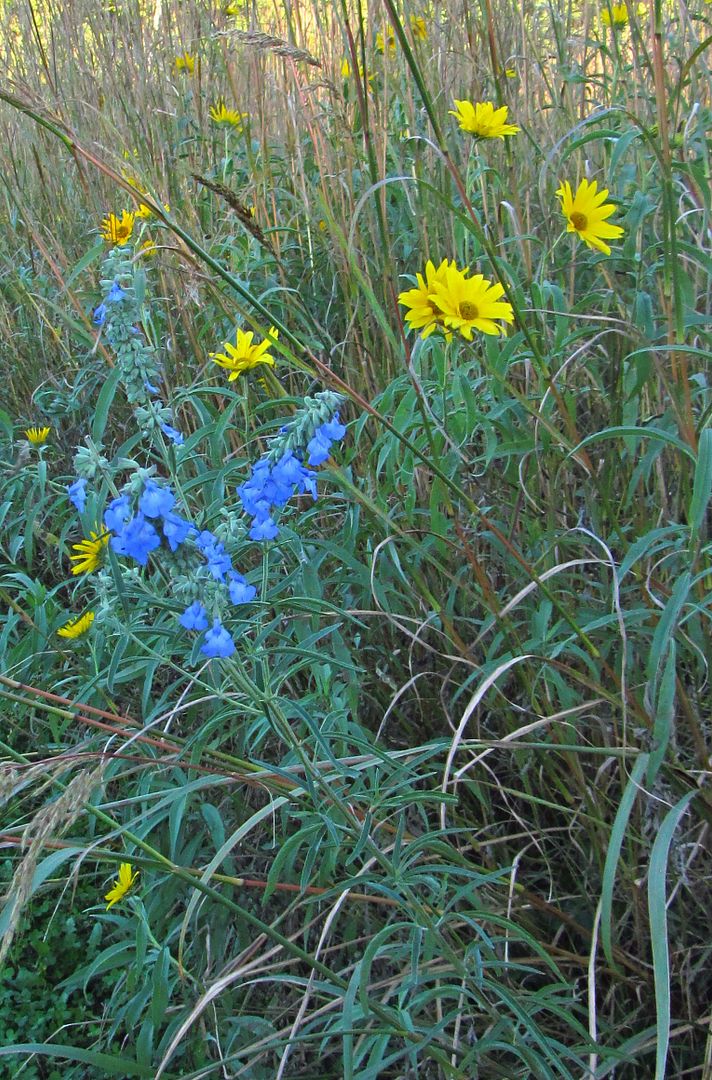 Goldenrod flowerets blooming on November 7. Toward the upper right, you can see buds just starting to open.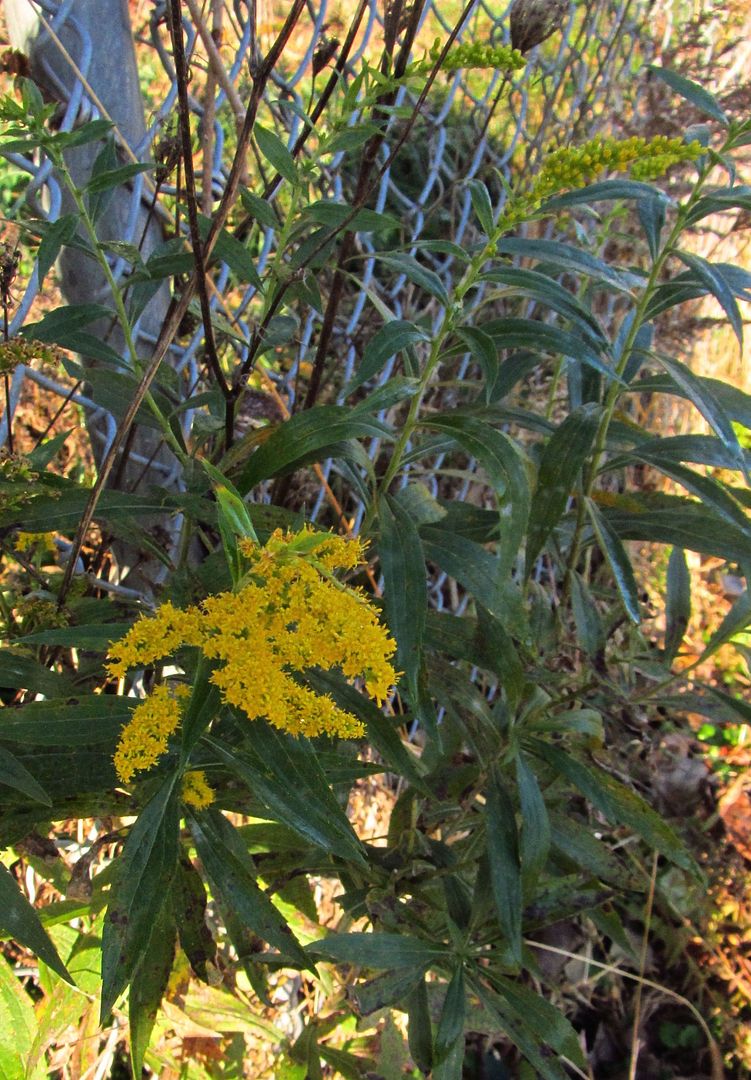 Common evening primrose blooming on November 7. You can see the seed pods lower on the stem.