What's on your mind this weekend, Bleeding Heartland readers? This is an open thread. The big news for Iowa politics watchers is the new poll by Selzer & Co. for the Des Moines Register and Bloomberg Politics, which shows a surge for Ted Cruz since October, a stable second-place position for Donald Trump, a big drop for Dr. Ben Carson, and Marco Rubio the only other candidate in double digits among likely Republican caucus-goers.
It's the second poll this month to show Cruz in first place here. Like the Des Moines Register/Bloomberg poll, Monmouth University found Cruz gaining most from Carson's falling support. Last month's endorsement by Representative Steve King has helped the Texas senator consolidate the most conservative parts of the Republican base, and he has an enormous lead among evangelicals. Some will attribute that development to backing from the FAMiLY Leader's front man Bob Vander Plaats, but for months now, Cruz has had the largest number of evangelical pastors supporting him, as well as major social conservative voices like radio host Steve Deace and Dick and Betty Odgaard, the so-called "religious liberty ambassadors" because they shut down their business rather than buckle to pressure to allow same-sex marriages there.
Trump and his supporters have been touting a CNN poll released on December 7, which had him ahead of Cruz in Iowa by 33 percent to 20 percent, but I don't believe that for a second–and not only because Ann Selzer has the best track record for polling this state. The CNN poll showed Trump does much better among no-party voters than among registered Republicans. An Iowa State University/WHO-HD poll that was in the field during early November found that a disproportionate number of Trump supporters have not voted in a Republican primary during the last ten years.
I don't believe that Iowa State/WHO-HD poll reflects the current state of the race (it had Trump running behind Ben Carson, Marco Rubio, and "don't know," with Cruz in fifth place). But I do agree with those pollsters that whether someone has voted in a recent Republican primary should be factored into a likely caucus-goer screen. Attending the caucus takes considerably more time and effort than casting a ballot in a primary. You have to find your precinct caucus location (usually different from where you would vote in a November election) and go out for an hour or more on a cold night in February. Trump doesn't have anything like the massive organization Barack Obama's campaign built to identify and turn out supporters who had never caucused before January 2008.
I enclose below highlights from the new Selzer poll for the Des Moines Register as well as the main findings from the latest Monmouth University and CNN polls of Iowa Republican caucus-goers. Steven Shepard's profile of Ann Selzer for Politico is worth a read.
A Bleeding Heartland post in progress will consider whether Cruz is now firmly in position to win the Iowa caucuses, or whether he is on track to peak too soon. I'm on record predicting Cruz would not win here, but that view was grounded in several assumptions that have turned out to be false.
Trump claims the Des Moines Register is biased against him, and speaking to a rally in Des Moines on Friday night, he characterized the Register's chief politics reporter Jennifer Jacobs as "the worst." For the record, I do not agree, even though I've had some serious issues with Jacobs' reporting. But I did find something strange in her Sunday Des Moines Register piece about "the skinny" on each candidate. Jacobs called Carly Fiorina (at 1 percent in the Selzer poll) an "also-ran," described Mike Huckabee (3 percent) and Rick Santorum (1 percent) as "yesterday's news," and said Rand Paul had "little opportunity" after dropping to 3 percent. Yet she put a positive spin on Chris Christie's 3 percent showing:
After some of the best days of his campaign, the tell-it-like-it-is New Jersey governor has seen a slight bump in support, up from 1 percent in October.

And his favorability rating is no longer underwater. In the October Iowa Poll, it was 39 percent favorable, 49 percent unfavorable. Now it's 46 percent favorable, 42 percent unfavorable.
I had a feeling that securing more friendly coverage in the Register was the one thing Iowa Republican elites could deliver for Christie's campaign.

From John McCormick's first take on the new Selzer & Co poll of likely Republican caucus-goers (click here for results released so far):
For Iowa's conservative voters, "the coalescing has begun," said J. Ann Selzer, founder of Selzer & Co., the West Des Moines-based firm that conducted the poll.

The same can't be said for the voters who describe themselves as part of the Republican establishment, which the poll recorded as 29 percent of the likely electorate. For now, Trump has 23 percent from those who consider themselves Republican establishment voters, followed by Cruz at 22 percent. Senator Marco Rubio and his one time mentor, former Florida Governor Jeb Bush, are both at 12 percent.

There's no good news in the poll for Bush, who despite his political pedigree as the son and brother of past presidents and a massive campaign war chest, has moved up only slightly since October, to 6 percent from 5 percent, and is in fifth place. The super political action committee supporting Bush has been by far the largest political ad buyer in Iowa, Kantar/CMAG data shows.

Bush's negatives are the highest of any candidate in the field and at an all-time high in the state, with 54 percent of likely Republican caucus-goers viewing him unfavorably. That's up from 43 percent in October. He also recorded his highest level of likely caucus-goers who say they could never support him, 41 percent. "Based on this data, it's hard to keep Bush in the picture," Selzer said.
Likely caucus-goers' first and second choices in the Selzer poll: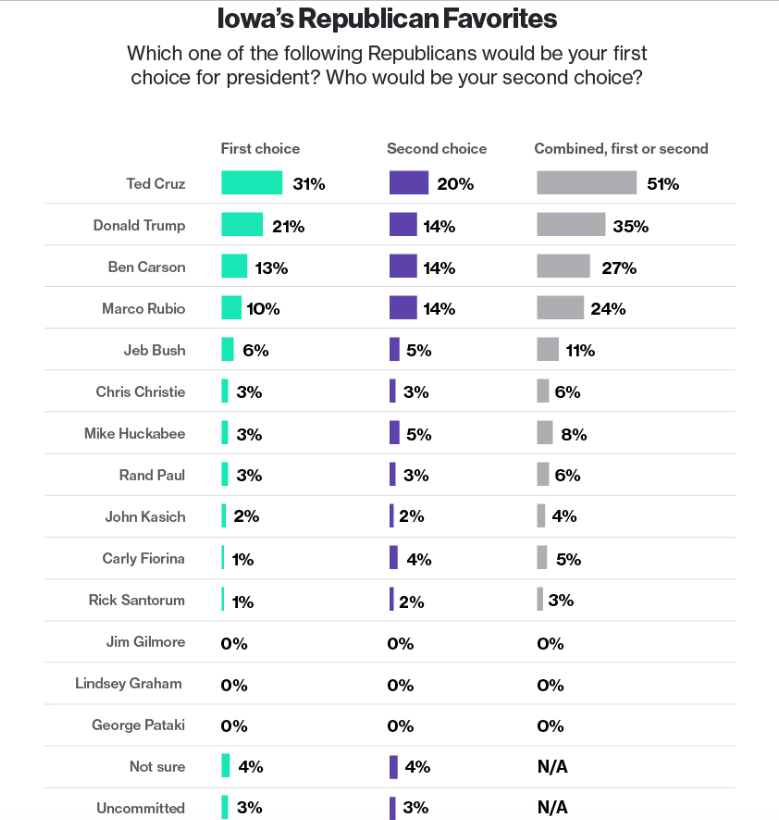 From Jennifer Jacobs' Sunday Des Moines Register piece, "The inside skinny on each GOP candidate":
Cruz is rounding up the evangelical conservative vote: 45 percent are with him — a bigger portion than previous front-runners drew. That's more than double the 18 percent support for Ben Carson, the next highest in that lane.

Cruz gets 46 percent of those who identify as very conservative, followed by Trump, 19 percent, and Carson, 15 percent. He also wins among Iowans who consider themselves predominantly tea party conservatives (39 percent are with Cruz, 24 percent with Trump, and 13 percent with Carson). […]

But more of [Trump's] voters are dug in: 45 percent of his supporters say they won't change their minds. It's 43 percent for Cruz and 34 percent for Carson.

"Pundits repeatedly say Trump voters are uneducated," Selzer said. "In this poll, he takes second with those who have a college degree (18 percent, behind Cruz at 29 percent) and those who do not (23 percent, behind Cruz at 32 percent)."

And Trump comes closest to Cruz among lower-income caucusgoers, with Cruz still leading 26 percent to 24 percent. […]
From the Monmouth University Poll released on December 7 (click through for full memo):
Methodology of the Monmouth University Poll: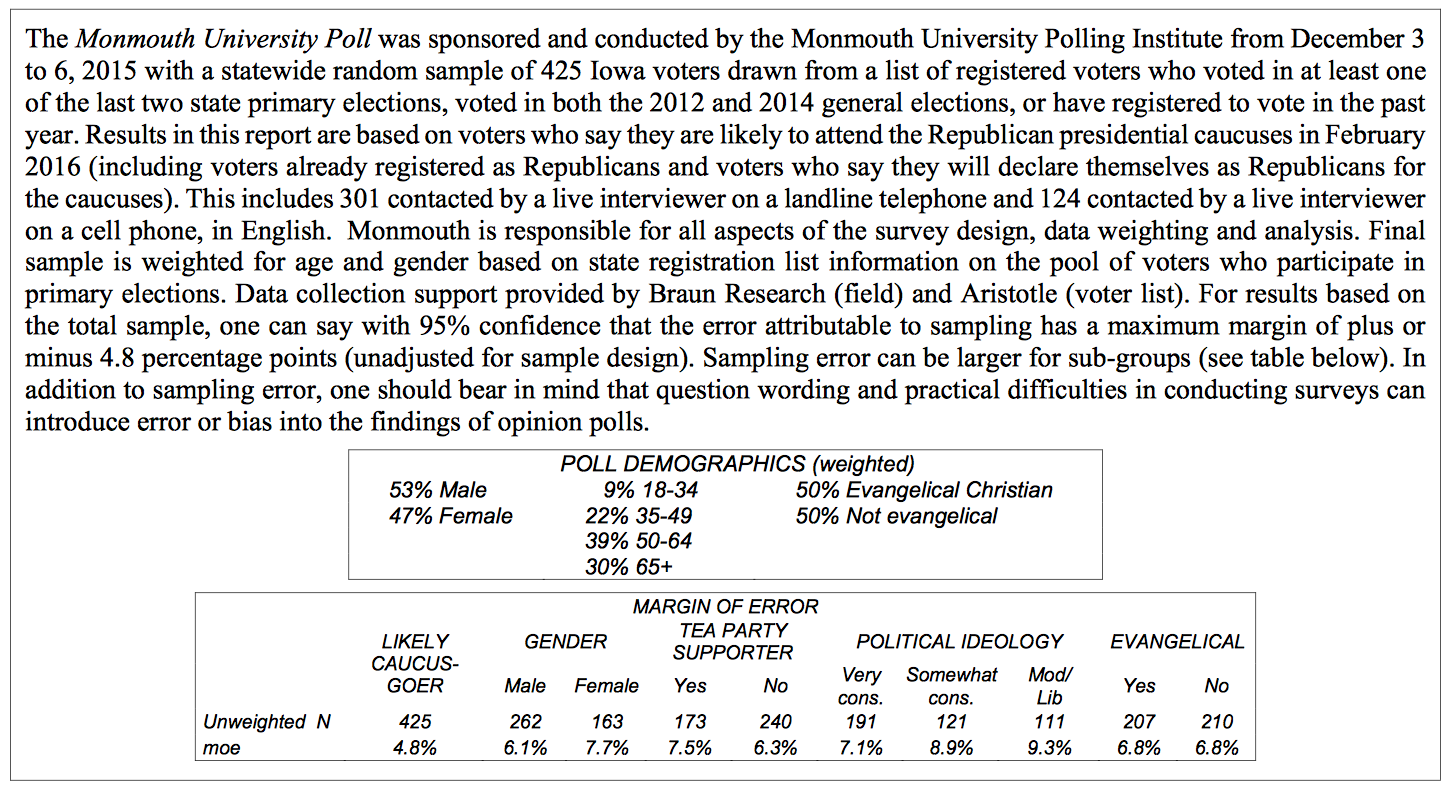 CNN/ORC Iowa poll released on December 7 (click through for full results):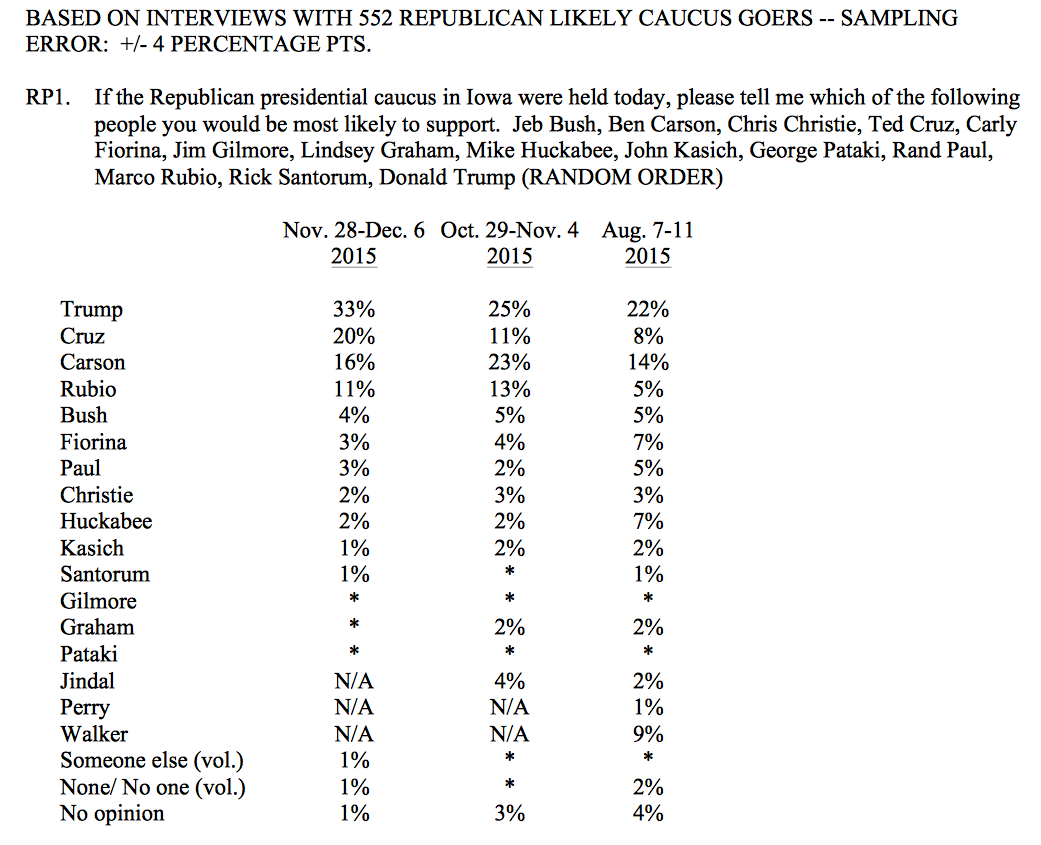 Electability numbers from that CNN/ORC Iowa poll: