March 2 update: Kroeger ended his Congressional campaign. Added his comments on switching to the state legislative race at the end of this post.
One of the three Democratic candidates in Iowa's first Congressional district may file instead as a candidate in Iowa House district 60, covering parts of Waterloo and Cedar Falls. I sought comment from Gary Kroeger this morning after Pat Rynard mentioned "talk in some Democratic circles" that Kroeger may switch to the statehouse race. Kroeger replied, "I am considering whatever is best for the Democratic Party in terms of my candidacy. State races are also imperative."
Kroeger launched his Congressional campaign last April, positioning himself for the primary as "an unapologetic progressive, lifelong progressive and a proud lifelong Democrat." Since Ravi Patel exited that race and Pat Murphy launched his second Congressional campaign last summer, Murphy has claimed the labels of "progressive" and "lifelong Democrat." A longtime Iowa legislator and the 2014 nominee in IA-01, Murphy is better known around the district than Kroeger, who has trailed far behind Murphy and Monica Vernon in the few opinion polls released so far. Raising enough money to run a district-wide campaign has also proved challenging for Kroeger. The Democratic Congressional Campaign Committee has endorsed Vernon, while the Blue America PAC is supporting Murphy.
That said, the kind of money Kroeger has raised for his IA-01 campaign would go very far in a state legislative race. His local name recognition would make him a strong challenger to three-term State Representative Walt Rogers.
Rogers defeated Democratic incumbent Doris Kelley in the previous version of this swing district in 2010. He held the seat in 2012 by more than 600 votes, even as residents of House district 60 preferred President Barack Obama to Mitt Romney by 50.15 percent to 48.91 percent.
A rising star in the Iowa House GOP caucus, Rogers launched his own Congressional campaign in IA-01 in 2013 but abandoned that race a few months later to seek a third term in the state legislature. He easily defeated Democratic challenger Karyn Finn amid the 2014 Republican wave. Joni Ernst outpolled Bruce Braley among House district 60 voters by nearly a 10-point margin, even though Braley himself is from Black Hawk County.
The latest figures from the Iowa Secretary of State's office show that House district 60 contains 5,887 active registered Democrats, 7,007 Republicans, and 7,950 no-party voters. Those numbers do not include people who changed their party registration on February 1 in order to participate in the Iowa caucuses. A presidential year electorate creates a better opportunity for a Democratic challenger here.
Any relevant comments are welcome in this thread. A map of House district 60 is after the jump. UPDATE: The Secretary of State's Office just posted updated voter registration totals, showing 6,164 active registered Democrats, 7,253 Republicans, and 7,208 no-party voters for this House district.

Iowa House district 60 covers parts of southern Cedar Falls and southwest Waterloo in Black Hawk County.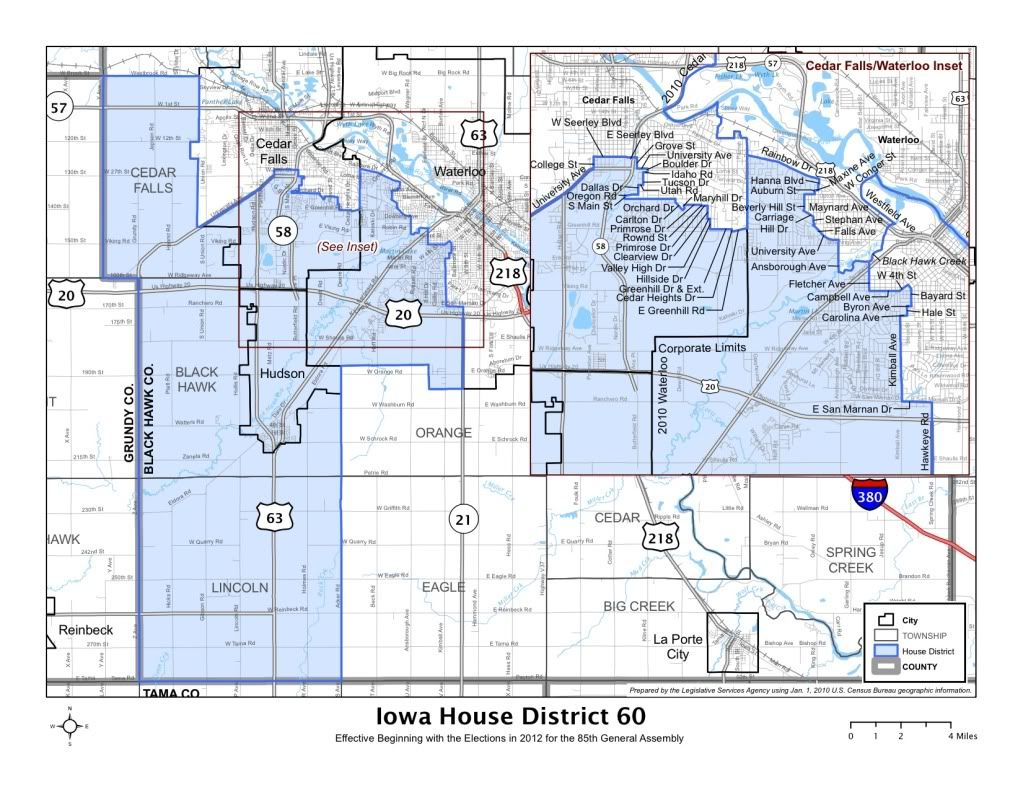 MARCH 2 UPDATE: Kroeger announced that he is ending his Congressional campaign. Excerpts from James Lynch's report for the Waterloo-Cedar Falls Courier:
Kroeger said as he was meeting with people on the campaign trail, he came to realize that the issues he focused on would be most relevant at the state level.

"In every corner of the district, Iowans have shared concern that our public schools have been given a low priority by our current governor and complicit members of the Iowa Legislature, as well as a concern over the privatization of Medicaid, and a general neglect of essential infrastructure," Kroeger continued.

He said it seems to him many lawmakers are more focused on corporate tax breaks to lure companies rather than "what companies actually look for," which is quality-of-life issues. Kroeger said those include education, job opportunities, access to health care and mental health services, infrastructure and environmental stewardship.

"In these areas, our state has gone from leadership to budget decay in order to appease an unnecessary austerity fever in Des Moines," Kroeger said.
MARCH 3 UPDATE: Kroeger endorsed Monica Vernon for the Democratic nomination in IA-01. Press release from Vernon's campaign (emphasis in original):
CEDAR RAPIDS, IA - Today, following Gary Kroeger's announcement that he is ending his campaign for Congress in Iowa's 1st district and starting an exploratory committee for a Statehouse run, Kroeger announced he is fully supporting Monica Vernon's campaign for Congress.

"Monica will make a fantastic member of Congress," said Gary Kroeger. "Monica and I share the same progressive values - she stands up for women and children, she stands up for our seniors and our workers and she stands up for our environment. I look forward to doing everything I can to make sure we elect Monica to Congress. Together, I know we can make a difference for Northeast Iowans."

"I am so proud to have Gary's support" said Monica Vernon. "It really means a lot to have such strong support across this region and in Gary's native Cedar Valley. I look forward to having Gary on the campaign trail with me, working side by side with him on the progressive issues we continue to fight for and electing new leadership to Washington and the Statehouse."

Gary Kroeger is the latest in a long list of Democratic leaders, labor organizations and progressive organizations that have endorsed Monica Vernon for Congress including United Food and Commercial Workers Locals 431 and 1149, Great Plains Laborers' District Council, Teamsters Local 238 and Carpenters Local 308 among many others.