The most important business at yesterday's Iowa Democratic and Republican county conventions was electing delegates to each party's district conventions in April and state convention in June. Iowa Democratic rules do not bind county convention delegates to the candidates they supported at their precinct caucuses, and not all delegates chosen at precinct caucuses show up for the county conventions. Those factors helped Barack Obama make big gains in March 2008, from a lead of "16 state delegates to Clinton's 15 on caucus night […] to a 25-14 lead after the county conventions." John Deeth explained the 2008 county convention happenings at the time and on Friday provided a detailed look at what goes on behind the scenes to organize these events.
Yesterday's conventions didn't change Clinton's expected lead over Bernie Sanders in state delegates. After the Iowa caucuses, the Iowa Democratic Party calculated Clinton had 700.47 state delegate equivalents, Sanders had 696.92 state delegate equivalents, and Martin O'Malley 7.63. The Iowa Democratic Party reported last night that the 99 county conventions elected 704 state delegates for Clinton, 700 for Sanders, one for O'Malley, and one uncommitted. Scroll to the end of this post to see the numbers for each candidate from all 99 counties. The projected national delegate count from Iowa remains 23 for Clinton and 21 for Sanders.
While most counties saw little change after yesterday's conventions, the balance of power did shift slightly in some counties. For example, Johnson County elected 54 delegates for Sanders yesterday and 38 for Clinton. Those numbers represented a net gain of one delegate for Clinton compared to what was expected following the precinct caucuses.
Sanders improved his standing most in Polk County. He won only about 46 percent of the county delegates here on February 1 to 53 percent for Clinton. But at the end of a very long day in West Des Moines, the Polk County convention elected 115 delegates for Clinton and 113 for Sanders, a net gain of about six state delegates for Sanders.
That could have been big news, except for one problem. Hours before Polk County delegates ratified their slates, social media exploded as thousands of people, eventually including Sanders himself through his campaign Twitter account, alleged that Clinton allies had tried to "steal" the convention.
I wasn't at Valley High School, but I followed postings yesterday by dozens of delegates for each candidate. Since the convention, I have spoken to or received direct messages from multiple delegates on both sides, including leaders of the Clinton and Sanders groups and members of the Polk County Credentials Committee. My best effort to piece together what happened is after the jump.
Short version: evidence points not to "stealing," but to mismanagement by convention leaders, especially Rules Committee Chair Jeff Goetz. Unusual procedures implemented without transparency fueled suspicions among people who may have gone into the convention expecting dirty tricks from party establishment types supporting Clinton.

MORNING COUNT: A SURPRISE LEAD FOR SANDERS
Based on the February 1 precinct caucus results, Clinton should have had more delegates at the Polk County convention than Sanders. Joe Henry, a well-known activist on the south side of Des Moines and a prominent Sanders volunteer, told me by phone last night that the Sanders group expected the Clinton delegation to outnumber them by 63 people. I confirmed that account with Joe's brother Mitch Henry, another Sanders delegate who worked registration yesterday as a member of the Polk County Credentials Committee. Although Clinton's campaign generally succeeded at getting delegates to the Iowa county conventions, 118 Polk County delegate slots for Clinton went unfilled. Sanders also had some people fail to show, but his supporters had done far better in convincing elected delegates or alternates to attend the convention.
The superior Sanders organizing became apparent in the late morning, when these numbers went up on screen at the front of the Valley High School auditorium: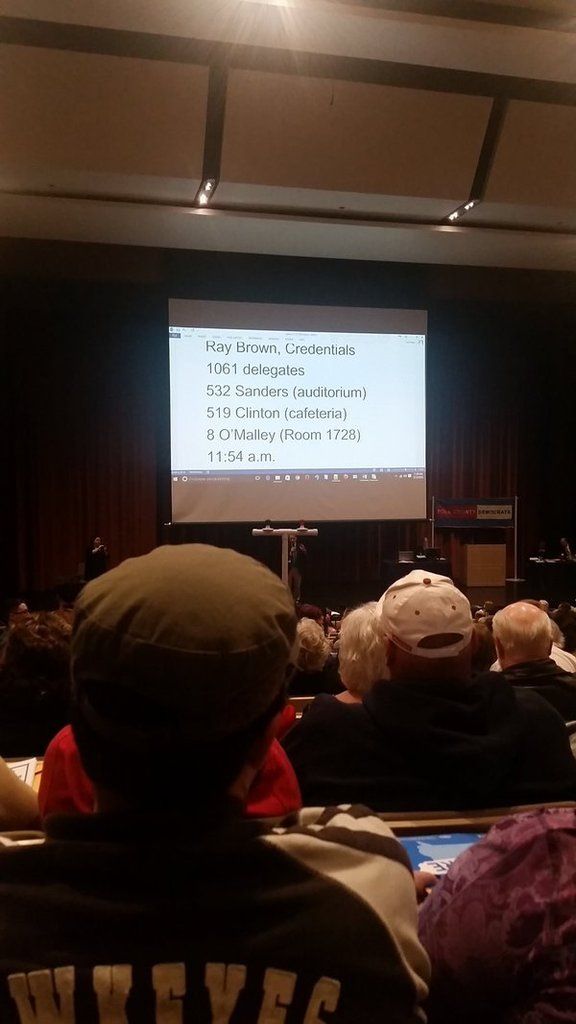 Jubilant Sanders supporters posted all over social media that they were winning Iowa's largest county, which allocates 228 of the 1,406 state convention delegates. Sanders appeared to be on track to take more of Polk County's state delegates, which would have been a big upset.
However, it's important to note that no one had won anything at that point. The convention delegates spent most of the morning listening to candidate speeches and dealing with other party business. Delegates did not break into preference groups or realign until after the lunch break. Just like at a precinct caucus, the important numbers for delegate selection are those in each candidate's group after realignment. Attrition can change the balance of power over the course of a convention. Whether county delegates leave out of boredom or because of work or family obligations, anyone who didn't stick it out cannot be counted when officials calculate the number of delegates for each candidate.
A CLINTON CHALLENGE
Throughout the afternoon, social media postings and private communications from people at the convention indicated tremendous confusion about delegate counts. Delegates divided into preference groups after the lunch break, and unfortunately, the numbers they arrived at did not correspond to the numbers posted on the big screen earlier in the day.
In the Clinton room, delegates filled out blue cards that came with their packets. Clinton leaders collected those cards and counted 545 or 546 people. Sources do not agree on the final number, but it was in that ballpark, about 25 people more than the number of Clinton delegates posted on the large screen before lunch. Some Clinton delegates claim their group was undercounted in the morning, others say they picked up defectors from the Sanders camp. By the same token, many Sanders delegates believe their group was undercounted initially, with some delegates wrongly listed as being for Clinton.
Several Clinton supporters who spoke to me after the convention complained that the Sanders group had not filled out the blue cards, which in their view, would have made it easier to obtain an accurate count. But according to Mitch Henry, the blue cards have one purpose only: for delegates switching to another preference group during the realignment process. They were never intended to be used to count how many people are supporting each presidential candidate.
Clearly the Rules Committee could have done a better job explaining how the Clinton and Sanders leaders were supposed to count and report their delegates.
Shortly after 2 pm, Sanders supporters began posting on social media that the Clinton campaign was challenging credentials of delegates for Sanders. This thread is typical, accusing Clinton leaders of manipulating procedures to disenfranchise political opponents. As one would expect when hundreds of people are experiencing the same event, eyewitness accounts by Sanders delegates varied widely, from this relatively dispassionate "County Convention Update" on Reddit to the Democratic Underground post that screamed, "Hillary playing tricks in Polk County!" (disregard the delegate numbers in that post; they are way off).
From the Sanders perspective, there were no legitimate grounds to question credentials of any delegates. They believe Clinton supporters including the chair and vice chair of the Rules Committee were dragging out the process, thinking that delays would work in their favor. Mitch Henry told me that more than half of the Sanders delegates had never attended a county convention before. Joe Henry mentioned that the whole Polk County leadership was for Clinton, and for that reason executed a strategy to keep everyone at the high school longer, hoping that more Sanders delegates would go home.
Multiple Clinton supporters deny that there was any grand strategy to disenfranchise Sanders delegates. Sean Bagniewski led the Clinton group at the convention. Speaking by phone last night and via Facebook message this morning, he said that the challenge he filed focused on alternates who were allegedly not on a "master list" Polk County Executive Director Tamyra Harrison had provided to all campaigns on Friday afternoon. Those alternates were listed on yellow sheets of paper rather than on the master list, and in the view of some in the Clinton group, they had registered for the convention and been seated in violation of convention rules.
Clinton delegate Matt Sinovic (who leads Progress Iowa but was not wearing that hat yesterday) posted this picture on Twitter of some papers used to register unlisted alternates: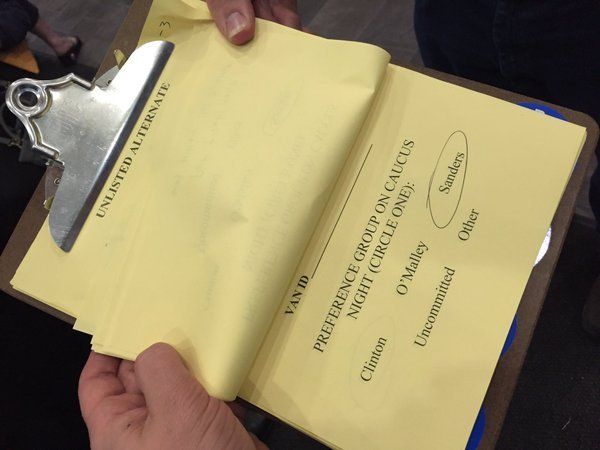 Bagniewski and several other people I've spoken with in the last 24 hours say they'd never seen these yellow sheets used for alternates at any previous Polk County convention. Mitch Henry says the process has been used for years, and I believe him, given his Credentials Committee experience. As far as I can tell, there was a genuine misunderstanding about whether alternates not appearing on the master list could be seated. No doubt the dispute could have been handled in a more cordial way; Deeth explained here how Johnson County Democratic officials dealt with similar issues ahead of this weekend's convention.
Incidentally, Mitch Henry and other Sanders supporters claimed that Danny Homan instigated the challenge. Homan is the Iowa Democratic Party's first vice chair and a superdelegate as well as the president of AFSCME Iowa Council 61. Speaking by phone today, Homan told me he and Bagniewski conferred about challenging the count because they believe the delegate numbers posted in the morning were incorrect. He signed off on the challenge filed on behalf of the Clinton group but denied that he told Bagniewski what to do. According to Ruth Burgess Thompson, a Clinton delegate who serves on the Credentials Committee, suspicions were aroused in part because during the registration period (before the convention called to order), a Sanders delegate had been solely in charge of signing in alternates. In contrast, both campaigns were represented in the room where most delegates registered.
County officials sent the candidate groups to different areas in Valley High School and told them to confirm everyone was entitled to be a delegate. One Clinton delegate posted on Twitter, "in the Hillary room, this count included the most stringent credential checking I have ever experienced." Christian Ucles, a Clinton delegate who serves on the Credentials Committee, explained in this video that he personally disqualified five Clinton delegates at this stage. A couple of Sanders delegates were also disqualified, from what various people told me, for reasons unclear. According to Mitch Henry, all of the delegates who had been alternates listed on a yellow paper (roughly ten people, by his estimate) were found to be properly seated.
The Clinton challenge led to a tedious and lengthy count of both groups, though Bagniewski denied that was the original intention. He told me, "Our challenge was about the unlisted delegates. We talked to the county folks and the only way to certify that they were out was to check [all] attendees by the master list."
Jon Neiderbach, a Sanders delegate, considers the process illegitimate, based on his reading of the rules governing the convention:
My position is there was only one valid count…the first one that was done with the paper ballots. The subsequent "teller" counts were done without basis in the rules and are therefore null and void, no paper trail. Credentials challenges were not brought to the full convention for decision and therefore the delegates should be awarded based on the only valid paper count.
The problem with his position is that the Sanders group did not fill out "paper ballots," from my understanding. After the lunch break, only the Clinton delegates filled out and turned in paper ballots (those blue cards).
In any event, following the challenge, the Sanders delegates were told to come back into the high school auditorium, single file, with Polk County officials checking their the name on their credential (hanging around their neck) against the master list. The Clinton delegates did the same, filing into the cafeteria. (CORRECTED to note that Clinton delegates were counted in the cafeteria, not the auditorium.) Multiple sources told me delegates were not forced to show photo ID during this process. The Clinton and Sanders supporters used different entrances for the auditorium. Both campaigns had representatives observing as more than 500 people in each group were counted, one by one. The process took about an hour and a half. Mitch Henry argued in a message to me,
This was a process that should have been completed by early afternoon but drug on until after 7:00 PM. We had at least 50 of our delegates who left in frustration throughout the afternoon. […] The Chair and Vice-chair of the Rules Committee were Clinton Delegates. The Chair and Vice-Chair of the Credentials Committee were Clinton Delegates. Several alternate/delegate credentials were challenged shortly after we broke down into our preference groups in the early afternoon. All the alternate/delegate credentials that were challenged were success fully seated. With all the challenges and recounts throughout the very very long day only three delegates were proven not to eligible.
From where I'm sitting, the Clinton group played hardball in challenging the alternates' credentials. Doing so led to a major delay, which could have caused some attrition of delegates. But that's a far cry from "cheating" or "disenfranchisement"–especially since both groups (not just the Sanders supporters) had to go through the re-credentialing process, and both groups lost delegates over the course of the day. In fact, the additional delays cost Clinton more than Sanders, as we shall see shortly.
A bunch of Sanders backers were on my case yesterday for supposedly defending an "undemocratic" and "corrupt" process in Polk County. I've written thousands of words highlighting some undemocratic and disenfranchising effects of the Iowa caucus system and calling for comprehensive reforms to address those flaws.
While we're on that topic, many would argue it's not "democratic" for Sanders to win more support at the Polk County convention than he earned at precinct caucuses, just by virtue of more delegates showing up on a Saturday in March. Nor is it "democratic" to exclude shift workers, caregivers, and housebound people from the precinct caucuses. Nor is it "democratic" when almost exactly the same number of caucus-goers for Clinton and Sanders showed up in Windsor Heights 1 and Ankeny 4, yet those precincts produced quite different Polk County delegate results. Nor is it "democratic" when some precincts assigned the same number of county delegates to both candidates, despite a significant disparity in the number of Clinton and Sanders supporters in the room.
I'm not defending all of the Iowa Democratic caucus rules, or even most of them. But as the saying goes, "politics ain't beanbag." In a very close race, a few more delegates for one candidate could affect the state delegate allocation from the largest county in Iowa. Clinton was ahead of Sanders by just four state delegate equivalents going into this weekend. It's not surprising that Clinton leaders demanded that all the delegates' credentials be checked again.
Polk County leaders could have avoided a lot of yesterday's headache by making clear to all leaders ahead of time whether those yellow papers were to be considered appropriate grounds for seating an alternate as a convention delegate.
YET ANOTHER RECOUNT
After the single-file recount of all delegates, representatives of both campaigns agreed on the number of Sanders supporters, but there was confusion about the Clinton total. The Clinton camp thought they had 529 people, while the Sanders observers thought it was 525. Bagniewski told me he agreed to accept the lower number, knowing it would not affect state delegate allocation. Six of the eight O'Malley delegates realigned with Clinton, leading to an announced count that many people shared on social media: 531 delegates for Clinton, 509 for Sanders.
Many Sanders supporters started crying fraud, because the numbers didn't correspond to what had been posted on the large screen in the morning (and also spread widely). How did an advantage for Bernie flip to an advantage for Hillary? To my mind, the obvious explanation was that more Sanders delegates had left over the course of the day. But to someone primed to expect dirty tricks from Clinton, the obvious explanation was Sanders getting screwed.
Clinton supporters thought the counting was done for the day. Bagniewski told me that he said to Sanders group leader Fred Trujillo something along the lines of, "I think we can go home." (He did not remember verbatim.) Trujillo has not responded to my requests for comment. Joe and Mitch Henry, who worked closely with Trujillo yesterday, both told me they did not witness this encounter. Multiple sources in the Sanders group confirm that Trujillo told Sanders delegates that the Clinton leader (Bagniewski) had "told" Sanders people to go home. In the retelling on social media, Bagniewski was said to have tried to trick Sanders delegates into leaving to gain an advantage for Clinton. Many people claimed to have video of the evil Hillary leader lying to Bernie's loyal followers. Based on conversations with multiple Sanders delegates, including Neiderbach and the Henry brothers, I do not believe such a video ever existed. No one seems to have seen it–they only heard other people talking about it. These Twitter postings (which appeared at 5:00 pm and 5:17 pm) are a typical example of what central Iowans were saying and others were sharing widely: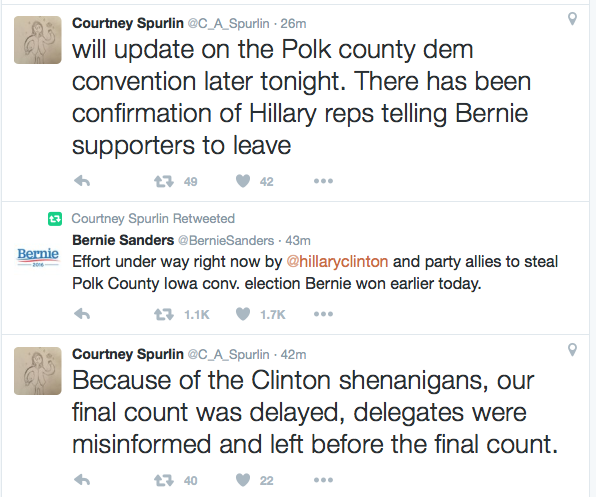 Bagniewski vehemently denies that he tried to trick anyone into leaving or spoke to any group of Sanders delegates at any time. By his account, he believed the counting was over at that point and that the 531 to 509 numbers would be used to assign state delegates. On one of the many Facebook threads where people were talking about these claims, the wife of a Sanders delegate described what she heard from her husband. Posted with her permission after removing her name: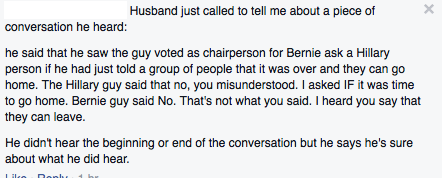 At this point in the late afternoon, mutual distrust was already high. Then Rules Committee Chair Jeff Goetz ordered another full recount of both groups. Goetz has not responded to my request for comment, but multiple sources in both camps say other Rules Committee members never considered that step or voted to approve it. Bagniewski confirmed that he and the Sanders leader both objected to another count. Numerous Clinton delegates posted on social media that their group was going to challenge the order. This account conveys prevailing sentiment in the group. When I spoke to Homan this afternoon, he was clearly still angry about the "unilateral decision" by Goetz. I have not found anything in the Polk County Democrats rule book supporting that action.
Meanwhile, Sanders supporters saw a conspiracy by Clinton supporters to further delay the convention. Neiderbach's assessment was among the most coherent I saw:
The Polk County Democrats Convention rules explicitly provide for a WRITTEN ballot (page 19, III-C, #2) to count preference group membership. There is no provision for subsequent counts. Campaigns and delegates can make challenges, but three "soft" counts is simply not following the rules and as delegates have left this is voter suppression, plain and simple. I will be challenging the results of this process to the 3rd District Credentials Committee.
Around 5:00 pm central time, the official Bernie Sanders Twitter account posted, "Effort under way right now by @hillaryclinton and party allies to steal Polk County Iowa conv. election Bernie won earlier today." Ten minutes later, Sanders tweeted, ".@HillaryClinton and party allies are disenfranchising worker-class delegates at Polk County Iowa Democratic Convention."
Thousands of people re-tweeted both of those posts or shared them on Facebook. Never mind that Clinton group leaders opposed the additional count, or that some Clinton delegates also needed to get to work or attend to caregiver obligations at home.
Later yesterday, the Sanders Iowa campaign chair Robert Becker tweeted a photo of the morning delegate counts from Polk County, commenting, ".@BernieSanders wins 1st ballot at Polk conv. 532-519… But @iowademocrats allow HRC as many recounts as she needs." Actually, no, that wasn't "the first ballot," nor were Polk County officials giving Clinton "as many recounts as she needs." Although Goetz was himself a Clinton delegate, the Clinton group leaders were as outraged as the Sanders people to be instructed to do another count.
In fact, for some time after being sent back into the Valley High School cafeteria, the Clinton group refused to do the extra count. Homan told me that he urged his fellow delegates to comply, even though he didn't agree with the order. As it turned out, his brief speech was captured at the beginning of this video:
For those of you who don't know me, I'm Dan Homan, I'm the first vice chair of the Iowa Democratic Party. I don't agree with this bullshit. That's why I've asked Jerry Crawford, [he's] filing a formal complaint, because they won't do what they should do. [applause and cheers] Let's get the count so we can get out of here. I'm not happy about it, but I can't control it. But I will raise hell about it, ok? You can count on it.
Thompson, the Clinton delegate on the Credentials Committee, told me by phone today that she was deeply disturbed by the process she saw yesterday. The final count of Clinton delegates was "complete mayhem" in the cafeteria, with teams of Rules Committee members counting groups of people. She claimed that the Sanders delegates were counted one by one again entering the auditorium, a method more likely to produce correct results. Thompson doubts the cafeteria count was accurate and argued "that's not ok" for the Rules Committee to allow the Sanders group to be counted differently. Other Clinton delegates likewise told me they did not believe everyone was counted accurately that last time in the cafeteria. Homan said there were people sitting at tables, leaning against walls, moving around the room, making it hard to get a good count.
Bagniewski repeatedly mentioned that the Goetz-ordered recount hurt Clinton more than Sanders. The new numbers put Clinton at 511 delegates and Sanders at 503. For state delegates, Clinton would have been better off with the 531-509 split.
THE ALLOCATION OF STATE DELEGATES
Adding to the confusion, rules committee members (I have been unable to identify them) told some Sanders delegates that Polk County's 228 state convention delegates would be divided evenly, 114 to each candidate. Many people shared that news on social media, as some Clinton supporters objected that they had been told 117 delegates would go to Clinton and 111 to Sanders. That calculation may have come from the 531 to 509 numbers.
John Deeth and others have confirmed that final numbers of 511 for Clinton and 503 for Sanders work out to 115 delegates for Clinton and 113 for Sanders, using the Iowa Democratic Party's math. As you can imagine, many Sanders supporters saw more fraud at work when the Rules Committee people clarified that point. They had been celebrating the 114-114 split.
While this was going on, the Clinton people were stuck outside the Valley High School auditorium. The Sanders group was using that area, having filed in for the Goetz-ordered recount. They took a long time to elect their 113 delegates. Joe Henry told me that 288 people in the Sanders delegation wanted to go on to the district and state conventions. It took several ballots to reduce that number to 180 and eventually to 113. At this point, lots of Clinton delegates took to social media to accuse the Sanders team of dragging things out, hoping Clinton people would get tired and go home. This morning, one Clinton delegate described the scene:
We arrived in the lobby outside the venue, only to find that the Sanders folks were encamped and entrenched in the auditorium. They were "down to" 69 extra people on their delegates list and were voting one by one (!) with speeches and whatnot, as to who would be a delegate and who would be an alternate. In their space, youth dominated, and it was youth with a cause, youth with that ardent, hard-held, hard-headed belief in their saint. I did recognize some of the far-left folks from around town who would typically vote third party, but youth dominated and youth were clueless.

They didn't know and wouldn't let us tell them that alternates get seated at conventions. Nearly always.

Two hours later, they were still dicking around picking delegates. We were outside singing. What can I tell you, we coulda put on a play or something. We sure had the time. A fave Democratic leader, [State Representative] Ako [Abdul-Samad], answered questions and led songs from an open landing on some stairs leading to the upper decks of the auditorium, providing a kind of mini-stage above the lobby crowd.
Joe Henry denied the Sanders people deliberately stretched out the state delegate selection, as did Mitch Henry, adding that he did not feel a lot of sympathy for the angry Clinton delegates. From his perspective, Clinton's team started all the problems by filing the original challenge to alternates. Also, the Henry brothers argued that the Sanders group used a more democratic process to select state delegates, whereas Clinton's people mostly allowed leaders to choose. CLARIFICATION: A Clinton delegate disputes that characterization; see update below.
In the last 24 hours, I have asked many Sanders delegates if they can provide evidence supporting the claim by Sanders himself, among others, that Clinton's team was trying to "steal" the Polk County convention. Notably, those with experience in Democratic Party politics and at county conventions did not make that allegation. Neiderbach told me "that's how it felt" to many people in the Sanders room. He believes the additional recounts were "illegitimate" but stopped short of claiming corruption or theft. Joe and Mitch Henry both commented that a lot of the Sanders delegates making the stronger accusations were new to the process, and you can't control what people say on social media. Joe Henry asserted that Clinton has made a lot of false or exaggerated statement about Sanders during the campaign, so if Bernie has gotten just this one thing wrong, it's not so bad by comparison.
I find it incredibly irresponsible for a presidential candidate to jump to this explosive conclusion and spread unsubstantiated claims on social media. I'm aware that Sanders probably doesn't write any of his own Twitter posts. Nevertheless, a serious accusation went out under his name before any fact-finding had been done. At 5 pm on March 12, no one fully understood what was going on at the Polk County convention–not even people who were in the building. Confused, tired, and angry delegates were hearing conflicting information. And in reality, Clinton's group had not called for the additional count. They were as upset about it as the Sanders delegates.
Ucles, another Clinton delegate who serves on the Credentials Committee, responded to the furor in a Facebook post last night: "The Hillary Clinton campaign isn't trying to steal delegates. This is merely human error and discrepancies in a high pressure area." In this video attached to that post, Ucles explained those discrepancies, emphasizing that this year's unusually close election led to an unusual level of scrutiny. Near the end of the video, he said, "Look, folks, it is not a conspiracy. We were not trying to steal delegates. We're merely just trying to do our job, ok, of making sure that every delegate that was seated was supposed to be a delegate that was seated. That's all it comes down to."
The Hillary Clinton campaign isn't trying to steal delegates. This is merely human error and discrepancies in a high pressure area. The polk County convention was tough, I know. Tempers have flared, let's be good iowans, Democrats, and more important humans.

Posted by Christian Ucles on Saturday, March 12, 2016
The Polk County Democratic convention was a failure on several levels. Many participants left furious rather than fired up, determined never to be a delegate again. According to Bagniewski, lots of people in the Clinton group adamantly did not want to go on to the district or state conventions. Many local activists like me felt overwhelming relief that we had not put our names down to be county delegates at the precinct caucus. Almost everyone I interviewed for this post, whether on or off the record, expressed concern that yesterday's disaster will hurt efforts to build the party, discourage people from volunteering later this year, and make it harder to rally Democrats around the eventual presidential nominee.
The image of the Iowa caucuses took another hit. Many outsiders watching the confusion play out as the Polk County delegate numbers kept changing responded with comments such as "this is all absurd. #killthecaucus" or "#KilltheCaucus", "You know what would be transparent? A PRIMARY."
Polk County Democratic leaders need to take steps to ensure nothing like yesterday's fiasco can happen again. The Iowa Democratic Party must also add county convention procedures to the list of matters to be considered by the Iowa caucus review committee, which former Representative Dave Nagle will chair.
Perhaps Iowa will never be first in the presidential nominating process again, but if the caucuses survive for future cycles, voters and volunteers deserve better than the hot mess more than a thousand committed Democrats were subjected to at Valley High School.
UPDATE: Sanders campaign leader Trujillo still has not responded to my requests for comment. I believe the alleged video "proof" of Clinton cheating may refer to these videos of Trujillo describing what he claims to have seen. In this video, Trujillo tells the story directly to a camera:
During one of the breaks I walked out into the foyer and witnessed the chair for Hillary's camp actually telling Bernie Sanders' supporters that they can leave now, that they were no longer needed. And when he seen me he said, "That's right, we don't need them, do we?" And I said, "Yes we do need them, and I would ask that if you're gonna tell people to leave, please tell your people to leave, not mine."
This video posted on Facebook shows Trujillo telling a large group of Sanders delegates the same story in a slightly different way (starting around the 1:00 mark):
Their chair was standing out in front of the auditorium, and I walked out and heard him personally telling our people they could leave now. When he seen me, he said, "We can leave now, right?" And I said, "Absolutely not. Why are you telling Bernie's supporters it's time to leave?" [voice from the crowd: "Cheater!"] He said, "I've been telling my people too," and I said, "Then go down the cafeteria and tell your people down there. Please don't tell us to leave." So that's the type of things we've been dealing with. It's very unfortunate, but we can rise about their standards.
The second half of this video shows several Clinton group leaders talking with Polk County Democratic officials about the counting process and debating how to proceed. Around the 7:00 mark, Bagniewski begins explaining to Polk County Chair Tom Henderson that he and Sanders leaders had tentatively agreed on counts for both groups. But as the discussion continues, it's apparent that even insiders were confused about whether Sanders leaders had accepted those counts.
Speaking by phone on Sunday evening, Ucles posited some reasons the Clinton group lost more delegates as the day went on. The seating in the auditorium, where Sanders delegates spent most of the day, was much more comfortable than the stuffy cafeteria where Clinton delegates were packed in. Furthermore, Clinton's group had more senior citizens and people with disabilities or conditions that made it difficult to spend all day at the convention. He noted that several diabetics concerned about their blood sugar levels asked whether a vending machine with chocolate was anywhere in the school.
Pat Rynard posted his write-up of this convention at Iowa Starting Line. He heard the same assessments of Goetz that I did, adding,
Others harshly criticized Henderson's leadership in the affair, and many predicted there would be further calls for his resignation in the days ahead. The campaigns are also looking into barring those leading the committees that caused the problems in Polk County from running anything during the 3rd District convention.
The final 45 seconds of this video aren't a good look for Henderson, who walked away immediately after realizing someone was taping the discussion.
Here's a video of Joe Henry speaking to Sanders delegates. At around the 1:30 mark, he asserts that there are around 600 Sanders delegates to about 530 for Clinton. This speech must be the source for the inaccurate delegate numbers cited in a widely shared Democratic Underground post. Henry warned the group that other people want them to leave because they were upset. He urged them to "hold tight" against the "desperate" tactics of the Clinton campaign.
SECOND UPDATE: A Clinton delegate responds to how Henry characterized the selection for delegates to go on to district and state conventions:
This is untrue "whereas Clinton's people mostly allowed leaders to choose."

Clinton people used the grey card [included in delegate packets] designed to signify desire to go to districts. Over 200 people filled out that card. We were asked to volunteer to be an alternate in order to lower the count closer to 100ish (since we didn't yet know how many delegates we would get). That got us down to 39 more than seats (once we got our #). We voted unanimously to have those 39 people randomly drawn in order to save time and with the understanding that alternates almost always get seated. The process was very diplomatic. I am a voluntary alternate to district.
I forgot to mention what happened with the party platform. The convention had spent only a short time on the document (enclosed here) before lunch. By the time the delegate slates had been ratified in the early evening, it was not practical to go through the planks as would normally be done at a county convention. Hundreds of delegates left almost immediately after voting to approve the delegate slates, and those remaining were not in the mood to spend more hours at Valley High School debating the platform. According to Ucles, a motion passed to send the platform on to the district convention, where delegates will have opportunities to discuss individual planks.
MONDAY UPDATE: The next scheduled meeting of the Polk County Democratic Party Central Committee will be on Monday, March 21. Expect fireworks. I would welcome a guest post from someone who can attend, as I have another commitment. Neiderbach posted on Facebook this morning,
On Saturday March 19th the Committee on Committees has its first meeting, will break into Credentials and Rules. Rules will be drafted for the April 30th District Convention (more about that later). Credentials will likely discuss the credentials of delegates and alternates elected at Saturday's County convention. Meeting is at 10 am at 2501 Bell Avenue (Plumbers and Steamfitters Local 33).

I am holding off submitting a written credentials challenge until we see how thing develop at these meetings. 3rd District leadership is consulting with the two campaigns to see how they want to proceed, although their plans are not determinative as to what individual Democrats do in filing a challenge.

On Monday March 21st the Polk County Central Committee meets at 6pm, also at the Plumbers and Steamfitters Local 33, 2501 Bell Avenue in Des Moines. I think there should be some discussion on how things went so terribly wrong at Saturday's County Convention.

(Central Committee background: at each precinct caucus two Central Committee members were supposed to be elected, but that doesn't always happen in the heat of a presidential year. If a precinct doesn't have two representatives, any Democrat can volunteer and (almost certainly) the Central Committee will ratify the (self) nomination at their next meeting. BUT regardless whether you are on the Central Committee or not if you agree we need to change how the Democratic Party works in Polk County, please come to the meeting just to show your support. Polk County Democrat's wonderful Executive Director Tamyra Harrison is at polkdems@gmail.com.

On Saturday April 30th (at Iowa SW Community College in Creston) the 3rd District Democrats Convention will be held. No matter what happens in the primaries between now and April 30th this meeting is important because the convention will elect 8 State Central Committee members (who with other members select the Chair of the state party).

These meetings are important in the hard slog that is the Sanders' Political Revolution.
Sanders delegate Derek Mahr had a different perspective on how things played out over the afternoon:
First, there was reason to check our credentials. We didn't check in after lunch, we didn't do anything except walk into the valley auditorium, and in my case, open up my kindle and reading some comics. Doing a count/check at the door made the most sense after lunch. The fact that they sent us all out into the atrium with no plan for how to get us back in, and that demonizing Clinton and her supporters seemed to be much more important than getting the count done was about when I was ready this to be over. But I was convinced to stick around. There were counts and counts and for some reason the audience microphones were live and shouting and more conspiracies and Hillary bashing and a complete lack of actual parlimentary procedures, and choosing delegates before we had final numbers and then taking that back, motions taken, seconded and verbal voted, and then a lot of complaining that people couldn't join committees at the district level despite not being on them at the county level, and somehow that was a grave injustice because they didn't know and jesus can we hold your damn hand and walk you through it like a four year old, until my head was ready to pop. At some point they told us that the count was final and unless we wanted to be a delegate or vote on the platform we could leave. So I did, despite having spent a lot of damn hours crafting the Platform, I was done. I don't see any way in hell that walking up and down the aisles in an open room can be a legal count. In an open room, with no check in or out. It was asinine.
A different Sanders delegate told me privately today he was so disgusted by what happened at the convention that he is switching his registration to no-party after 21 years as a Democrat. I encouraged him to remain a Democrat so he can vote for Rob Hogg in the U.S. Senate primary.
LATE UPDATE: At a Polk County Democratic Party Central Committee meeting on March 21, Henderson said the initial count posted in the morning had been inaccurate; some 70 to 80 Clinton delegates were not counted because of a computer glitch. Central committee members voted to create a "caucus and convention review committee" to look into the problems. Goetz stepped down as Rules Committee chair; at this writing, a new leader for that committee has not been selected.
From an Iowa Democratic Party press release, March 12: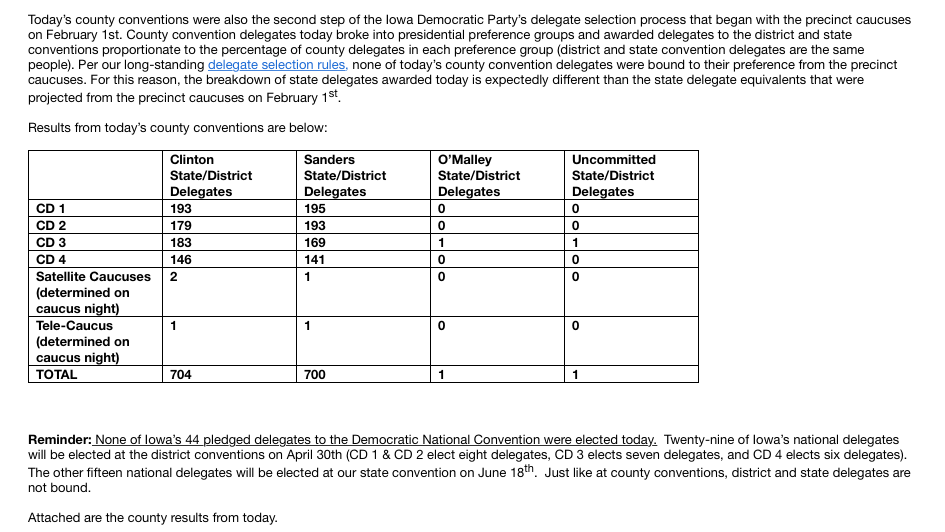 Iowa Democratic Party chart showing how many state delegates were elected for each candidate at each county convention: