Bret Hayworth has big news in the Sioux City Journal today: U.S. Senator Chuck Grassley has endorsed seven-term Representative Steve King's re-election bid in Iowa's fourth Congressional district.
I have a theory on why Iowa's longest-serving senator took this rare step.

From Hayworth's report:
"I've supported Congressman King in his previous elections and I've been supporting him in this election," Grassley said in a statement. […]

Grassley's spokeswoman, Beth Pellett said the Grassley endorsement of King was similar to when he supported an incumbent in a Republican primary more than two decades ago. During the 1994 high-profile party battle for governor, Grassley backed Gov. Terry Branstad over Fred Grandy, who was then a Northwest Iowa congressman.
U.S. Senator Joni Ernst's staff did not respond to Hayworth's question about whether she will endorse King, who faces State Senator Rick Bertrand in the June 7 GOP primary.
Grassley typically does not endorse in competitive Republican primaries and did not get involved in King's first campaign for Congress, when he won a plurality but less than 35 percent in a four-way primary, then was nominated at a special district convention.
I wonder whether Grassley chose to take a stand as payback for Nick Ryan and Bruce Rastetter, who are among Bertrand's most prominent Iowa supporters. After Iowa's last round of redistricting threw State Representatives Pat Grassley (the senator's grandson) and Annette Sweeney (a close childhood friend of Rastetter's) into the same Iowa House district, the Ryan-led Team Iowa PAC produced direct mail and advertising attacking the younger Grassley before the 2012 GOP primary in House district 50.
Rastetter has been by far the largest donor to the Team Iowa PAC since its creation. He wrote several five-figure checks before that 2012 primary.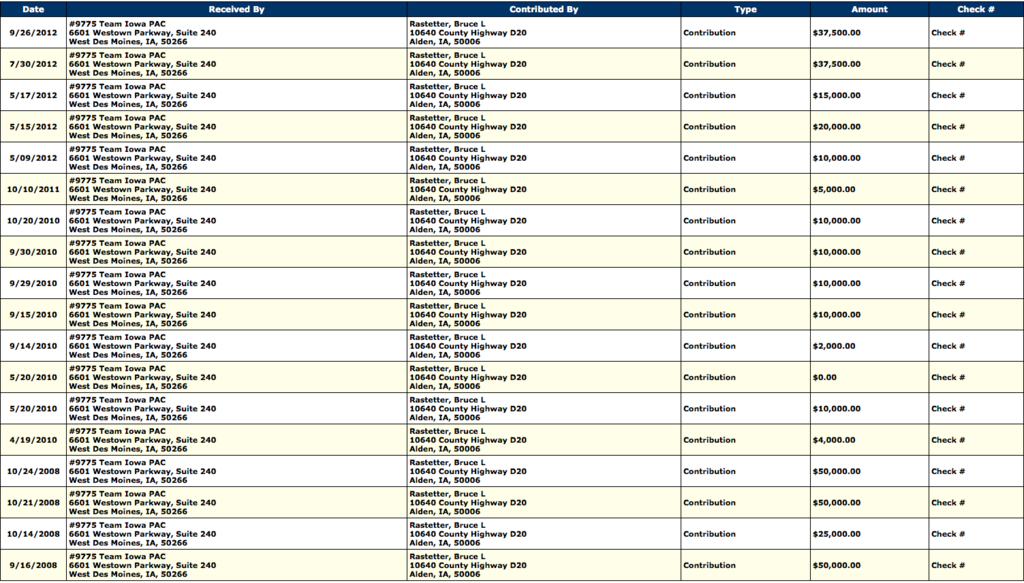 The younger Grassley easily defeated Sweeney with more than 60 percent of the vote and continues to serve in the Iowa House. Since 2012, he has chaired the Agriculture Committee for three legislative sessions and is now in charge of the powerful Appropriations Committee. He is considered likely to run for secretary of agriculture if the current office-holder Bill Northey runs for governor, as many Iowa politics-watchers expect.
Speaking of Northey, he backed King for Congress at last weekend's IA-04 district convention.
With big guns like Northey and the elder Grassley behind King, who already had a loyal following among the most conservative Republicans, Bertrand's only path to victory lies in a tremendous turnout among Democrats and no-party voters who consider the incumbent too extreme and embarrassing. Some Iowans will surely switch parties to vote against King, but the competitive Democratic race for U.S. Senate reduces the chance of that becoming a mass phenomenon.
Aside from the many advantages of incumbency, such as high name recognition across a district spanning 39 counties, King has history on his side. Eric Ostermeier reported last month,
A Smart Politics analysis of Iowa election data finds that every Iowa U.S. Representative running for reelection since 1950 has won their party's primary – a string of 187 consecutive victories through 2014.

The last Iowan to lose a primary for a U.S. House seat was seven-term Republican John Gwynne in 1948 – one year before King was born.
Any comments about the IA-04 race are welcome in this thread.