You didn't need to be Sherlock Holmes to work this one out, but Bruce Rastetter helpfully confirmed today that he will support State Senator Rick Bertrand's GOP primary challenge to Representative Steve King in Iowa's fourth Congressional district.
Assuming Rastetter puts his money where his mouth is–and years of disclosed and undisclosed political contributions suggest that he will–he may become a major donor to Nick Ryan's effort to take out seven-term incumbent King.

Since making his fortune in large-scale hog confinements and later running Iowa's largest ethanol producer, Rastetter has been a leading donor to Iowa Republican candidates and causes over the past decade. He parlayed his status as the top giver to Governor Terry Branstad's 2010 campaign into an appointment to the Iowa Board of Regents, where he is now president. Though not always a "kingmaker," most recently demonstrated by the poor showing of his chosen presidential contender Chris Christie in the Iowa caucuses, Rastetter is nonetheless an influential figure for GOP donors from the business community.
When King told the Des Moines Register's Kathie Obradovich "that opposition to his campaign amounts to a political tantrum by 'a few very rich and spoiled establishment operatives,'" he was clearly alluding to Ryan and ethanol industry figures who were bent out of shape by King's support for Senator Ted Cruz before the Iowa caucuses. Branstad and others had warned that Cruz would be "damaging" for Iowa because of his views on the Renewable Fuel Standard, also known as the ethanol mandate.
Today Rastetter commented publicly on the IA-04 primary for the first time:
"We need someone who is an active congressman for the constituents of the district, and Sen. Bertrand has done that in his Senate district," Rastetter said in an interview with The Des Moines Register's editorial board Tuesday. "And I think he will make a good congressman." […]

King is serving his seventh term and has never been seriously challenged, but Rastetter said he believes King is beatable.

"I try to do the right thing in supporting people, but I wouldn't support (Bertrand) if I didn't also think he could win," Rastetter said. "I think he can win."
The line about being active "for the constituents of the district" dovetails with Bertrand's framing of the race: "I am not going in there to be a national figure. I am going to be likable and effective."
Federal campaign contribution limits won't permit Rastetter to write the five-figure checks he has routinely donated to Iowa candidates and to the Team Iowa PAC, chaired by Nick Ryan. I enclose below some examples of Rastetter's political giving, including the $10,000 he donated to Bertrand's first campaign for the Iowa Senate and contributions totaling hundreds of thousands of dollars to the Team Iowa PAC and Branstad's gubernatorial campaign committee. He also provided an undetermined amount of "seed money" for the dark money group American Future Fund, which Ryan founded in 2007. Federal law does not require 501(c)4 organizations like the American Future Fund to disclose their donors.
Rastetter and Ryan have been on the same side of several high-profile GOP primary battles, backing Branstad's 2010 gubernatorial race against early front-runner Bob Vander Plaats, Jim "Burn the boats" Gibbons to represent the third Congressional district in 2010, and Secretary of State Matt Schultz for IA-03 in 2014. I am only aware of two primaries in which Ryan and Rastetter backed different horses: the 2014 U.S. Senate race, when Rastetter supported Joni Ernst while Ryan did work for Mark Jacobs; and the current presidential campaign, when Rastetter was a high-profile Christie endorser while Ryan ran the super-PAC supporting Mike Huckabee.
I still see King as strongly favored to withstand Bertrand's challenge, but Rastetter's public statements are a signal to other heavyweight donors that the state senator from Sioux City is a serious contender. I expect significant independent expenditures on both sides of this primary. Americans for Prosperity-Iowa has already promised a major campaign on King's behalf.
Any comments about the IA-04 race are welcome in this thread.
The Iowa Ethics and Campaign Disclosure Board's database reveals two gifts from Rastetter to Bertrand's campaign committee:

Partial list of Rastetter gifts to the Team Iowa PAC, chaired by Nick Ryan: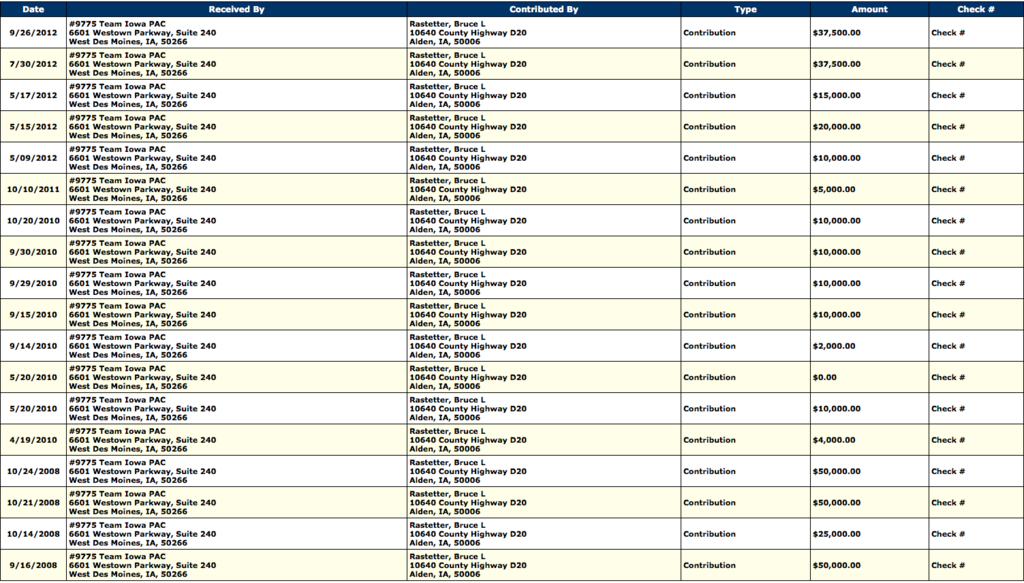 Partial list of Rastetter gifts to Branstad's campaign committee: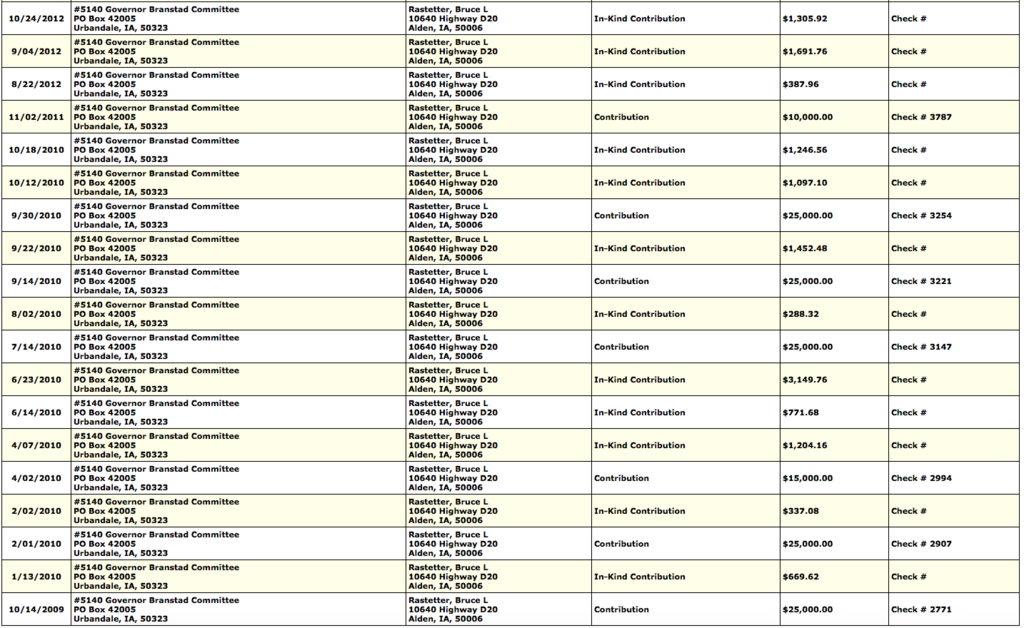 Rastetter gifts to Iowa House Speaker Kraig Paulsen's campaign: