Seven years have passed since the Iowa Supreme Court struck down our state's Defense of Marriage Act. The Republican-controlled Iowa House failed to approve a constitutional amendment to overturn that court ruling more than three years ago. Fewer than a quarter of GOP state representatives were willing to co-sponsor the marriage amendment in 2015. Even if Iowa lawmakers tried to turn back the clock on marriage equality, the effort would be futile, since the U.S. Supreme Court ruled last year that all states must recognize marriages between same-sex couples.
Nevertheless, one Iowa House Republican won't let this fight go. Today he seized on an unusual and futile way to register his discontent with the Iowa Supreme Court's Varnum v Brien decision.

John Kooiker won a special election to represent Iowa House district 4 (the most Republican state legislative seat) after longtime State Representative Dwayne Alons passed away in November 2014. Kooiker decided not to run for re-election this year, so the next few weeks represent his final acts of public service.
Today the Iowa House debated House File 2457, the appropriations bill covering the judicial system. Kooiker sent the following e-mail to all 100 state representatives:

In case the print is hard to read on your screen, here's how Kooiker explained his vote:
I voted "No" on HF 2457, as did my predecessor Dwayne Alons in previous sessions, as a means to express my disagreement with those Iowa Supreme Court Justices who are still seated and who ruled that marriage is not what our Creator God designed it to be; viz., exclusively, one man + one woman till death do them part.
News flash for Representative Kooiker:
• No-fault divorce has been Iowa law since 1970. So you're more than four decades behind the times if you expect the judiciary to use state power as a vehicle to enforce religious views about marriage being exclusive "till death do them part."
• Trying to stop LGBT couples from getting married is a non-starter. Most of your House Republican colleagues don't want to go there, and neither do most GOP state senators. Plus, the 26 Senate Democrats all support equality, and Senate Majority Leader Mike Gronstal will never let a marriage amendment come up for a floor vote.
• Even if you could get a marriage amendment through both chambers of the legislature two sessions in a row, and even if the majority of Iowa voters approved it in a general election, the U.S. Supreme Court has ruled that state constitutions may not restrict marriage rights to heterosexual couples.
Kooiker will have at least one more chance to register his disapproval of the Iowa Supreme Court. Three of the seven justices who concurred in the marriage equality ruling were ousted in the 2010 judicial retention elections. Justice David Wiggins survived a campaign against his retention in 2012. The remaining three will be on the statewide ballot in November: Chief Justice Mark Cady (the author of the Varnum decision), Justice Brent Appel, and Justice Daryl Hecht.
I have not heard about any plans to organize a campaign against their retention, along the lines of the well-financed efforts to persuade Iowans to vote against the justices in 2010 and 2012. The National Organization for Marriage and like-minded conservatives paid for radio and television commercials, direct mail, robocalls, and rallies across the state during those years. The strategy worked in 2010, a midterm with massive Republican turnout. But in the last presidential election cycle, Wiggins easily survived the anti-retention campaign by more than 110,000 votes–a larger margin than President Barack Obama's victory over Mitt Romney here.
UPDATE: Democratic State Representative Dave Jacoby reacted to Kooiker's group e-mail and provoked a reaction from Republican Steve Holt (like Kooiker, one of the House GOP dead-enders still pushing the marriage amendment).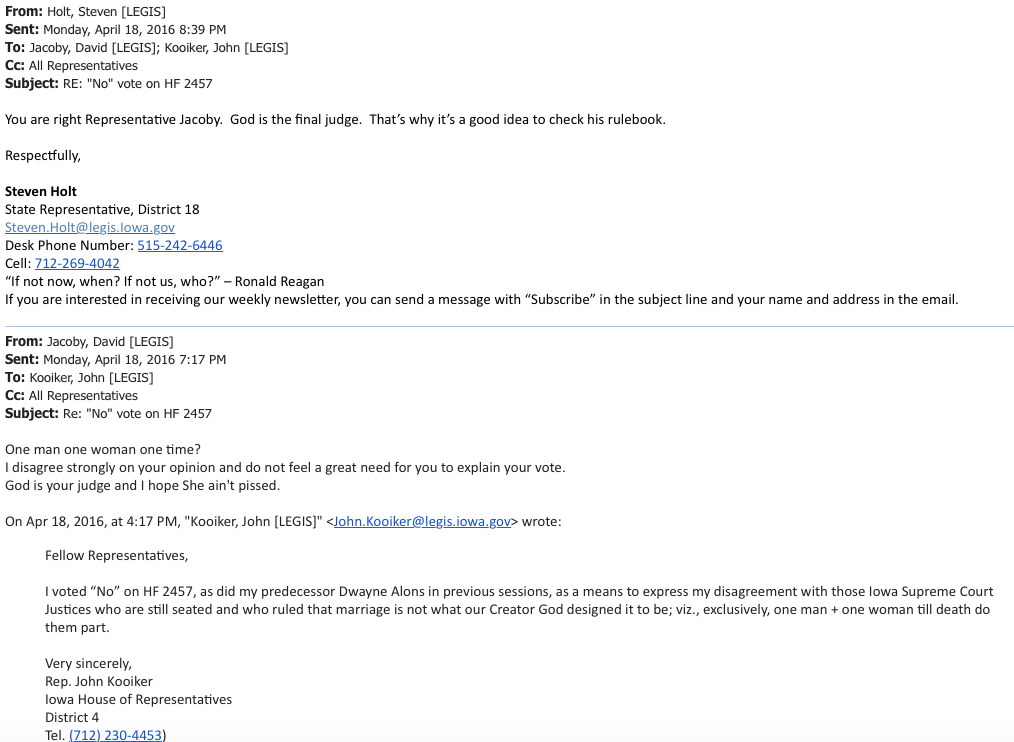 The House Journal for April 18 shows that the judicial systems budget passed by 53 votes to 44. All of the yes votes came from Republicans; Kooiker and Larry Sheets were the only GOP lawmakers to vote no (Republicans Chip Baltimore and Charles Holz were absent).