In a classic example of the kabuki theater that passes for legislating these days, U.S. senators rejected four gun control measures today. Moved to act by the June 11 massacre at a gay club in Orlando, Senator Chris Murphy of Connecticut led a talking filibuster for more than fourteen hours last week to force a vote on a Democratic proposal to ban gun sales to people on terrorist watch list. He also introduced an amendment to an appropriations bill that would expand background checks for firearms purchases, eliminating the gun show loophole. Similar proposals failed to pass the Senate last December, shortly after the mass shooting in San Bernadino.
With the blessing of the National Rifle Association, Republicans drafted their own amendments this week, ostensibly to accomplish the same goals as the Democratic legislation.
Follow me after the jump for details on the four proposals and today's votes, as well as comments from Senator Chuck Grassley, Senator Joni Ernst, Grassley's challenger Patty Judge, and presumptive Democratic presidential nominee Hillary Clinton.

Igor Volsky of the Center for American Progress Action Fund posted this graphic summarizing the four proposals.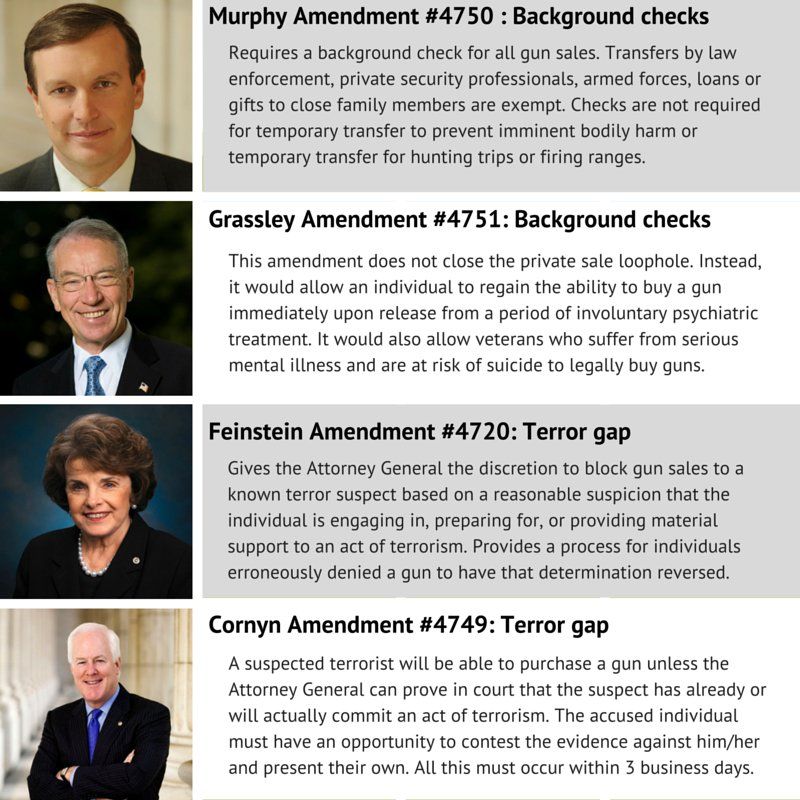 As Alexander Bolton reported for The Hill, Grassley's amendment would also "authorize $125 million in spending for the National Criminal Instant Background Check System and create more incentives for federal agencies to share and upload records."
Alan Fram and Mary Clare Jalonick reported for the Associated Press,
With Mateen's professed loyalty to extremist groups and his 10-month inclusion on a federal terrorism watch list, Sen. Dianne Feinstein, D-Calif., proposed letting the government block many gun sales to known or suspected terrorists. People buying firearms from federally licensed gun dealers can currently be denied for several reasons, chiefly for serious crimes or mental problems, but there is no specific prohibition for those on the terrorist watch list.

That list currently contains around 1 million people – including fewer than 5,000 Americans or legal permanent residents, according to the latest government figures. The narrower no-fly list has just 81,000 names.

No background checks are required for anyone buying guns privately online or at gun shows. […]

The defeated plan by Senate Judiciary Committee Chairman Charles Grassley, R-Iowa, increased money for the background check system. It also revamped language prohibiting some people with mental health issues from buying a gun, which Democrats claimed would reduce current protections. […]

Monday's votes were 53-47 for Grassley's plan, 44-56 for Murphy's, 53-47 for Cornyn's and 47-53 for Feinstein's – all short of the 60 needed.
Senator Joni Ernst joined Grassley in voting against both Democratic proposals and for both Republican ones. Here are the roll calls on the Murphy amendment, the Feinstein amendment, the Cornyn amendment, and the Grassley amendment. Senator Heidi Heitkamp of North Dakota was the only Democrat to oppose Feinstein's amendment and one of three Democrats to help block Murphy's amendment. Heitkamp was supposed to be the featured speaker at last Friday's Iowa Democratic Party Hall of Fame event, but she backed out the day before.
Volsky pointed out that Ernst has been one of the "top recipients" of donations from the NRA. But I think the gun advocacy group keeps political allies in line primarily through fear of angering single-issue voters, not through campaign contributions. That's why Heitkamp votes the way she does despite not receiving any NRA money.
I strongly support expanding background checks for gun purchases. A 20-year-old Connecticut law to that effect has saved lives, according to a recent peer-reviewed study. But Mark Joseph Stern, David Dayen, and Kevin Drum, among others, convinced me that the Feinstein amendment is flawed public policy.
Senator Jon Tester of Montana, the current leader of the Democratic Senatorial Campaign Committee, voted against Murphy's proposal on background checks but for the Feinstein amendment. My hunch is that DSCC advertising against Republicans in key Senate races will focus on banning gun sales to people on federal watch lists, rather than on GOP opposition to potentially more effective gun control measures.
Any relevant thoughts are welcome in this thread. I enclose below statements from Grassley and Ernst defending their votes, as well as reaction from Grassley's Democratic opponent Patty Judge and from Hillary Clinton, who has frequently advocated for gun control during her presidential campaign.
June 20 press release from Senator Grassley's office:
Grassley Statement Following Senate Votes in Wake of Orlando Tragedy

WASHINGTON – Senator Chuck Grassley released the following statement after his amendment received a majority of votes in the Senate, but failed to gain the 60 votes needed for passage. The vote was 53-47.

"The terrorist attack on innocent people in Orlando represents a great tragedy and an affront to our way of life and very existence as Americans. Americans have every reason to be upset and even furious over the deadliest attack since the awful events of September 11th. We should be addressing the real problem of radical Islamic terrorism, but instead the Democrat leadership has taken their eyes off the ball and is trying to turn this tragedy into another debate about guns.

"The other sides says that no progress is being made on gun crimes. We could have made important improvements through my amendment which would have improved and enhanced the background check system, approved a major increase in authorized funding for the background check system, and ensured that law enforcement be notified if a person who has been investigated for terrorism over the last five years tries to buy a gun. The amendment also would have addressed mental health through new definitions and clarifications, provided additional due process protections, required reports to Congress on various issues related to firearms prosecutions, and would have directed any gun walking tactic to be approved by the Justice Department leadership.

"But, unfortunately Senators who are unwilling to support important progress are putting a higher premium on politics. The Second Amendment right to bear arms is a fundamental right and any legislative action must start and finish with recognition of this fact."
June 20 press release from Senator Joni Ernst:
Senator Ernst Votes to Prevent Terrorists from Obtaining Weapons
Renews Call for Aggressive Efforts to Defeat and Destroy ISIS

Jun 20 2016

WASHINGTON, D.C. – U.S. Senator Joni Ernst (R-IA), a retired Lieutenant Colonel in the Iowa Army National Guard and member of the Senate committees on Armed Services, and Homeland Security and Governmental Affairs, today voted to prevent terrorists from obtaining weapons, and renewed her call for more aggressive efforts to defeat and destroy ISIS.

The Iowa Senator supported the Cornyn Amendment, which prevents suspected terrorists from obtaining a gun for up to three business days, during which time the FBI is able to investigate the individual, confirm or rule out the identity and suspected nexus to terrorism of the individual, and determine whether to file an emergency petition in court to prevent the gun transfer. This process ensures that law-abiding Americans' Second Amendment and constitutional due process rights are protected.

Unlike the Feinstein Amendment, the Cornyn Amendment includes due process protections – notice and an opportunity to be heard in a court of law – before the U.S. Government can deny an individual's Second Amendment right. This is particularly important because of the widely reported flaws with the numerous terrorist watch lists – including the no-fly list – kept by the U.S. Government that may wrongfully implicate innocent American citizens. For example, a 2007 report by the Department of Justice (DOJ) Office of Inspector General (OIG) concluded that roughly 38% of records tested "continued to contain errors or inconsistencies that were not identified through the Terrorist Screening Center's quality assurance efforts."

In addition, Senator Ernst supported the Grassley Amendment, which would improve the National Instant Criminal Background Check System (NICS) without unlawfully infringing on law-abiding U.S. citizen's Second Amendment rights.

Senator Ernst issued the following statement on today's votes:

"The horrific attack in Orlando made clear that we must work harder and do more to defeat terrorism here at home and around the globe.

"The numerous terrorist watch lists kept by the U.S. Government, including the no-fly list, are flawed. That is why I support an effective solution to prevent terrorists from obtaining a gun without violating innocent Americans' constitutional rights. In addition, I support Senator Grassley's measure to improve the National Instant Criminal Background Check System without unlawfully infringing on law-abiding U.S. citizen's Second Amendment rights.

"However, that is not enough. Laws will not deter terrorists from pledging allegiance to radical Islamic groups and harming Americans. In response to this tragedy, we must renew our resolve to combat terrorism.

"The FBI has said that ISIS is present in all 50 states, and we saw a tragic example of that in Florida. President Obama must develop a comprehensive strategy to completely defeat ISIS that includes contributions by all members of the U.S.-led coalition to full-spectrum military, diplomatic, and development operations. We must get serious about finding ways to improve our efforts to counter violent extremism, defeat ISIS, and end the humanitarian crisis affecting the region and the world. We simply cannot afford to sit back and wait for the next attack to take place."

BACKGROUND:

The Washington Post last year noted that "The list is itself almost necessarily a slippery slope.": "The San Bernardino attack also demonstrated the risk of over-inclusion. At least one news outlet confused the male shooter — Syed Rizwan Farook — with his brother, Syed Raheel Farook. 'They have the same name except for the middle name,' Sparapani pointed out, meaning that including a 'Syed Farook' on the list might block either from flying. (The shooter's brother is a decorated Navy veteran.) There's also the challenge of converting Arabic names into English writing. Consider the former leader of Libya, Muammar Gaddafi. Or Qaddafi. Or Gadhafi. Do you put all three names on the list? Get the letters wrong, and some people will be banned who shouldn't be…The list is itself almost necessarily a slippery slope."
June 20 press release from Patty Judge's campaign:
Grassley opposes bill to prohibit suspected terrorists from purchasing guns and expanded background checks
Grassley also introduces amendment making it easier for mentally ill to purchase guns

DES MOINES, Iowa – Chuck Grassley continued to oppose common sense legislation to prohibit individuals suspected of terrorism from purchasing guns today, while also introducing an amendment which would make it easier for mentally ill individuals to buy guns legally. In response, U.S. Senate candidate Patty Judge released the following statement:

"It's time for us to take this issue seriously. Unfortunately, Chuck Grassley has continued to stand with his friends in Washington by voting against expanded background checks and common sense legislation that would prevent dangerous individuals from buying a gun. If you're too dangerous to fly on a plane or the government suspects you of terrorism, then you shouldn't be able to buy a gun – that shouldn't be up for debate. Voting against these measures is one thing, but Chuck Grassley decided to go even further by introducing an amendment that would actually make it easier for people with severe mental illness to buy a gun legally. Chuck Grassley has been in Washington for too long if he thinks this is what Iowans expect."

Background:

Grassley proposal makes it easier for individuals with mental illness to purchase guns. According to Everytown for Gun Safety, "Senator Grassley's proposal leaves the background check loophole wide open, and indeed would make it easier for people with severe mental illness to buy a gun — including by making it legal for people who have been involuntarily committed due to severe mental illness to buy a gun immediately after leaving a psychiatric hospital." [Everytownresearch.org]
UPDATE: Added below a fact sheet on the Grassley and Cornyn amendments from the gun control advocacy organization Everytown for Gun Safety Support Fund.
June 20 e-mail blast from the Judge campaign, with the subject heading "This is infuriating [Chuck Grassley]":
Friend,
This is infuriating:
Toni‌ght, Republicans in the Senate blocked two commonsense gun safety amendments that Democrats backed. These are amendments that our country desperately needs. Preventing terrorists from purchasing guns and expanding background checks should not even be a debate, especially in the wake of the worst shooting in U.S. history.
Yet Chuck Grassley and Senate Republicans are shamelessly siding with the NRA and voting against critical amendments to make America safer.
That's right: Not only did Senate Republicans block these two commonsense gun safety amendments, but they got behind Chuck Grassley who introduced a dangerous gun amendment that actually loosens existing restrictions and makes it easier for dangerously mentally ill individuals to get guns.
Enough is enough.
Toni‌ght, I'm standing with Senate Democrats and I'm asking you to join me: Sign my petition denouncing Chuck Grassley and Republicans in the Senate for blocking commonsense gun safety.
Thank you for standing with me and holding Senate Republicans accountable.
Patty Judge
June 20 press release from Hillary Clinton's campaign:
Following action by Senate Republicans to block reforms intended to keep guns out of the hands of terrorists — including proposals to expand background checks and prohibit suspected terrorists from buying guns — Hillary Clinton issued the following statement:

"Enough."

Stanley Almodóvar III, 23 | Amanda Alvear, 25 | Oscar A Aracena-Montero, 26 | Rodolfo Ayala-Ayala, 33 | Antonio Davon Brown, 29 | Darryl Roman Burt II, 29 | Ángel L. Candelario-Padró, 28 | Juan Chávez-Martínez, 25 | Luis Daniel Conde, 39 | Cory James Connell, 21 |Tevin Eugene Crosby, 25 | Deonka Deidra Drayton, 32 | Simon Adrián Carrillo Fernández, 31 | Leroy Valentín Fernández, 25 | Mercedez Marisol Flores, 26 | Peter O. Gonzalez-Cruz, 22 | Juan Ramón Guerrero, 22 | Paul Terrell Henry, 41 | Frank Hernández, 27 | Miguel Ángel Honorato, 30 | Javier Jorge-Reyes, 40 | Jason Benjamin Josaphat, 19 | Eddie Jamoldroy Justice, 30 | Anthony Luis Laureano Disla, 25 | Christopher Andrew Leinonen, 32 | Alejandro Barrios Martínez, 21 | Brenda Lee Márquez McCool, 49 | Gilberto Ramón Silva Menendez, 25 | Kimberly Morris, 37 | Akyra Monet Murray, 18 | Luis Omar Ocasio-Capó, 20 | Geraldo A. Ortíz-Jiménez, 25 | Eric Iván Ortíz-Rivera, 36 | Joel Rayon Paniagua, 32 | Jean Carlos Méndez Pérez, 35 | Enrique L. Ríos, Jr., 25 | Jean C. Nives Rodríguez, 27 | Xavier Emmanuel Serrano Rosado, 35 | Christopher Joseph Sanfeliz, 24 | Yilmary Rodríguez Solivan, 24 | Edward Sotomayor Jr., 34 | Shane Evan Tomlinson, 33 | Martin Benítez Torres, 33 | Jonathan Antonio Camuy Vega, 24 | Juan P. Rivera Velázquez, 37 | Luis S. Vielma, 22 | Franky Jimmy Dejesus Velázquez, 50 | Luis Daniel Wilson-León, 37 | Jerald Arthur Wright, 31.