Following Marla Mertz's post last week about a spectacular and rare prairie plant, I wanted to feature some unassuming wildflowers common in a range of wet habitats.
Nine species of germander are native to North America, but according to John Pearson of the Iowa Department of Natural Resources, only one (Teucrium canadense) is native to Iowa. (Pearson added that other kinds of germander may be found in gardens.)
Sometimes called American germander or wood sage, Canada germander often grows in ditches, at woodland edges, or next to streams. I took all of the enclosed pictures along North Walnut Creek, near where the Windsor Heights bike trail passes under College Drive.
Side note for nature lovers riding RAGBRAI next week: please keep an eye out for Milkweed Matters volunteers handing out common milkweed seed balls for bicyclists to cast in unmowed ditches along the route. Monarch butterflies depend on milkweed plants to reproduce.
We now return to your regularly scheduled edition of Iowa wildflower Wednesday.

For detailed descriptions of Canada germander foliage, flowers, and seeds, I recommend the Illinois Wildflowers, Minnesota Wildflowers, or Friends of Eloise Butler Garden websites. According to the last of those, "The genus, Teucrium, is believed to be named for King Teucer of Troy, as members of this genus are common in the Mediterranean area." The website of the Lady Bird Johnson Wildflower Center at the University of Texas in Austin notes, "The common name germander was originally altered from a Greek name for ground oak, chamaidrys."
As with many members of the mint family, Canada germander stems are square and hairy. The plant "spreads readily to form sizeable colonies," either through its root system or seeds. Here's part of a colony growing along the bank of North Walnut Creek. Most of the plants are budding but have not started to bloom yet: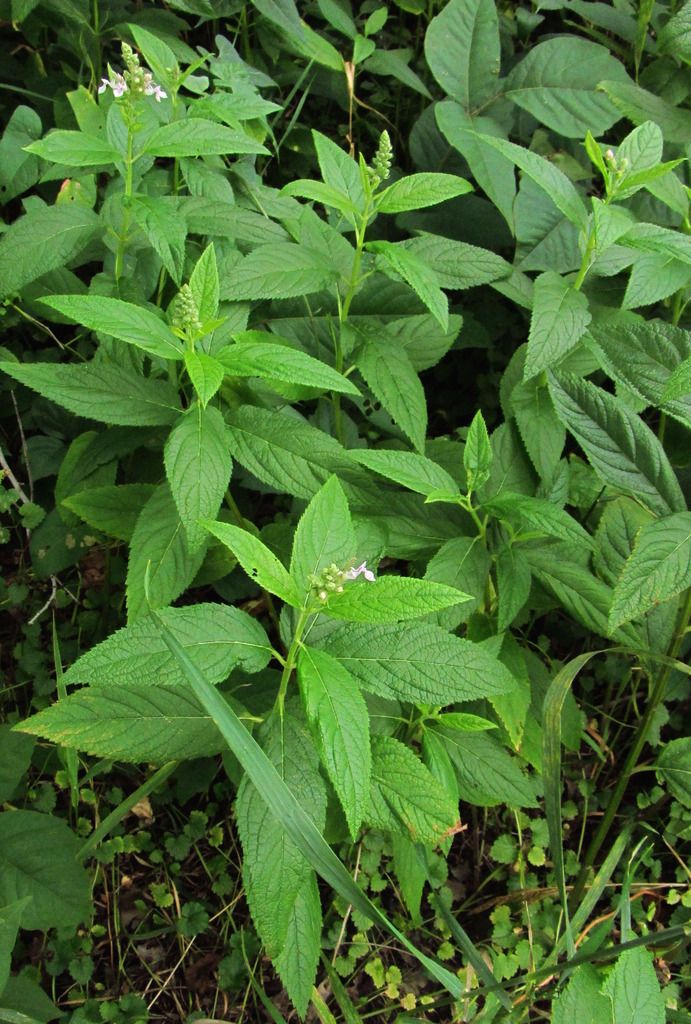 When I took these photos, I thought the plants might be some kind of hedge nettle. I learned that's an easy mistake to make. Pearson explained, "The flowers of Hedge Nettle (Stachys) and Germander (Teucrium) do appear somewhat similar, but Hedge Nettle flowers have a small upper lip while in Germander, the upper lip is missing." The Eloise Butler Garden site likewise advises that "the absence of a normally shaped upper lip makes this species easy to identify." Compare marsh hedge nettle flowers to those of Canada germander: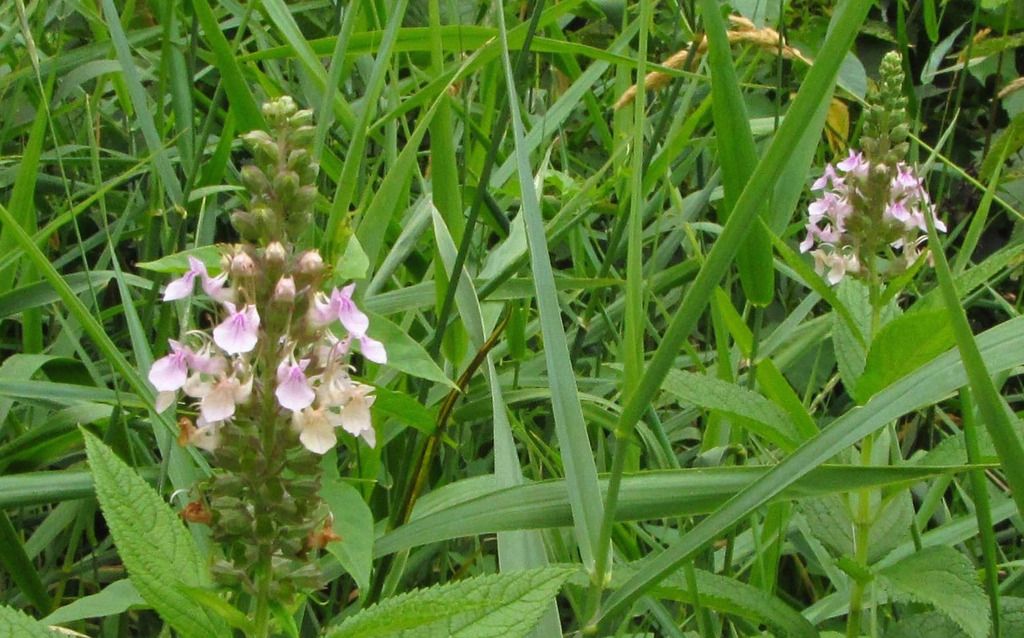 Here are two closer looks at the flower spikes. Some are much longer than others, but all bloom from the bottom up: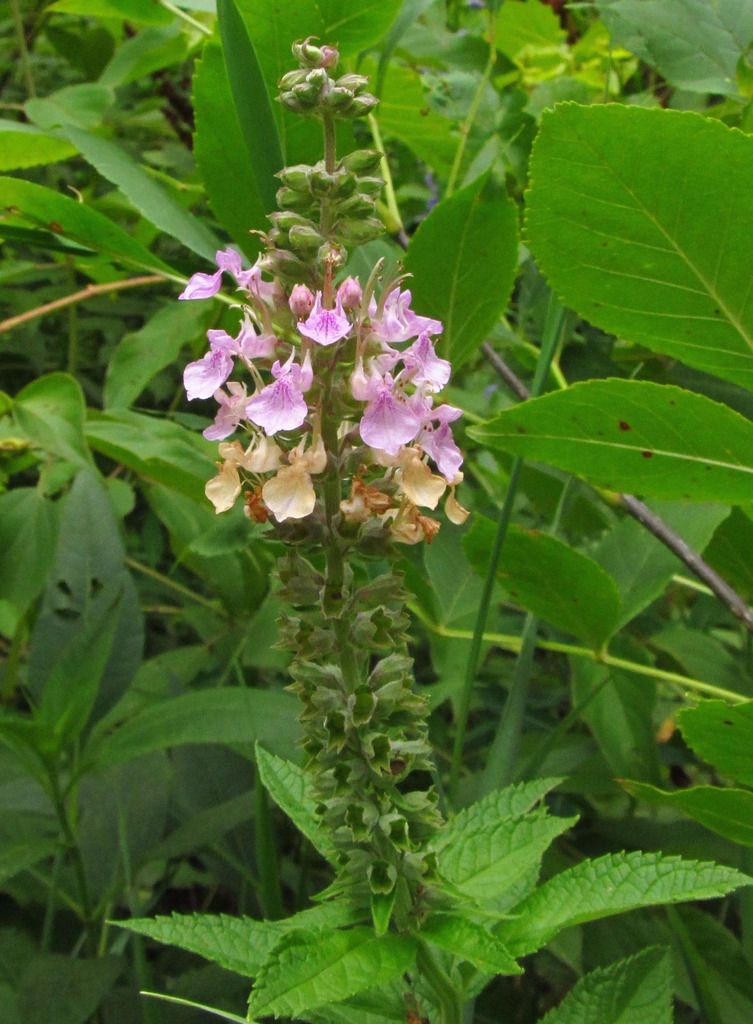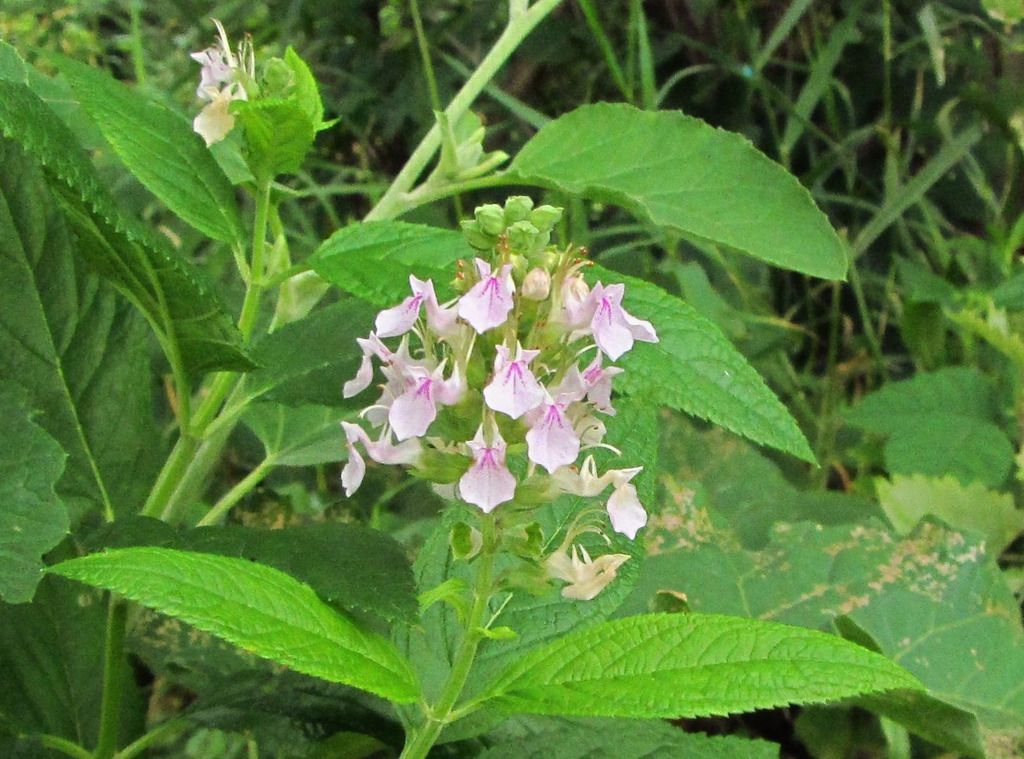 Canada germander growing near one of my favorite Iowa wildflowers, American bellflower: