While most political junkies were engrossed in high drama at the Republican National Convention, the Iowa Utilities Board adopted an order this week that should expand small-scale solar projects.
Although wind and solar power advocates have welcomed large investments in renewable energy by large utilities or municipal and rural electric cooperatives, they have also pushed for policies that would make it easier for consumers to install wind turbines or solar panels on their homes or businesses.
For small-scale wind or solar projects to be economically feasible, one essential component is "net metering," which "allows residential and commercial customers who generate their own electricity" from renewable sources "to feed electricity they do not use back into the grid." Iowans served by one of our state's two investor-owned utilities--MidAmerican Energy or Interstate Power and Light Company, more commonly known as Alliant--have had access to net metering for wind or solar installations since the 1980s under Iowa Utilities Board rules. (Those rules do not apply to municipal utilities or rural electric cooperatives.) By forcing the large utilities to compensate consumers for electricity fed back into the grid, net metering policies reduce the "payback" period for solar panels or wind turbines.
In practice, net metering hasn't always worked that way. Wally Taylor of the Sierra Club's Iowa chapter told the Des Moines Register's Donnelle Eller that some renewable energy users had credits roll over for years without getting paid by the utilities.
In addition, MidAmerican and Alliant have sometimes clashed with environmental advocates over how the utilities interpret their obligations under Iowa net metering rules. Both utilities have resisted allowing net metering for solar projects financed using third-party purchase agreements, which lower the costs and risks for the consumer. Last year, Alliant changed its policy on net metering for third-party purchase solar projects, but MidAmerican did not budge on that issue.
Despite seeking headlines for major planned investments in wind farms and solar arrays, MidAmerican and Alliant worked quietly to take Iowa backwards on small-scale renewable production. "Distributed generation" refers to electricity "generated from sources, often renewable energy sources, near the point of use instead of centralized generation sources from power plants." Karen Uhlenhuth reported yesterday for Midwest Energy News,
As part of the [Iowa Utilities] board's distributed-generation docket, the board last October asked MidAmerican and Alliant to submit pilot projects to encourage the development of distributed generation in the state. For the most part, the utilities did the opposite: proposing rate changes that would penalize solar customers.
If MidAmerican and Alliant had gotten their way, the Iowa Utilities Board would have gutted net metering policy.
But the board's July 19 order moved in a different direction. I enclose below more details on the order from the agency's press release. Key points: the net metering cap will increase, and the utilities must "cash out" credits to renewable energy users every year. The new rules will be in effect for three years, while the board studies their impact and whether to make permanent changes to Iowa's net metering regulations.
Josh Mandelbaum, an attorney working in the Iowa office of the Chicago-based Environmental Law & Policy Center, described the board's "very positive order" as a "victory for increased renewable generation." Taking a "data driven approach," the utilities board required MidAmerican and Alliant "to move forward with narrow changes to net metering that are intended to expand distributed generation." Speaking to Uhlenhuth, Mandelbaum added,
"They didn't invite any of the changes you've seen in the utility pilot project. They could have, but they kept the pilot projects separate, and to me, that is a positive."
Under the new utilities board order, MidAmerican will be forced to allow net metering for solar projects financed through third parties, which the company resisted last year.
Not all solar advocates are thrilled about the order. For one thing, consumers will receive only half the cash-out amount for their credits; the other half will go to a fund "to provide assistance to customers in need." Solar developer Barry Shear told Uhlenhuth,
"The true up is probably the most difficult thing to swallow, and will have an adverse effect on solar development in the state," he said. "Instead of carrying the metering credit forward, they'll cash you out, pay you avoided cost – and then on top of that, they're only ening you 50 percent of that avoided cost."

At cash out time, likely to be January, customers would lose all of their production credits and would need to pay their bills until they could start to overproduce again. Shear said the ideal true-up time would be late March.

"I don't think this is at all fair to the consumer, and I don't think it will encourage renewable energy."
Eller quoted the Sierra Club's Taylor as saying, "In general, it's a win," despite his "concerns about some fees being excluded from net-metering."
In light of the way the Iowa Utilities Board has given the Dakota Access company almost everything it wanted to allow construction of the Bakken pipeline this year (as has the Iowa Department of Natural Resources), I'm grateful utilities board members didn't acquiesce to MidAmerican and Alliant on net metering--for now. No doubt more battles lie ahead. Still, many small-scale solar projects could be installed thanks to the terms of the July 19 order.
Iowa is universally acknowledged as one of the top states for wind energy, but our potential for solar production is less widely understood. A comprehensive Iowa Environmental Council report on the subject is here. I enclose below the council's shorter fact sheets about solar energy and the Iowa tax incentives available. I am an active supporter of both the Iowa Environmental Council and Environmental Law & Policy Center but play no role in writing blog posts or other publications for either non-profit.
Any relevant comments are welcome in this thread.
UPDATE: Forgot to mention another reason I was pleasantly surprised by the utilities board's net metering order: four years ago, the board had rejected a third-party purchase arrangement for a solar array in Dubuque, at Alliant's request. The Iowa Supreme Court later overturned the board's determination in a split decision. Of the three current utilities board members, only Libby Jacobs was serving in 2012.
SECOND UPDATE: Democratic State Representative Chuck Isenhart, who has installed solar panels on his Dubuque home, sent his comments on the issue. Like Shear, he is concerned that making solar users cash out credits in the middle of the winter will discourage new solar installations.
I applaud the Utilities Board for their enterprise and for recognizing that the status quo won't work for much longer when it comes to meeting the state's energy needs in ways that best serve consumers, the environment, the state's overall business climate and the delivery system itself, while being fair to the public utilities responsible for making the system work. We must continue to be pro-active rather than reactive when it comes to promoting clean, renewable energy,

However, I am wary whenever I hear the word "modernize" to describe changes made by government regulators. Our first responsibility is to do no harm. The devil is in the detail, so I will be reading the order closely and consulting with constituents and other stakeholders before drawing any conclusions about whether the Iowa Utilities Board plan will actually foster the development of more renewable energy in ways that result in net benefits to consumers and the environment.

Some specific observations:

1) The IUB should seek and consider public comment on this order before making it final. They have not vetted these specific proposals, even though the provisions will become mandatory for some energy users during the three-year "experiment."

2) The IUB should provide a specific rationale for how it believes each part of the order – or the order as a whole -- will promote the development of renewable energy resources, which is the stated purpose of the inquiry.

3) The "true-up" feature and cash-out of accrued credits, if maintained as a requirement for new inter-connections, should occur on March 31 or April 30, not on the first bill of the calendar year. A mid-winter true-up will make it impossible for solar customers to use power generated when the sun is shining most in the summer to cover their needs in the winter when the sun is shining least. I say this as an existing Alliant residential customer with rooftop solar. I would never agree to cash out for a penny a watt and then immediately start paying 10 cents a watt to cover the energy need that my solar array can't keep up with in the dead of winter because I just gave away my credits. A spring cash-out would be fair. That is when I can truly say that my system was or was not sized correctly.

4) Any contributions to the customer assistance fund should be voluntary. Otherwise it is a discriminatory tax that further erodes the economics of generating renewable energy. If there is a public policy case to be made for assessing utility customers, based on their usage, to help pay the bills of those less able to do so, then such an assessment should be applied to all customers, not just distributed generation customers who are forced to cash out their credits before they are allowed to use them.

I look forward to reviewing the order in more detail and consulting with other stakeholders about it.
Mitchell Schmidt reported for the Cedar Rapids Gazette,
Barry Shear, president of Dubuque's Eagle Point Solar, said his biggest concern lies with the cash-out, which he noted will be a fraction the energy's original value. [...]

"Over the life of a solar array, those differences add up and are important to the economics of solar. (The cash-out change) is a significant disincentive for people to adopt solar," Shear said. "I don't think there's any way that you can say this encourages solar development."
For decades, MidAmerican and Alliant have been largely hostile to policies that would expand distributed generation. The companies' comments to Schmidt make clear that this stance hasn't changed:
"The Iowa Utilities Board's order does not fully address the issue of customer pricing for solar and the shifting of costs from private solar customers onto the majority of customers who don't own private solar," MidAmerican's media relations representative Ashton Hockman said in a Wednesday email. "While some aspects of the order are a step in the right direction, we believe it's important to balance the needs of all customers. [...]

[Alliant spokesman Justin] Foss said the issue with the current net metering structure is that while customers benefit from the ability to move energy credits in and out of the power grid depending on need, utility companies are stuck holding the bill for infrastructure, service and administrative costs associated with maintaining the grid.

"In reality, it's every other customer that's making up that difference. When your neighbor is generating solar energy, you're paying the difference for them to do that," Foss said. "We like solar, don't get us wrong, but those installing solar energy are getting benefits on the backs of everyone else.
Excerpts from the Iowa Utilities Board's July 19 press release:
After an extensive review, including multiple opportunities for public and stakeholder input, the Iowa Utilities Board has issued an order directing Iowa's two largest investor-owned utilities to file new net metering (distributed generation) tariffs that will help the Board establish policies to expand renewable energy opportunities in Iowa, while balancing the best interests of customers and the utilities.

Today's Board order states the proposed tariffs, which are to be filed on or before August 15, 2016, by MidAmerican Energy Company (MEC) and Interstate Power and Light Company (IPL), will implement temporary, yet specific changes, and become effective for a three-year period once they are approved by the Board. These new tariffs will:
1. Increase the net metering cap from 500 kilowatts (kW) to 1 megawatt (MW) up to 100 percent of a customer's load.
2. Allow all customer classes to net meter, but specify that each customer's generation will only offset the energy (kilowatt hour-kWh) charges and will not offset the customer charge or demand charge.
3. Provide an annual cash-out of excess credits at the utility's tariffed avoided cost rate. Annual cash-out to take place during the first billing cycle of the calendar year. Funds from the cash-out will be divided evenly between the customer and the utilities' with the funds to provide assistance to customers in need. Customers will have the option of directing up to 100 percent of the cash-out to go to the utility's customer assistance fund.

The Board noted the tariff changes are consistent with Iowa Code (section 476.41) by encouraging renewable energy development, and that the Board believes the impacts of the changes will assist in determining whether current interconnection rules are sufficient to ensure reliability of each utility's system with the cap increase to 1 MW.

In addition, the Board encourages continued collaboration by MEC and IPL with participants on the Preliminary Implementation Plans for proposed pilot projects to gain valuable information and experience to develop policies to address distributed generation issues.

The order states these tariffs:
• Will be effective for all customers who file interconnection applications after the Board approves the tariffs
• Allow customers on current net metering tariffs the option to take service under the new tariff and participate in the study. If an existing customer chooses to take service under new net metering tariffs, the customer cannot return to the existing tariff. Customers who do not participate in the study will remain on their current net metering tariff
• Will include a sunset provision and expire three years from date of Board approval
• Prior to end of the sunset period, the Board will determine if changes are needed on a
permanent basis along with revisions to the current net metering rule -- 199 IAC 15.11(5)
• If the Board determines these tariff changes should not be made permanent, customers
who participated in the study will be allowed to remain on that tariff for the life of their
interconnection equipment
• IPL and MEC are to provide distributed generation and net metering data to the Board
prior to implementation of the tariffs to establish a baseline and also provide annual data
so the Board can monitor impacts of specific tariff changes
• Data reported will be outlined in a subsequent Board order that approves the new tariffs

Under current procedures, net metering is a single meter monitoring only the net amount of electricity sold or purchased between a utility and a customer where the customer draws electricity from the utility and provides electricity back to the utility. The customer's generation offsets the customer's energy purchases from the utility. The customer may carry forward any electricity generated that exceeds the customer's usage indefinitely. The net excess generation (or excess credit) is available for the customer to use in future months when the customer's usage exceeds the customer's generation.
Iowa Environmental Council two-page handout on solar power's potential: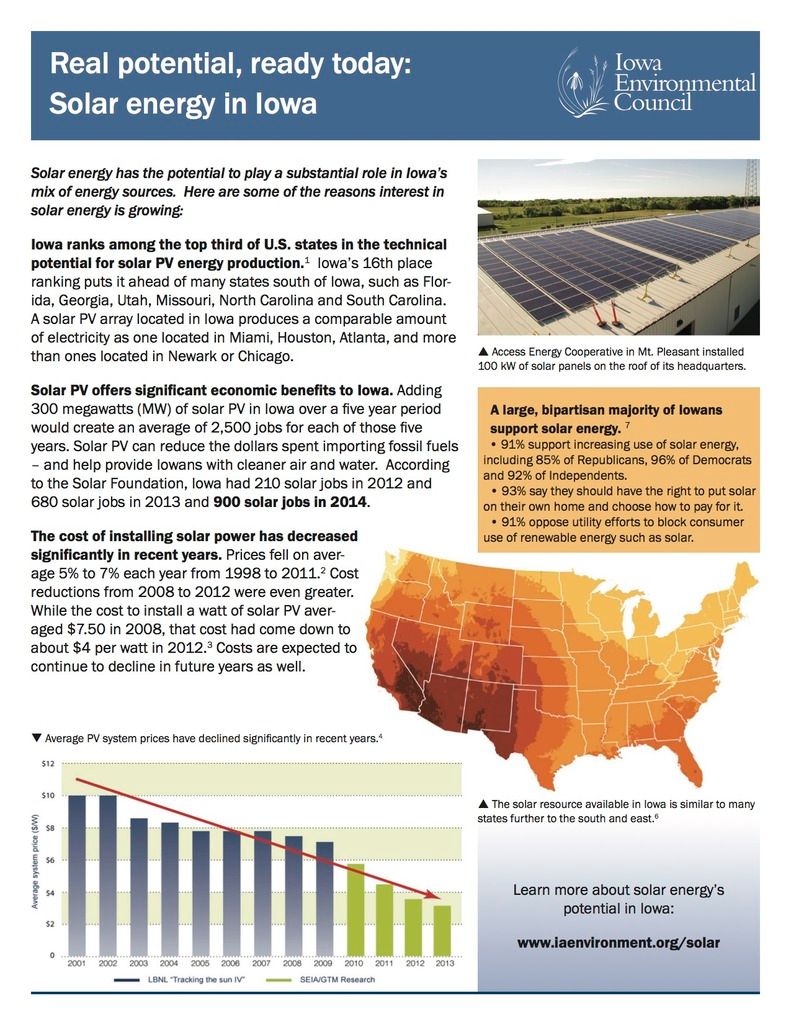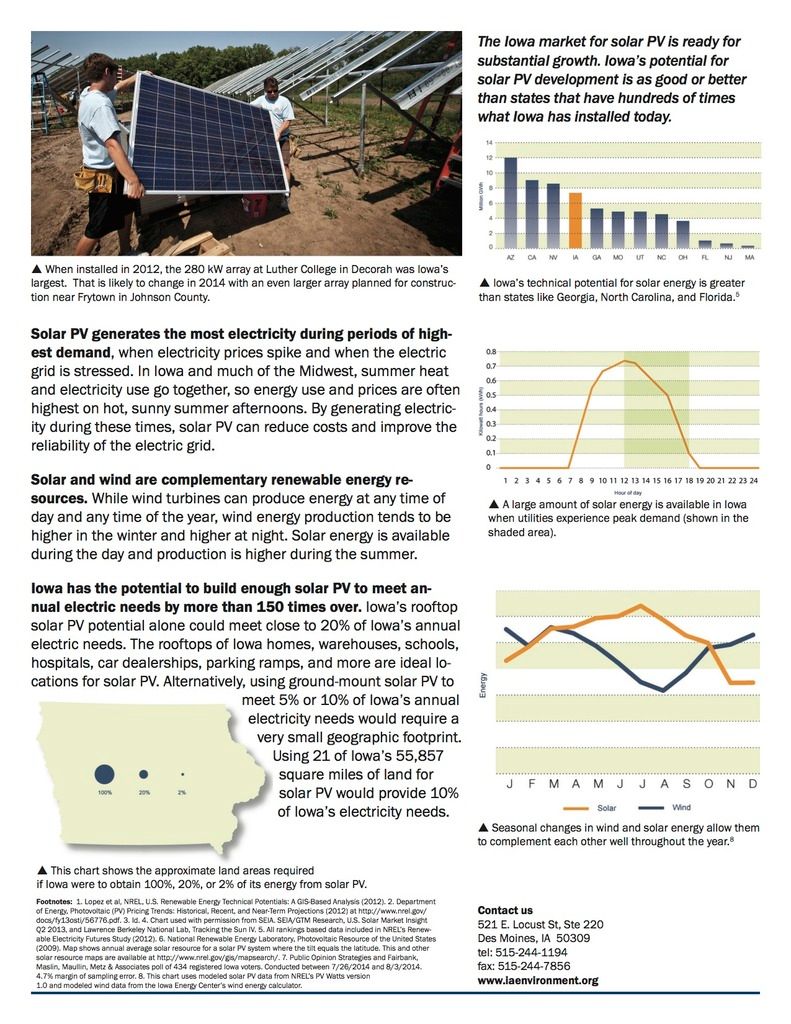 Iowa Environmental Council fact sheet on solar tax incentives: