Like last week's featured wildflowers, today's plant thrives in wooded areas and has delicate, faint pink flowers. Pointed-leaf tick trefoil (Desmodium glutinosum) is native to most of North America east of the Rocky Mountains. I found the colony pictured below near the main road through Maquoketa Caves State Park (Jackson County).
As a bonus, I included two photos of a non-native plant with much brighter pink flowers, which I saw recently in a seep (wet area) at Whiterock Conservancy near Coon Rapids (Carroll County).

Many wildflowers have multiple common names. Not this one: only the hyphenation varies (Pointedleaf ticktrefoil, Pointed-Leaved Tick Trefoil, Pointed-leaf Tick-trefoil). The common name is a no-brainer when you see the foliage, described on the Minnesota Wildflowers site as follows:
Several long-stemmed compound leaves, grouped in 3s, are just below the flower clusters, alternately attached but nearly whorled. Leaflets are up to 5 inches long, 3½ inches wide, sparsely hairy, oval to teardrop shaped with a sharply pointed tip.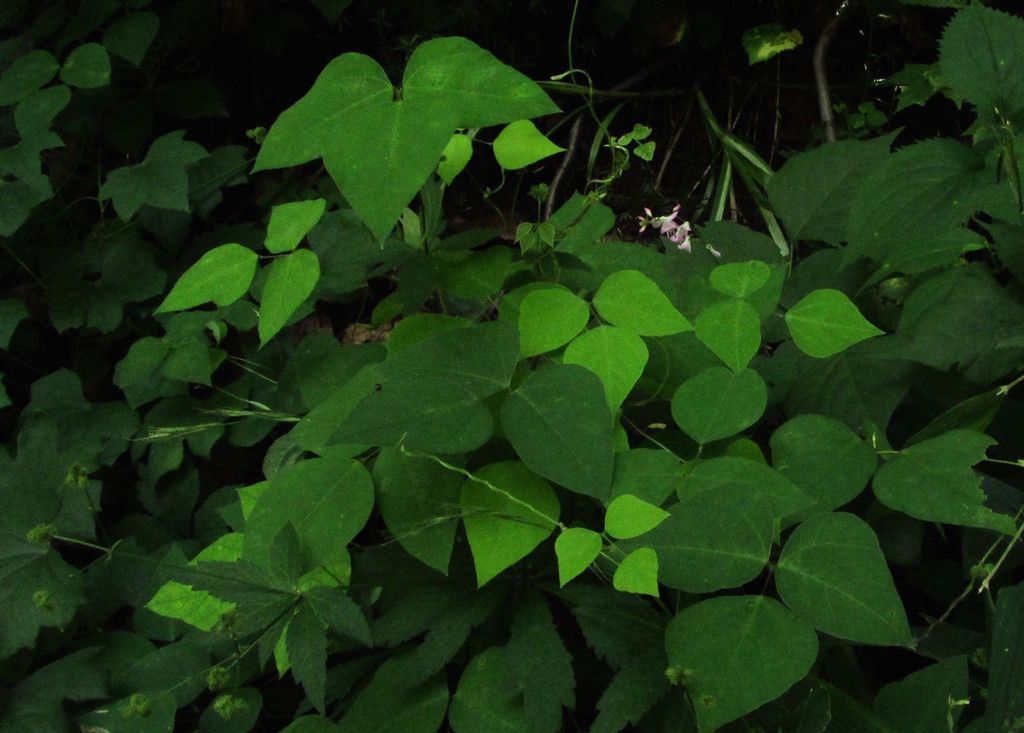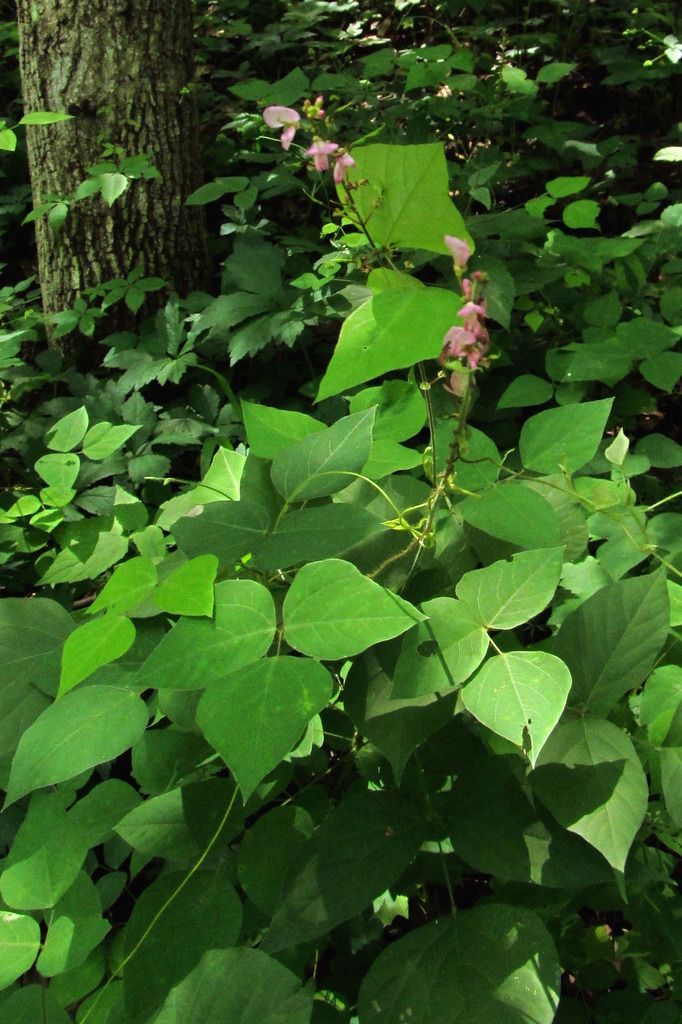 Iowa has various tick trefoil (Desmodium) species, which start flowering in June. According to Wildflowers of Iowa Woodlands by Sylvan Runkel and Alvin Bull, desmodium comes "from Greek meaning 'long branch or chain,' probably from the shape and attachment of the seedpds." The same sources says, "Numerous flowers are borne at the tips of the upper branches, but only a few are in bloom at any one time." As with white wild indigo, the same stem may have buds, flowers, and seed pods at the same time.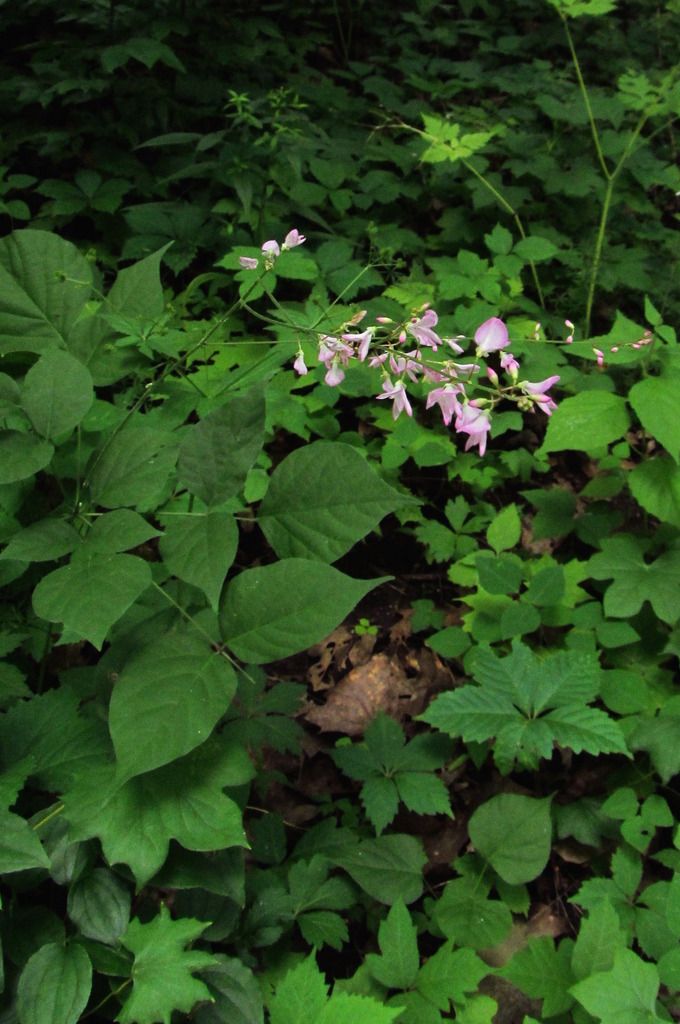 The Illinois Wildflowers site says pointed-leaf tick trefoil does best in "partial sun to medium shade, moist to dry-mesic conditions, and loamy soil with decaying organic matter." The dappled sunlight made it hard to photograph these flowers.
I didn't see seeds on any of these plants, but you can find pictures here or here. More likely, the seeds will find you as you walk through the woods: "The pod is covered in minute hooked hairs so it sticks to almost anything that passes by." Some people call them "stick-tights."
Speaking of which, the pretty pointed-leaf tick trefoil flowers dominate these next two shots, but on the left side of the frame, sticky burs are developing where common black snakeroot bloomed earlier in the summer.
Finally, today's bonus wildflower. I saw some of these blooming on a trail through a wet area in Whiterock Conservancy, but I couldn't find anything resembling them in my wildflower books. After asking more knowledgeable people, I learned that's because Deptford pink (Dianthus armeria) doesn't really belong on our continent, where it has spread far and wide. John Pearson of the Iowa Department of Natural Resources explained,
Its common name is based on its one-time abundance in the meadows around Deptford, England. Deptford is now a super-urbanized part of the London megalopolis devoid of flowery meadows. Thus it is rare in its original homeland but has established as a naturalized member of the North American flora. Although non-native, I do not consider it "invasive" because its peacefully coexists with the native flora.
Leland Searles told me these wildflowers "like mesic to wet prairie, but I've never seen more than a scattering. Their fondness for remnants leads me to use them sometimes as a prairie indicator."