Adding to the consensus that Iowa's six electoral votes could go either way, a new poll by RABA Research for Simpson College shows Donald Trump leading Hillary Clinton by 43 percent to 42 percent in a two-way race or by 40 percent to 39 percent in a field including Libertarian Gary Johnson (10 percent) and Green Party candidate Jill Stein (3 percent). The remaining 8 percent of respondents were undecided.
Full poll results are here; I enclose below the page containing the cross-tabs.
Clinton is winning women by 43 percent to 37 percent in a four-way race and by 46-38 against Trump alone. Trump is winning men by 44-34 when Johnson and Stein are included and by 48-38 against Clinton alone. Among the 40 percent of respondents who identified as evangelicals, just 56 percent back Trump in a four-way race and 57 percent in a two-way race.
Clinton leads among respondents who have a college degree, but she is not winning that group by enough to compensate for Trump's advantage among non-college-educated voters. The latest census data indicate that about 26 percent of Iowans at least 25 years old have a bachelor's degree or post-graduate education.
Like other recent polls, RABA's survey suggests that third-party candidates are drawing roughly equally from voters who would otherwise lean toward the Democratic or Republican nominees. Johnson remains on track to far exceed any previous Libertarian candidate's showing in Iowa. This morning FiveThirtyEight.com's Harry Enten examined Clinton's underperformance with young millennials (18-25), who are more likely than older voters to support third-party candidates.
Any comments about the presidential race are welcome in this thread. Trump's campaign just started running television commercials in Iowa this month. Scroll down to see the video and transcript of the latest spot, a rapid response to the weekend's news that Clinton had referred to the GOP nominee's supporters as "a basket of deplorables." Charles Blow wrote the best take I've seen on that gaffe.

From the polling memo: "The Simpson/RABA poll was conducted Sept. 6-8 among a random sample of 1,054 voters on landline and cellular phones, with supplemental cell phone-only households surveyed online. The margin of error is plus or minus 3 points."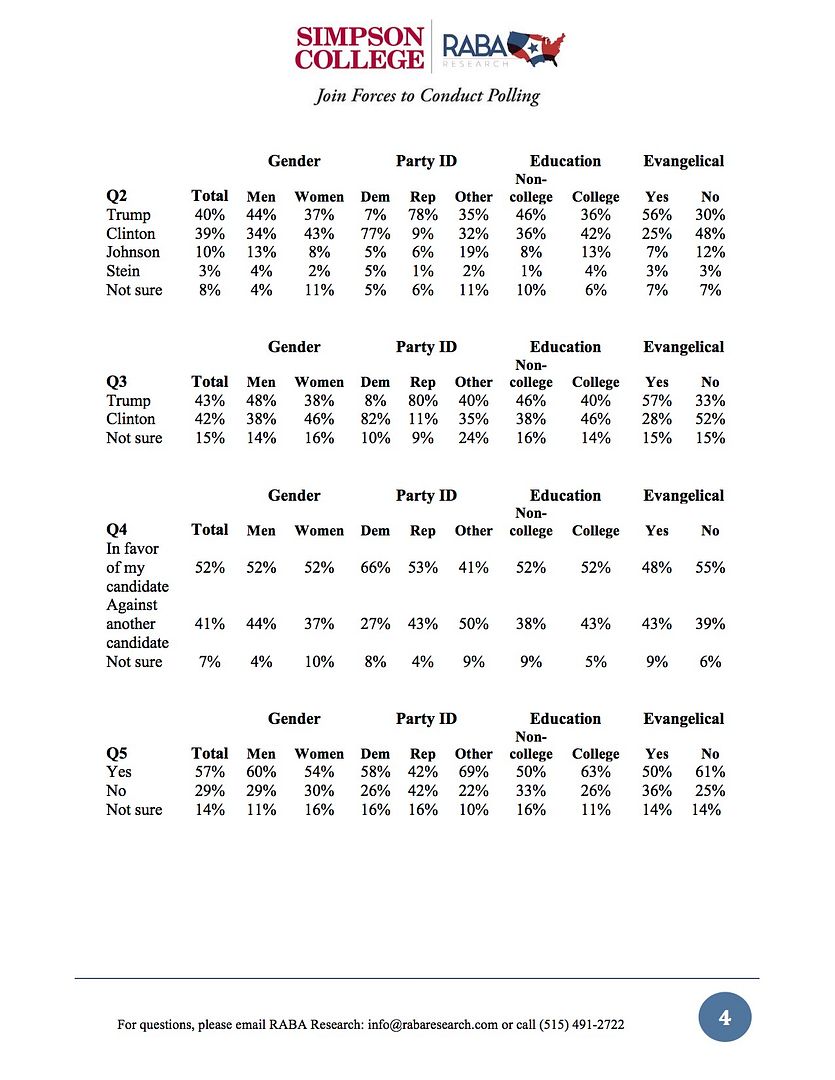 "Deplorables," a 30-second ad launched by the Trump campaign on September 12:
Script taken from a Trump campaign press release:
VOICEOVER: Speaking to wealthy donors
CHYRON: Hillary Clinton
Hillary Clinton called tens of millions of Americans "Deplorable."
CHYRON: Deplorable
HILLARY CLINTON: "You could put half of Trump's supporters into what I call the 'Basket of Deplorables. The racists, sexists, homophobic, xenophobic, Islamophobic, you name it."
VOICEOVER: People like you . . . you . . . and you.
VOICEOVER: "Deplorable."
VOICEOVER: You know what's deplorable?
VOICEOVER: Hillary Clinton viciously demonizing hard working people like you.
CHYRON: Hillary Clinton Viciously Demonizing Hard Working People Like You
DONALD J. TRUMP: I'm Donald Trump, and I approve this message.