The two most recent national polls of the presidential race showed unusually high levels of support for Libertarian candidate Gary Johnson. In the NBC/Wall Street Journal survey conducted between June 19 and 23, presumptive Democratic nominee Hillary Clinton was backed by 39 percent of respondents, to 38 percent for presumptive Republican nominee Donald Trump, 10 percent for Johnson and 6 percent for Green Party candidate Jill Stein. An ABC/Washington Post poll in the field between June 20 and 23 found 47 percent of respondents for Clinton, 37 percent for Trump, 7 percent for Johnson, and 3 percent for Stein.
Even taking into account the reality that support for third-party candidates "usually diminishes over the course of the [U.S. presidential] campaign," and third-party candidates have often received less than half as much support on election day as they did in nationwide surveys from June, Johnson has potential to shatter previous records for Libertarians. A former Republican governor of New Mexico, Johnson received 1,275,821 popular votes as the Libertarian presidential nominee in 2012, just under 1 percent of the nationwide vote. The best showing for a Libertarian ticket in terms of vote share was 1.06 percent (921,128 votes) in 1980 for Ed Clark and his running mate David Koch, better known as one half of the Koch brothers.
I haven't seen any Iowa polls yet that gave respondents the option of choosing Stein or Johnson as alternatives to Clinton and Trump, but now seems like a good time to examine Libertarian presidential performance in Iowa over the last four decades and Johnson's chances to improve on his 2012 results.

Formed in late 1971 in Colorado, the Libertarian Party nominated Pella native and Central College and University of Iowa alumnus John Hospers for president in 1972. He and running mate Tonie Nathan (the first woman to receive an electoral vote) gained 3,674 popular votes in the two states where their names appeared on the ballot. The Libertarian Party did not qualify for the Iowa ballot in 1972 but have done so in every subsequent presidential election. I created the following table using data from the Iowa Secretary of State's archived results.
Libertarian presidential performance in Iowa
Year
Libertarian ticket
Iowa votes received
Presidential votes cast in Iowa
Libertarian vote share
1976
Roger MacBride/David Bergland
1,452
1,279,306
0.11%
1980
Ed Clark/David Koch
13,123
1,317,661
1.00%
1984
David Bergland/James Lewis
1,844
1,319,805
0.14%
1988
Ron Paul/Andre Marrou
2,494
1,225,614
0.20%
1992
Andre Marrou/Nancy Lord
1,076
1,354,607
0.08%
1996
Harry Browne/Jo Jorgensen
2,315
1,234,075
0.19%
2000
Harry Browne/Art Olivier
3,209
1,315,563
0.24%
2004
Michael Badnarik/Richard Campagna
2,992
1,506,908
0.20%
2008
Bob Barr/Wayne Allyn Root
4,590
1,543,662
0.30%
2012
Gary Johnson/Jim Gray
12,926
1,589,899
0.81%
A few points struck me as I looked over the numbers. First, Libertarians have been a non-factor in Iowa presidential elections, only exceeding a third of 1 percent of the vote two out of ten times. In case anyone was wondering, the Libertarian ticket received about 1,000 fewer votes in 2000 than the gap between Al Gore and George W. Bush in Iowa.
Not surprisingly, the party's low-water mark in Iowa came in 1992, when Ross Perot had the best showing for any independent presidential candidate in modern U.S. history.
Libertarians' best effort here, both in raw votes and percentage, happened in 1980, despite the presence of a higher-profile independent candidate on the ballot. Former liberal Republican John Anderson won just under 7 percent of the vote nationally and roughly 8.8 percent in Iowa. More thoughts on that below.
TWO REASONS GARY JOHNSON MAY EXCEED PAST LIBERTARIAN PERFORMANCE
Although minor-party candidates typically underperform their poll numbers from several months before the election, Johnson could do much better this year than any previous Libertarian standard-bearer, for two reasons.
Clinton and Trump are remarkably unpopular major-party presidential nominees.
Both Clinton and Trump have higher "unfavorable" ratings than favorable ones in national polls. The trendlines on Clinton's favorability would be terrifying if Trump's were not substantially worse.
Adrian Gray worked on both of George W. Bush's presidential campaigns before spending three years as head of strategy for the Republican National Committee. On his Twitter feed this year he has periodically plotted Clinton's and Trump's favorables against every major-party presidential nominee's since 1980. Here's the latest version: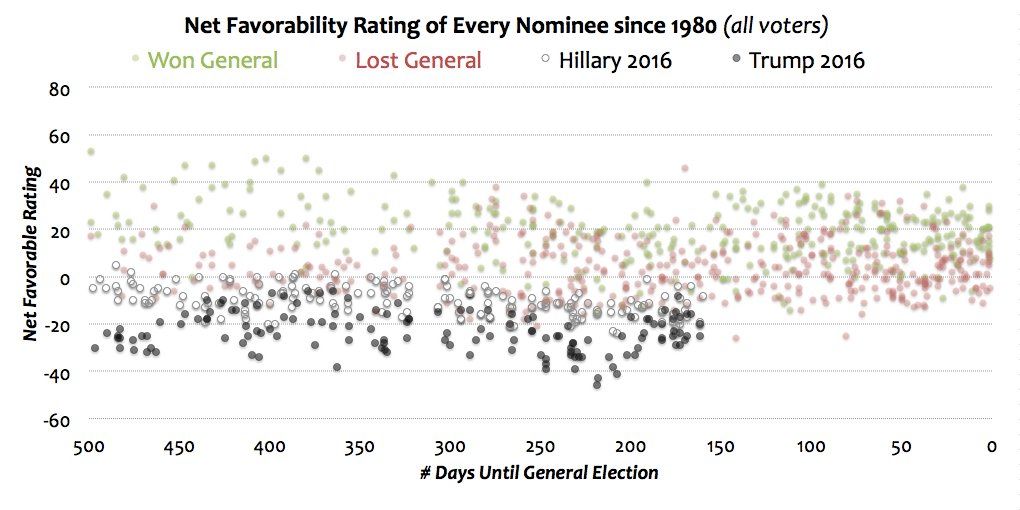 Clinton's favorable ratings (the white circles) track more closely with losing presidential candidates than with winners. But the black circles representing Trump's favorability are lower than those of even the most unpopular losing candidates in recent history.
Johnson sees this phenomenon as his greatest opportunity. From a statement he released after the March 1 "Super Tuesday" primary elections,
"With the Donald Trump and Hillary Clinton trains becoming more and more unstoppable in their respective parties, I believe a real majority of American voters are going to be left without a political home in November.

"To those millions of voters, a successful two-term Governor with a solid record of fiscal responsibility and defense of civil and personal liberties could well be the 'mainstream' option. The Libertarian nominee will be on the ballot in every state in November, and I hope to be that nominee.

"Both of the major parties are succeeding in alienating more voters than ever before. The Democrat establishment is effectively shutting down its challengers, and Republicans are clearly rejecting their establishment. The net result may be that more Americans than ever before will be looking to a truly independent, experienced and proven candidate."
On that note,
The Libertarian ticket looks more credible than most minor-party efforts.
At a national convention in Orlando in late May, Libertarian delegates nominated Johnson for president again, this time with former Massachusetts Governor William Weld as the party's vice presidential candidate. Weld disagrees with some parts of the Libertarian platform, but he was a successful and popular governor, winning re-election by the largest margin in Massachusetts history. Meaning no disrespect to Johnson's 2012 running mate Jim Gray, a former California judge and statewide candidate, Weld is far better-known among Republican heavy-hitters as well as the national press corps.
Dave Weigel reported from the Libertarian convention that Weld was Johnson's preferred running mate for pragmatic reasons.
In his victory speech [after securing the presidential nomination], Johnson beseeched the delegates to look past any of their ideological qualms with Weld to consider the breakthrough the party could win if it nominated two former Republicans. Weld, he said, had done 25 major media interviews since agreeing to run. That was 25 more interviews than Jim Gray, a judge who became Johnson's 2012 running mate, ever did.

"I realize it's up to you," Johnson said. "If it's not Bill Weld, I don't think we have the opportunity to be elected president of the United States."
Weld won the vice presidential nomination on the second ballot. Shane Goldmacher reported for Politico,
The pair form a political team of two former Republican governors that Johnson declared to be the most formidable third-party ticket in the modern era, one that he promised would thrust Libertarians from the fringe of American politics to "major party status" in a period of widespread mistrust of both the Republican and Democratic parties. [...]

Raising more money is supposed to be the big advantage of selecting Weld, who served as a fundraiser for Mitt Romney. "He really likes fundraising and he's connected," Johnson said. "And I really hate fundraising and I'm not connected."

Their goal, in particular, is to loosen the wallets of the many disaffected and libertarian-leaning Republicans turned off by Trump's bombastic rhetoric and shifting policy stands by offering them an alternative of two former Republican governors.

Ed Crane, the co-founder and former president of the libertarian-leaning Cato Institute who ran a seven-figure super PAC for Rand Paul, told POLITICO he planned to revive his Purple PAC group on behalf of Johnson, now that he's officially the Libertarian nominee.

"We could raise millions and I think it's a very unique opportunity that you have have two major party candidates who are incredibly unpopular within their own parties," Crane said.
Romney has been one of the most prominent #NeverTrump Republicans, and his half-hearted attempt to recruit a conservative to run for president as an alternative to the GOP nominee went nowhere this spring. Earlier this month, Romney said he will seriously consider voting for Johnson.
Like John Anderson in 1980, Johnson can position himself as an alternative to an unpopular Democrat and a charismatic Republican whom many regard as a risky choice, perhaps even a warmonger. But unlike the Libertarian ticket in 1980, Johnson won't have to compete with anyone of Anderson's stature for disaffected Republican votes.
So far, so good. But a couple of obstacles stand in Johnson's way as he tries to improve on his 2012 showing in Iowa and nationally.
POLITICAL PROBLEMS FOR THE 2016 LIBERTARIAN TICKET
Though Johnson depicts himself as a "mainstream" option for the "majority of American voters" lacking a "political home" in a Clinton-Trump race, his policy stands are not aligned with those of some groups inclined to reject both the Democratic and Republican nominees.
Johnson is a bad fit for #BernieOrBust types.
The Johnson-Weld 2016 site plays up some issues that could appeal to Democrats and independents who preferred Bernie Sanders to Clinton during the Democratic primaries: criminal justice reform; "personal freedom" including marriage equality and decriminalizing marijuana; immigration policy not driven by "militarizing the border, bigger fences, and other punitive measures."
On the other hand, anyone who cares about making millionaires and billionaires pay their fair share to address income inequality--a constant refrain of Sanders stump speeches--will not be drawn to the Libertarian goals of repealing the income tax, eliminating the Internal Revenue Service, and balancing the federal budget "exclusively by cutting expenditures." Johnson suggests abolishing the corporate income tax and dramatically reducing government regulations as a path to "creating jobs for all Americans."
Voters on the left who stick to #NeverHillary convictions are way more likely to gravitate toward the Green Party's Stein than to Johnson. Her "Power to the People" plan is virtually indistinguishable from the Sanders agenda.
Some of Johnson's views could be deal-breakers for #NeverTrump conservatives.
The Libertarian Party of Iowa's website and Facebook page emphasize the tag line "MINIMUM government, MAXIMUM freedom." Not all party activists saw Johnson as the best candidate to carry that banner for a second time. From Dave Weigel's report on the Libertarian convention:
Former New Mexico governor Gary Johnson won the Libertarian Party's presidential nomination on Sunday [May 29], fending off five rivals from different factions on two closely fought ballots and securing more than 55.8 percent of the total vote. [...]

Johnson had run a careful campaign with an eye on the general election, picking former Massachusetts governor Bill Weld — like him, a Republican who switched parties — as his running mate. In Saturday night's debate, Johnson, alone among the top-five contenders, said that he would have signed the 1964 Civil Rights Act and that he thought people should be licensed to drive cars. He was loudly booed for both positions. [...]

Those positions were tough to swallow for some of the party's self-identified radicals. They'd spent the campaign season — including more than a dozen debates — labeling Johnson a "Republican-lite" candidate who could not expand on the 1 percent of the vote he had won as the 2012 nominee. Johnson was silent when the first ballot showed him just six votes short of a majority.
By the same token, diehard conservatives who preferred Ted Cruz to Trump, such as Iowa talk radio host Steve Deace and Christian blogger Shane Vander Hart, will have trouble supporting the Libertarian ticket. Weld has been strongly pro-choice throughout his political career. The Libertarian platform says of abortion only this: "Recognizing that abortion is a sensitive issue and that people can hold good-faith views on all sides, we believe that government should be kept out of the matter, leaving the question to each person for their conscientious consideration."
Johnson signed a late-term abortion ban as governor of New Mexico and has criticized the Supreme Court's Roe v Wade decision as an overreach. But this triangulating from the Johnson-Weld ticket will be a bridge too far for many in the "pro-life" community.
Gary Johnson has the utmost respect for the deeply-held convictions of those on both sides of the abortion issue. It is an intensely personal question, and one that government is ill-equipped to answer.

As Governor, Johnson never advocated abortion or taxpayer funding of it. He supported a ban on late term abortions. In his personal life the Governor believes in the sanctity of the life of the unborn.

However, Gov. Johnson recognizes that the right of a woman to choose is the law of the land, and has been for several decades. That right must be respected, and ultimately he believes this is a very personal and individual decision. He feels that each woman must be allowed to make decisions about her own health and well-being and that these decisions should not be dictated by the government.

Further, Gov. Johnson feels strongly that women seeking to exercise their legal right must not be subjected to persecution or denied access to health services by politicians in Washington or elsewhere who are insistent on politicizing such an intensely personal and serious issue.
Any thoughts about Libertarian prospects in Iowa or nationally are welcome in this thread.
Final note: former Libertarian statehouse candidate Dr. Christopher Peters is the Republican challenger to Representative Dave Loebsack in Iowa's second Congressional district. Last week, former GOP presidential candidate Rand Paul endorsed Peters, saying the "#LibertyLover" would be "a staunch fighter" for limited government.
I can't decide whether the Peters campaign will boost Johnson here by injecting more Libertarian talking points into the political discourse, or whether it will hurt Johnson, since party activists in some populous eastern Iowa counties may spend more energy getting the vote out for Peters (and by extension the Republican ticket) than for the Libertarian presidential candidate.