Most thistles growing along Iowa roads or fields are invasive plants. Bull thistle and Canada thistle are on Iowa's noxious weeds list.
But if you're lucky, you may see a thistle that belongs in our state's wooded or prairie habitats.
Tall thistle (Cirsium altissimum) is native to most of the U.S. east of the Rocky Mountains. Its seeds are a "staple" food for the eastern or American goldfinch, Iowa's state bird.
I took the pictures enclosed below in late August and early September on a restored prairie in Dallas County.

As usual, the Illinois Wildflowers and Minnesota Wildflowers websites are good resources for botanically accurate descriptions of tall thistle foliage, flowers, and seeds. This plant may hybridize with other thistles.
The website of the Homestead National Monument in Nebraska describes this plant as follows:
The Tall Thistle is a native thistle of the tallgrass prairie. Its presence on the prairie is celebrated as a sign of a healthy and biodiverse tallgrass prairie ecosystem.

The Tall Thistle (Cirsium altissimum) ranges from 4-5 feet in height with dark to light purple flower heads. It blooms from July to September, which is later than the invasive exotic Musk Thistle with which it is sometimes confused. The stem is green, with green leaves that are white on the underside. All thistles, including the Tall Thistle, are part of the sunflower family. Tall Thistle is important in the tallgrass prairie, not only to help maintain plant biodiversity, but because it also has value to the wildlife that is vital to the tallgrass prairie ecosystem. Tall Thistle is known to be important to butterflies, songbirds and various insects. According to The Cornell Lab of Ornithology, the American Goldfinch is the strictest vegetarian in the bird world, relying almost exclusively on seeds for its diet. Tall Thistle seeds are a staple of the Goldfinches diet, and it is common to see Goldfinches out in the prairie, perched on Tall Thistle eating to their heart's delight. It is not uncommon for other songbirds to eat Tall Thistle seed either. It is also common to see many different insects perched on Tall Thistle.
The easiest way to distinguish tall thistle from non-natives is to look at the underside of the leaves. On tall thistle, they are white: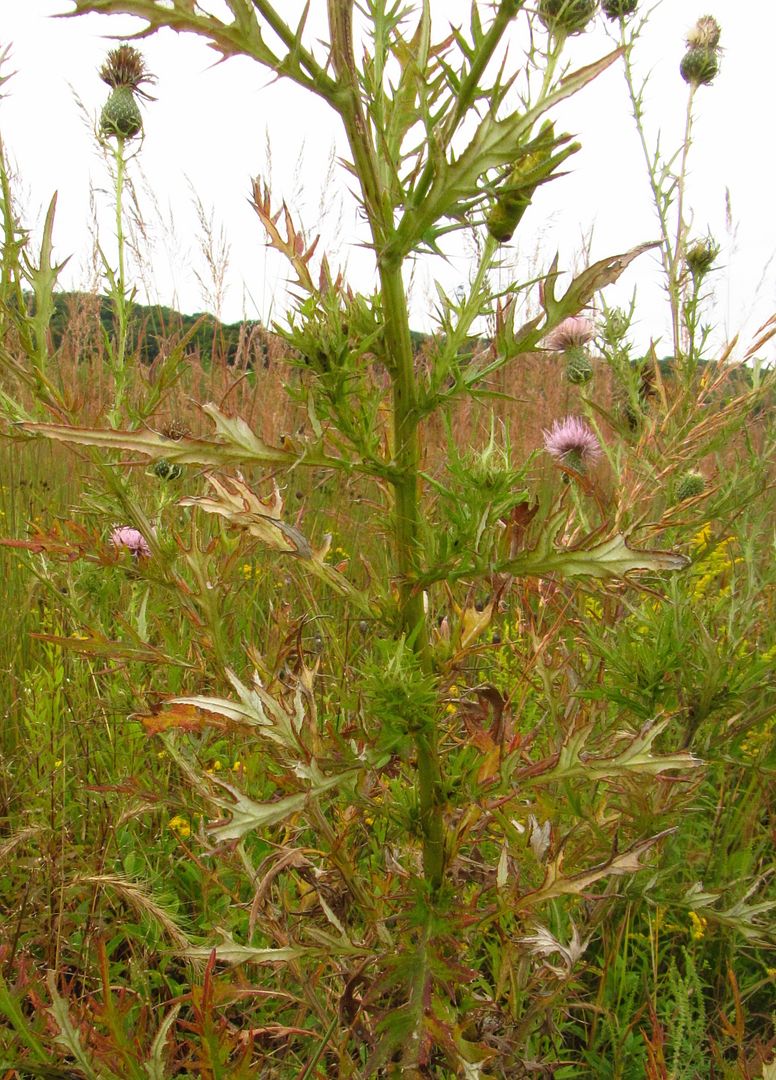 In addition, non-native thistles have "sharp spines, especially along the stem." Click here for more ways to tell various thistles apart.
Tall thistles have pink flowerheads: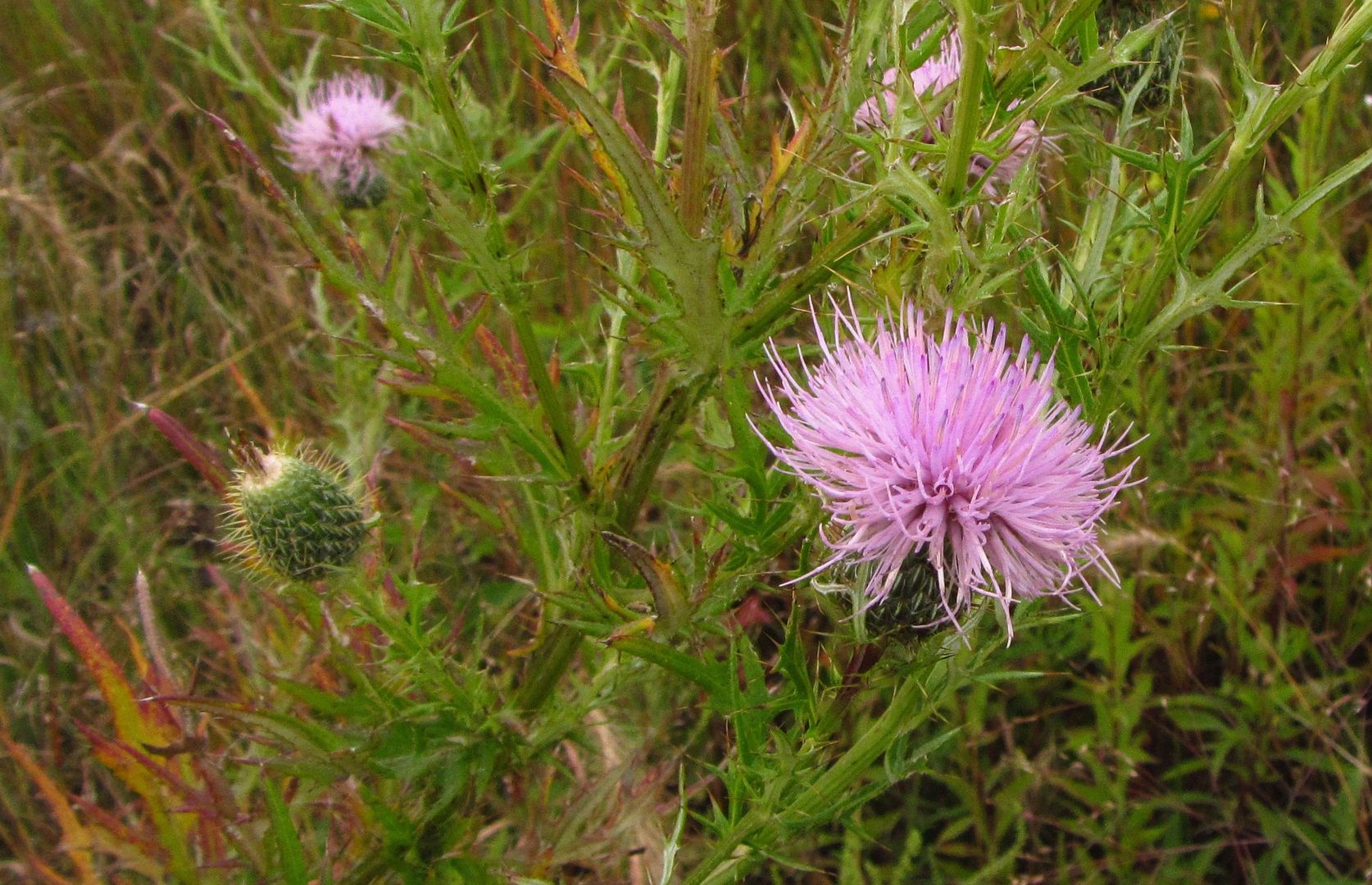 Top view of tall thistle plant: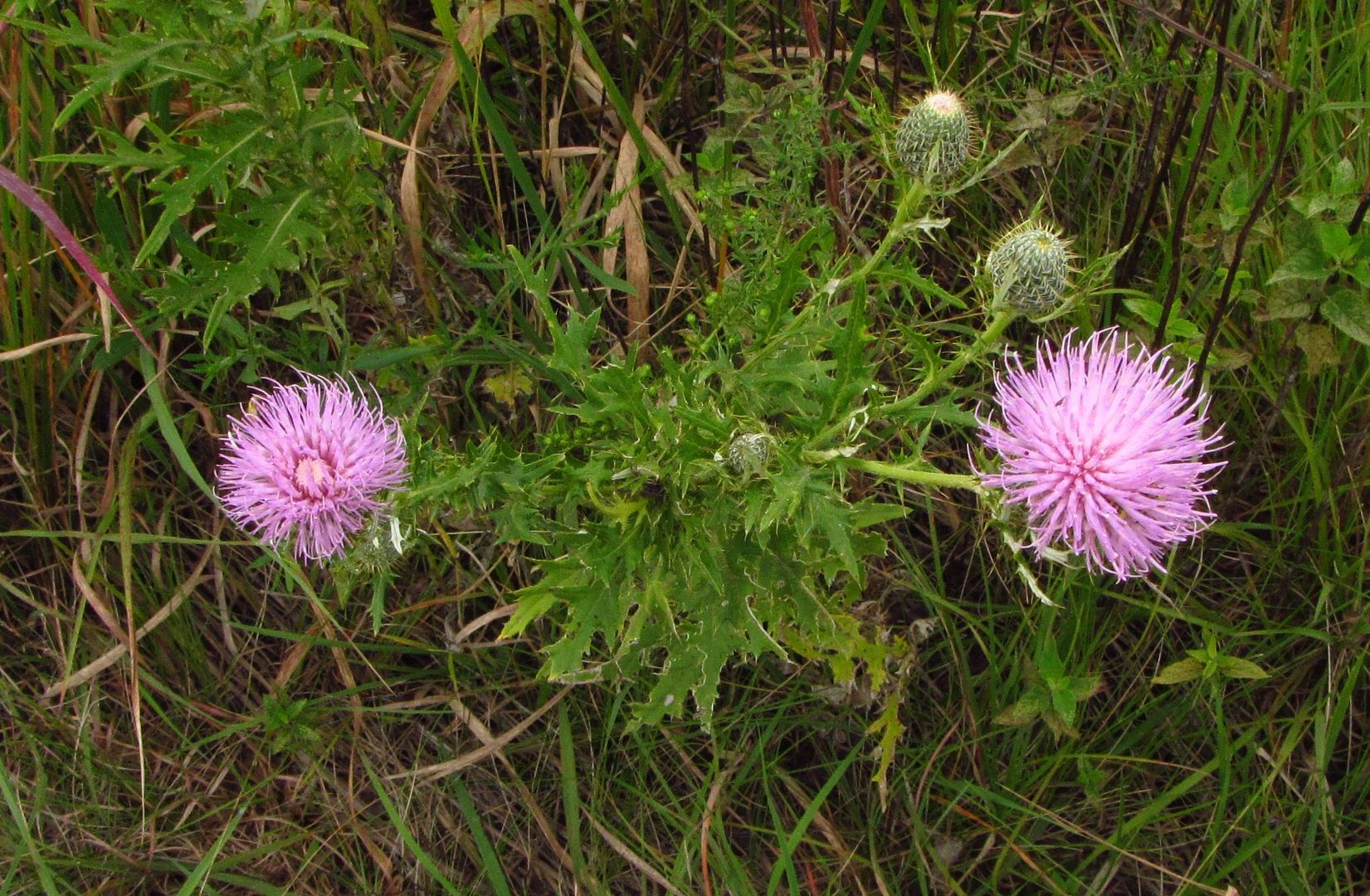 Plants next to each other can be budding, blooming, and gone to seed: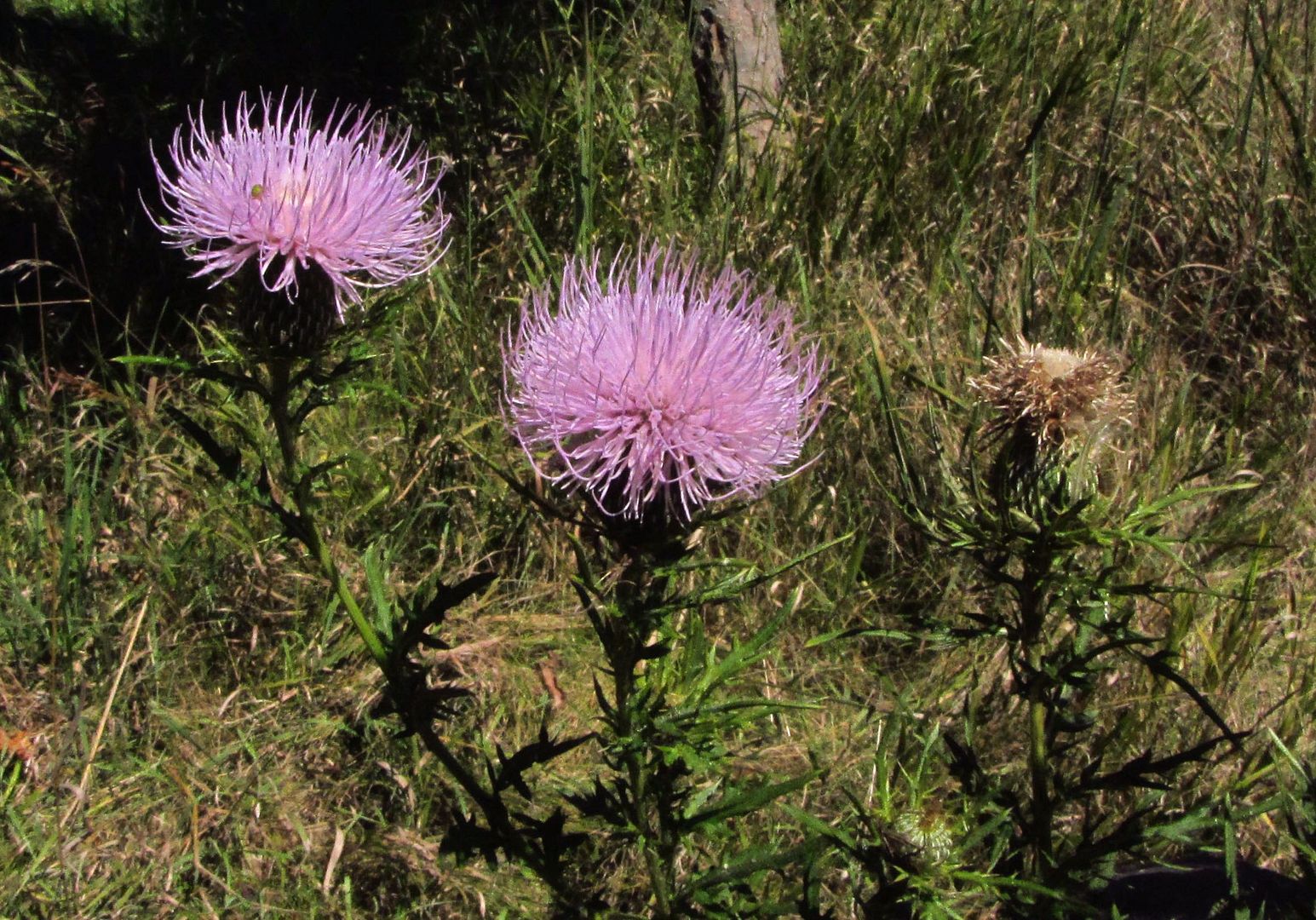 Tall thistle blooming alongside stiff goldenrod:
Tall thistles gone to seed alongside some other goldenrods: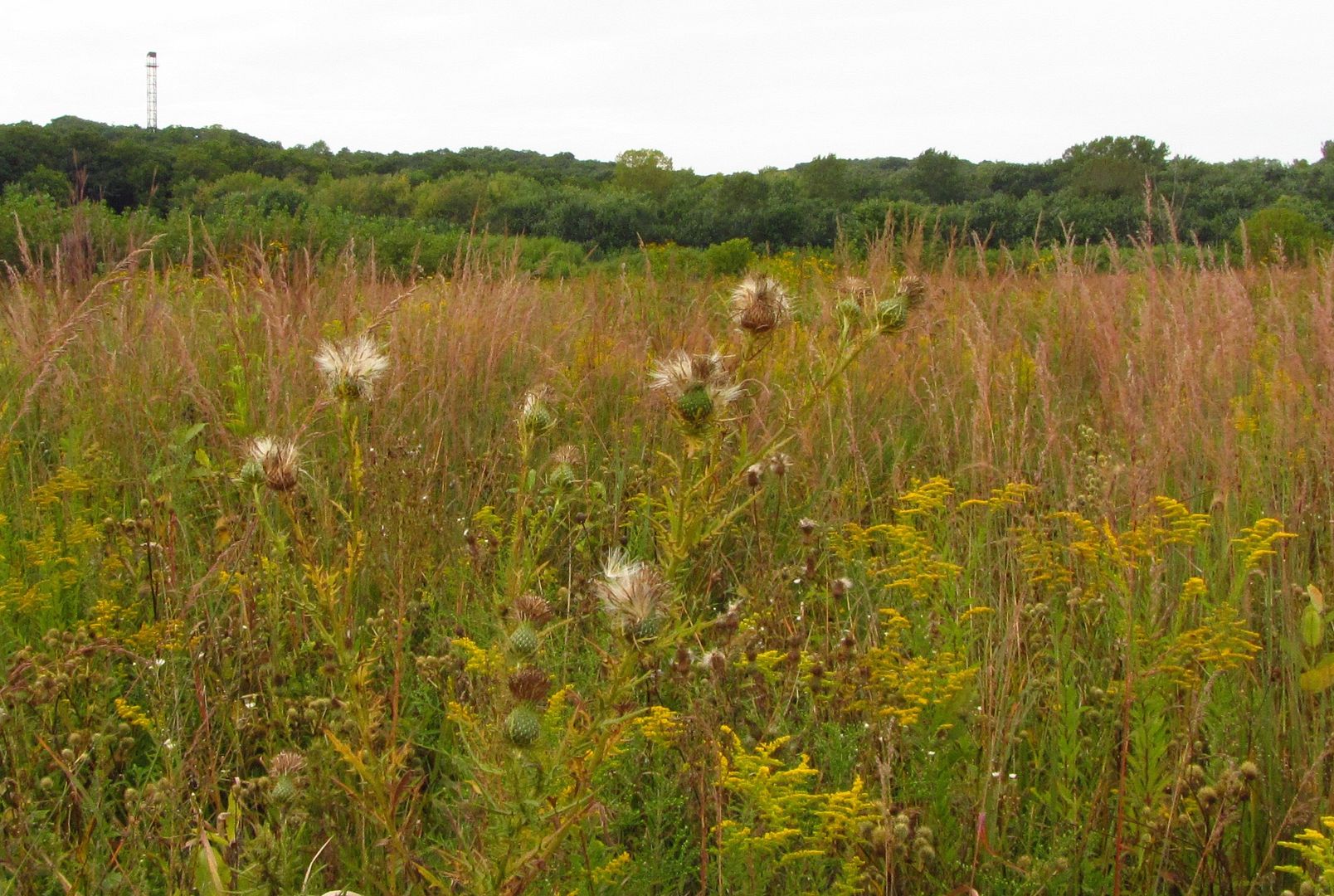 Many insects enjoy the nectar from tall thistle flowerheads. Some kind of bee is sampling here. Around the thistle you can see lots of rattlesnake master, which bloomed earlier in the summer: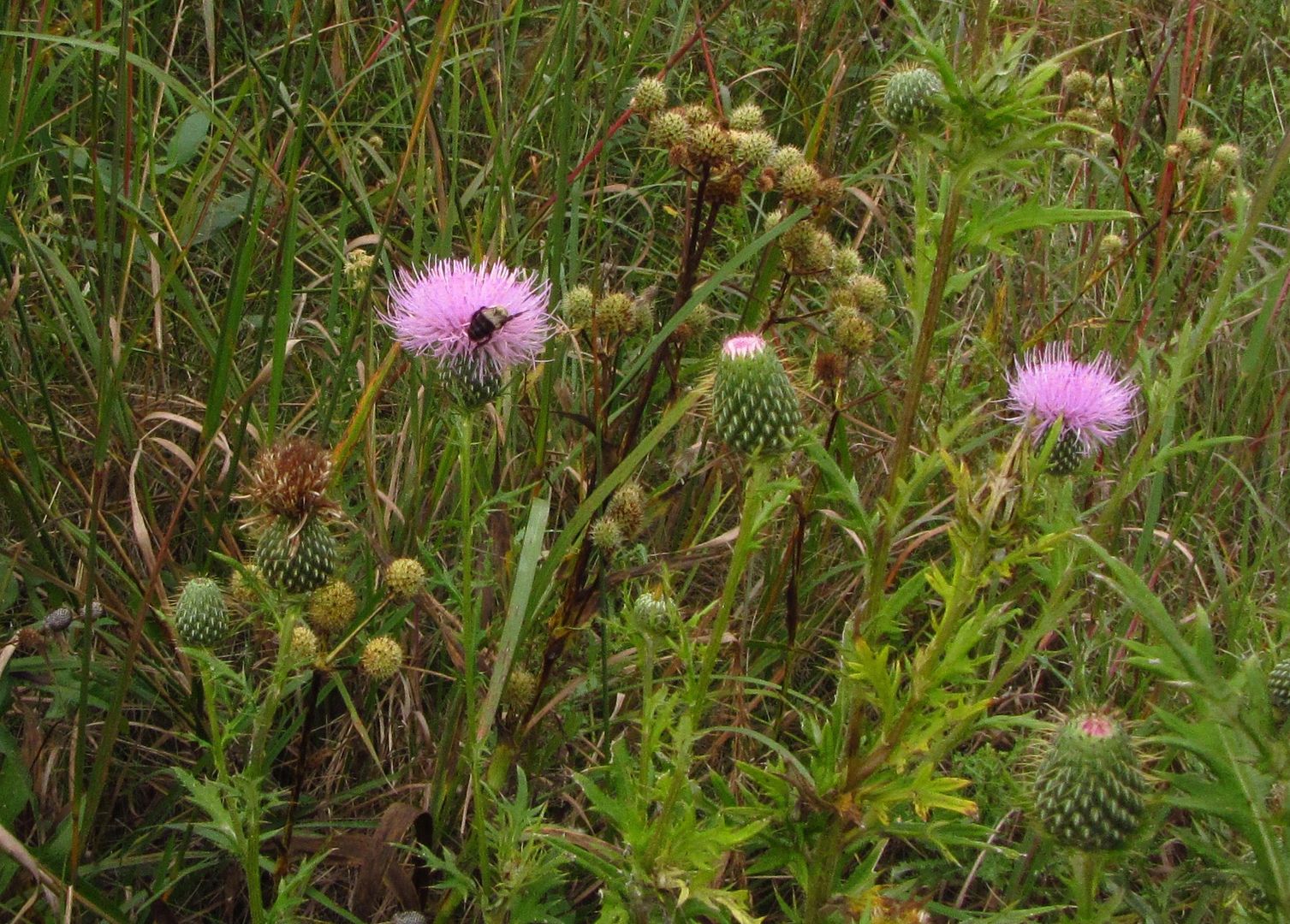 I wasn't sure what kind of butterfly was on this tall thistle, but Leland Searles confirmed the ID as a monarch, rather than the copycat viceroy.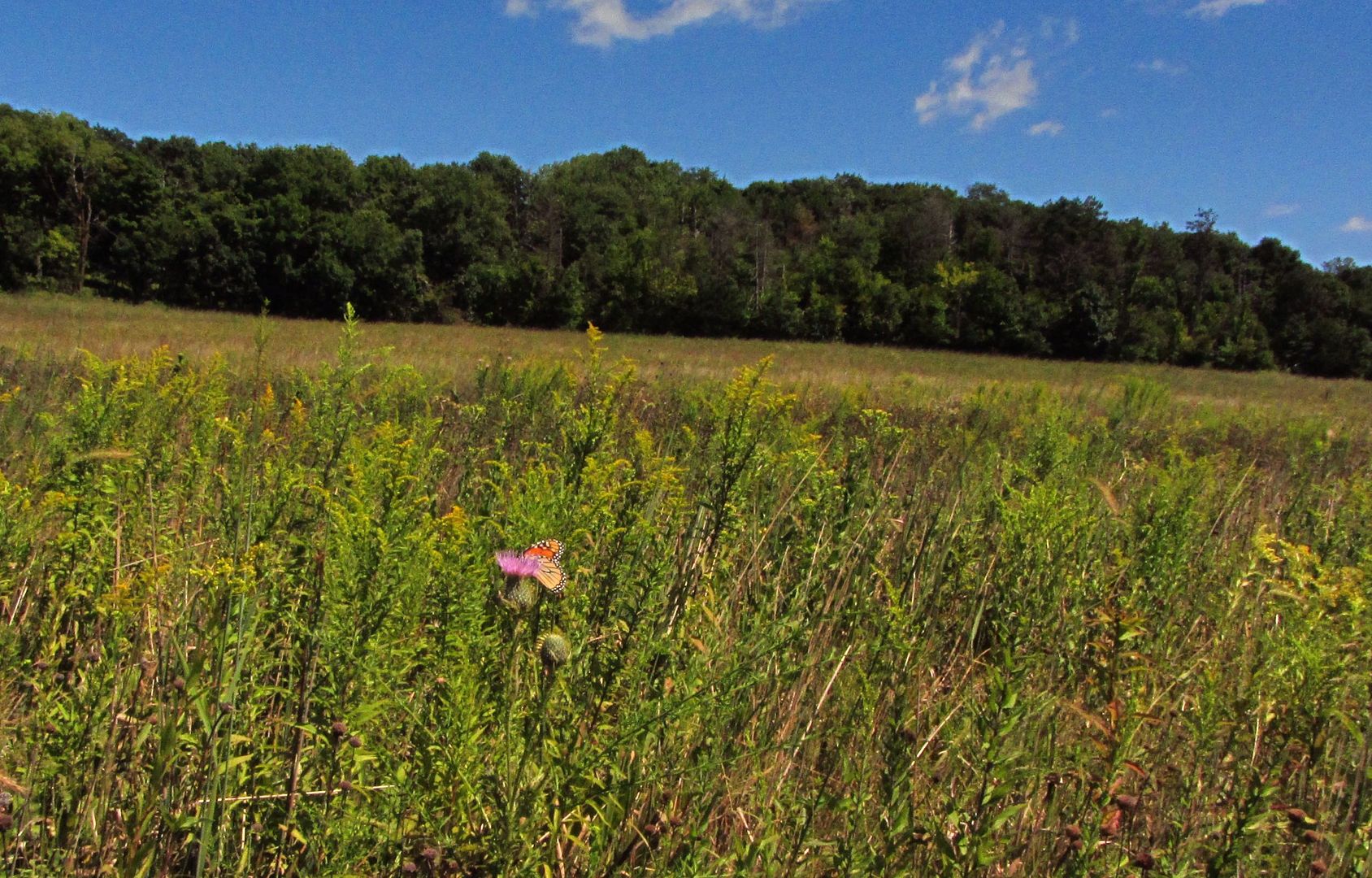 Beetles on tall thistle: