Republican State Representative Ken Rizer announced on Facebook Saturday evening that he "can't in good conscience" vote for Donald Trump and will write in Mike Pence for president. Rizer, who supported Jeb Bush before the Iowa caucuses, said he had "aggressively prosecuted Airmen who sexually assaulted women" and is aware of "groping" and "lewd conduct" his college-aged daughters face. He concluded that Trump's comments in a recently-released 2005 video "reveal an arrogant lack of character unfitting for a college undergrad, for an Airman, and most certainly for our Commander in Chief."
Rizer represents House district 68, a swing seat in the Cedar Rapids suburbs. He defeated Democrat Daniel Lundby in 2014, but Barack Obama outpolled Mitt Romney here in the last presidential election cycle by 54.45 percent to 44.08 percent. The latest voter registration numbers show the district contains 6,596 active registered Democrats, 6,103 Republicans, and 7,384 no-party voters. As of October 7, Democrats in Rizer's district lead Republicans in absentee ballots requested by 1,698 to 844 and lead in early votes cast by 672 to 221.
I enclose below more comments from Rizer this evening, a map of House district 68, and background on the incumbent and his Democratic challenger Molly Donahue. She's on the web here and on Facebook here.
The precincts in House district 68 also lie in Iowa Senate district 34, where Democratic State Senator Liz Mathis faces Rene Gadelha in a race both parties are targeting.
I will update this post as needed if other sitting Iowa Republican lawmakers announce that they won't support Trump. On the morning of October 8, State Senator Jack Whitver posted on Twitter, "The comments and actions by Donald Trump are inexcusable and despicable. He should step down." However, Whitver did not clarify whether he will vote for Trump, assuming he stays in the race.
Also on October 8, State Senator David Johnson issued a statement calling on Governor Terry Branstad and Lieutenant Governor Kim Reynolds to "condemn Trump publicly" now that "Trump's true anti-women sickness has been revealed." Johnson is the only Iowa legislator affiliated with neither party, having left the GOP in June to protest Trump's impending nomination for president.
Excerpts from Ken Rizer's October 8 Facebook status update:
Following is a response I gave to a question from a constituent moments ago regarding Trump. I'm not a politician, but a military man, so I'm not about to hide from the truth or spin my way into a pretzel. If telling the truth causes me to lose my seat in the Iowa House, so be it. At least I'll have my integrity.

"You are the first one to ask me this question since release of the latest Trump video. I've thought all day about how I would respond to this inevitable question.

Until now, I was ready to hold my nose and vote for Trump because I believed he would be better than Clinton. Given this recent release, I have decided I can't in good conscience vote for him.
As a base commander, I aggressively prosecuted Airmen who sexually assaulted women. As the father of 2 college-aged women, I know too well the challenges they're facing daily in regards to groping, lewd conduct, etc.

Trump's comments reveal an arrogant lack of character unfitting for a college undergrad, for an Airman, and most certainly for our Commander in Chief. Objectifying/groping women and hitting upon a married woman are just the latest in a long list of evidence testifying to Trump's lack of character.

Out of respect for women in my family and across America, I will be writing in Mike Pence. I take this action somberly, as I believe it will contribute to a Hillary presidency from which we may never recover. I can only hope and pray that our Constitution is more resilient than the inevitable continued assault upon it. This is the only way I believe I can maintain my integrity in the voting booth and maintain faith with the women in my life.
House district 68 covers part of Marion (a Cedar Rapids suburb), Bertram, Ely, and some rural areas in Linn County. Here's a closer view: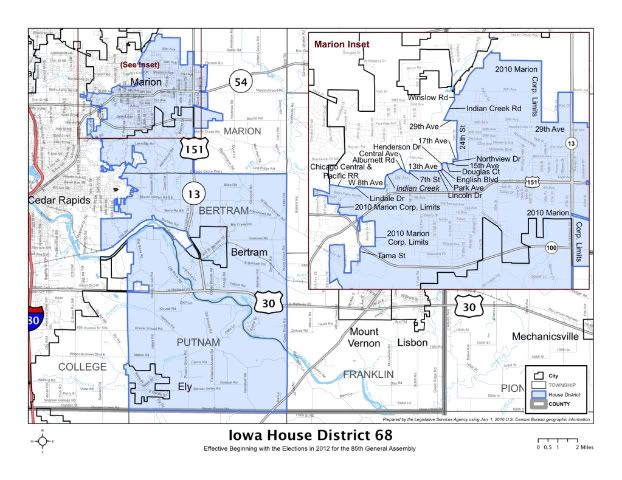 From Rizer's official bio on the Iowa House Republicans website:
Ken served for 25 years as an Air Force commander and fighter pilot where he commanded an F-16 fighter squadron, and F-16 fighter group at Andrews Air Force Base. At Andrews he was responsible for 60,000 military personnel and their families around the world, balanced a $252 million budget, opened the Department of Defense's first combined charter school, ensured security for all senior US and foreign officials, and procured a $30 million helicopter operations facility.

Ken is a graduate of the US Air Force Academy, earning a B.S. in Foreign Affairs. He was selected as an Olmstead Scholar, learned Swedish and attended the University of Stockholm in Sweden where he studied International Security. He completed an M.S. with Highest Academic Distinction in Strategic Studies at Air University's Air War College. He has also earned an MPA in Leadership, Politics, and National Security from Harvard's Kennedy School of Government.

Currently, Ken is the Senior Vice President of Operations for Goodwill of the Heartland. He is a published author, speaker, and military division-winning Ironman triathlete.

Ken and his wife, Cheri, have been married for 25 years and have four children.
From the "Meet Molly" page of DonahueforIowa.com:
Molly Donahue was born and raised in Cedar Rapids and is a graduate of Washington High School. She began teaching in the Cedar Rapids Community Schools in 1990. She has worked in a variety of schools as a behavior disabilities teacher and was the first teacher to work at Harambee House, an alternative program for students who had brought weapons to school. She was later an at-risk facilitator at McKinley Middle School. She currently is a behavior disorders teacher at Harding Middle School.

As State Representative, I will:

Be a champion for fully funding Iowa's public schools.
Ensure women earn the same pay for the same work
Raise the minimum wage
Make child care more affordable for working families
Stand up to Governor Branstad and reverse his dangerous privatization of Medicaid.