Sexual Assault Awareness Month ended today with no sign our political leaders are committed to addressing a problem affecting millions of Americans.
Republicans in the Iowa legislature just approved a 25 percent cut to victims assistance grants that support a wide range of programs, from crisis counseling and court advocates for assault survivors to sexual violence prevention education. The federal government may also reduce funding for victim services during the next fiscal year.
The long-term effects of rape and sexual assault are well-documented but mostly invisible.
Six months ago, Kathy Shelton offered a rare window onto the severe trauma many victims still experience years or decades after an attack. Her cries of pain and anger should be a call to action for everyone.

Shelton was the 12-year-old victim of a rapist Hillary Rodham defended in 1975. (I deliberately did not write "alleged" because there's no doubt in my mind Shelton was raped.)
Glenn Thrush interviewed the victim at length about the case in 2007 but did not reveal her identity in the Newsday feature he published several months later. Shelton came forward for the first time last August, speaking to the British newspaper Daily Mail.
'It's put a lot of anger back in me,' said Shelton, now 54, in an exclusive interview at her Springdale, Arkansas, home in August. 'Every time I see [Clinton] on TV I just want to reach in there and grab her, but I can't do that.' […]

'I don't think [Clinton's] for women or girls. I think she's lying, I think she said anything she can to get in the campaign and win,' Shelton said. 'If she was [an advocate for women and children], she wouldn't have done that to me at 12 years old.'
Shelton reached a much larger audience as a participant in a press conference for Donald Trump immediately before the second presidential debate. Two days after the "grab them by the pussy" videotape surfaced, Trump brought Shelton and three women who have accused former President Bill Clinton of sexual misconduct to join him in St. Louis.
That same weekend, Shelton signed up on Twitter, where during and after the debate, she posted powerful testimony to her profound and ongoing trauma.
I ask readers to set aside your feelings about Trump and any impulse you may have to "fact-check" Shelton's version of events. I am aware of the following:
· Hillary Rodham didn't want to defend Shelton's rapist.
· Contrary to claims by Shelton (and Trump), Clinton wasn't laughing at the victim or at her client's light sentence in the infamous interview from the 1980s.
· Clinton's "aggressive" defense of her client was not unethical, according to legal experts and the prosecuting attorney in the case.
· The defense attorney's role in any criminal case is to advocate for the defendant, even if that person committed a heinous violent act. Others involved with the justice system are supposed to focus on the victim's needs.
· Before Shelton knew about the affidavit Clinton had filed challenging her credibility, she told Thrush, "I have to understand that she was representing [Thomas Alfred] Taylor […] I'm sure Hillary was just doing her job."
· Most criminal cases, including most alleged rapes, are resolved through plea bargains.
· Shelton's mother advocated for the plea bargain that led to a lesser charge for Taylor, hoping "to avoid the humiliation of having her daughter testify in open court" during a criminal trial.
· Clinton didn't let the rapist "go free" with no jail time. After Shelton's attacker pled guilty to "unlawful fondling of a child under 14," the presiding judge "suspended four years of the [five-year] sentence and shaved another two months off the remaining year for time Taylor had already served in county jail."
· Clinton had a plan to address sexual assault including prevention and support for victims, whereas Trump has done nothing concrete on the issue and proposed a budget that could lead to major program cuts for assault survivors.
You may feel strongly that Shelton's accusations are unfair. But right now, we don't need to re-litigate how a young attorney handled a difficult case.
For today, focus on Shelton's reality and hear her voice.
Her horrific assault led to at least one suicide attempt during her teenage years (common for rape victims) and fueled depression and anxiety for much of her life. Her injuries left her unable to have children, but during the criminal investigation, "It felt like I was the one on trial," "asked the same questions by investigators again and again, as if they were trying to catch me in a lie."
Thrush reported that Shelton was "visibly stunned" to learn in 2007 that Clinton had filed an affidavit depicting the 12-year-old victim as "emotionally unstable with a tendency to seek out older men and to engage in fantasizing," along with a history of "false accusations" about other attacks. Shelton's GoFundMe page and public statements last year make clear that the new information was devastating and re-traumatizing.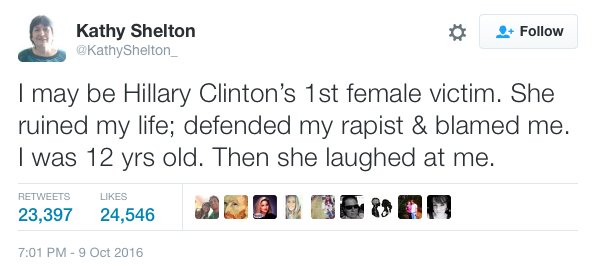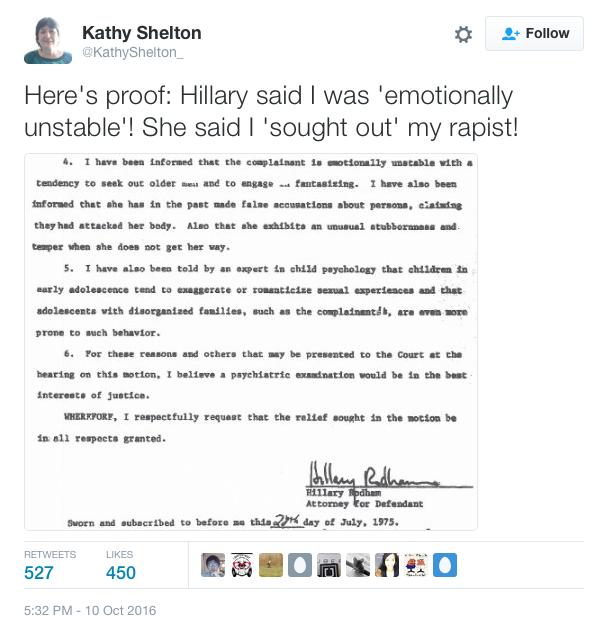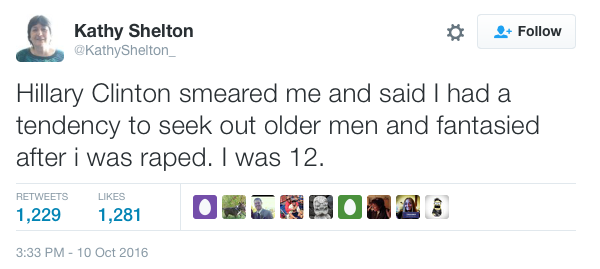 Another re-traumatizing moment for Shelton was learning that her attacker's attorney had supposedly laughed at her suffering. From her GoFundMe page:
I tried to put the case behind me but it was a struggle. For a while my life fell apart but I found my way back to God, and attend church regularly now. I was shocked to discover my attackers received such light sentences (Hillary got Taylor off with time served in the county jail, which was about two months [sic]). Still, for forty years, I kept my silence. That changed when I heard the audio tapes – audio tapes of Hillary laughing about my case. It's hard to describe how I felt at that moment. How could anyone laugh about what happened to me – a child violently raped? How could this same person claim to be a champion of women and children and be running for president? That was when I knew I had to speak out. I had to tell my story to the world.
Other people who listened to the same tapes reached a different conclusion: Clinton wasn't mocking the victim. But that doesn't negate Shelton's belief that Clinton "terrorized" her and laughed when recalling the events years later.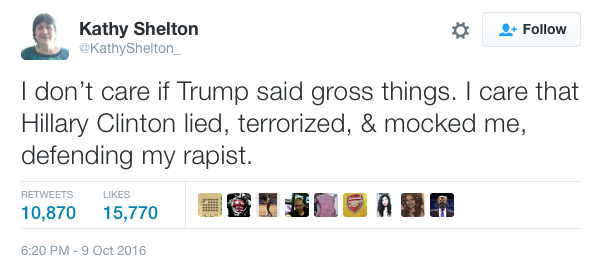 For Shelton, her ordeal was not an isolated case. She sees Clinton making a "career" out of abusing women and not caring about children who are raped.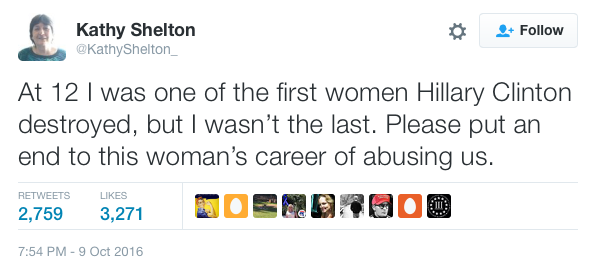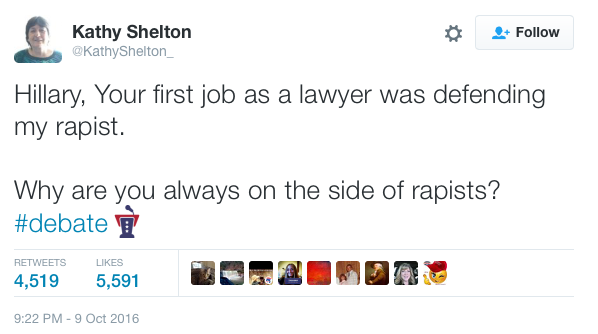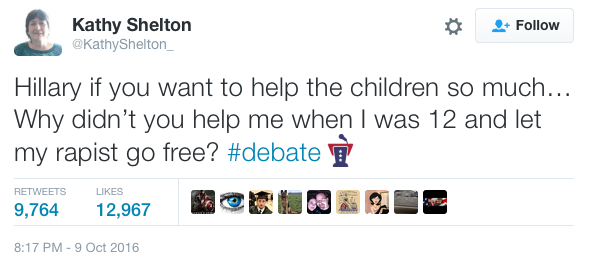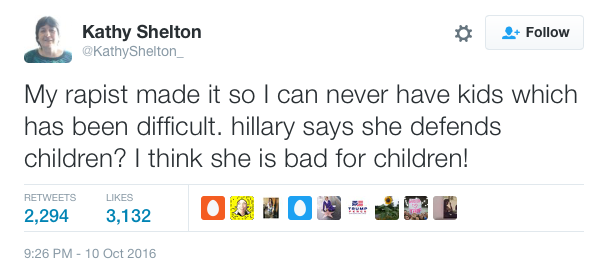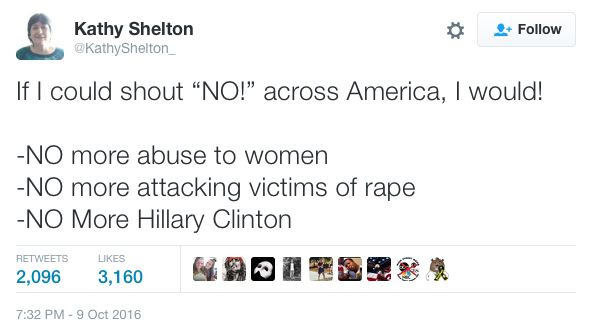 Shelton's words about her lifelong struggle convey the reality of trauma more vividly than reading statistics about the long-term impact of sexual assault.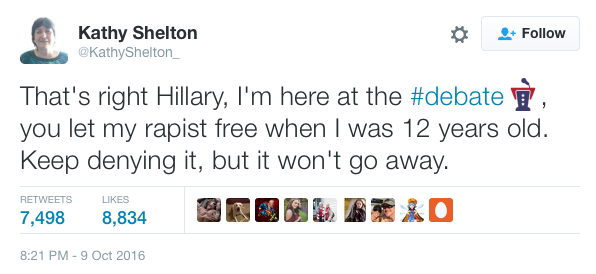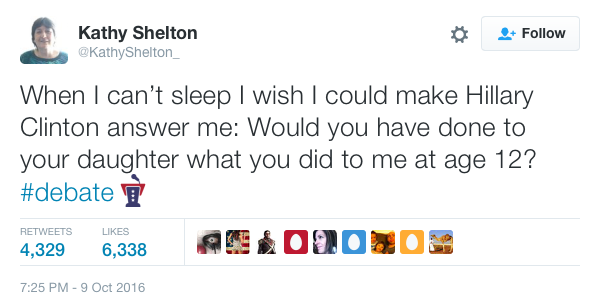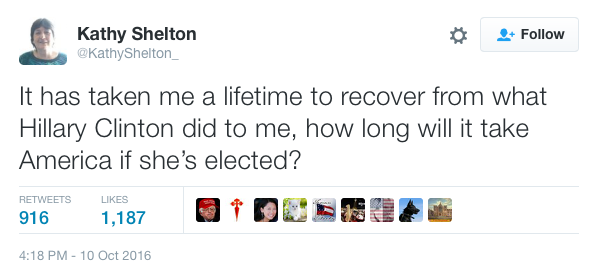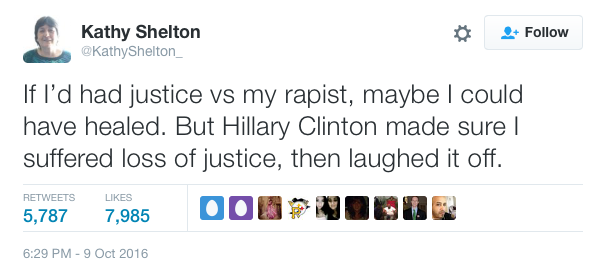 Many Democrats found it sickening when Trump repeated false claims about Clinton laughing at Shelton during the second presidential debate. You and I may see a candidate exploiting a crime victim to divert attention from his own history of touching women without their consent. But from Shelton's perspective, Trump expressed sympathy she never heard from Clinton.
My lawyer Candice took this when I met Mr Trump. He gave me a hug and said he's sorry for all I been thru. Hillary's never acted sorry. pic.twitter.com/ra76FmhULE

— Kathy Shelton (@KathyShelton_) October 15, 2016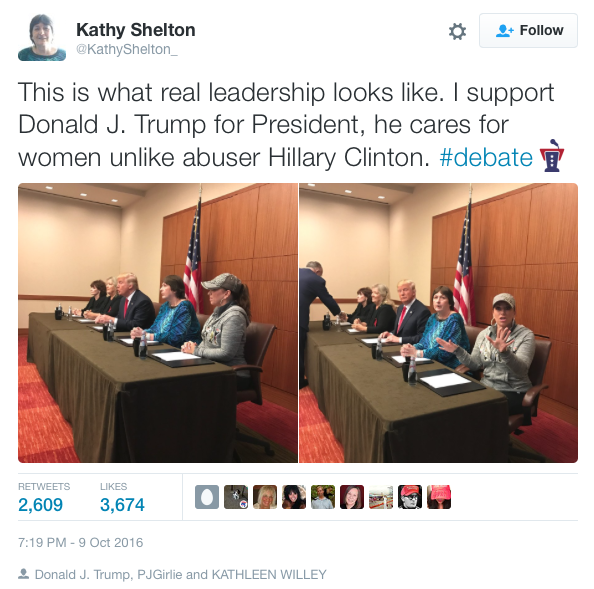 Shelton did several interviews with conservative media outlets during the final weeks of the presidential campaign and continued to post on regularly on Twitter. She promoted anti-Clinton ads that highlighted her case, recorded a YouTube appeal to voters, and shared a video of her attorney discussing the case.
Reading Shelton's words, I felt awful thinking that she assumed Clinton supporters like me don't believe her story or acknowledge her pain.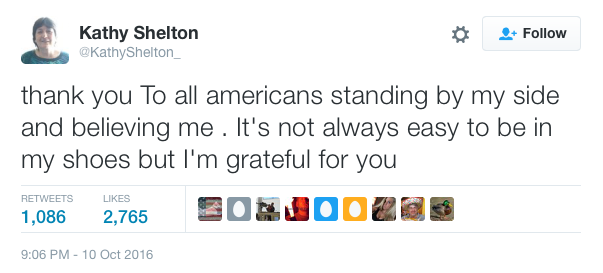 Shelton viewed the election outcome as validation.
I don't know what to say. After 40 years I feel like Hillary Clinton finally got what she deserved. Thank you to everybody who listened.

— Kathy Shelton (@KathyShelton_) November 9, 2016
She has not posted on Twitter since writing this on January 20.
I cried today watching the Inauguration and knowing we stopped Hillary from ruining more lives from all her corrupt lying ways

— Kathy Shelton (@KathyShelton_) January 20, 2017
While working on this post, I hoped to learn more from Shelton about the assistance offered to her following her assault. Reflecting on the experience now, what kind of counseling or other services does she feel might have helped her cope as a teenager or young adult?
Since Shelton recently wrote, "If I'd had justice, maybe I could have healed," I wondered how she views the deal that kept her from having to testify in open court. In retrospect, does she feel that a criminal trial would have been less traumatizing than the plea agreement that led to a light sentence for her rapist? How would she advise families facing a similar dilemma after a child has been assaulted?
Shelton's attorney, Candice Jackson, initially told me she would pass along my message, warning that her client was "extremely private" and rarely responds to media inquiries. I never heard back after submitting questions more than three weeks ago, despite several attempts to follow up. I don't know whether Shelton declined to answer or whether Jackson decided not to relay my e-mail. (I disclosed in our correspondence that I'm a Democrat who voted for Clinton, because I thought Shelton should be able to take that into account.)
I was unable to find out from Jackson whether anyone from the Trump transition team or administration reached out to Shelton after the election for insight on how to improve services for children who have been sexually assaulted, or services for adult survivors of childhood assaults. I would guess the answer is no. Trump's sole act related to this widespread societal problem appears to be signing a proclamation declaring April Sexual Assault Awareness Month.
The system failed Kathy Shelton 42 years ago. Her encounter with the police and court system left her feeling humiliated and defeated rather than on the path to recovery. Getting her the help she needed wasn't Hillary Rodham's job, but it should have been someone's job.
Even though "tough on crime" rhetoric has built up many political careers, the needs of sexual assault victims have always ranked very low. Look no further than the hundreds of thousands of untested rape kits across the country.
We need fully-funded, research-based programs to prevent sexual violence and better serve survivors of assault. In an ideal world, advocates would accompany all victims to hospital exams, police interviews, and court proceedings. Well-trained practitioners would work with survivors for months, if not years, incorporating relatively new techniques to healing trauma (like EMDR) as well as traditional talk therapy.
Instead, advocates have no idea what's going to happen to the Justice Department's Office on Violence Against Women. The Iowa Coalition Against Sexual Assault is bracing for a loss of funding that could leave as many as "10,000 survivors without crisis and advocacy services" next year. Rural offices are at greatest risk of closing, because in a mostly status-quo justice systems budget, Iowa House and Senate Republicans decided to make big cuts to victims assistance grants.
Short-changing sexual assault victims will incur terrible hidden costs. Kathy Shelton is living proof.