I'm excited to publish another series of photographs by Eileen Miller, who has contributed about a dozen spectacular editions of Iowa wildflower Wednesday over the years. For her first guest post here in 2017, she chose to feature Alumroot (Heuchera richardsonii) in the family Saxifragaceae, which she describes as "an intriguing native, perennial wildflower of tall grass prairies."
Eileen took all of the photographs enclosed below in April at Tipton Prairie, a 4-acre virgin prairie in Greene County. I took the picture at the top of this post during my first-ever visit to Tipton Prairie last month.
June is a perfect time to be out in nature, but a couple of cautionary notes: be sure to put on insect repellent if you go looking for wildflowers in Iowa woods, prairies, or meadows. Also, watch where you step, because 2017 seems to be a banner year for a few dangerous plants: poison ivy, poison hemlock, and wild parsnip. I don't know whether the mild winter or the timing of the spring rains were responsible.

Text by Eileen Miller:
Alumroot has a rosette of palmately lobed basal leaves. The petioles of the leaves are longer than the leaves. Emerging from the center of the rosette of leaves are several hairy, flowering stems.
Each stem terminates in a panicle of greenish flowers, each flower about 1/4th inch long. The calyx is bottle-shaped and divided into 5 lobes. The 5 petals lie within the calyx. Protruding beyond the calyx are 5 stamens tipped with orange anthers. The small pistil is inconspicuous.
The fruit consists of small capsules containing tiny unwinged seeds, which are dispersed by wind.
The blooming time for Alumroot is late April into June. Look for these interesting wildflowers in a prairie near you.
Emerging leaves of Alumroot (4/11/17)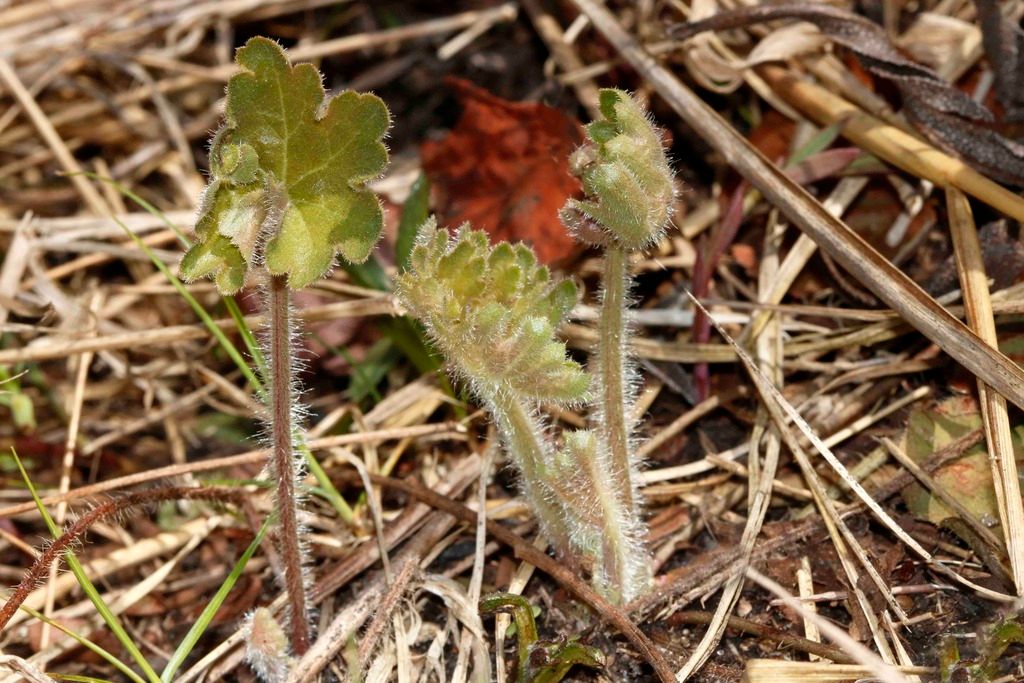 Developing rosette of Alumroot leaves (4/11/17)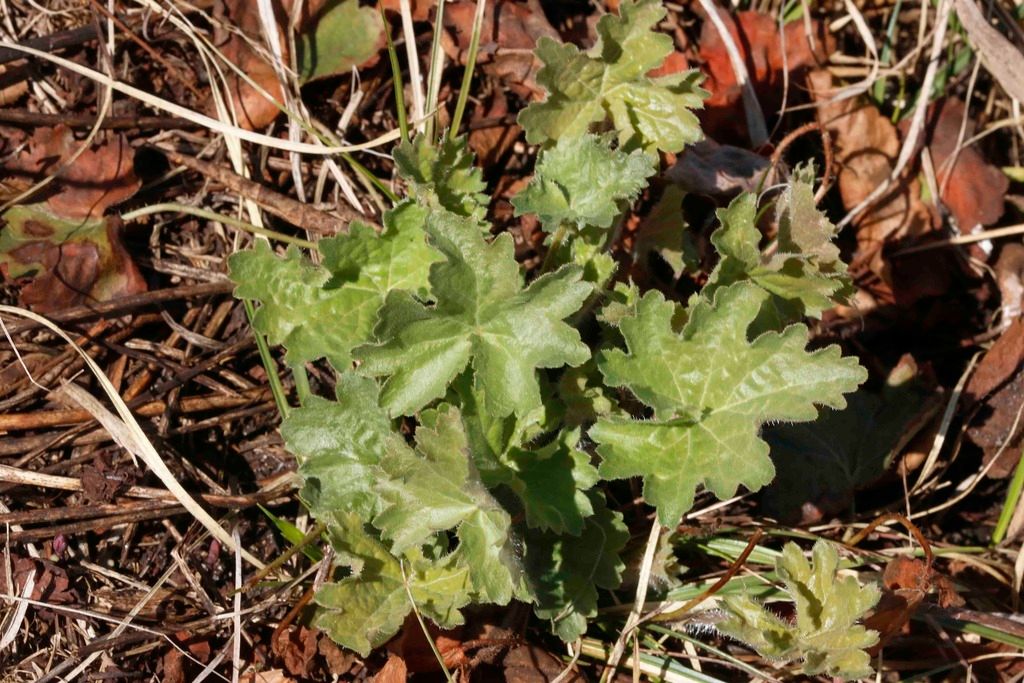 Emerging flowering stem with flower buds at the tip (4/17/17)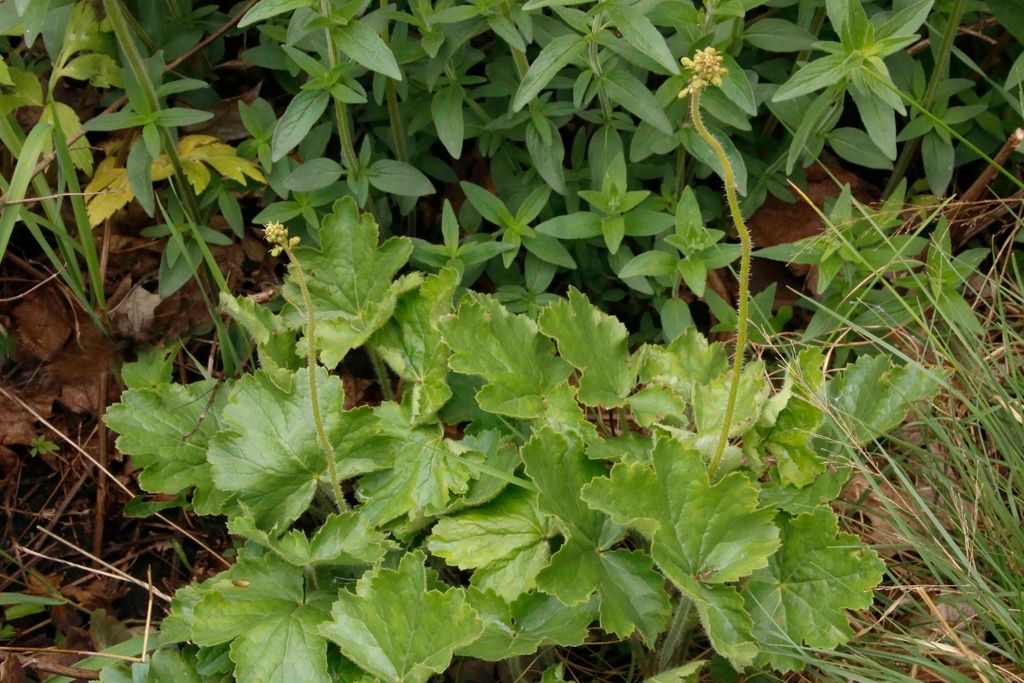 Panicle of Alumroot flowers (4/17/17)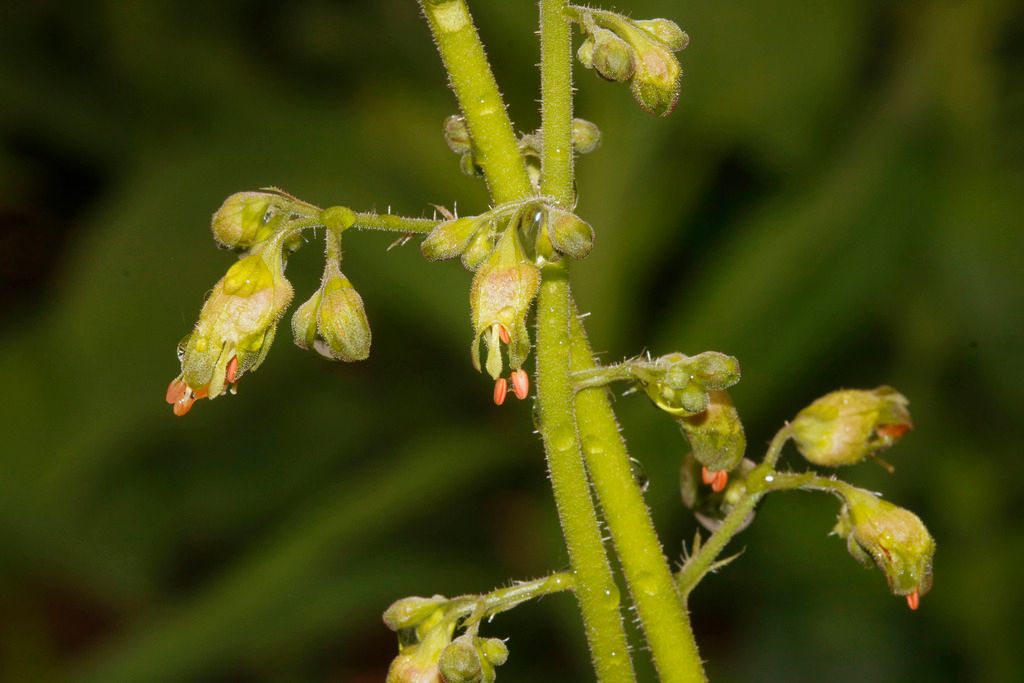 Closer look at Alumroot flowers (4/17/17)
Close-up of flowers. The flowers are pollinated by small flies, small bees in the families Halictidae, Colletidae…