We all have our biases, and one of mine is to focus on native plants for this blog's wildflower series. Over the last six years, Iowa wildflower Wednesday has featured approximately 160 species, only seven of which are non-native. But after Lora Conrad contributed a stunning post on Deptford pink (a European plant) in June, I decided to take some pictures of another beautiful plant that has become naturalized here.

Chicory (Cichorium intybus) has spread widely in North America. Sometimes known as common chicory, blue sailors, or blue dandelion, this member of the aster family can be found in all of the lower 48 states and most Canadian provinces. Settlers brought the plant here because its roots can be used for a coffee substitute. Inhabitants of various war-torn countries have turned to this plant when regular coffee became unavailable. Chicory coffee is still served often in New Orleans, where it gained popularity during the Civil War.
Although chicory is technically an invasive species, I don't see it displacing native plants the way garlic mustard or poison hemlock can. The Minnesota Wildflowers website says this plant "can encroach upon higher grade dry prairies." But according to the Illinois Wildflowers site,
Typical habitats include pastures, abandoned fields, areas along roadsides and railroads, grassy areas that are not mowed regularly, undeveloped real estate lots, and other waste areas. Occasionally, Common Chicory colonizes disturbed areas of natural habitats (e.g., early stages of a prairie restoration), but it is not a serious invader of such natural areas in the long run.
Pollinators like chicory, so I'm inclined to leave it be where I find it growing.
For botanically accurate descriptions of chicory foliage and flowers, see the Minnesota Wildflowers and Illinois Wildflowers sites.
The stems and leaves are unremarkable, but you can't miss the blue flowerheads once they start opening up, usually around July in Iowa.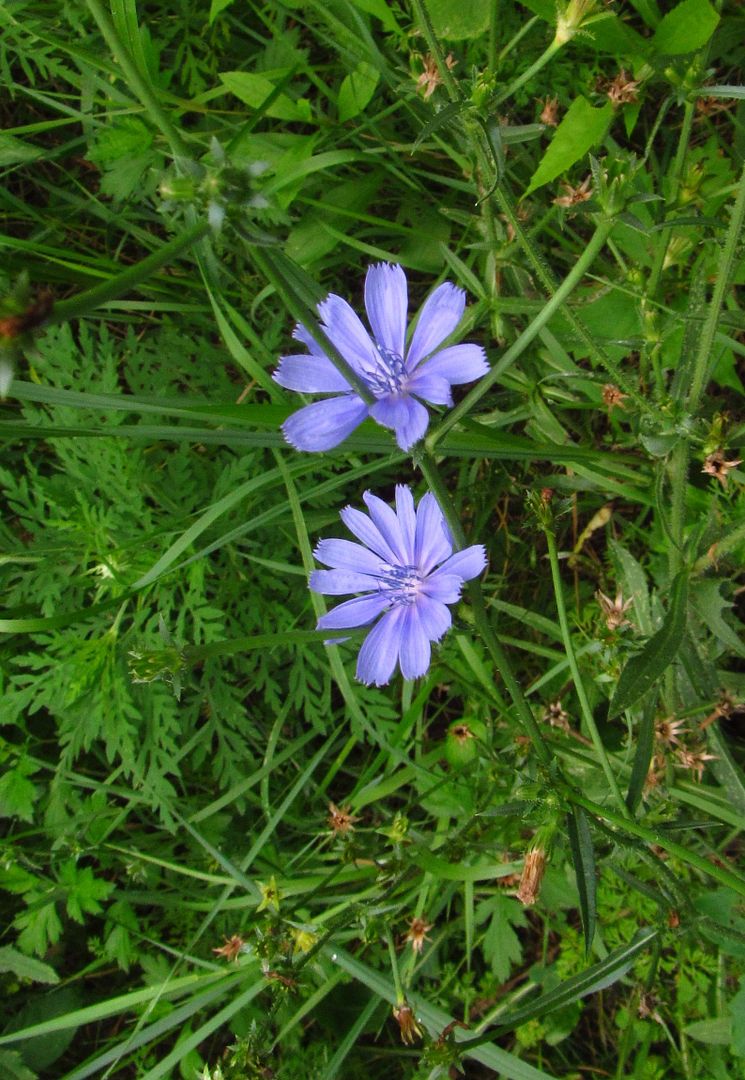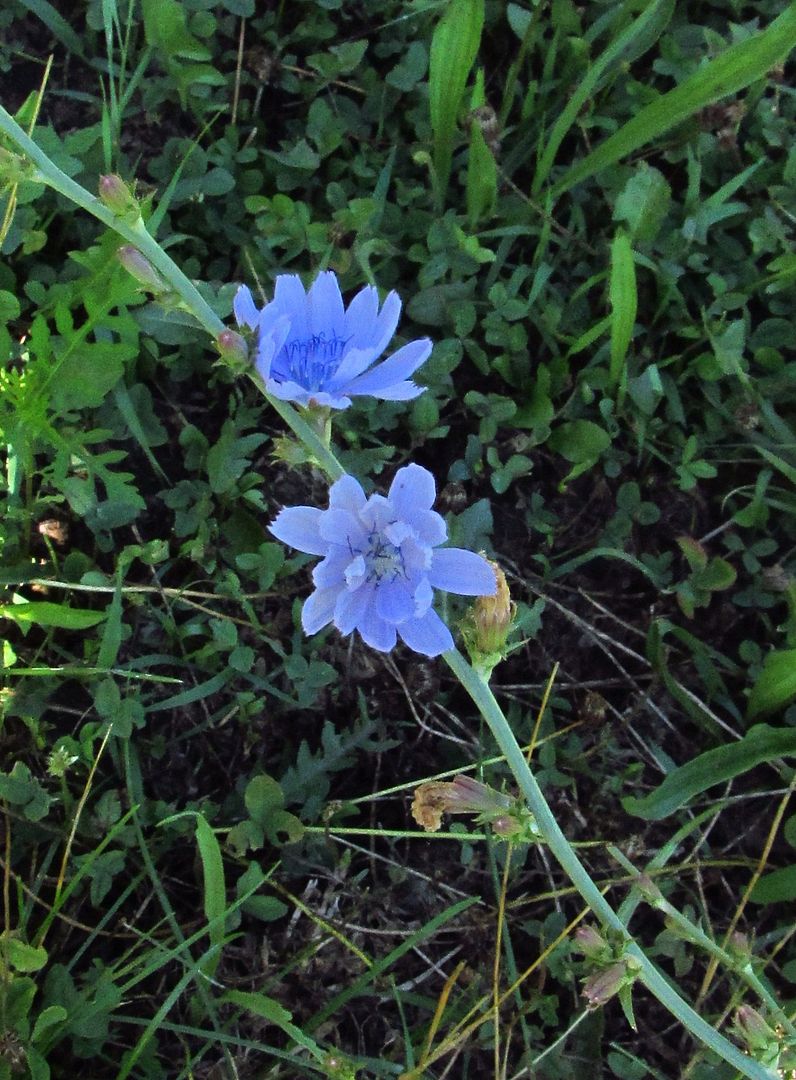 In theory, this plant can reach a height of six feet. I rarely see chicory plants more than two to three feet tall, possibly because the spots where I find it are mowed regularly. Many flowerheads are only inches off the ground.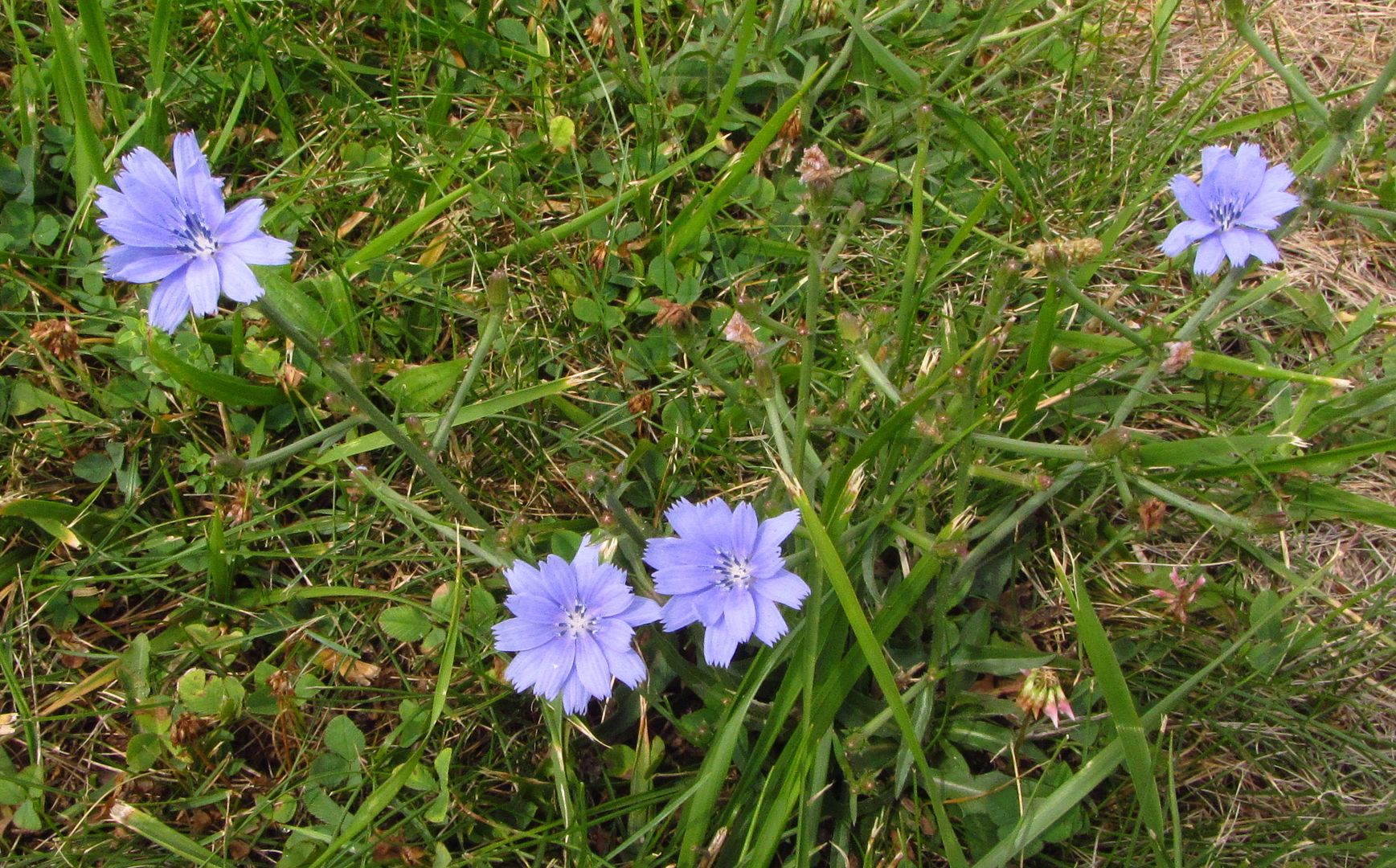 Chicory can thrive in very low-quality habitats. A huge colony was growing this summer near the Raccoon River in downtown Des Moines.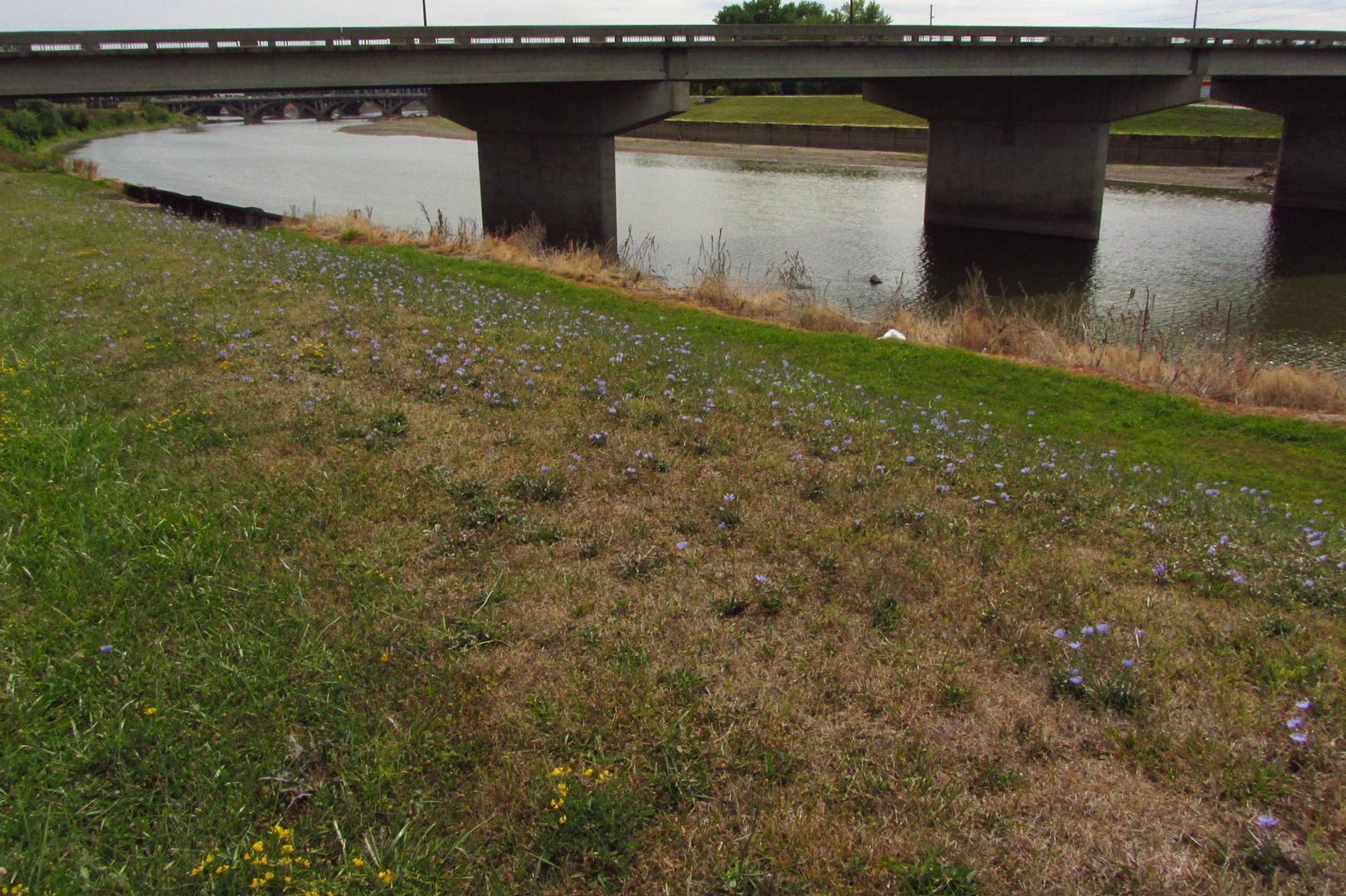 Because I usually see chicory on disturbed ground along a roadside or trail, I don't have many pictures of it near other Iowa wildflowers. Last year, a couple of feet from a sidewalk on Hickman Road (a busy street in Des Moines), I found some chicory flowerheads in front of tall boneset, which is blooming now in parts of Iowa.