Kim Schmett and Connie Schmett have filed additional paperwork with the U.S. Department of Justice to report political contributions since their October 2016 registration as foreign agents for the Kingdom of Saudi Arabia. The documents listed the three donations Bleeding Heartland discussed here as well as some previously unknown campaign contributions. While checking those out, I noticed some oddities.
No answer at the Schmetts' home number, where voice mail is not accepting new messages. Reached on his cell phone on November 20, Kim Schmett told me, "I'm not going to talk about it right now. It speaks for itself."
Trust me: it doesn't.

NEWLY-DISCLOSED DONATIONS
This amended report, signed November 11, states that Kim Schmett has made five political donations since registering as a foreign agent:
$100 to U.S. Representative David Young's campaign (10/14/2016)
$50 to the Polk County Republican Party (10/25/2016)
$150 to then Governor Terry Branstad's campaign (11/17/2016)
$250 to the Republican Party of Iowa (4/21/2017)
$100 to "Reynolds for Lt. Governor" (5/15/2017--Kim Reynolds changed the name of her campaign committee the same day the governor's powers devolved upon her in late May)
I knew about the first three on that list but not the others, because Iowa political parties and candidates won't file disclosures on this year's fundraising until January 2018.
Bleeding Heartland reported on November 7, "Currently available records do not show any political donations by Connie Schmett since she registered as a foreign agent."
That's no longer true. Her amended registration lists seven contributions since last October.
$50 to Iowa House Majority Leader Chris Hagenow's campaign (10/23/2016)
$50 to the College Republicans (1/23/2017)
$140 to Dallas County Recorder Chad Airhart's campaign (4/3/2017)
$100 to U.S. Senator Joni Ernst (5/25/2017)
$1,300 to the Republican Party of Iowa (5/30/2017)
$50 to the College Republicans (6/6/2017)
$150 to Kim Reynolds (8/28/2017)
I don't know why the Schmetts reported political contributions made after March 30. They were "terminated" as foreign agents on that date, according to paperwork filed by Qorvis MSLGROUP and searchable information on the government's Foreign Agents Registration Act website.

That's only one of the questions I had hoped to ask.
CONNIE SCHMETT AND CONNIE RUSSELL
While working on this post, I searched the Iowa Ethics and Campaign Disclosure Board's website for donations from either Schmett. That online database goes back to 2003 and turned up more than 80 contributions from Kim Schmett but only two from his wife: $45 to the Polk County Republican Women's Club in March 2014 and $125 to Chris Hagenow's campaign in June 2016.
That discrepancy didn't strike me as noteworthy. I figured that for whatever reason, Kim Schmett writes the political checks in their household.
But hang on: how did I miss Connie Schmett's $50 donation to Hagenow last October, which she just reported to the Justice Department's National Security Division?
I looked on Hagenow's last filing before the 2016 general election and couldn't find any contribution from Connie Schmett. (His report covering June 2016 did list her $125 gift, which appears on the IECDB database.)
There is, however, a $50 gift recorded on October 22, 2016 from "Connie Russell," who resides at 10141 Lincoln in Clive. That's the Schmetts' home address.
When I searched for Connie Russell, more than 20 contributions popped up.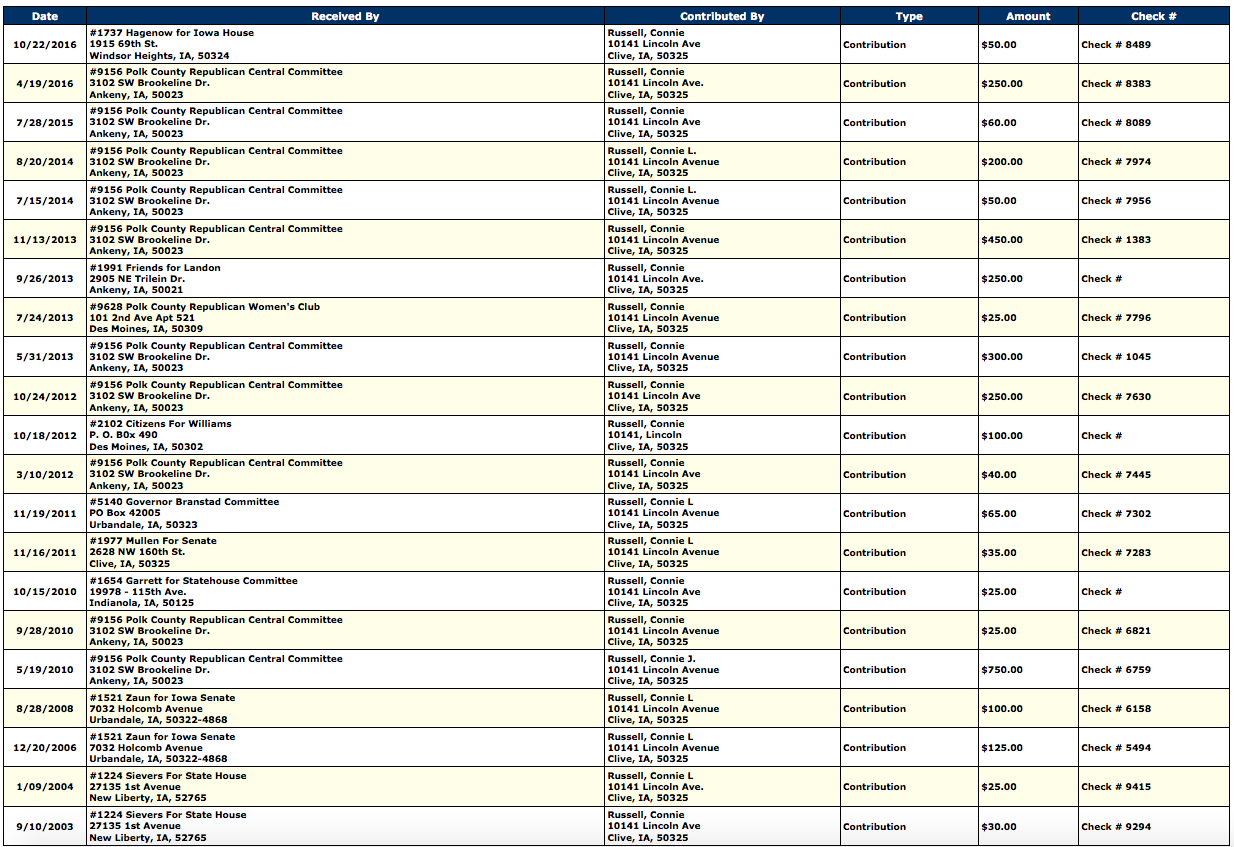 Connie Schmett is registered to vote under her married name. She stood for a 2012 Republican National Convention delegate slot under her married name. She sought the GOP nomination for an Iowa Senate seat under her married name. Branstad appointed her to state boards under her married name. The Iowa Senate confirmed her under her married name. Official state websites list her under her married name. She registered as a foreign agent under her married name.
Why has she been making most of her political contributions under a different surname for all these years?
I had hoped to ask, but Kim Schmett cut off our conversation, and no one answered the home phone.
Federal disclosures indicate that Connie Russell gave $500 to the Republican Party of Iowa in 2005, listing "All-Ways Best Cleaning" as her occupation. Yet she had registered that business with the Iowa Secretary of State's Office as Connie Schmett.
According to the Open Secrets website, the $1,300 gift to the Republican Party of Iowa this May (mentioned on Connie Schmett's revised FARA form) also came from Connie Russell.
Since I've never seen any public reference to Connie Schmett under another surname, her habit of donating to partisan organizations and candidates as Connie Russell looks like an attempt to keep her political giving below the radar. UPDATE/CORRECTION: Readers alerted me to the fact that Schmett's maiden name appears to be Bishop; see also here. I had assumed Russell was her maiden name after seeing a 2006 donation from "Connie Russell Schmett" to Congressional candidate Jeff Lamberti (see the bottom of this page). LATER UPDATE: A Connie L. Russell was divorced from Harold William Russell in Marshall County in 1992. UPDATE/CORRECTION: That was a different Connie Russell. Connie Schmett later told ethics investigators that she was divorced from her first husband during the 1980s.
I wondered whether the practice was legal. Larry Noble, senior director and general counsel at the Campaign Legal Center, responded by e-mail,
I am somewhat limited in my ability to answer since there are several state law issues and I'm not familiar with Iowa law.

The first would deal with defining a legal name after marriage. I think the question of what is your legal name is determined under state law. Also, I don't know if Iowa has a law specifically prohibiting the use of a false name on a contribution. (The federal law does.) Even if not, there could be a state law generally prohibiting filing false information with the government.

However, as a general rule, a person should provide their legal name when making a contribution. If she changed her name when she got married and has consistently used her married name for all legal purposes, then she should have used her married name when reporting the contributions. One interesting question is what name appeared on her checks? Does she have a checking account with her maiden name?
I assume but have not confirmed that Connie Schmett maintains a checking account as Connie Russell. Campaigns and committees typically record the donor's name and address as provided on the check.
IECDB executive director Megan Tooker told me no one had ever asked her, nor has the board ever formally addressed, whether a woman who uses her married name in most contexts may make political donations under her maiden name.
In your hypothetical, do you know which last name is her legal name? If that question were posed to me, I would recommend the contributor give her legal name to the campaign, which I hope is also the name she registers as a voter. [...]

Iowa Code section 68A.402A requires committees to disclose the "name and mailing address" of each person who gives over a certain threshold. It's $25 for all candidates and PACs, $50 for county parties and $200 for state parties. Similarly, section 68A.501 says it is illegal for a person to give a contribution in excess of $25 without also providing the person's "name and address." The statutes don't say "legal name" and we obviously see lots of first name variations (e.g. Bill for William, Jenny instead of Jennifer, etc) which we accept.
I have been unable to ask Connie Schmett why she uses a different surname for almost all campaign contributions but her married name for all other political and professional activities. Whatever her intent, the effect is to skirt the disclosure rules. A search under the name everyone knows her by turns up only a small fraction of her giving.
The curiosities don't end there.
REPORTED DONATIONS NOT RECORDED BY CAMPAIGNS
Ryan Foley of the Associated Press noticed that the Schmetts co-hosted a fundraiser for Reynolds in September. The governor's campaign had planned to donate $100 received from the Schmetts to a charity helping survivors of the 9/11 attacks. (That group rejected the offer.)
Were the newly-disclosed $100 gift from Kim Schmett and $150 from Connie Schmett additional donations? And if so, what will the Reynolds campaign do with those funds?
Spokesperson Pat Garrett told me the governor's campaign has received only one check from the Schmetts, for $100 on May 15. "This contribution will be returned."
I didn't realize you could co-host a Republican fundraiser without writing a check. Was Garrett sure another $150 hadn't come in on August 28? I mentioned that the donation might appear in the records as coming from Connie Russell, who lives at 10141 Lincoln in Clive. Garrett was certain: "the campaign has received a single check from the Schmetts, $100 on 5/15/17." (MARCH 2018 UPDATE: Documents provided in response to a records request indicate Connie Schmett wrote a check to the Reynolds campaign that "was never cashed.")
I then looked for confirmation that Connie Schmett gave Ernst $100 on May 25. Though state and county candidates don't have to file campaign finance reports until January 2018, federal candidates must file quarterly.
The second-quarter filing for Ernst's campaign committee doesn't list any contribution from Connie Russell or Connie Schmett. Maybe she gave to the "Jobs Opportunity and New Ideas PAC"? No, the JONI PAC's July filing with the Federal Election Commission shows no gift from Connie Russell or either Schmett, or anyone living in Clive for that matter.
Staff for Ernst have not responded to my inquiry about Connie Schmett's possible donation and whether the senator would return such a gift.
UNCORRECTED ERRORS ON THE REGISTRATION FORMS
Kim Schmett told me earlier this month that his attorneys would file amended returns if necessary to comply with federal law.
Although the Schmetts appear to have reported all political contributions made since registering as foreign agents, I have not found evidence that they corrected other inaccuracies on their initial registrations. The AP's Foley reported on November 7,
Kim Schmett may have issues of his own. He listed his occupation as a "consultant" when he registered as a foreign agent —omitting his role as an $80,000 per-year administrative law judge whose board receives 96 percent of its budget from the federal government.
In addition, the FARA short forms for Kim Schmett and Connie Schmett anticipated receiving a fee of $25,000 each for their work on behalf of Saudi Arabia. As first reported by Brian McGlinchey at the 28Pages blog, Schmett & Associates eventually received $101,500 from Qorvis MSLGroup.
Federal law appears to require an amendment to a foreign agent's registration under such circumstances (emphasis added).
§ 5.202 Short form registration statement.

(e) The short form registration statement shall be filed on Form OBD–66. Any change affecting the information furnished with respect to the nature of the services rendered by the person filing the statement, or the compensation he receives, shall require the filing of a new short form registration statement within 10 days after the occurrence of such change. There is no requirement to file exhibits or supplemental statements to a short form registration statement. (28 U.S.C. 509 and 510; 5 U.S.C. 301)
Kim Schmett refused to tell me last month how much of the $101,500 fee to the couple's consulting firm was for each spouse's work. Regardless, the money came in months ago, so that ten-day deadline has long expired.
I was unable to ask whether the Schmetts have amended their short forms to disclose the change in their compensation or Kim Schmett's full-time work for the state as chair of the Employment Appeal Board.
I haven't heard back from Tooker on whether Connie Schmett revised this year's state financial disclosure form to mention her consulting work or filed a disclosure for 2014, "which never occurred after she joined the Health Facilities Council due to an apparent oversight."
I will update this post as needed.