State Representative Chip Baltimore was jailed this morning and charged with drunk driving and possession of a weapon, the Ames Tribune reported. Ames police pulled the Republican lawmaker over while responding to a report about a reckless driver.
Ames police Sgt. Mike Arkovich said a Smith & Wesson pistol was found in Baltimore's vehicle as it was being impounded. While Baltimore had a permit to carry, the permit becomes void once a person's blood alcohol exceeds 0.08 percent, Arkovich said. He said Baltimore's blood alcohol level was 0.147 percent.
After appearing in court, Baltimore told KCCI-TV's Tommie Clark, "Obviously, it's not my proudest moment." He declined to say whether he thinks he should remain chair of the House Judiciary Committee, saying, "That's not my determination to make."
In a written statement, Iowa House Speaker Linda Upmeyer said, ""Drunk driving is unacceptable behavior for anyone, let alone a state legislator. We will work through this issue and deal with it quickly. We will also work with Representative Baltimore to get him the help and support that he needs at this time."
GOP Representative Erik Helland faced few political consequences after his OWI arrest in June 2010. His colleagues elected him House majority whip later the same year.
A shocking winner in the 2010 Republican wave by just 23 votes, Baltimore was re-elected by comfortable margins to his second, third, and fourth terms. The map drawn after the 2010 census added Greene County to House district 47 and took out the corner of Dallas County including Democratic-leaning Perry (see map below). Donald Trump carried House district 47 by about 2,600 votes in 2016, 55 percent to 38 percent for Hillary Clinton. Baltimore won his race with more than 60 percent of the vote.
UPDATE: I had forgotten that Baltimore supported legislation in recent years to combat drunk driving. Added more details on that below.
Attorney Thomas Frerichs asked why Baltimore isn't facing a Carrying Weapons charge "based upon the invalidation of his carry permit." Section 8 of last year's omnibus gun law changed Iowa Code language on possession of firearms while under the influence. Whereas the old language said a gun permit was "invalid" if the person was intoxicated, the new language says an intoxicated person with a gun permit commits a serious misdemeanor if he or she carries the dangerous weapon "on or about the person" or "within the person's immediate access or reach while in a vehicle."
LATER UPDATE: Added below background on David Weaver, a farmer who announced on January 18 that he will run in House district 47 as a Democrat.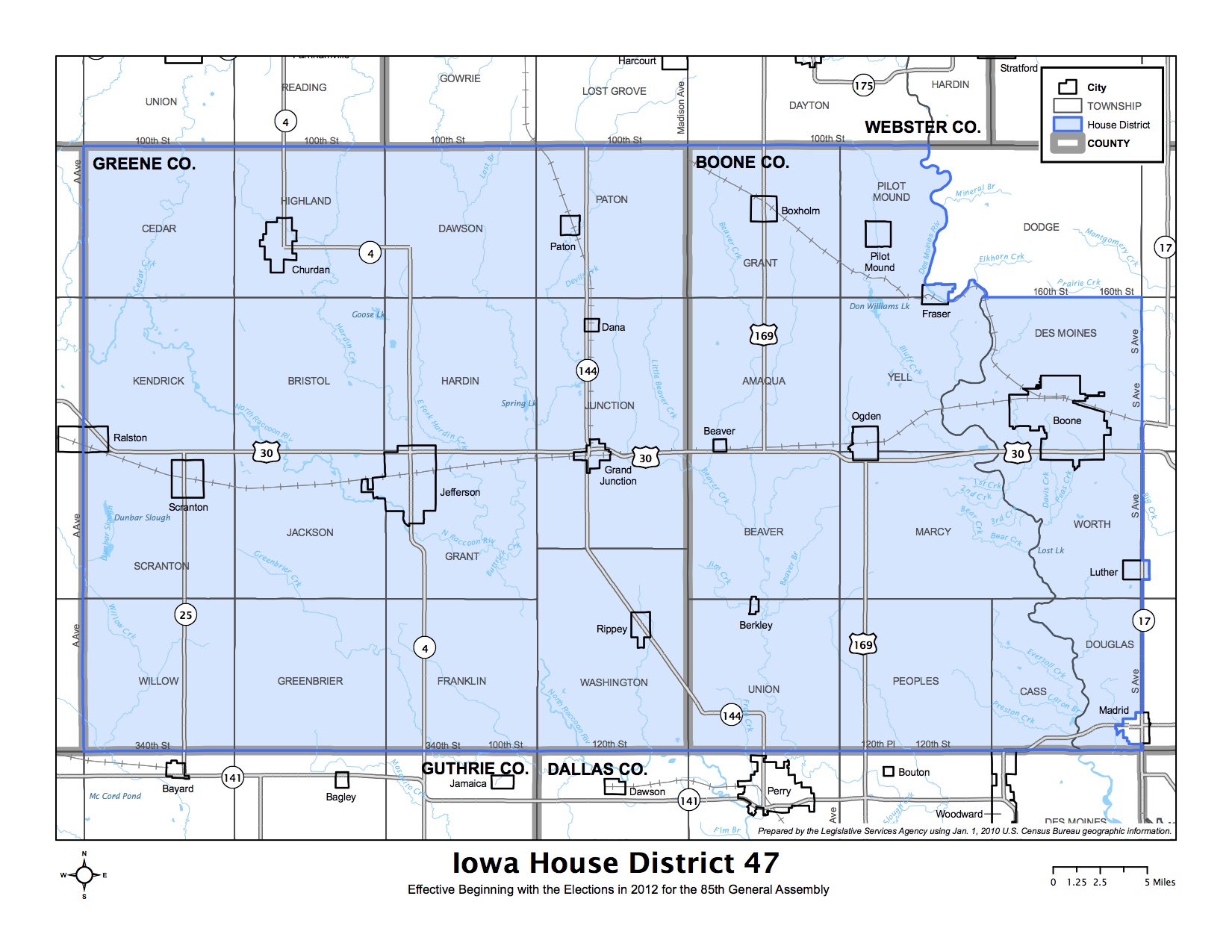 UPDATE: William Petroski and Kathy Bolten reported for the Des Moines Register,
Baltimore has presided over discussions on proposals to curb drunken driving. Two years ago, lawmakers began considering a bill to required people convicted of an alcohol-related offense, including driving while intoxicated, to check in at a law enforcement office twice a day and take a breath test. Those who tested positive for alcohol or some other drug would face immediate consequences, including being taken to jail.

The bill failed to win final approval in 2016, but last year a version of the proposal was passed by lawmakers and signed into law by Gov. Terry Branstad. The program, however, will only be used in Iowa counties that volunteer to implement it.

Numerous attempts have been made in recent years to require all people arrested for driving while intoxicated to install ignition interlocks in their vehicles. When a driver with alcohol on their breath blows into the device, the vehicle won't start. The proposal, which is expected to be proposed again this year, has never made it the floor of both the Senate and House for debate.

In late 2016, Baltimore told The Des Moines Register that he didn't know of a lawmaker who was "pro-drunk driver."

"I think there's a big group of caring people who want to make sure we keep drunk drivers off the street," he said. "There's just disagreement on how we are going to do that and who is going to pay for it."
Iowa House Democrats press release, January 18:
Rippey, Iowa – Rippey native and Boone County farmer David Weaver announced his candidacy for State Representative to serve Iowa House District 47, which includes most of Greene and Boone Counties. The seat is currently held by Republican Chip Baltimore.

"I'm incredibly proud to have been born and raised in Iowa and I'm running for the Iowa House to bring positive change to our state and get us moving in the right direction again," says Weaver. "I'm running to fund our public schools, raise wages in our local communities, and to help fix our broken health care system."

Weaver graduated from East Greene High School in 1988 and went on to Central College. He later returned to his roots in Boone and Greene Counties to farm the same land his grandparents farmed. Weaver comes from a long line of Greene County public servants, including his mother, Mary who served as President of the East Greene School Board and his grandfather, Lee Dorris, a longtime Greene County Supervisor. His great-grandfather, Royal John Higgins, served as the Iowa House Representative for Greene County from 1925-27.

"I'm proud of my family's public service. They served at a time when politics was different. People worked together to do what was best and it didn't matter if you were a democrat, republican or independent," said Weaver. "I think it's time we start having a conversation again instead of shouting past each other. If we bring people together to discuss solutions to our growing wage disparity, our health care crisis and our mismanaged state budget we can improve Iowa for everybody, regardless of political party."

Weaver is married to his wife, Emily and they have one daughter who attends public school in Ogden. David is a member of the Iowa Farm Bureau. He is involved with the Iowa Soybean Association, regularly testing tile outlets for water quality, as well as testing corn stalks for nitrate levels. David is also a member of Practical Farmers of Iowa; he typically plants 20% of his acres to cover crops.
UPDATE: A Des Moines Register editorial on January 22 discussed how Baltimore benefits from the gun law Republicans passed last year.
Before this law went into effect, carrying a firearm while intoxicated was an aggravated misdemeanor, punishable by up to two years in prison. An OWI conviction provided clear grounds for revocation of a permit to carry a weapon.

The new law, which went into effect July 1, cuts in half potential jail time and allows drunken drivers the ability to keep their permits to carry handguns.

At the time, one Iowa sheriff questioned the change, baffled that state legislators recognized the danger of operating a vehicle while drunk but not carrying a lethal weapon while intoxicated.

"We know alcohol blurs judgment," said Black Hawk County Sheriff Tony Thompson. "I'm not sure what the driving force was behind watering that down."