Longtime Republican power-broker Doug Gross published two Des Moines Register guest columns within a three-month period criticizing a planned Polk County program to assess the risk of releasing defendants before trial. The BrownWinick partner did not disclose to the newspaper's editors that his law firm's lobbying team represents Lederman Bail Bonds, a company that would be adversely affected if fewer low-risk offenders are required to post a cash bond to get out of jail.

Polk County District Courts began using the Public Safety Assessment for criminal defendants earlier this month. The Laura and John Arnold Foundation developed that tool "after researchers analyzed more than 1.5 million cases from more than 300 U.S. jurisdictions," a January 16 Judicial Branch statement explained.
Researchers tested each risk factor, and the nine predictive factors considered by the PSA are all gender- and race-neutral.

"The PSA will provide our judges with statistical information in order to fairly balance the defendant's interest in release against the risk the defendant will fail to appear for court or commit an offense while the case is pending," Fifth Judicial District Chief Judge Arthur Gamble said. "Judges are not bound by the PSA recommendation and will continue to exercise independent judgment. But the use of a validated risk assessment tool along with the opportunity for a level of supervision on pretrial release commensurate with the risk should serve to reduce failure to appear and improve public safety."

Polk County's use of the PSA in pretrial hearings is the result of a statewide collaboration between the Iowa Judicial Branch, the Iowa Department of Corrections, the local Judicial District Department of Correctional Services, the State Public Defender, and the County Attorney's Association. More Iowa courts will begin using the PSA in pretrial hearings in the near future.
I enclose below an Infographic on the assessment tool and and further details on the Polk County project. You can learn more from this Iowa Department of Corrections fact sheet or the Arnold Foundation's four-page document explaining the risk factors and formula.
Gross doesn't practice criminal law, nor has he been deeply involved in criminal justice reform discussions. Nevertheless, he warned in this November 15 guest commentary for the Des Moines Register, "Big Data has come to the criminal justice system disguised as reform. And Iowans should be wary." The column contained several false claims.
• Gross charged that reformers want "computers, rather than judges and prosecutors" to make the final call on pretrial detention. But the risk assessment tool was "not intended to, nor does it functionally, replace judicial discretion."
• Gross asserted the pilot project would produce a "needless and avoidable increase in failure-to-appear rates." But the tool used a huge dataset to identify "the best predictors of whether a defendant will commit a new crime, commit a new violent crime, or fail to show to court."
• Gross claimed the program would waste court time and resources, along with taxpayer money. In reality, "the anticipated savings from the use of the PSA tool should far outweigh the initial investment. Several studies have shown that once implemented, evidence-based pretrial decisions lead to reduced jail and eventually prison populations."
Gross didn't mention that Lederman Bail Bonds, which could lose customers if Iowa judges release more defendants before trial without bail, has retained the services of three BrownWinick lobbyists.
Lettie Prell, retired research director for the Iowa Department of Corrections, pointed out some of the flaws in Gross's analysis in her own guest commentary, which the Register published on November 21. Gary Sherzan, retired director of the Fifth District Department of Corrections, also refuted Gross's arguments in this December 4 letter to the editor.
Money does not measure risk. What money does do, however, is allow a high-risk defendant who has the ability to raise cash to be released while a low-risk defendant remains in jail because he does not have that same ability.

It's not a question of fairness, it's a question of public safety. The defendant's ability to raise cash and buy his or her way out of jail before seeing a judge in the morning does not measure risk and ensure public safety. I would argue it threatens it!
Gross wasn't ready to let the matter drop. He submitted another column responding to Prell and Sherzan, which the Register published on January 10. He pointed to two cases in which computer assessment tools influenced the release of defendants who allegedly committed murders while out of jail. Although the PSA is designed to prevent racially biased decisions by not factoring in the race of the defendant or crime victim, Gross argued that "feeding computers with biased historical data about prior convictions, arrest records, and other data […] may only perpetuate prior bias, not eliminate it." In closing, he wrote, "We already have a working criminal justice system that does not have these risks."
Again, Gross did not inform readers that his law firm lobbies for Iowa's largest bail bonding company, which profits from the current system.
I asked Des Moines Register opinion editor Lynn Hicks whether Gross disclosed BrownWinick's business relationship with Lederman Bail Bonds when submitting his editorials, or whether anyone asked if he or a BrownWinick client had a financial stake in the issue. Hicks replied by e-mail on January 21,
No, Doug Gross did not disclose any client relationship in this matter, and I did not ask. I assumed he wanted to weigh in on a matter of public interest, as he has on other matters over the years.

We expect op-ed writers to disclose any relevant interests they have, and we have asked people to do so if it's not obvious.

Before your question, I had been planning to update our submission guidelines. Our policies will follow USA Today's guidelines, which state:

If you or a business, trade group or other institution with which you are associated stands to gain financially or in any other way from your column, you should disclose that information to us in detail. In most cases, it should also be included in the body of the piece or in the author's biographical information.
Hicks later confirmed the Register had revised its submission guidelines for guest authors. He added a notification at the bottom of each column by Gross stating, "BrownWinick represents Lederman Bail Bonds." Ideally, the disclosure would have appeared in the body of the piece at the time of publication. Then readers could have taken the connection into account when balancing Gross's opinion against the views of professionals in law enforcement and the judiciary, who approved the pilot program.
Looking over the websites of other major Iowa newspapers, I haven't found similar guidance to disclose potential conflicts of interest. With the exception of the Register and the Cedar Rapids Gazette, most Iowa newspapers don't have a public page laying out expectations for guest commentators. Jon Alexander, editorial page editor of the Quad-City Times, told me that newspaper routinely asks authors about conflicts and posts a disclosure if the author has a financial stake in the topic at hand.
All Iowa newspaper editors would do well to adopt a similar policy, especially when (like Gross in this case) an author is writing about a subject outside his or her field of expertise.
Gross did not respond to messages by phone or e-mail asking about his failure to disclose his firm's ties to Lederman Bail Bonds when commenting on Polk County's new risk assessment tool.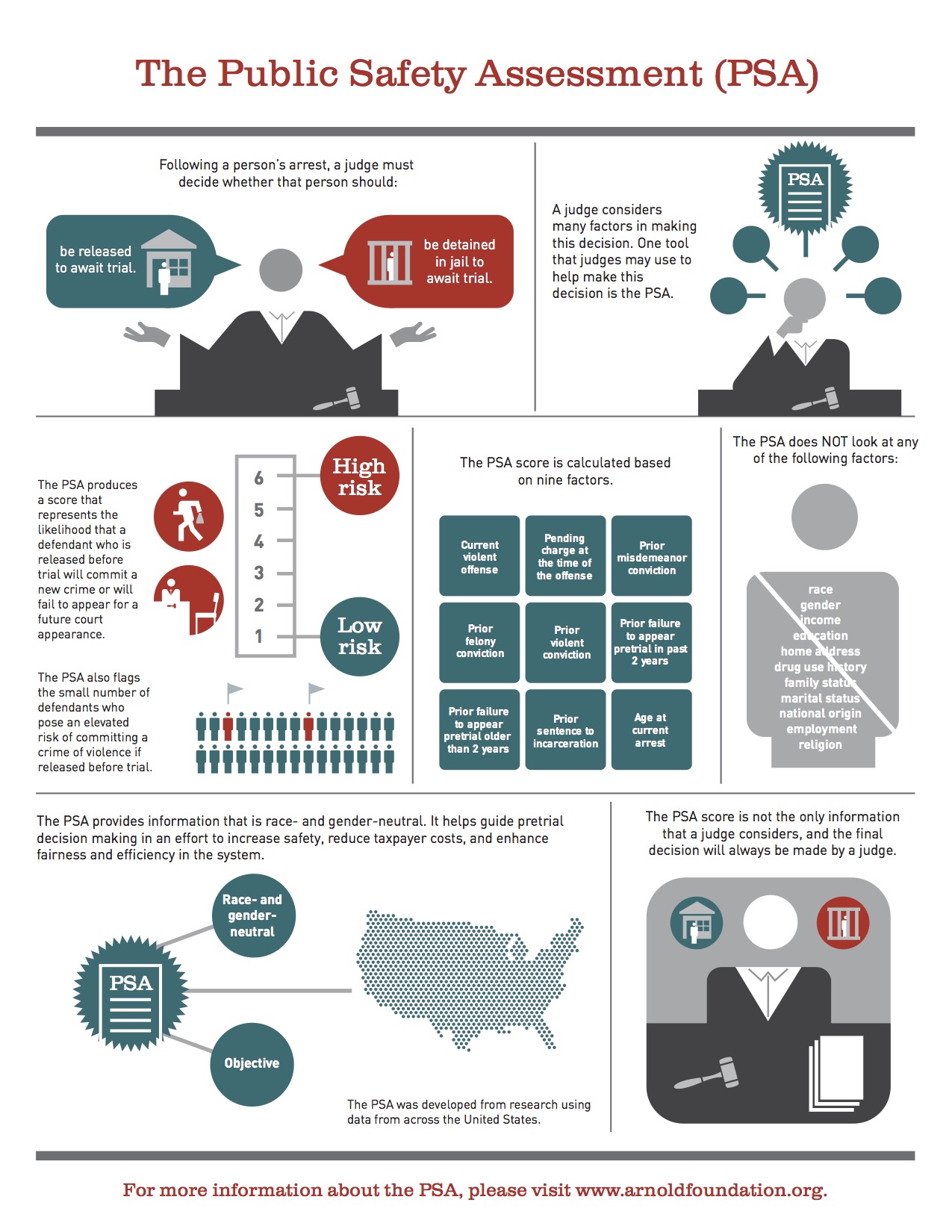 Steve Davis, communications director for the Iowa Judicial Branch, provided further information:
The assessment does not replace a judge's discretion, but it enhances a judge's ability to determine the public safety risk of the person appearing before the bench. Other states using this assessment have safely experienced a reduction in their jail populations and pretrial crime rates. We expect similar outcomes will be achieved in Iowa. Here is an example from New Jersey, a state using PSA: http://www.njcourts.gov/courts/assets/criminal/cjrreportaug.pdf (see chart C on page 6). Other states have also found the PSA to be race and gender neutral: http://www.arnoldfoundation.org/new-data-pretrial-risk-assessment-tool-works-reduce-crime-increase-court-appearances/

As the chief justice said in the Condition of the Judiciary speech: We continue to explore ways to improve the process of justice to achieve better results from the criminal justice system. In doing so, we have learned of the substantial and often unnecessary collateral consequences for Iowans who are financially unable to pay their bail when arrested and remain in jail. These consequences include separation from family, loss of job, loss of housing, and much more. While bail must always serve to protect the public and ensure future appearances in court, it should never serve to incarcerate solely because the person does not have the financial ability to post bail.

I also have some additional information from the 5th Judicial District Department of Correctional Services:

While the PSA's will be completed on all cases, the Court will only be provided with the PSA at initial appearance on 50% of the cases. As part of the Harvard Study, the other 50% will represent the control group. So the procedures that were in place prior to the PSA will be followed for the control group. At the end of 18 months, the researchers will compare the outcomes of the PSA group, and the control group, to see if the PSA accomplished the goal of making better informed decisions regarding bail decisions.

The 5th DCS began planning for implementation of the PSA approximately a year ago in anticipation of the State being approved as a pilot site for the PSA through the Arnold Foundation. The 5th DCS is a member of the local Criminal Justice Coordination Council, which is comprised of representatives from the Polk County Board of Supervisors, the courts, the Polk County Attorney and State Public Defender's Offices, the Polk County Sheriff, and other area local law enforcement agencies. The PSA has been on the agenda of many of the CJCC meetings. In addition, a local group of stakeholders, directly tied to pretrial services, have been meeting for months to work out as many details as possible related to the implementation of the PSA. Accordingly, as much as possible, all the stakeholders felt they were ready for implementation to begin.