How many unscrupulous practices can one member of Congress engage in with one small business in less than two years?
Quite a few, as Ryan Foley showed in a scoop with an incredible lede: "A congressman from Iowa violated House ethics rules by failing to disclose his role in a company that he formed, a mysterious outfit that uses his top federal staffer in a false testimonial promoting its services, an Associated Press review shows."

The whole AP story is a must-read. Tin Moon is a search engine optimization company founded in 2016.
Among other services, Tin Moon promises to help companies cited for federal food and drug safety violations bury their Food and Drug Administration warning letters below positive internet search results.

Tin Moon's website had listed Blum as its CEO and featured an official photo of Blum wearing his congressional pin in front of an American flag. The company removed the photo and changed Blum's title to "majority shareholder" Tuesday after the AP raised questions about House ethics rules. Tin Moon is based in the same Dubuque office as a construction software company he owns, called Digital Canal.

The company has kept up an online video testimonial showing "John Ferland representing Digital Canal" and claiming to be a satisfied customer. Ferland — who is actually chief of staff in Blum's congressional office and has never worked for Digital Canal — claims that Tin Moon is "saving us thousands of dollars every month, keeping our traffic and leads higher," and implores: "From one business owner to another, I suggest you take a look at Tin Moon."
Foley's report identified several possible U.S. House ethics rules violations besides the slam dunk of not listing the roles with Tim Moon on Blum's personal financial disclosure. Melanie Sloan, formerly of Citizens for Responsibility and Ethics in Washington, told the AP, "This is just wrong from A to Z [...] We were just laughing about it because it's so ridiculous."
Blum claimed never to have seen Tin Moon's website: "He said he wasn't aware the company used his official photo, had no idea why Ferland appeared in the testimonial and has no knowledge of the company's guarantee to help hide FDA warning letters." He also asserted Tin Moon had no value and was "not a functioning company in 2016." The firm's website repeatedly (and implausibly) boasts of 11,000 customers.
Ferland told the AP Ed Graham had asked him to film the YouTube ad. Graham is president of both Tin Moon and Digital Canal as well as Blum's campaign treasurer.
Foley linked to a page appealing to potential clients who "received a letter from us regarding moving your FDA warning letter off page one of search results." Meanwhile, a digital marketing expert characterized Tin Moon's promises about page rankings as "very sketchy."
Norman Ornstein, an American Enterprise Institute scholar who has written books about Congress, commented on Twitter, "Iowa Rep. Rod Blum has committed one of the most egregious ethics violations I have seen in a long while. He should be seriously chastised, or censured. Kleptocracy in Congress."
I enclose below reaction from the Iowa Democratic Party and three of Blum's four Democratic challengers, along with videos of the misleading testimonials. I welcome feedback from attorneys on whether the Ferland video could constitute criminal fraud.
The Wayback Machine has an archived version of the "About Us" page with Blum's official photo.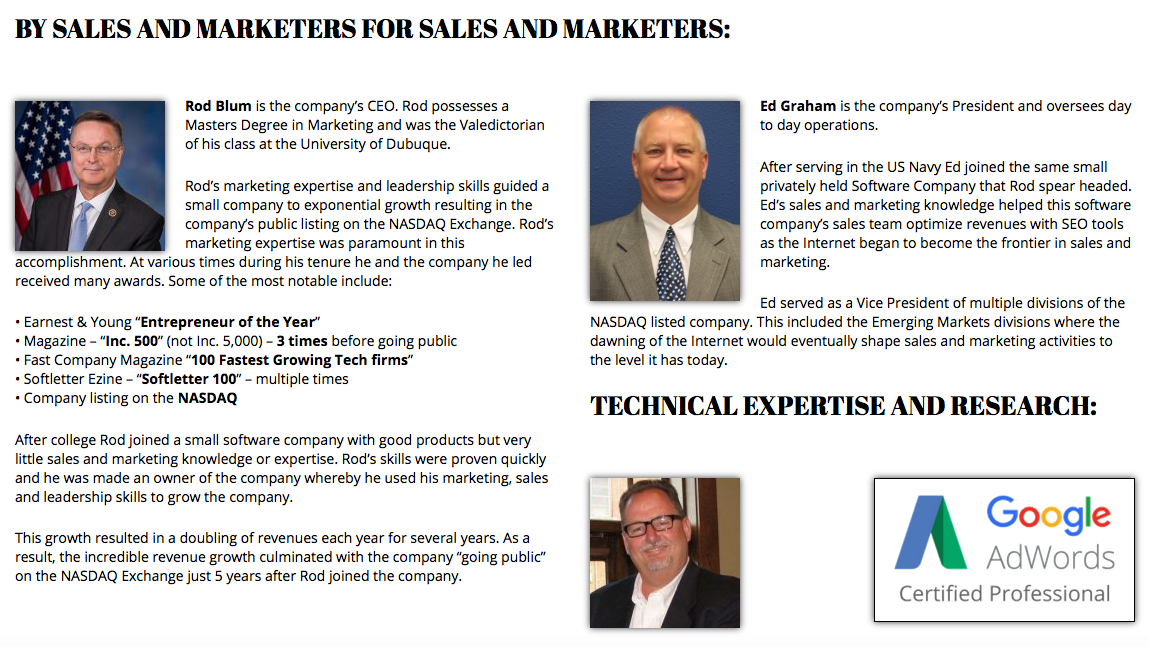 At this writing, the front page of the company's website still features "JOHN FERLAND REPRESENTING Digital Canal Corporation." UPDATE: Several hours after the AP story appeared, Tin Moon removed this photo and the link to the YouTube video from the website. As of the evening of February 21, the video remained on YouTube.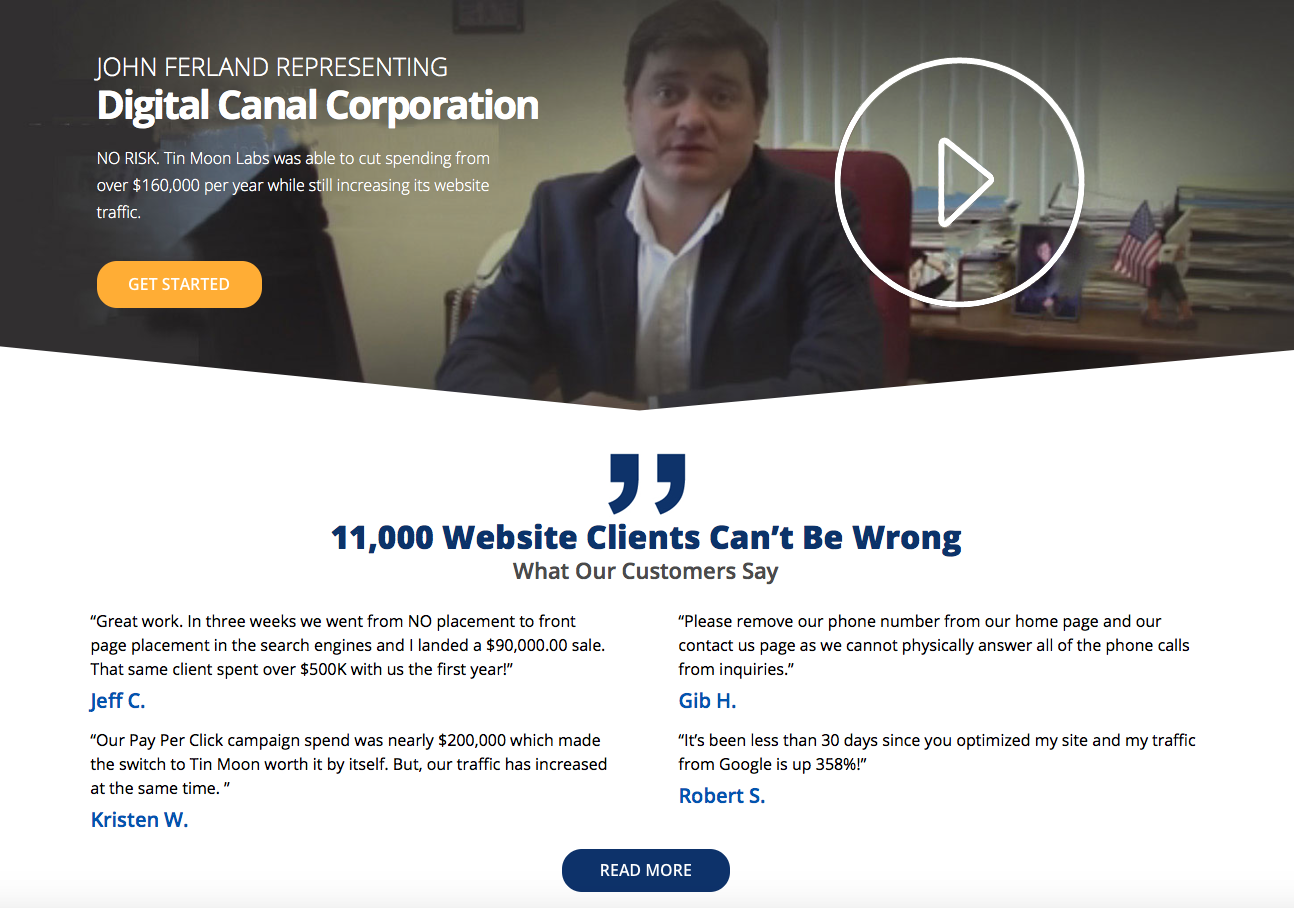 Ferland's role-play as a business owner from September 2016 is still up on YouTube for now, with these words underneath: "Hear a testimonial about how Tin Moon helps businesses increase their search engine visibility and get more sales leads by bringing them to page one!" I took the liberty of saving that video in case it gets taken down later.
In August 2016, the YouTube user "rodblum" uploaded an ad using the same script, with an unidentified woman claiming to be the business owner and satisfied Tin Moon customer. Text appearing under that video: "Contact Tin Moon Labs today to see how we can help take you to page 1 GUARANTEED!" UPDATE: Readers suggest that the woman is an employee of Blum's company Digital Canal.
Iowa Democratic Party press release, February 21:
Iowa Democratic Party Statement on Congressman Rod Blum's Unethical, Secret Business

Des Moines, IA – In light of the shocking revelation that Congressman Rod Blum used his power and position to enrich himself through an online company that helps those in violation of FDA protections subvert public scrutiny, Iowa Democratic Party Chair Troy Price released the following statement:

"Once again, Congressman Rod Blum has betrayed the trust of the people of Iowa. His shady business dealings fly in the face of the honest, working people of our state. Not only is Congressman Blum using his power and position to benefit his own bottom line, he's doing it at the expense of the health and safety of the people of Iowa's First District. The people of Iowa deserve honesty, which is why we are calling for an immediate Congressional ethics investigation in to Congressman Blum's abuse of power and position."
Thomas Heckroth statement, February 21:
Thomas Heckroth statement on Rod Blum's ethics violations

Associated Press outlines Blum's abuse of official resources and violations of House ethics rules

CEDAR FALLS, Iowa – First District Congressional candidate Thomas Heckroth released the following statement in response to an Associated Press investigation showing serious ethical violations by Rep. Rod Blum:

"Iowans deserve accountability and transparency from our elected officials. That's something I hear in every corner of the First District and why this has been a cornerstone of my campaign. Rod Blum has clearly violated house ethics rules, deliberately misled consumers, and abused government resources. Rod Blum doesn't seem interested in listening to or working for the people of this district anymore, it's time for a representative who will."
Abby Finkenauer Twitter post, February 21: "Talk about swampy. Hurting Iowans through his votes in DC, now through a company that hides FDA violations, it's clear @RodBlum lacks the moral compass that we desperately need in Congress. The time is now, we must take back #IA01"
Finkenauer's campaign later released this statement:
AP REPORT: BLUM'S UNDISCLOSED BUSINESS PUT SAFETY OF IOWANS AT RISK

Dubuque, IA - Today, the Associated Press published a stunning report on Rep. Rod Blum's undisclosed business dealings. In response to the story, Abby Finkenauer released the following statement:

"The most basic role of government is to protect people. Yet, Rod Blum was the CEO of a company whose purpose was to hide food and drug safety violations from consumers, putting Americans' and Iowans' health and safety at risk. And he did this while in Congress and serving on a powerful congressional committee whose job it is to oversee all federal agencies. This is the swamp at its worst and it's why we need change now more than ever."
George Ramsey III's campaign released this statement:
CEDAR RAPIDS, IA: Today, George Ramsey, Democrat for Congress (IA-01) issued the following statement in response to Rep. Rod Blum's (R-IA) failure to disclose ownership of internet company.

Congressman Rod Blum's failure to disclose ownership in internet marketing company, Tin Moon Corp., reveals the length he will go to mislead Iowa residents who are counting on him to lead with integrity.

"Our leaders must possess the strength of character and maintain the highest level of integrity while serving the American people. As a Soldier who served in our Armed Forces for 31 years, I learned that those who lead with integrity build trust with those they serve," says Ramsey.

It is obvious that Rod Blum is part of the problem in Washington that has led many Americans to lose faith and trust in government. Blum's actions are part of a growing trend where elected officials claim character and integrity, but show it is nothing more than window dressing. Much like Donald Trump, Blum has chosen to put his personal business interests and profit over the people in Iowa's 1st Congressional district.

Iowans deserve to have a Congressman who will lead with integrity. They need a strong leader who will not use their position to obtain profit and who will always place the needs of Iowans above their own.

Ramsey leads Blum by 6-points (48% Ramsey / 42% Blum -- 10% undecided) in the latest poll conducted by Thirty-Ninth Street Strategies on behalf of the Ramsey campaign in January 2018.
UPDATE: In a written statement posted several hours after the AP story appeared, Blum played the victim and claimed he hadn't disclosed his ownership of Tin Moon because the company "was worth basically nothing in value and not functioning."
This is yet another desperate, Democrat diversion originated from the career politicians in Washington, D.C. doing everything they can to make sure Nancy Pelosi is Speaker again. As a career businessman, I'll never understand Washington and their practice of the politics of personal destruction. This is a textbook case of making a mountain out of a molehill for political gain. I merely made an administrative oversight and the Democrat attack machine wants to have you believe this is Enron--but it must be campaign season in Iowa again.

The company in question in which I was listed as Director in a business filing, was worth basically nothing in value and not functioning: therefore not listed in my filing as an asset. I have spoken with the Committee on Ethics and the filing has been amended due to this oversight. The amendment names me as a Director and also lists the company as an asset worth $700 as an abundance of caution. While I regret this administrative oversight I will not concede to the narrative that this is some sort of scandal.
A few claims from this non-functioning business: "Performance Record. Nearly 11,000 client's [sic] websites optimized over nearly 20 years without a single refund. We believe actions speak louder than words."
From the FAQ page:
This seems too good to be true, is it?
We humbly agree and this is the most common question we get. However, we have developed unmatched expertise in optimizing nearly 11,000 client's websites. We have not refunded a single client of our 11,000 for failing to get them to Page 1. This lengthy and sustained success rate is why we are confident enough to guarantee your Page 1 listing. [...]
Is Tin Moon's process ethical from Google, Bing and Yahoo's perspectives?
Yes, we use only approved (White Hat) methodology that is acknowledged and awarded placement by the top Search Engines. Because of our venerable experience and expertise with SEO we have developed "very unique" strategies and processes that enable us to guarantee your Page 1 placement.
FEBRUARY 22 UPDATE: Foley followed up for the AP, reporting on Blum's revised personal financial disclosure.
While Blum claims his 70 percent ownership interest in the company was essentially worthless in 2016, Tin Moon now claims to have "11,000 satisfied clients."

"How much has he really profited from this company? $700 doesn't stack up with 11,000 customers," the Democratic Congressional Campaign Committee, which is working to unseat Blum in November's election, asked in a series of questions for Blum on Thursday.

A phone call to Tin Moon was answered by Monty Alexander, a GOP activist and prominent Blum supporter who has been paid by Blum's campaign for past get-out-the-vote efforts. Alexander is listed as Tin Moon's "reputation management specialist" on a site that promises companies cited for safety violations that it "WILL remove the derogatory FDA letter from page one so it no longer damages your business and reputation."

Alexander, who spent part of Wednesday night sparring with Blum's critics on Facebook, hung up without commenting. Ed Graham, the president of Digital Canal and Tin Moon and the treasurer of Blum's re-election campaign, hasn't returned messages.
Sometime during the day on February 22, Tin Moon pulled the promotional video featuring Ferland off YouTube. At this writing, the other video using the same script about ("Tin Moon is now saving us thousands of dollars every month...") remains on YouTube.
Top image: Screen shot from the archived version of Tin Moon's "About Us" page.