The Iowa Ethics and Campaign Disclosure Board on July 13 unanimously approved a reprimand and $100 fine for Jim Mowrer, who directed a federal political action committee while seeking the Democratic nomination for Iowa secretary of state.

William Gustoff, a member of the Republican Party of Iowa's State Central Committee, filed the ethics complaint two weeks before the June 5 primary, which Mowrer lost to Deidre DeJear. The document charged that Mowrer violated state law by continuing to serve as treasurer of The Majority Rules PAC after he launched his campaign for secretary of state in August 2017. Iowa Code 68A.303(5) stipulates, "A candidate for statewide or legislative office shall not establish, direct, or maintain a political committee."
In May, Mowrer's attorney Grant Woodard told the Associated Press that state law does not forbid candidates from operating a federal PAC. But the ethics board found that "the Majority Rules PAC met the definition of an Iowa 'political committee' when it gave more than $1,000 in a calendar year to a candidate for state office in Iowa." The PAC contributed $1,500 to Mowrer's campaign in January and "filed a verified statement of registration with the Ethics Board" seven days later, according to the reprimand letter released on July 17 and enclosed in full below.
Neither Mowrer nor his lawyer submitted a written response to the Iowa Ethics and Campaign Disclosure Board, executive director Megan Tooker told me. Woodard attended but did not speak at the meeting where board members considered the GOP complaint. The reprimand letter notes that "Mr. Mowrer, through his attorney, does not deny the allegations."
The board could have approved a reprimand with no fine or a civil penalty of up to $500. Members agreed on a $100 penalty. Woodard declined to comment on the board's action when contacted on July 13. Mowrer could request a contested case hearing within the next 30 days if he chooses not to accept administrative resolution of the matter, but that scenario seems highly unlikely.
Final note: Gustoff's complaint did not mention that Mowrer established his secretary of state campaign committee more than ten days after commissioning and releasing the results of a poll gauging support for the Democrat against Republican incumbent Paul Pate. As Bleeding Heartland discussed here, Iowa law requires a committee to file a statement of organization within ten days of raising or spending at least $1,000 on behalf of a candidate, defined as "any individual who has taken affirmative action to seek nomination or election to a public office." The poll cost more than that amount. Mowrer's former Congressional committee paid for the survey but did not declare the expenditure as an in-kind contribution on its Federal Election Commission filings. Nor did Mowrer's secretary of state campaign list the poll as an in-kind contribution on its January 2018 filing.
Appendix: Iowa Ethics and Campaign Disclosure Board administrative resolution of complaint against Jim Mowrer, released on July 17:
UPDATE: Mowrer's secretary of state bid ended on June 5, but his PAC lives on. A reader forwarded this fundraising e-mail from The Majority Rules PAC, which went out around midday on July 18.
The small print at the bottom reads, "The Majority Rules is focused on ensuring free and fair elections by supporting the folks on the front lines working to combat Republican attempts at voter suppression. By supporting The Majority Rules, you will be helping us to support candidates who will help restore our democracy." The PAC endorsed four Democratic secretary of state candidates--including Mowrer--in April. But so far, the PAC has spent far more on consulting fees--including regular payments to Mowrer's firm--than on supporting candidates for state or federal offices. My research in May indicated that The Majority Rules fundraising and spending tactics have all been legal; self-dealing is common in political consulting circles.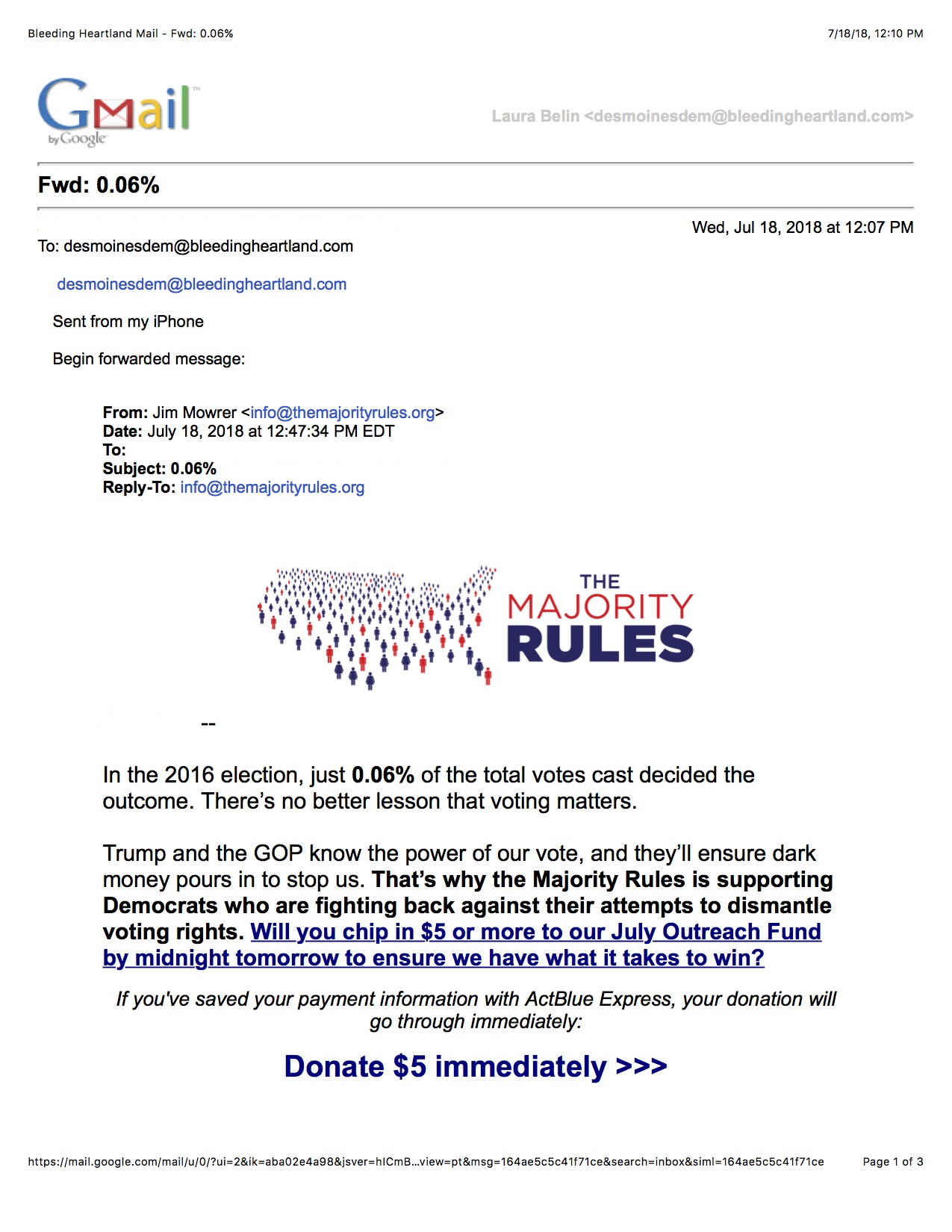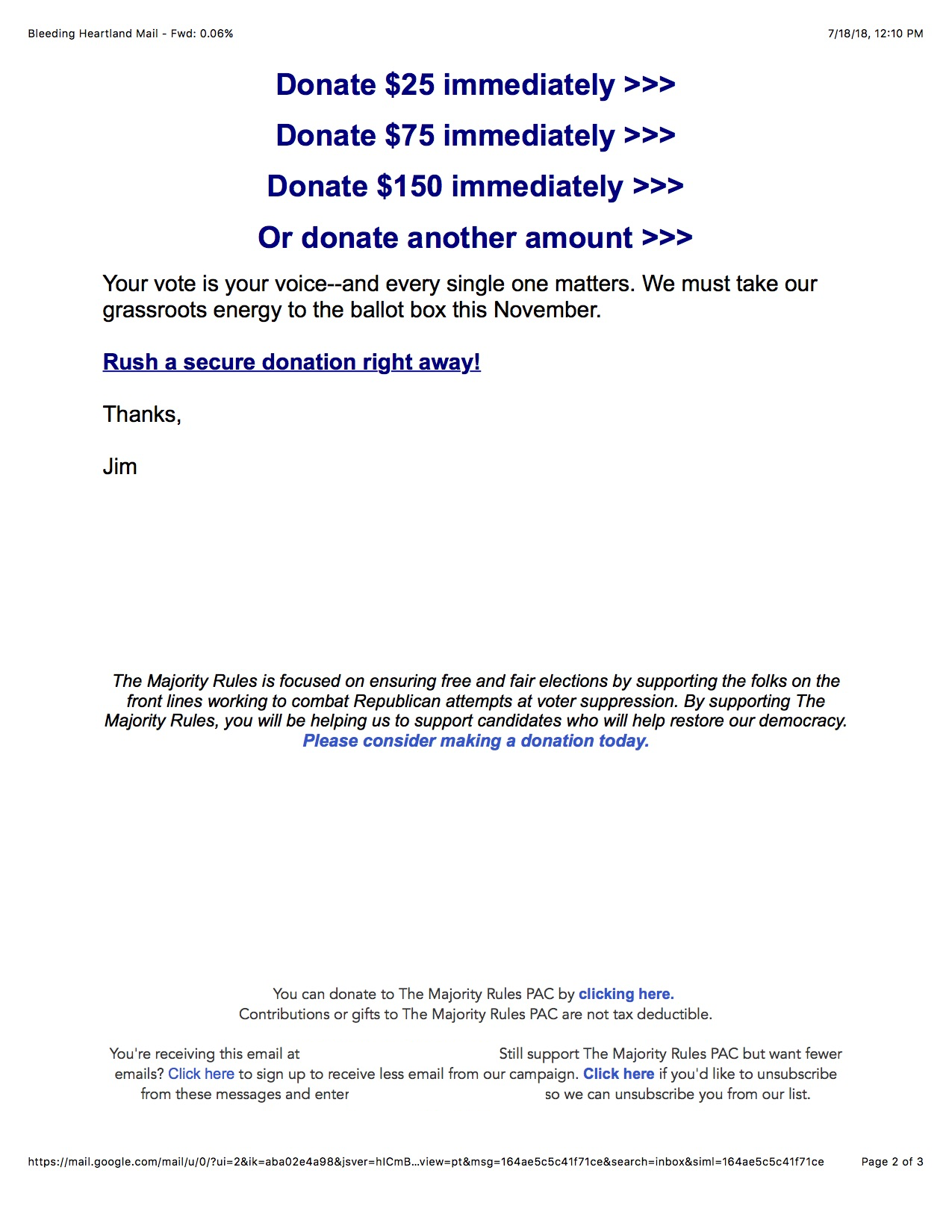 SECOND UPDATE: The Majority Rules sent another fundraising e-mail late in the afternoon on July 18.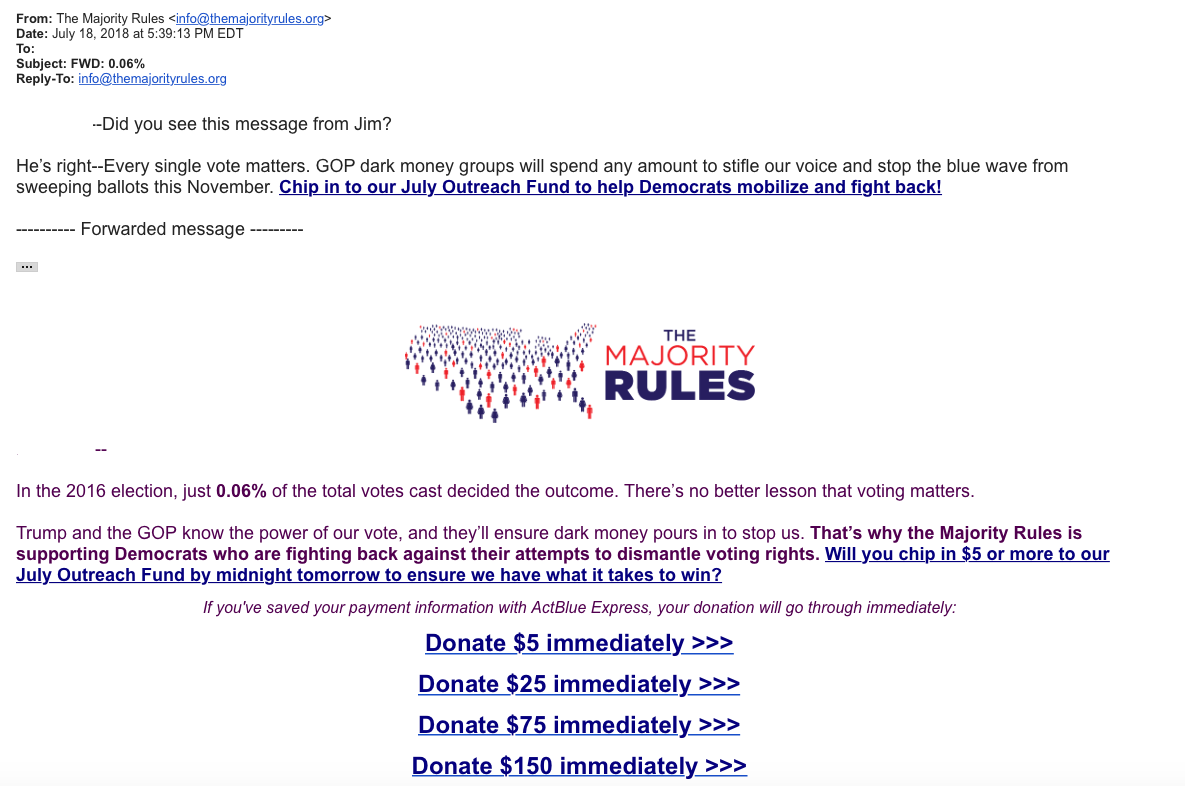 JULY 20 UPDATE: Yet another fundraising pitch.