A Republican activist charged this week that Jim Mowrer has broken state law by serving as treasurer of a federal political action committee while running for Iowa secretary of state.
That conduct may not be the only legal infraction related to Mowrer's use of funds from federal committees to support his current candidacy.

DIRECTING A PAC WHILE RUNNING FOR STATEWIDE OFFICE
William Gustoff, an attorney and member of the Republican Party of Iowa's State Central Committee, filed a complaint against Mowrer with the Iowa Ethics and Campaign Disclosure Board on May 22. Gustoff noted that Iowa Code 68A.303(5) stipulates, "A candidate for statewide or legislative office shall not establish, direct, or maintain a political committee."
Mowrer filed a statement of organization as treasurer of The Majority Rules PAC in November 2016. He has continued to sign the PAC's Federal Election Commission (FEC) filings in his capacity as treasurer, most recently on April 15. Gustoff asserted in his complaint, "it is clear that Jim Mowrer has established, directed, or maintained a political committee." He added that the ethics board "should fully investigate this matter, and if a violation is found, impose all appropriate sanctions and penalties on Jim Mowrer."
Ryan Foley reported for the Associated Press on May 23,
The board will consider the complaint at its meeting next month, director Megan Tooker said.

A lawyer representing Mowrer's campaign, Grant Woodard, said he doesn't believe the state law applies to the situation because The Majority Rules is a federal PAC.

"We look forward to defending ourselves in front of the board," he said. […]

The law in question defines political committees as groups that spend at least $1,000 advocating for candidates for public office. Tooker said the board has never interpreted whether it applies to federal PACs that donate to state candidates.
The Majority Rules PAC donated $500 to State Representative Todd Prichard's gubernatorial campaign last May, before Mowrer launched his latest bid for elective office. The PAC's first contribution to an Iowa committee after its treasurer became a statewide candidate happened this January, when The Majority Rules donated $1,500 to Mowrer's secretary of state campaign.
Speaking on behalf of that campaign, Sam Roecker told me the Iowa GOP is "desperately trying to make a story out of nothing – we're in full compliance with the law." How the six Iowa ethics board members will view the matter is anyone's guess.
POSSIBLE PERSONAL USE OF FEDERAL CAMPAIGN FUNDS
Mowrer commissioned a survey in June 2017 to gauge how he might fare in a secretary of state race. The firm 20/20 Insight noted in its July polling memo, "Jim Mowrer is well positioned to capitalize on the name ID he retains from his run for Congress to defeat incumbent Paul Pate and return the office to Democratic hands. Against Pate, Mowrer leads 38%-33%."
Neither 20/20 Insight nor the Mowrer campaign responded to my inquiry seeking to confirm what entity paid for that poll. Mowrer's committee from his two Congressional races (in Iowa's fourth district in 2014 and third district in 2016) reported no payments to 20/20 Insight on its second-quarter 2017 FEC filing. The following quarter, the federal campaign disclosed a $1,500 payment to the firm.
Presumably that July payment covered the cost of the previous month's poll. The Majority Rules PAC reported no payments to 20/20 Insight during 2017. Neither did Mowrer's secretary of state committee.
While a statewide survey using automated calls would typically cost several thousand dollars, a knowledgeable source indicates $1,500 could buy a few questions on a poll partly funded by some other organization. Transparency is lacking, though; the Congressional campaign's FEC filing described the disbursement to 20/20 Insight as a "Strategic Consulting" fee. Mowrer for Iowa listed "Polling & Research" expenses on multiple FEC filings during 2016.
Can a candidate use funds from a Congressional committee to poll a statewide race he is considering? Paul S. Ryan, vice president of policy and litigation for Common Cause, told me by e-mail (emphasis added),
Neither federal statutes nor Federal Election Commission regulations address this issue, nor, to my knowledge, has the FEC ever answered this question in the form of an advisory opinion or any other format of formal guidance.

Federal law and FEC regulations prohibit federal candidates/officeholders from converting campaign funds to personal use. FEC regulations spell out some things that are clearly permissible uses of campaign funds, as well as things that are impermissible—and sets forth what's known as the "irrespective test" for determining whether a particular use of campaign funds that's not addressed in the regulations is permissible. The test goes like this: If an expense would exist irrespective of a person's status as a federal candidate or officeholder, it's a personal expense and cannot be paid with campaign funds.

On the list of permissible uses of campaign funds is donating the funds "to State and local candidates subject to the provisions of State law." But Mowrer wasn't a state office candidate—he was exploring a possible state candidacy—so this FEC regulation seemingly would not apply. I believe this regulation is the closest the FEC's regulations get to addressing this scenario.

Consequently, I think it's appropriate to apply the "irrespective test" and, applying that test seemingly results in a conclusion that polling to decide whether to run for state office is a personal expense that should not have been paid with federal campaign funds. It seems that Mowrer's contemplation of a run for state office, and related polling expenses, would have existed irrespective of his status as a candidate for federal office in 2014 and 2016.
The FEC would have standing to investigate whether Mowrer's Congressional campaign did pay for the poll, and to determine whether such an expenditure was permissible.
UPDATE: The Mowrer campaign provided a comment from Neil Reiff, an attorney with extensive experience in election law.
The personal use regulations are designed to prevent personal gain by a federal candidate or officeholder. The "irrespective" test used by the FEC is not intended to cover whether it would be in connection with a federal election or state election. It is designed to cover personal costs such as rent, food, clothing and other household and personal items. Polling, regardless of which election it is for, is absolutely the type of activity that is intended to be covered by the personal use regulation regardless of what election the polling is for.
POLLING A STATE RACE WITHOUT DISCLOSING THE EXPENDITURE
Larry Noble, senior director and general counsel for the Campaign Legal Center, had this to say about Mowrer's possible use of Congressional campaign funds to poll an Iowa matchup.
Under federal law, he could contribute the money to his state campaign, as long as he properly reports it under federal law and it complies with state law and he doesn't convert it to personal use.

If this was for his state race, under federal law, he should have reported it as an in-kind contribution to that race. Other [than] that, this is likely a question of Iowa law. My guess is that he would have to report it as an in-kind contribution to his state race on his state report and it would have to comply with state contribution limits.

But Iowa may have a "testing the waters" provision that does allow expenditures for polling without triggering candidacy. Usually, under such provisions, you still have to comply with the limits and report the contributions and expenditures once you do decide to run.
Iowa Code 68A.301 permits a candidate's committee (including those "from other states or for federal office") to contribute to another campaign if "the candidate for whom each committee is established is the same person." In other words, Mowrer may transfer funds from his past races to his secretary of state campaign account. The Congressional committee reported three such disbursements ($500, $2,500, and $2,500) in July and August 2017. The state campaign properly disclosed those contributions on its January 2018 filing.
However, the federal committee didn't report the $1,500 payment to 20/20 Insight as an in-kind contribution to his secretary of state committee. In contrast, the same FEC filing listed a $1,157 payroll disbursement as an in-kind payment to the state campaign: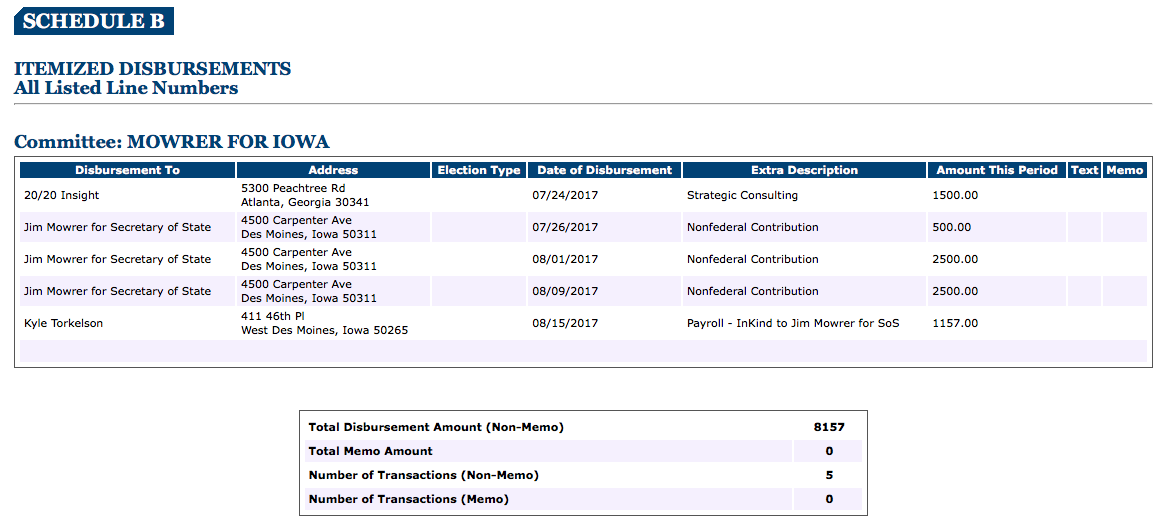 Mowrer's January 2018 filing with the Iowa ethics board did not disclose any in-kind contribution from the federal campaign committee, either for polling or for the $1,157 payroll expense.
I sought comment on whether the three transfers totaling $5,500 were straight monetary donations or covered some services provided for the secretary of state campaign. Roecker confirmed on May 24, "Those are all donations."
My impression is that disclosure violations like this one rarely lead to any sanction for a candidate. The usual remedy would be to file an amended FEC or Iowa campaign finance report.
FAILING TO REGISTER A COMMITTEE PROMPTLY AFTER AN IN-KIND DONATION
Iowa Code 68A.102(4) defines a candidate as "any individual who has taken affirmative action to seek nomination or election to a public office." An Iowa Ethics and Campaign Disclosure Board advisory opinion from 2004 lists several examples of conduct that would make an individual a candidate under state law. That opinion doesn't mention commissioning a poll.
On the other hand, Iowa Code 68A.201 requires a committee to "file a statement of organization within ten days from the date of its organization," further stipulating that "a committee is deemed to have organized" as of the date it raises or spends at least $1,000 on behalf of a candidate.
The 20/20 Insight poll pitting Mowrer against Pate was in the field in June 2017, and the apparent $1,500 payment for it was recorded on July 24.
Mowrer filed his secretary of state campaign's statement of organization on August 7, more than ten days after either of those events, which appear to be an in-kind contribution to his secretary of state candidacy.
OTHER ASPECTS OF THE PAC'S WORK ARE LEGAL
About three weeks ago, a Mowrer detractor anonymously mailed information about The Majority Rules PAC to a number of Iowa Democrats. I've enclosed below part of that mailing. Key allegations:
• The PAC's website says it "is focused on ensuring that the election of the President and Vice President honors the will of the people of the United States and supports candidates and efforts to accomplish this goal." But Mowrer changed the focus to supporting secretary of state candidates around the country, including himself. The PAC's ActBlue donate page was edited to read, "The Majority Rules is a coalition of concerned citizens like you, fighting to end partisan gerrymandering and ensure fair elections. We support candidates who share that vision, and your donation goes towards getting them elected."
• As treasurer of the PAC, Mowrer has directed expenditures that mostly went toward consultants rather than to candidates or direct efforts to reform the electoral college. The second-largest vendor is JDM Consulting, which has received a total of $19,500 and is located at the address of Jim Mowrer's home in Des Moines. On FEC filings, the PAC has described such payments as "strategic consulting services."
• The PAC spent $4,042.91 last summer to purchase the e-mail list from Mowrer's campaign for Iowa secretary of state. The Majority Rules did not purchase any other e-mail lists from campaigns or Democratic organizations during 2017. In addition, as mentioned above, the PAC made a direct $1,500 contribution to the secretary of state campaign in January of this year.
• Last month the PAC endorsed Mowrer and three other Democratic candidates for secretary of state. An e-mail blast didn't disclose that Mowrer is the PAC's treasurer as well as one of the endorsed candidates. The mailing included a picture that looks like a page from The Majority Rules PAC's website, encouraging donors to "Support our endorsed candidates!" I haven't been able to find that page on the website, so possibly it was removed recently.
How those candidates were selected is unclear. A representative for Kathleen Clyde's secretary of state campaign in Ohio told me, "We haven't received any notification that we've been endorsed by this group. To my knowledge there has been zero communication with them. We have received $38 total in contributions from them but not sure how our link was shared. This is all I know, sorry."
Roecker responded on behalf of Mowrer's campaign,
It's disappointing that someone is trying to play these games with less than a month to go before the primary and likely violating state ethics rules by sending these out without a disclaimer. […]

The Majority Rules was established to respect the will of the people in our democratic process. This includes doing everything possible to defend the principle of "one person one vote" and encouraging participation in the democratic process. To that end, their activities have been focused on growing their base of support, particularly through digital organizing and list building, to target activities and activate supporters when there are opportunities for real reform.

The organization has made direct contributions to local, state and federal candidates, as well as indirect contributions by sending email fundraising appeals for candidates across the country. Additionally, The Majority Rules has contacted legislatures in targeted states and worked with local activists and groups on activities including letter writing and calling campaigns for targeted campaigns and initiatives. The criteria for endorsement is based on consultation with other likeminded organizations and internal evaluation of the candidate and viability of the campaign/initiative.

Any emails that have been purchased or sold by the organization, have been done at fair market value and in accordance with any applicable rules. Strategic consulting expenditures have all been made to advance the mission of The Majority Rules and build a foundation for long-term success. Expenditures to JDM consulting were all used to offset expenses related to the operation of TMR. As a federal PAC, required disclosures on contributions and expenditures, including to other campaigns, are available through the Federal Election Commission.
Although it may seem shady, or as GOP activist Gustoff said "unseemly," for someone to create a federal PAC, contract services from his own consulting firm, buy a mailing list from his own campaign for state office, then donate to and endorse that campaign, my research indicates that all of those actions are legal. The political world is replete with similar examples of self-dealing. The Campaign Legal Center's Noble commented,
Looking at it under federal campaign finance law, there are no rules regarding what the PAC says about the issues it will focus on. As far as federal law is concerned, the purpose is the election of federal candidates, which both descriptions say. Also, there is no prohibition on the personal use of the funds of a non-connected PAC under federal law. (A federal candidate committee cannot use campaign funds for personal use.) So, it is not illegal for the PAC to pay a company he owns for services, as long as it is properly reported.

There is a problem with so-called "scam PACs", which raise money saying they will support candidates, while the people who run the PAC basically use the money they raise to pay themselves, either directly or through companies they own. It is not illegal under federal campaign finance law, as long as it is properly reported. But it is not what the contributors intended.

Iowa campaign finance rules govern his state candidacy and, from a quick review of the reports, it looks like his PAC made a contribution to his state committee. But as long it complies with Iowa law, it is allowed.
By the same token, it was legal for The Majority Rules PAC to pay Eliza Lorente $2,500 for "strategic consulting" in September 2017. Though if that payment served no purpose other than to supplement the salary of Eliza Lorente Duarte for work she was doing on Mowrer's secretary of state campaign, it should have been declared as an in-kind contribution on the campaign's January 2018 Iowa filing.
Deidre DeJear, who is also seeking the Democratic nomination for secretary of state, had no comment on the allegations about Mowrer's PAC but told me by e-mail,
Our campaign was not responsible for this mailing, nor do we have any knowledge of who sent it out. In fact, whoever sent this included me on their list. This type of communication is unfortunate because it exemplifies the problem with unidentified spending in political campaigns. As Secretary of State, I will work to increase transparency and ensure that voters know which groups are working to influence their elections.
Some Democrats have speculated that the anonymous mailing violated Iowa Code 68A.405, since there was no "paid for by" statement on "published material" opposing Mowrer. But according to the ethics board's executive director Tooker, that requirement applies to "published material designed to expressly advocate the nomination, election, or defeat of a candidate for public office."
I don't think the piece you provided to me (entitled "Conduct Unbecoming a Candidate?") meets the definition of express advocacy. While it's certainly critical of Mr. Mowrer, it does not contain "explicit words that unambiguously indicate the communication is recommending or supporting a particular outcome" in the SOS Democratic primary election. Because I do not believe the piece rises to the level of express advocacy, I am of the opinion it does not require an attribution statement. […] This piece in my opinion is getting close to expressly advocating against Mr. Mowrer but doesn't quite cross the line.
Not everything that is allowed is admirable. Whoever produced this mailing should have disclosed the source. I don't know how widely the information circulated, but it went far beyond a tip sent anonymously to a few political reporters.
That said, the entanglements of Mowrer's Congressional committee, federal PAC, and statewide campaign raise legitimate legal and ethical questions.
Appendix: Three pages from an anonymous mailing sent to some Iowa Democrats in late April and early May 2018.