Iowa Democrats are set to have their first competitive primary for secretary of state since 1998. Deidre DeJear launched her campaign last month on the 52nd anniversary of the Voting Rights Act, to symbolize her commitment to increasing voter participation.
DeJear spoke to Bleeding Heartland at length about her candidacy, and I've posted highlights from that interview after the jump, along with the audio and full transcript of her remarks to a Democratic audience in Grinnell. You can follow her campaign on the web, Facebook, and Twitter.
DeJear's approach to the race is markedly different from that of Jim Mowrer, the other Democrat in the field. Mowrer came out swinging against Secretary of State Paul Pate, vowing "to say no to making it harder and more expensive to vote" and highlighting the failure to count nearly 6,000 votes in Dallas County last November. In contrast, DeJear says little about Pate in her campaign materials and stump speech. She didn't bring up the Dallas County debacle in our interview either.
Pate is very unpopular among Democratic activists since pushing for new restrictions on voting that will create barriers for certain populations. Nor is the secretary of state well-liked by county auditors, some of whom have already endorsed Mowrer. I suspect many 2018 primary voters will be drawn to a candidate willing to take the fight to Pate, relentlessly.
On the other hand, DeJear's more aspirational, positive message should resonate with Democrats who prefer candidates to talk about what they are for, not what they're against. I look forward to following this race.

DEJEAR'S PITCH TO VOTERS
At the Poweshiek County Democrats picnic on August 27, DeJear had the unenviable task of trying to engage an audience that had already heard eleven stump speeches (four by Congressional candidates, seven by candidates for governor or their representatives). Nevertheless, she captured and held the attention of roughly 150 people crowded around a park shelter in Grinnell. You can listen here:
My transcript:
As Senator [Rob] Hogg mentioned, my name is Deidre DeJear, and I'm running for secretary of state. I'm originally from Mississippi, went to high school and middle school in Tulsa, Oklahoma, and came up here to go to Drake, and folks like you just possessed me to stick around. [applause] I'm glad I made that decision.

You know, as a small business owner, I come into contact with small businesses each and every day, because it's my job to make sure that small businesses not only have the means to get started, but the resources to grow. I started that small business as a college student and continued on with that business. In addition to that, I also volunteer and do a lot of work when it comes down to voter engagement, getting hard-to-reach populations to the polls.

And with those two passions, which kind of don't align, but make sense in my head, I really started thinking about how we can start making changes after this past election. I was a little disgruntled, as many of you all were, but also really wanted to focus on a solution to get us to the finish line and the Promised Land that we all deserve to be a part of.

And when I thought about that, I thought about people who were disenchanted by the election process. I thought about people who did not feel like they were included. I thought about people who just didn't want to be a part of the process. And I began to think, where can we begin to make changes in those areas?

Our state party chair [Troy Price] in Linn County the other day talked about how we had 200,000 voters, 200,000 regular voters that just sat on the sidelines in 2016. 200,000 voters. Those are voters that deserve to be a part of our process, just like everyone else. And it's in the office of secretary of state where we can make changes. It's in that office that we can invite people to be a part of our election process. Not just in our big presidential campaigns.

We can no longer rely on campaigns, can no longer rely on candidates to come and bring us to the polls. That's something that we have to own. That's something that we have to own as a state. Clap to that, because we've gotta own that. [applause]

And each and every one of you all who worked so hard to get people registered to vote, make sure they know when they can vote–but it's time for the Secretary of State's Office to do their job and make sure that people know how to vote, when to vote. [applause]

Now, as secretary of state, I want to do three things. One thing: I want to make voting fair and accessible to all Iowans. All Iowans. [applause] That means urban, rural, people with disabilities, people with money, without money. We have to do that. You know, as of late the political process has been kind of tainted; red for Republicans, blue for the Democrats, and green for Libertarians. And for some folks, that's ok. But that ideology is hurting our down-ballot elections, it's hurting our school board elections.

Now we're talking about June 5th [the 2018 Democratic primary], but can we get excited for September 12th? [applause] Those little ones that have been making all that racket and making us smile today [children playing in the park], they need us to be their voice by voting. They need us.

And with that being said, the Secretary of State's Office should not only be promoting our larger elections, but it should be promoting our smaller elections as well, because it's those elections that are impacting us most immediately. It's those elections that are going to make our communities better tomorrow, and we've got to make sure that people are participating in them.

That's why my second, my second biggest outcome is increasing our turnout. We have to increase our turnout. [applause] On average, in those school board elections that I'm talking about, we get less than 5 percent of folks participating. Five percent of folks deciding who's going to determine what our schools get funding for, how they allocate that funding, and how our kids get a quality education. We can do better than that. And there's no one in here to blame. There's no one in here to blame. But I'm the person that's willing to take responsibility as secretary of state, and that's what I want to do. [applause]

Now as a small business owner, the Secretary of State's Office also is the gateway for small business development. Small businesses are the backbone of our economy. We have over 260,000 small businesses in this state alone, and they provide jobs for nearly 40 percent of the workforce. We can't afford to let those small businesses fall by the wayside.

So as businesses are coming in and giving Paul Pate their money [when they register], somebody's got to be in that office making sure that those businesses don't just have the wherewithal to start, but they are connected with the resources that already exist in our communities to help them grow. There are too many small businesses in our state that are one close of business day away from closing their doors indefinitely. And that's not just people with bricks and mortar. Our farmers are in the same position. They deserve the same amount of treatment as anyone else when it comes down to small businesses.

And with someone that has as much passion for small business as me, you can guarantee–I can guarantee you–that I'm going to make a difference for our small businesses. I'm going to make sure that they have the wherewithal to grow, and that's really important to me. [applause]

Our state–who knows our state motto? Anybody know? Our liberties we prize, and our rights we shall maintain. Our liberties we prize, and our rights we shall maintain.

Now say it with me: Our liberties we prize, and our rights we shall maintain.

Now say it like you mean it: Our liberties we prize, and our rights we shall maintain.

Yes. We all have the right to vote, and as secretary of state, I'm invested to giving Iowans the reason to vote. We all have the liberty to start a small business, and as secretary of state, I want to give small business owners the means to stay in business.

I'm running my campaign in such a way that it's representative of people. This is one of those issues you can't argue with. Everyone deserves the opportunity to vote. Everyone deserves the invitation to go to the polls. Everyone deserves a fair shot at that. And that's what I'm invested in in this campaign. Because I believe that a voteless Iowa is a voiceless Iowa. I want to hear your voices, I want to champion your voices, and I want to take it all to that Capitol, and we're going to make this happen. [applause]
Since September 1, DeJear has been promoting this video on Facebook to drive turnout for school board elections. "Children make us laugh. They bring us joy, and more importantly, they are our future. […] Voting is the most fundamental way to improving our communities. School board elections are coming up September 12. On that day, use your voice to be the voice of our children. They're depending on it."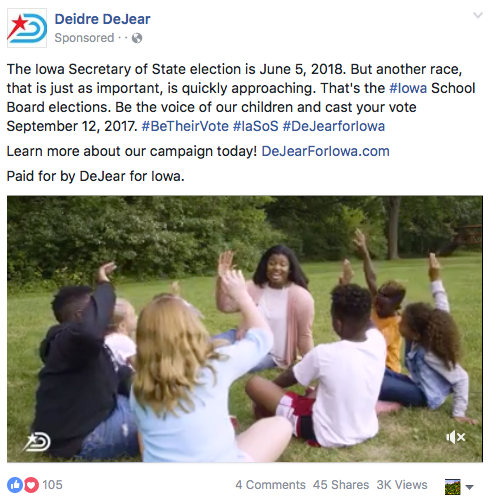 PAST WORK
DeJear's career has run on parallel tracks: voter engagement, first as a volunteer, then as a campaign staffer; and working with small businesses, starting as a bank employee while studying at Drake University. The "Meet Deidre" page on her campaign website describes some of her accomplishments:
In 2008, on the brink of the recession, Deidre found her affinity for working with small business and building relationships in the community. She began her own small business, Caleo Enterprises, which provides entrepreneurs affordable marketing tools and business strategies. As the sole-founder, Deidre's work has impacted over 150 small businesses and nonprofit organizations. […]

Deidre developed and implemented the Financial Capability Network, a collaborative that targets low to moderate income individuals and families. Over the last 5 years, the program provided nearly 100,000 Iowans access to financial management, knowledge and skills. This included training that provides quality education to more than 150 businesses and nonprofits.

Beyond her work as a business owner, Deidre is known for paying it forward and driving positive change in the community. In 2005, Deidre co-founded Back 2 School Iowa, a non-profit dedicated to collaborating with communities and corporations in order to provide resources to inspire youth in continuing in their education and build their future careers. This small organization impacts more than 3,000 Central Iowans annually.
DeJear's first campaign experience was as a teenager, when she volunteered for her grandmother's successful bid to be a county elections commissioner in Mississippi.
As a college student, she did outreach on campus and phone-banking shifts for Barack Obama's first Iowa caucus campaign–"so much fun, so much fun." Although the caucus process was "foreign" to her, she enjoyed the face-to-face dialogue on January 3, 2008. (Obama easily carried the Drake area precinct.)
An early hire for the president's 2012 campaign, DeJear was briefly a field organizer with a large territory covering the south and east sides of Des Moines, the urban core, and a little bit of the capital city's north side. From May through the general election, she was statewide African-American vote director.
The following year, she managed campaigns for two Des Moines school board candidates: Dionna Langford and Teree Caldwell-Johnson. Both are up for re-election this year, running unopposed. "I feel good they don't need me," laughed DeJear, who's been keeping up a busy campaign schedule herself.
"YOU'VE JUST GOT TO HAVE THOSE CONVERSATIONS"
I wanted to learn more about DeJear's work during the 2012 election cycle. She was among the staffers charged with "constituency outreach" to groups including women, college students, and Latinos, as well as African-Americans.
More than two thirds of African-American voters in Iowa live in the five largest counties. DeJear spent most of her time working in her top six counties, but she often visited smaller cities that also have thousands of African-American residents, like Burlington in Des Moines County. Sioux City was another focal point, and her GOTV program there contributed to Woodbury becoming the only Iowa county Obama carried in 2012 that had voted for John McCain in 2008.
A key part of DeJear's job was training field organizers and regional field directors on the African-American vote program: "For me it was really empowering our field organizers to understand that doesn't take a black person to get another black person to vote."
Obama's approval was above 90 percent in the African-American community, "but we needed to translate that support into an actual vote. And so, while we were persuading independents statewide to vote for the president, my strategy for our field organizers was to persuade African-Americans to actually go vote. So, step by step." Staff kept "playing like they were behind," with regular conference calls and occasional webinars, "so that they wouldn't lose sight of those voters."
Among the "really good outcomes": more than 5,000 new registrants and substantially higher turnout. Black voters cast an estimated 7 percent of Iowa ballots in 2012, up from about 3 percent in 2008. "I was astonished" to see the report after the election, DeJear told me. It was gratifying to know that the hard work paid off; without a strong "effort to connect," many of the newly-engaged voters might have stayed home.
In DeJear's experience, what are the main factors keeping people out of the political process, and how can field staff persuade non-voters to become voters?
Oh man, I've heard all the excuses. All the excuses [….] And it really depends on the person. But the first step was opening up the door to allow them to have that conversation with you, rather than assuming, I already know why you're not going to vote. You think you're a felon, or you don't have time.

Obviously you come armed with the reasons, and the reaction to that reason. But you've got to kind of have that conversation with that individual, to talk about, you know, what does voting look like to them.

And more so than anything, you begin with the issues. And then you translate those issues to: OK, we can do something about this. This president can, or this candidate can do something about this. Will you consider supporting? Yeah, yeah, yeah. OK, what does that support look like? Is that money, is that volunteering? You give them the options. And a lot of times the vote is the easiest option, right?

OK, OK, so, and then you take them through the steps, this is where you volunteer. Because we can't assume that everyone knows how to navigate through the system of voting. For some, they say, you know, I've been doing this for years, it's easy. But not for everyone else, because they may not be in practice.

I mean, for us, specifically, when it came down to African-Americans, at that time, African-Americans had only been allowed to vote for about 60 years, I believe, during that time? And so it was, you know, helping generations understand how to be engaged in the process, and inviting them to be a part of it. And you've just got to have those conversations, and we would do role plays […].

I was really surprised by our outcomes, but definitely happy that I didn't give up in that process. And from that campaign, that's when I really learned to connect with hard-to-reach populations, and wanted that to be a part of my business. Because I feel like that's so meaningful.

And although I was the African-American vote director, of course I worked with all types of voters. Our constituency outreach, you know, we worked together. So I was in the colleges, I was working with women's groups, and things along those lines. And I realized the gap that people had between their life and their needs and what the government and non-profit services and things along those lines provided. And what I wanted to do after the campaign is open up my business to not only help small businesses, but connect these programs, government programs, non-profit programs, to hard-to-reach populations. And not only connect them, but also help them to better formulate and design their products services, so that it was most meaningful for those hard-to-reach populations.
Iowa permanently disenfranchises most people with felony convictions. DeJear found many people believed they weren't allowed to vote, when in fact they had committed only a misdemeanor offense. Whenever someone wasn't sure, she would call the auditor's office to check the name and birth date. If the person was eligible, she offered a registration form. If the person was ineligible, she provided information about how to apply to regain voting rights. (The Obama campaign had no program to help people navigate that process, which was even more onerous in 2012 than it is now after two "streamlinings" by Governor Terry Branstad.)
How would DeJear respond to someone who says, "My vote won't make any difference," or "I voted and nothing changed in my neighborhood, we still have the same problems"?
I think that's a hard, a hard question to answer for a lot of folks, especially giving them an answer that's going to resonate with them, and I've definitely heard that a lot. For folks who are around my age, I often go to the Bush/Gore election [of 2000], because that definitely made a big difference.

But I also–when I'm talking to folks about smaller elections, like our school board, and talking to folks about our city council elections, we're looking at the small turnouts in those spaces, and in those small turnouts, every single vote matters. [raps table with each word for emphasis]

And I speak to them and say, you know, federal races, maybe you don't feel like your vote matters. But let's start practicing voting. Let's go to the elections that are going to hit you day one when that person gets in office, and that's your supervisor, that's your city council. We've already–by that time we've already talked about the issues that are important to them. Then I show them the numbers, or tell them numbers. These are the people that are turning out. You can make a difference in that small way.
Down-ballot races are "where the rubber meets the road in our state, and we can't take those for granted," DeJear believes. "And when you emphasize that with folks, that's how they get in the habit of voting."
While volunteering for Democratic candidate Phil Miller in this summer's special Iowa House election, DeJear spent some time in Davis County. A lot of people on her contact list were already tuned in to the campaign, but she knocked on a door where the voter had no idea. She'd like to see more effort by the secretary of state to publicize special election dates.
"There's no reason why that office should not be communicating on a regular basis when elections are, how people can vote, how they get connected to voting." With Iowa's voting rules about to change due to the new law mandating voter ID and signature verification for in-person voters, "There has to be constant interaction and communication to ensure there are no barriers to people's access to participation."
I want people to be involved from the ground up. Because I think voting elicits this idea of buy-in and participation in our communities. […] And I think when people get in a habit of doing it on a grassroots level in our small non-partisan elections, then there's never going to be a time where they say my vote doesn't matter, because they'll see that it matters.
In 2014, the top Republican talking point against Pate's opponent Brad Anderson was that as a longtime Democratic campaign operative, he'd take a partisan approach to the job of Iowa's top elections administrator. How would DeJear answer the same charge?
This isn't a partisan job. I'm a Democrat, and I've been a Democrat, but I care more about people and their voices than I do about the party. […] This isn't about partisanship for me.
She wants to increase turnout across the board, in both parties' primaries and in non-partisan elections. Recalling her feelings on election night 2012, DeJear said,
All that work that I did trying to get African-Americans to vote wasn't just because I wanted African-Americans to vote, but I wanted to include a group of people that typically don't get included. And it wasn't necessarily just for partisan reasons. It was just this–it was an opportunity for me within the Democratic Party something to do something that I'm interested in doing statewide, with all parties.

Whether you bleed blue, bleed red, bleed green, whatever. I think it's important for everyone's voice to be heard. And I think it would be interesting to see what the landscape of our state looks like when we make a conscientious effort to include all of the voices, as many as possible, in the process, and make voting accessible to them. […]

I don't know at any point it time if partisanship will ever get out of politics, but for me, people's vote shouldn't be defined by politics. The vote should define politics. And that's how I see things.
When DeJear talks about "increasing accessibility to voting for all Iowans," how might that affect polling places?
Not necessarily more polling places, but being intentional about where our polling places are at. Making sure we're meeting people where they're at. Looking at the density in the populations around where are polling places are. Making sure people know about that. Because knowledge is a key to accessibility. Making sure that folks with disabilities are, it's accessible to them.
DeJear stressed that you don't need to compromise security while making voting easier. Bank offices are both accessible and secure, she noted. She knows not everyone will get involved in politics, but she would hope that
If someone chooses not to vote, it's not because the Secretary of State's Office didn't try to make sure that they had that opportunity. It's because they simply made that choice. […]

At the end of the day, my approach is about people, and I want to be a champion for people's voices. And I want to make sure that people's voices are heard in a way that hasn't been done before. And our Secretary of State's Office–not to point any fingers–but I haven't seen enough change in that space. And he's been there before. And the problems are the same. But how he goes about doing things, it doesn't look like it's making a difference in people's lives.
DeJear's experience as a business owner came up frequently in our interview, as it does in her stump speech. Like Mowrer, she believes the registration process for small businesses and non-profits could be improved, but that's not her top priority. Her small business clients aren't always aware of resources that could help them grow, such as the Iowa Economic Development Authority's targeted small business program, or county or city programs designed to help businesses get access to capital and loan products.
We can't afford to assume that [business owners] know what they don't know. And so I'm of the mindset to really be intentional about ensuring that they're thriving by providing the education and the information from day one, when they first walk into that office, and continuing that line of communication. I'm a small business owner. As a small business owner, I don't get e-mails from my secretary of state about things that are going on to further help grow and develop small businesses.
Taking on this role wouldn't cost a lot of money, DeJear says, because the Secretary of State's Office wouldn't be offering new services, they would simply be doing more to educate business owners about their options. "Somebody's got to care about them up on that hill [the Capitol]."
"THAT'S THE CEILING I WANT TO BREAK"
Iowans have never elected an African-American to statewide office. I sought DeJear's perspective on what it would take for her to break that ceiling.
I don't think about trying to break that ceiling. That's the honest to God truth. I've heard that before, that Iowa hasn't, but I never thought, I've never thought so far that I need to overcome that.

I feel like the biggest challenge is going to be getting people to vote, and how do we overcome that? How do we overcome the barriers that have been put in front of people, or barriers that they think exist, but may not exist? How do we overcome those things? Person by person by person. That's the ceiling I want to break.

I want our turnout in our primary elections to increase. I want our turnout in our general elections to increase. I want as many eligible voters registered to vote as possible in our state. To me, doing that would be breaking a ceiling. Because we're the home of the Iowa caucuses. Everybody looks to us.

So we can't just perpetrate this idea of civic engagement on a national level and not ensure that on a local level we're just as great. Because we're more than capable. We just need a leader that is going to champion that for us.
DeJear is "excited about having a primary" and specifically asked me to put that comment in this post, because "I love primaries, I love election processes." I share her view that it's good for a party to have multiple candidates out there mobilizing supporters.
Having seen from the inside how much money and energy campaigns may spend on GOTV, DeJear is inspired to get the Secretary of State's Office more engaged in explaining why "voting is important for a thriving community."
"I want the voter base to already be built," so campaigns don't have to do so much "clerical work" of getting people registered and informing them how and when to cast a ballot. Then candidates could focus on "selling what you believe in."
Top image: Deidre DeJear speaking to Poweshiek Democrats in Grinnell on August 27.