Latrice Lacey, an attorney and mother, has been director of the Davenport Civil Rights Commission since 2014. -promoted by desmoinesdem
The Davenport City Council is considering an illegal amendment to our city's civil rights ordinance, which would eliminate the neutrality and independence of our Civil Rights Commission. The proposed change would decommission a body which has been active since 1962, remove the authority to manage staff, and replace it with a council-led board lacking knowledge of civil rights law enforcement.
In addition, the proposed ordinance would exclude all government and Davenport Schools employees from the protections of the civil rights ordinance. Despite this clear violation of state law and drastic change, council members have claimed there will be no change. Either they haven't read the draft ordinance, or they are hoping community members haven't read it.

Iowa Code 216.19(2) states that
a city with a population of twenty-nine thousand, or greater, shall maintain an independent local civil rights agency or commission consistent with commission rules adopted pursuant to chapter 17A. An agency or commission for which a staff is provided shall have control over such staff. A city required to maintain a local civil rights agency or commission shall structure and adequately fund the agency or commission in order to effect cooperative undertakings with the Iowa civil rights commission and to aid in effectuating the purposes of this chapter.
Davenport Mayor Frank Klipsch has asserted that this change is designed to increase accountability of the civil rights office. However, no one had previously raised concerns about the office's management. In fact, this proposal caught commission members and staff by surprise. Some should now understand my vocal opposition to the questionable commission appointment the mayor brought forward late last year.
Throughout Klipsch's tenure, I have witnessed a sustained attack on the independence, neutrality, and efficacy of the Davenport Civil Rights Commission and on me personally, as he has violated myself and others.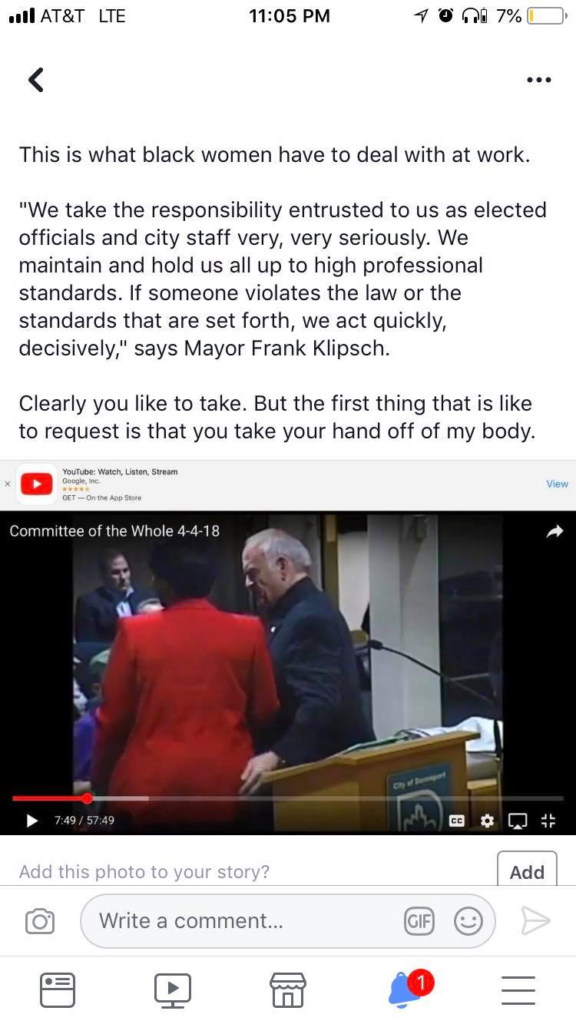 On several occasions I have come out strongly against measures I believed to be violations of the law or the mission of the agency I lead.
Davenport citizens deserve an explanation for the bad outcomes that will follow if this ordinance is passed. City residents could see major changes in how the rule of law works: potential infringement of their civil rights, limits on their ability to seek protection from violations, and more favoritism on the commission. We should all want an independent commission to handle enforcement of our laws and protection from bias and inequality.
We must be vigilant in avoiding even the appearance of cronyism in decision-making. The mayor and some council members have a record of attempting to dismantle bodies that have opposed their actions, such as the Levee Commission, the Civil Service Commission and now, the Civil Rights Commission.
This proposal appears intended to handcuff one of the few agencies whose sole mission is to protect the quality of life for vulnerable people. The commission was created as an independent body to avoid exactly what the mayor and council are trying to do now: ignore race discrimination complaints, or let them languish if the aldermen think people of color are lazy; or ignore sexual orientation complaints because they are homophobic. I could continue and give examples for the other ten protected classes the ordinance covers.
This move didn't stem from concerns with administration or oversight. This is about control, abuse of power, and discrimination. I am the city's only minority department head. Despite running an office with insufficient funding to support our mission, the staff and I have worked tirelessly to create a commission the community can be proud of. People can count on us to enforce the civil rights ordinance, and we are frequently recognized by state and federal partners for the work we've done.
People should oppose this draft ordinance not only for the reasons listed above, but also because it would unlawfully remove control of agency staff, which is specifically outlined in the state code. Alderwoman Rita Rawson has sent messages to constituents claiming that this change would improve oversight of the commission's director. Alderwoman Maria Dickmann has stated that the change removes the responsibility of employee oversight from volunteers.
The proposed changes do much more than what is acknowledged. They would exclude broad swaths of people, such as employees of the City of Davenport, Davenport School District, Scott County or any other government employee from being under the commission's jurisdiction. The civil rights commission already doesn't take complaints against other city departments, so as not to create the appearance of a conflict of interest. But the proposed ordinance eliminates employees' right to seek relief under the law that has protected them for the last 56 years.
It is a huge conflict of interest for the mayor and council to undertake such a change without input from the impacted persons or the people doing the work. Furthermore, excluding such a broad range of public employees from protection under the municipal civil rights ordinance is deeply concerning. We should all be asking, what has prompted this change? Or perhaps, what are you hiding? It is unfortunate that Mayor Klipsch and Alderwomen Rawson and Dickmann are seeking to usurp the commission's authority and target the director. Their action is tantamount to an abuse of power and waste of taxpayer resources for personal gain.
Davenport residents who are against these changes should contact city council members or attend the August 1 council meeting, where this item will be on the agenda. The meeting will start at 5:30 pm at Davenport City Hall (226 West 4th street).
Editor's note: Bill Lukitsch reported for the Quad-City Times that Davenport Alderman Mike Matson "told fellow council members and city staff Tuesday [July 31] he is 'very concerned' about a proposed change to the city's civil rights commission after speaking with leaders of state agencies, saying the move could potentially be seen as non-compliant with Iowa law."
UPDATE by Latrice Lacey: The community members who utilize the Davenport Civil Rights Commission came out to show that they support civil rights and they intend to fight for the ordinance to remain unchanged. The council meeting was well attended. The amendment was placed almost last on an already-packed agenda, and discussion did not begin until around 8:00 pm.
Staff and council plan agenda items with intentionality, so the fact that this was on the same agenda with other controversial issues and placed last, is a slap in the face to the people who live, work and play in the City of Davenport. It was literally putting marginalized people at the back of the bus. The council should be ashamed. To see the city administration treat its most marginalized groups in such a way was a disgrace. The lack of concern for people, their humanity and their rights conveys the great importance of keeping the Civil Rights Commission independent from the administration.
Alderman Mike Matson stated that the council didn't receive the draft ordinance until Friday afternoon, July 27. How is it that something as important as taking away the civil rights of all government employees within the City of Davenport was never discussed with council members? How is it that there have been no discussions with marginalized communities impacted by the change?
What was disheartening was that no one had the courage to demand that this item be deleted and apologize for the offensive rhetoric leveled at the existing commissioners and staff or for threatening the protections for the community. The council is there to represent its constituents, and on August 1, it failed. It showed that its priority is protecting fellow council members from embarrassment. The item remains on the agenda and will be voted on this Wednesday, August 8, at the meeting scheduled to begin at 5:30 pm. Please come to let the council know that you want the civil rights ordinance to remain unchanged.
Top image: City hall in Davenport, Iowa, by Ctjf83 of English Wikipedia [Public domain], from Wikimedia Commons.