Laural Clinton is a member of Iowa Citizens for Community Improvement's racial justice team and the mother of Jared Clinton, who was the passenger in a recent racial profiling video released to the public. -promoted by desmoinesdem
Racial profiling. It's a tough topic to discuss. But for us in the Black community, racial profiling is a reality we deal with every day–when we go to the store, when we drive our cars, when we eat at restaurants.
As a mother of three Black sons, I am intimately familiar with this issue.

My sons have been stopped by the police many times over the years. Most recently, my son Jared and his friend, Montray Little, were profiled in a traffic stop by Officers Kyle Thies and Natalie Heinemann.
In the body cam footage, seen and shared by millions of people, Jared and Montray did everything right. And the officers did everything wrong.
The male officer implied Montray was driving a stolen car and accused both of having weapons and marijuana.
Montray was handcuffed and held in the back of the police car as the officer conducted what we believe was an illegal search of his car. The male officer then tried to coerce him into admitting to things that were not true before they finally released both young men.
It's so easy for me to see how this unwarranted traffic stop could have turned my son into another Philando Castile, or given him an arrest record.
That's where some people miss the point. Racial profiling isn't just rude, it's not just an interruption. Racial profiling can have lasting and devastating impacts on individuals and our communities–from mental trauma, to being incarcerated and thrown into our judicial system, to economic impacts such as court and legal fees and loss of employment. We need a policing system that builds relationships with our communities, not tears them apart.
That's exactly why we've been working for real change here in Des Moines and for the state of Iowa.
For the last three years, Iowa Citizens for Community Improvement has collected dozens of stories of racial profiling by police and has assisted individuals to file official complaints with the DMPD's Office of Professional Standards.
That's why in April, 75 members of the Black community attended the city council meeting urging action. We asked three Des Moines City Council members (Connie Boesen, Josh Mandelbaum and Bill Gray) to meet with the Black community for a series of meetings to discuss the issue of racial profiling by police. They all agreed.
The goal of these historic meetings was for council members to hear directly from individuals who have experienced racial profiling and for the community to develop concrete solutions to end the practice in Des Moines.
More than 100 residents attended each of three meetings: in June, July and on September 6.
First meeting – build relationships
The purpose of our June meeting was to strengthen ties with each other in the community and with the council members. Through public remarks and small-group discussions, the council members attending heard stories of profiling and how it played out in people's lives. We also reviewed statistics on various charges during 2017 as a group, to demonstrate that those stories were not isolated incidents. They reflected a larger problem.
Second meeting – dig in on solutions
The July gathering was our "working meeting," to really dig in on solutions. This event happened to coincide with the time we got the dashcam footage of my son's traffic stop. The city council members and 120 residents watched this video together. Josh and Connie got to hear the gasps and sadness. Some people cried. After watching, folks broke out into small groups and used the video as a tool to dig in on what could have been done differently and what other solutions we need to enact in Des Moines to truly stop racial profiling as a police tactic from happening again.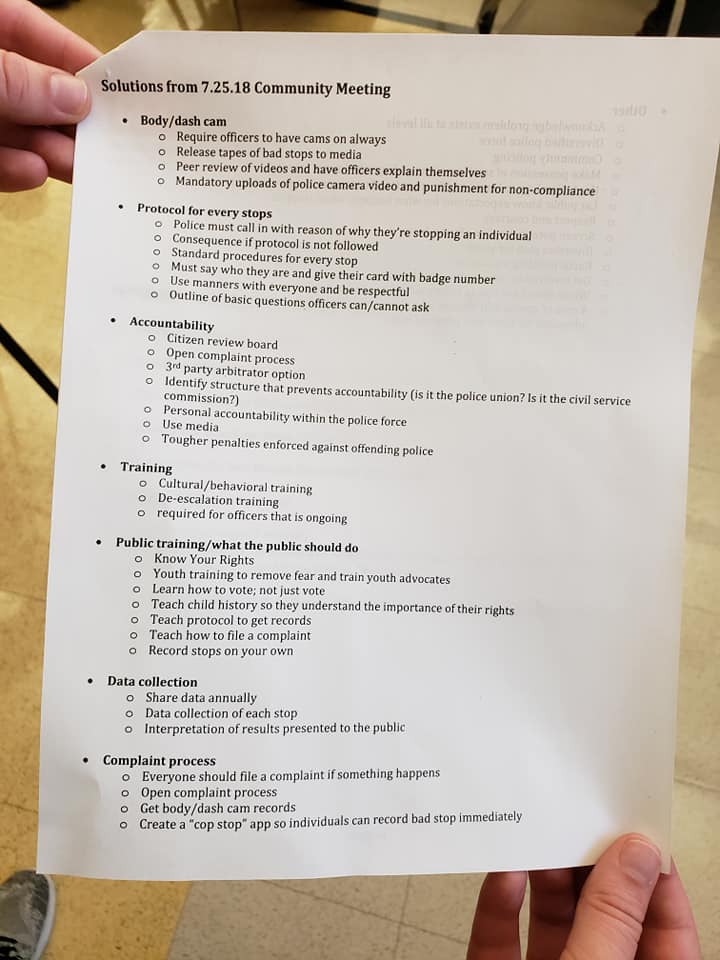 Shortly after the second meeting, CCI released the video footage to the media and the public. Understandably, it garnered a lot of attention. More than 10 million people across the country viewed the video, and the number keeps growing.
Third meeting – we presented our solutions
At our final meeting with the community and council members (Linda Westergaard joined Connie and Josh), we shared the body camera video from Natalie Heinemann so the community could see her actions. We felt it was important to share both videos with those who have taken this journey with us. We then discussed the solutions individuals had suggested at the second meeting. The community presented our official proposal to the council members present.
Our recommendation is to implement an anti-racial profiling ordinance that:
• Bans racial profiling
• Ends pretextual stops by police
• Mandates annual data collection on police stops, with data released to the public
• Creates a citizen review board Annual implicit bias and de-escalation training
• Makes marijuana possession the lowest level of enforcement
We asked for the council members' support.
While none of the elected officials agreed to every piece of the proposal, they agreed to work with Iowa CCI and the Black community on a racial profiling ordinance.
This is great step in the right direction.
In recent history, I cannot remember a time when the Des Moines City Council met with the Black community to truly hear their stories and work with them to address policy changes. We thank Connie and Josh for participating.
I want to personally thank the more than 1,100 Iowans who have signed our end racial profiling petition so far. My family feels supported. We're ready to fight for change.
But we know the work has just begun.
While we hope the video is a catalyst, we know it's going to take all of us working together to pass a racial profiling ordinance in Des Moines.
But we can do it. Join us. Be part of change.
Click here to view the racial profiling stop of Jared Clinton and Montray Little and to sign the petition to end racial profiling.
Top image: Laural Clinton speaking at a Des Moines community meeting on racial profiling in September. Photo provided by Iowa CCI, used with permission.
Des Moines City Council members in the front row, listening at the September meeting. Connie Boesen (second from left), Linda Westergaard (center), Josh Mandelbaum (second from right)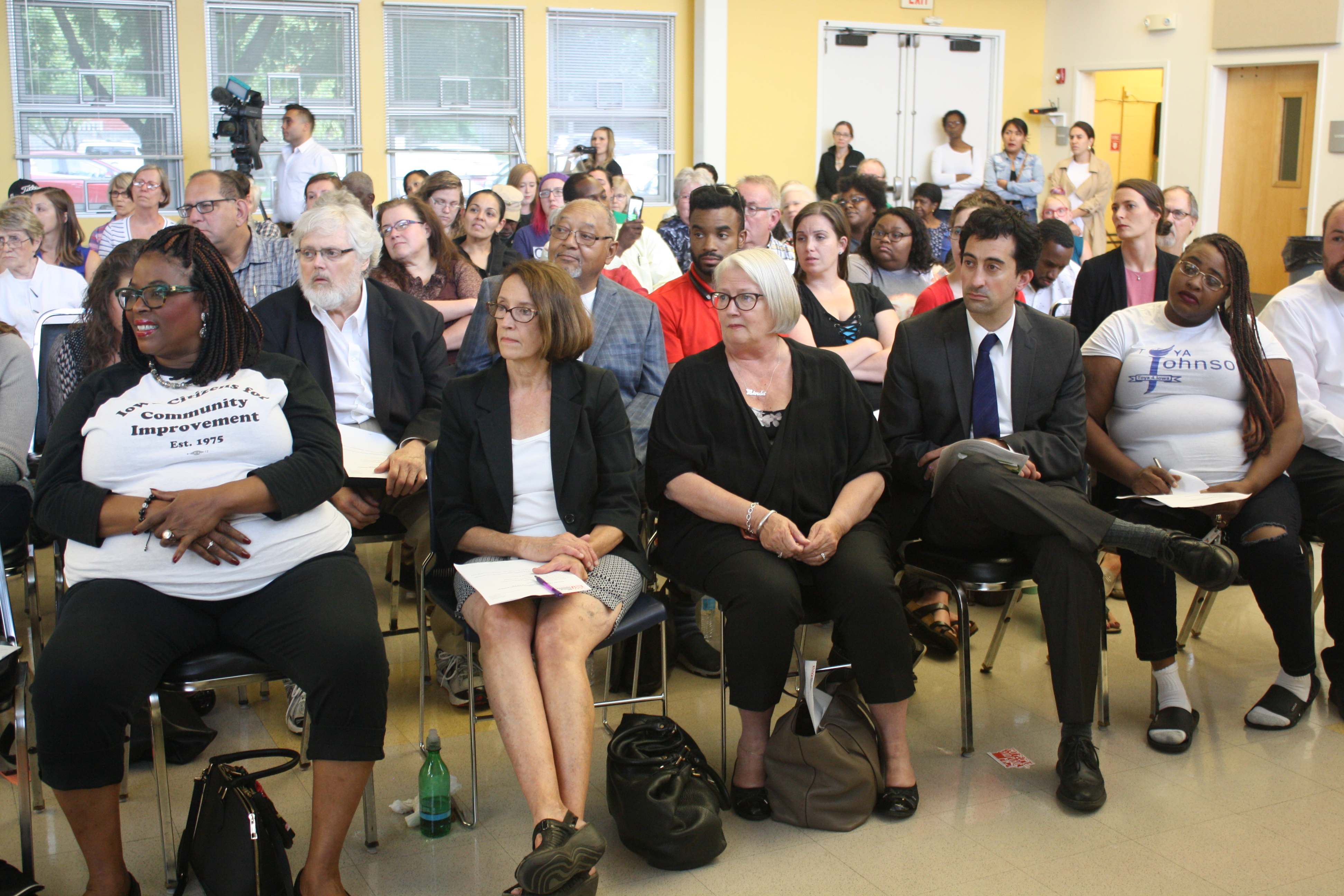 Room full of listeners: