All sixteen current members of the State Judicial Nominating Commission will be able to participate in selecting finalists for the Iowa Supreme Court and Iowa Court of Appeals in early 2019, the judicial branch announced today.
Republican attorney Bill Gustoff had argued that three of the commission's eight attorneys need to be replaced, as their six-year terms expire on December 31. That would have given the eight political appointees (all Republicans named by Governors Terry Branstad or Kim Reynolds) the votes to control the short list of candidates for the high court vacancies.

But the Iowa Attorney General's office informally advised that the "holdover doctrine" applies to this situation. Following Iowa Code 69.1A and case law from the 1970s and 1980s, Connie Diekema, Martin Diaz, and Suzan Boden can continue to serve "until new commissioners are elected for the six-year terms that begin July 1, 2019."
I enclose below the full letter from Assistant Attorney General Emily Willits to Iowa Supreme Court Justice David Wiggins, who chairs the State Judicial Nominating Commission, and State Court Administrator Todd Nuccio.
Under Iowa's merit-based judicial selection system, in place since 1962, the commission will recommend three finalists for each high court vacancy, and Reynolds will have 30 days to appoint one of those candidates. Reynolds said this week she is open to new ideas about the process for appointing judges. Barbara Rodriguez reported for the Des Moines Register,
"If there are legislators talking about that, they'll file a bill, they'll go through the process, they'll give Iowans the opportunity to weigh in, so I'll look forward to see what that looks like and we'll follow the process," Reynolds, a Republican, said in answering questions at a news conference Tuesday.

Pressed by reporters on whether she thinks there are problems with the current setup, she said: "I'm open to taking a look at it and this is the process that it'll go through to make that happen."
A state constitutional amendment would be needed to alter the commissions' role in recommending finalists. The earliest such an amendment could be adopted would be 2022 (following passage by two successively elected legislatures and a statewide vote in a general election). However, a simple law could alter the composition of the state or district-level nominating commissions--for instance, to remove the role of attorneys elected outside the governor's control.
The State Judicial Nominating Commission is now accepting applicants to replace retiring Supreme Court Justice Daryl Hecht. A news release enclosed below noted that candidates who applied for the last Supreme Court vacancy this summer need not submit a new application, "but must simply send a letter to the secretary of the commission asking that he or she be considered for the vacancy with any supplements to his or her application."
UPDATE: Although the press release below lists Dr. Christina Taylor as one of the appointed members of the State Judicial Nominating Commission, the governor's office announced on December 14 that Taylor had resigned the previous day. Reynolds appointed Kathleen Law, an attorney at the Des Moines law firm Nyemaster Goode, to fill the vacancy. Law is not a major donor, but all of her state-level campaign contributions on record were to Republican candidates or conservative committees.
Traditionally, appointed members of the State Judicial Nominating Commission have not been attorneys.
Reynolds' outgoing chief of staff Ryan Koopmans was a partner at the Nyemaster firm before joining the administration in May 2017. Now that one of his colleagues is joining the panel that picks finalists, speculation will increase that Koopmans is angling for a seat on the Supreme Court or Court of Appeals. I am seeking comment and will update as needed.
LATER UPDATE: Koopmans replied on December 14 that he will not apply for either court vacancy.
Taylor explained in a December 15 e-mail why she resigned several months before the scheduled end of her term on the State Judicial Nominating Commission.
I enjoyed my work on the committee, believe that I have thus far served my role well, and consider it a serious responsibility.

Unfortunately, however, I have an important trip for work out of the country at the end of January that has been planned for months. The timing is not something that could be changed or even within my control.

That said, given the date of the next supreme court justice interviews and selection, I would end up missing that due to my work responsibilities out of the country. [...]

Given I was going to miss an important upcoming judicial interview and selection date, I thought the most responsible thing for me to do was to resign and allow there to be a full commission. [...]
December 12 letter of informal_advice from the Iowa Attorney General's office: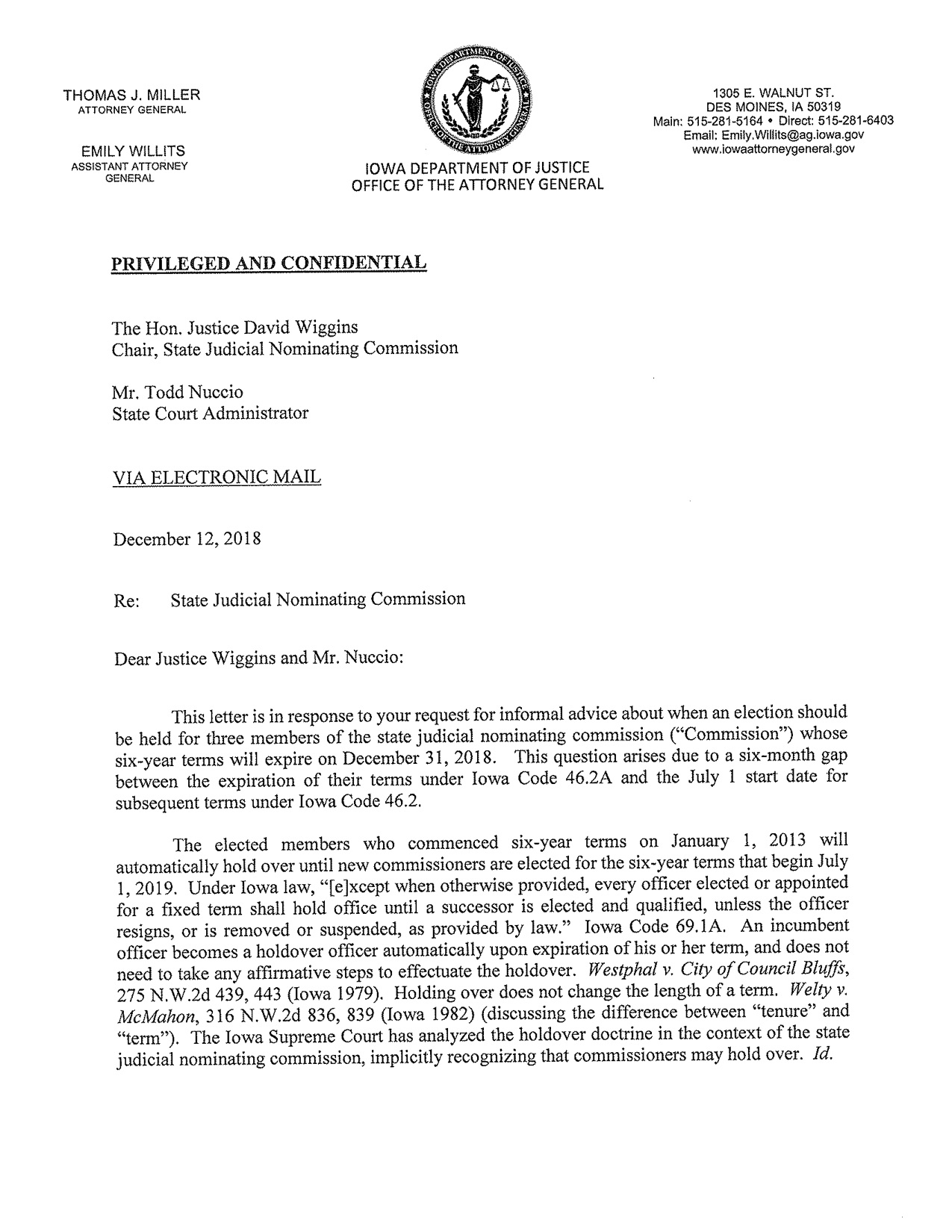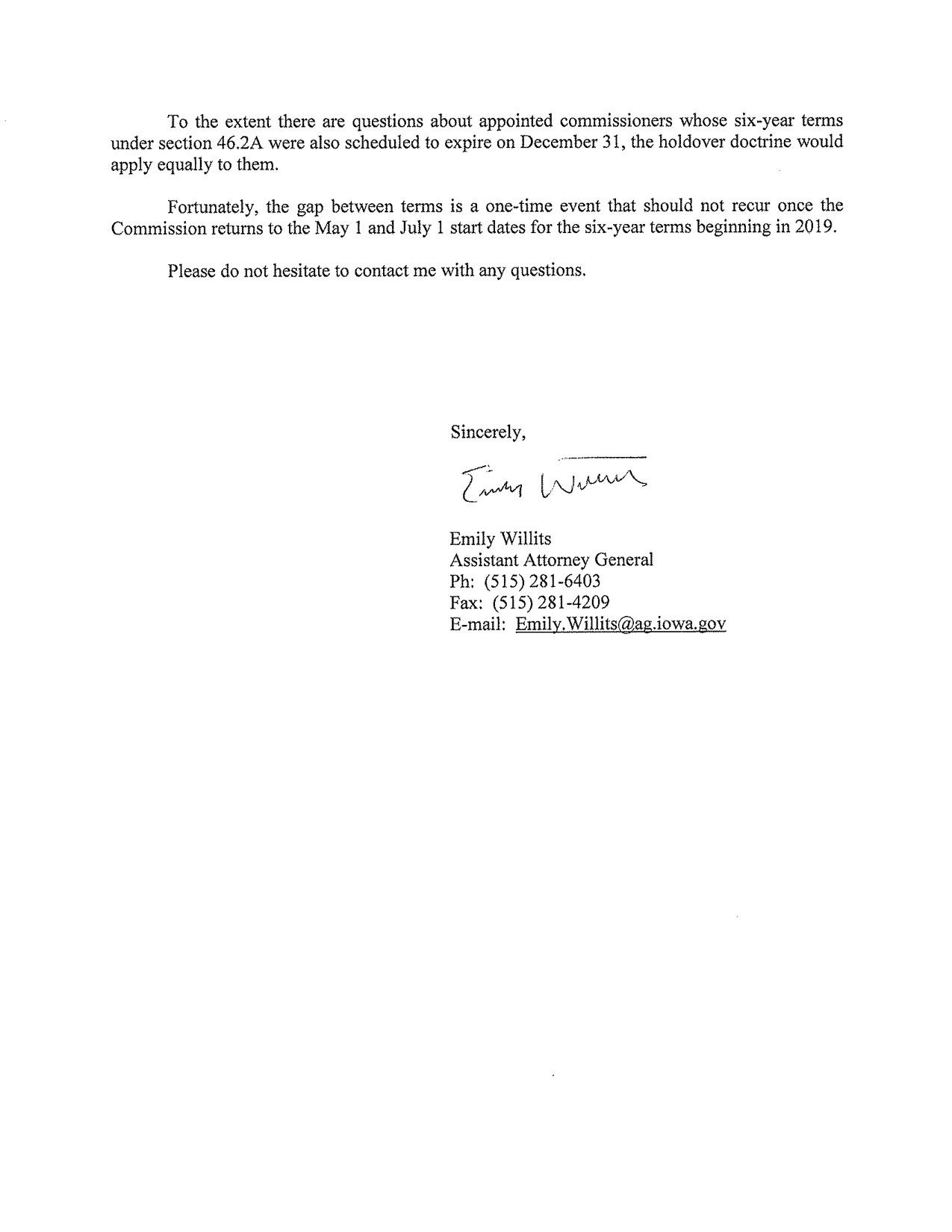 December 13, 2018
The State Judicial Nominating Commission, which is responsible for selecting nominees for appointment to the Iowa Supreme Court, announced today it will begin accepting applications for the vacancy that occurred when Justice Daryl Hecht resigned effective today. The commission has sixty days from December 4, 2018, to send a slate of nominees to the Governor, who makes appointments to the court.

The State Judicial Nominating Commission has decided to follow the advice of legal counsel. All current members will remain on the commission beyond the first of the year until their successors are appointed. The letter of advice from the Office of the Attorney General of Iowa is here.

The deadline for applications to be most favorably considered for balloting is January 16, 2019. Any citizen may submit in writing to the secretary of the commission, or to any commissioner, the names of persons for consideration as a candidate for nomination and express views concerning such candidate.

Any candidate who interviewed with the State Judicial Nominating Commission in July for Justice Bruce Zager's vacancy on the Supreme Court and who wants to be considered for the current opening on the Supreme Court does not need to resubmit a new application and related information, but must simply send a letter to the secretary of the commission asking that he or she be considered for the vacancy with any supplements to his or her application.

Applications and notice to candidates can be obtained by contacting the secretary of the commission's office at appellate.vacancy@iowacourts.gov , or (515) 348-4880, or Iowa State Judicial Nominating Commission Secretary, 1111 E. Court Avenue, Des Moines, IA 50319.

Once the deadline for applications to be most favorably considered for balloting has passed, the commission will release the names of all applicants along with information about each applicant's background, experience, and qualifications. This list and other information about the nominating commission and Iowa's merit selection process will be available on Iowa Judicial Nominating Commission website.

The commission plans to meet January 30 to 31, 2019, to interview applicants and select a slate of nominees. If a candidate interviewed in July of 2018 for Justice Zager's position he or she will not be given another interview. The meeting will be in the Supreme Court Courtroom in the Judicial Branch Building, 1111 East Court Avenue, Des Moines. The interview portion of the meeting is open to the public and will be streamed live and archived on the Iowa Judicial Branch YouTube channel.

The 17-member commission is composed of a chair, who is the senior justice of the supreme court other than the chief justice, eight lawyer commissioners elected by lawyers licensed to practice law in Iowa and eight non-lawyer commissioners appointed by the governor and confirmed by the Iowa Senate. With the exception of the commission chair, membership on the commission is limited to one six-year term. Terms are staggered. The Iowa Constitution requires that commission members be chosen without regard to political affiliation.

Iowa's process for selecting judges through the use of nominating commissions is known as merit selection. Iowa voters approved the merit selection process in 1962 by constitutional amendment. Merit selection is designed to emphasize the professional qualifications of applicants for judicial appointment and minimize partisan politics. In keeping with this design, the commission puts applicants for judicial office through a rigorous and thorough screening by reviewing extensive information about each applicant's background, education, professional skills, and experience. After the interviews, the commission sends the governor a slate of nominees. Iowa law requires nominees to be chosen "upon the basis of their qualifications and without regard to political affiliation." The governor is required to pick the new justice from this slate.

Important Notice to Applicants: To be eligible for appointment to the court, a person must be a resident of the state, licensed to practice law in Iowa, and must be of such age that they will be able to serve an initial and one regular term of office before reaching the age of 72.

The names and addresses of the State Judicial Nominating Commission members and secretary are:

Chairperson
Justice David S. Wiggins
1111 E. Court Avenue
Des Moines, IA 50319
david.wiggins@iowacourts.gov

Secretary
Todd Nuccio
State Court Administrator
1111 E. Court Avenue
Des Moines, IA 50319
appellate.vacancy@iowacourts.gov

Elected Lawyer Members

Henry Bevel
528 West 4th Street
Waterloo, IA 50704-1200
bevel@s-c-law.com

Christine Conover
115 Third Street SE, Suite 1200
Cedar Rapids, IA 52401
cconover@simmonsperrine.com

Martin Diaz
1570 Shady Court NW
Swisher, IA 52338
marty@martindiazlawfirm.com

Dorothy O'Brien
2322 East Kimberly Road, Ste. 100E
Davenport, IA 52807
dao@emprights.com

Jeff Goodman
1501 42nd Street, Ste. 300
West Des Moines, IA 50266
jeff@golawpc.com

Connie Diekema
699 Walnut Street, Ste. 1900
Des Moines, IA 50309
cdiekema@finleylaw.com

Suzan Boden
613 Pierce Street
Sioux City, IA 51102-1557
sboden@siouxcitylawyers.net

John Gray
1128 Historic 4th Street
Sioux City, IA 51102-1557
john.gray@heidmanlaw.com

Appointed Members

Kathy Pearson
150 Thompson Drive SE, #120
Cedar Rapids, IA 52403-1740
kpearson@kaas-emp.com

Lance Horbach
136 Hillcrest Ridge
Montezuma, IA 50171
lance.horbach@insurecentraliowa.com

Helen Sinclair
2208 560th Avenue
Melrose, IA 52569-8502
hsinclair@moes.biz

Steve Berger
1452 128th Place
Wellman, IA 52356
berger@netins.net

John Bloom
4820 Elm Street
West Des Moines, IA 50265-2995
john.bloom52@gmail.com

Dr. Christina Taylor
495 77th Place
West Des Moines, IA 50266
ctaylor@iowaclinic.com

Steve Sukup
1405 North Shore Drive
Clear Lake, IA 50428-1237
ssukup@sukup.com

Patricia "Trish" Roberts
732 San Salvador Avenue
Carroll, IA 51401
trroberts@hotmail.com