The Office of Congressional Ethics found "substantial reason to believe" Representative Rod Blum failed to accurately report all of his business interests on his disclosure forms, and also "substantial reason to believe" the internet company Tin Moon misused Blum's official photo and "utilized deceptive, false, or unsubstantiated endorsements."
In a referral approved in July and first published today, the non-partisan office asked the U.S. House Ethics Committee to further investigate possible violations of "federal law, House rules, and standards of conduct." The report further recommended that the House committee subpoena Blum and top associates, who refused to cooperate with the OCE review. But don't expect any more shoes to drop: having lost his re-election bid, Blum will not be subject to the committee's jurisdiction in a couple of weeks.
The full report and supporting exhibits are well worth reading. I've enclosed those documents at the end of this post, along with Blum's combative response to the findings. Some noteworthy highlights:

FAILURE TO FULLY DISCLOSE BUSINESS HOLDINGS
The ethics inquiry stemmed from an investigation by Ryan Foley of the Associated Press. He reported in Febuary that Blum's personal financial disclosure form covering 2016 did not mention his ownership stake in Tin Moon. The OCE cited federal law and House rules regarding such disclosures on pages 7 through 9 of its report.
Blum characterized the omission as an "administrative oversight" of no significance, since Tin Moon "was worth basically nothing in value" in 2016. The OCE determined otherwise (pp. 10-11, p. 14, 16).
The OCE found that Rep. Blum likely made a $700 investment from his personal funds into Tin Moon. However, in 2016, Digital Canal, Rep. Blum's other company, invested at least $130,000 into Tin Moon via a software licensing agreement between Tin Moon and GMP.55 This agreement likely increased the value of Tin Moon and Rep. Blum's overall interest in the company as a seventy percent owner. […]

58. Contrary to Rep. Blum's public statement that Tin Moon "was worth basically nothing in value and not functioning," the OCE found that Tin Moon has been actively engaged in developing its business since the summer of 2016.84 As early as August 2016, Tin Moon appears to have had employees who were trained in SEO methodologies and software, and by approximately July 2016, Tin Moon's website solicited customers.85

59. Additionally, Tin Moon's 2016 year-end book value and net worth included the value of the $130,000 software license. Rep. Blum held at least seventy percent of the value of this license, which equates to $91,000.
That licensing agreement with the firm GetMePlacement is included in the supporting exhibits (pp. 127-132).
OCE investigators uncovered more possible violations related to Blum's 42 percent stake in a real estate holding company called Salto de Fede, LLC. He reported the company's existence on disclosures covering 2014 but "did not report transactions related to the sale of six Salto de Fede properties in his 2015 financial disclosure statement."
Blum objected that Tin Moon could not have had a "book value" of $130,000 in 2016, when the firm had no clients. His August letter to House Ethics Committee leaders characterized the OCE's conclusion as "ridiculous and unmoored in reality," since investigators "did not deduct (or even take into consideration) TMC's [Tin Moon Corporation's] liabilities, depreciation, and other intangible assets" (emphasis in original). How could they, when Tin Moon refused to provide documents and materials OCE requested?
Blum also accused OCE of engaging a "fishing expedition" by mentioning Salto de Fede, which "ceased operations in 2015 and later dissolved."
USING OFFICIAL RESOURCES TO PROMOTE A PRIVATE BUSINESS
Federal law and House rules prohibit the use of Congressional resources "for any private purpose" (pp. 18-20). For more than a year and a half, until soon after the AP broke this story, the Tin Moon website featured Blum's official photo. Here's a screenshot from February.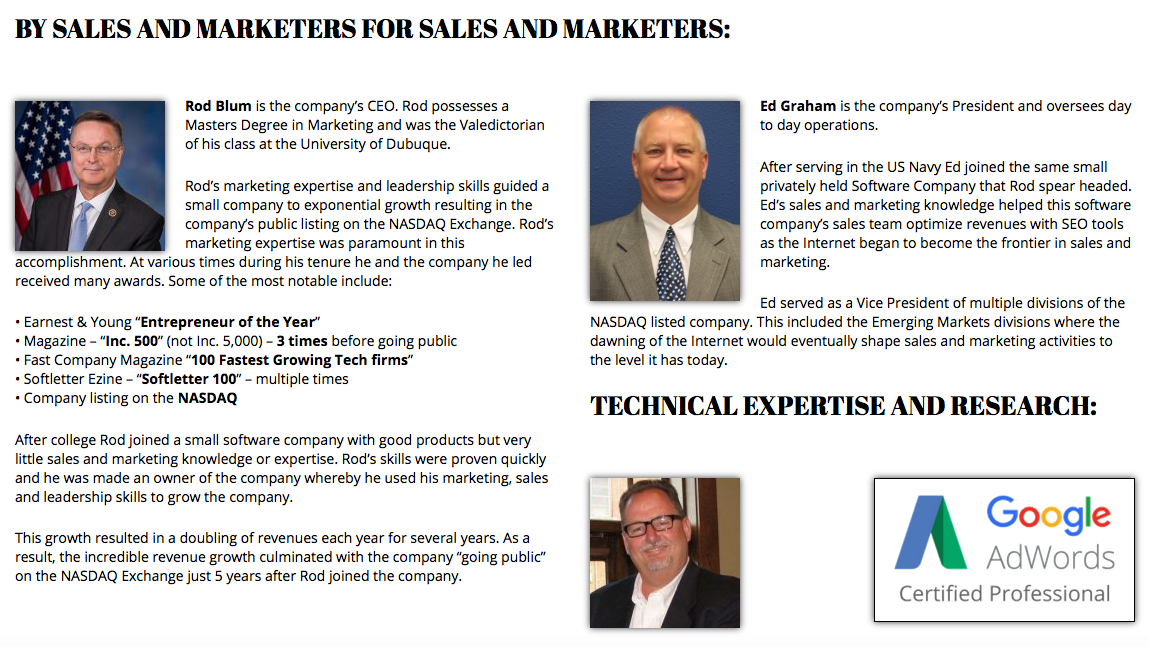 Blum told the AP he had "never seen" the Tin Moon website and told the House Ethics Committee in March that he "did not consent or give permission" to use the photo. Tin Moon's president, Ed Graham, said he put the picture on the website, not realizing it was "problematic" to use an official image. OCE was not able to review communications that could have shed light on how the photo ended up on the website and concluded that "between approximately July 2016 and February 2018, Rep. Blum may not have exercised proper oversight over the operations of his outside business." (p. 22)
In his response, Blum emphasized that he is a "passive investor" in Tin Moon and "entrusted my long-time business partner to run the daily business operations, including the website and marketing materials."
Side note: Tin Moon put up a different photo of Blum within days of the AP scoop and removed the congressman from the website altogether a few weeks later.
USING A CONGRESSIONAL STAFFER IN A FALSE PROMOTIONAL VIDEO
Federal law and Iowa Code prohibit unfair or deceptive acts or practices in business, including advertising, and Federal Trade Commission regulations forbid false "endorsements and testimonials," the OCE noted. (pp. 22-25) Yet Blum's "may have engaged in deceptive trade practices by including false and misleading endorsements in videos and other marketing content on Tin Moon's website."
From July 2016 until late February 2018, the website displayed this video presenting John Ferland as a small business owner and satisfied customer. In truth, Ferland was Blum's chief of staff. I downloaded a copy before Tin Moon took the video down.
Although Ferland declined OCE's requests for records and an interview, investigators were able to piece quite a bit together. (pp. 26-30) Excerpts:
90. The OCE found no evidence that Mr. Ferland ever worked for Digital Canal, or was a client of Tin Moon. In 2016, Mr. Ferland served as Rep. Blum's District Director, working out of the official office in Dubuque.123

91. Additionally, as previously discussed, Tin Moon did not have any clients in 2016. Contrary to the video's representations, Digital Canal and Mr. Ferland could not have been clients of Tin Moon's at the time the video appeared.124
Blum claimed he had never seen the video and denied instructing Ferland to appear in it. Graham concurred that Blum "did not direct, authorize, permit, or in any way empower [him] to use" the video, didn't know it was on the website, and asked him to remove it after the AP reported on the topic.
Although Blum later depicted the video as something Ferland "offhandedly" recorded in Graham's office, OCE noted that a different Digital Canal employee (Kristen Wubben) recorded a video with a nearly identical script during the summer of 2016, and user "rodblum" uploaded that video to YouTube. I saved a copy:
"The scripted nature of these videos seemingly contradicts the explanation that Mr. Ferland's endorsement video was made offhandedly between two friends," OCE noted.
Blum's response to the OCE findings repeated that he was unaware about the Ferland video, which–like his official photo–was taken down "immediately" at his request.
"ADDITIONAL FALSE AND MISLEADING ENDORSEMENTS AND MATERIALS"
The next section of the OCE report addressed the so-called "success stories" on Tin Moon's website. (pp. 30-35) As Bleeding Heartland was first to report in February, those clients were not Tin Moon customers. OCE observed that the website includes "no qualifying statements indicating that these quotes came from anyone other than Tin Moon's clients."
GetMePlacement president Todd McCally spoke at length with the OCE's Helen Eisner. Tin Moon's website still lists McCally as "Chief Technology Officer and Director of SEO Activity and Research." OCE documents refer to him only as "GMP President." From the findings on these purported client testimonials:
116. GMP President recognized four of the quotes as identical to quotes from GMP clients that appear on GMP's website.148 GMP President stated that Tin Moon's use of these quotes was "misleading" and thought it would have been more appropriate to identify the quotes with a disclaimer identifying them as "'representative of work from our tech team.' Just be honest."149

117. GMP President did not recognize a fifth quote on Tin Moon's website from a "Kristen W." which states, "Our Pay Pre Click campaign spend was nearly $200,000 which made the switch to Tin Moon worth it by itself. But, our traffic has increased at the same time."150

118. The OCE found that Kristen W. is very likely Kristen Wubben, the same Digital Canal and Tin Moon employee who appeared in the YouTube video likely falsely describing her experience as a Tin Moon client.151

119. Without cooperation from Tin Moon, the OCE could not confirm the authenticity of Kristen W.'s statement.

120. The OCE found that the Tin Moon website misrepresents data from purported Tin Moon clients and quotes identified as Tin Moon success stories, that actually reflect the experience of GMP clients. Tin Moon may also have fabricated a quote from a fictitious client, who is actually a Tin Moon employee.
In addition, OCE pointed out that Tin Moon's main page still boasts, "11,000 website clients can't be wrong," even though those customers have worked with GetMePlacement, not Blum's company.
OCE discovered another shady practice I hadn't noticed: logos on the "About Us" page "represent awards or endorsements that Tin Moon likely never received." McCally explained that his company didn't include those in its template and speculated that Tin Moon employees must have added them. At this writing, they remain on the site.
In his response, Blum repeated that he was a "passive investor" and not involved with Tin Moon's website. "It is audacious for OCE to wade into Federal Trade Commission and related law as an academic exercise to conjure up this allegation."
Incidentally, I enjoyed reading McCally's entire interview with Eisner (pages 8 through 49 of the supporting exhibits), especially the transcript of GMP President's February 26 phone call with Tin Moon's Graham. I've been called worse than "this crazy blog lady, that's stirring the pot."
I tried without success to reach McCally while writing this piece, and he wasn't happy that I called some of his other contacts in order to understand Tin Moon's business model. He complained to Graham, "I keep getting calls from affiliates that this Bleeding Heartland bitch is talking to." On the other hand, McCally conceded,
I'm wondering if that is maybe misleading and also maybe if something doesn't need to be mentioned on the site about the … Her biggest hang-up is, if everybody uses the same testimonials. […] If maybe something that clarified that on the website would better serve these naysayers that are trying to look ill upon that your company is some kind of a scam.
At this writing, Tin Moon's "success stories" page looks exactly like it did when I researched this topic in February.
An unidentified Blum district staffer was more appreciative of my reporting, telling the OCE's Eisner that he was doing humanitarian work in Guyana when a friend sent him "a bunch of articles" about the breaking Tin Moon story. (page 109 of supporting exhibits)
So I was like, "Oh, that's bad." So I looked at and then there was a "Bleeding Heartland" article that I thought actually was the most thorough but they're a very biased source against us. But I was like, "Oh, that's pretty thorough." So yeah, that's where I got most of my information on Tin Moon.
REFUSAL TO COOPERATE
Finally, the report named seven "individuals and entities that refused to cooperate with the OCE review": Blum, Ferland, Graham, Digital Canal, Tin Moon, Monty Alexander (a sales rep for the company), and Jonathan Van Norman (a former media director and district scheduler/driver on Blum's Congressional staff). The OCE board recommended that the House Ethics Committee subpoena testimony from all seven. "It's unclear whether that occurred," Foley reported for the AP today.
Responding to the report, Blum insisted that he did cooperate initially, adding,
As stated in an e-mail to OCE on April 27, 2018, it is unclear what if any level of response to OCE RFIs would ever be construed to be "cooperation." I learned that whatever was produced to OCE likely would never be sufficient and would generate more unending requests for information. It appeared to me, no matter what or who was produced, it was inevitable that OCE was set to make a referral to the Committee for further proceedings.
This kind of whiny martyr act is one of many things I won't miss about the soon-to-be-former representative for Iowa's first Congressional district.
Appendix 1: Office of Congressional Ethics Report and Findings adopted on July 13, 2018.
Appendix 2: Exhibits supporting the OCE report.
Appendix 3: Letter from Representative Rod Blum to leaders of the House Ethics Committee regarding the OCE findings.