The Dubuque-based company mostly owned by U.S. Representative Rod Blum touts the same 11,000 clients and verbatim "success stories" as several other firms offering search engine optimization (SEO) services around the country.
Tin Moon's existence and connection to Blum became widely known this week following coverage by the Associated Press. Todd McCally, listed on Tin Moon's website as "Chief Technology Officer and Director of SEO Activity and Research," holds similar titles for at least four other companies, several of which promote the same customer testimonials.
The founders of two such firms told Bleeding Heartland today that they and Tin Moon were "affiliates" of McCally's parent company, GetMePlacement.com.

The front page of Tin Moon's website claims "11,000 Website Clients Can't Be Wrong" and displays the following testimonials under "What Our Customers Say":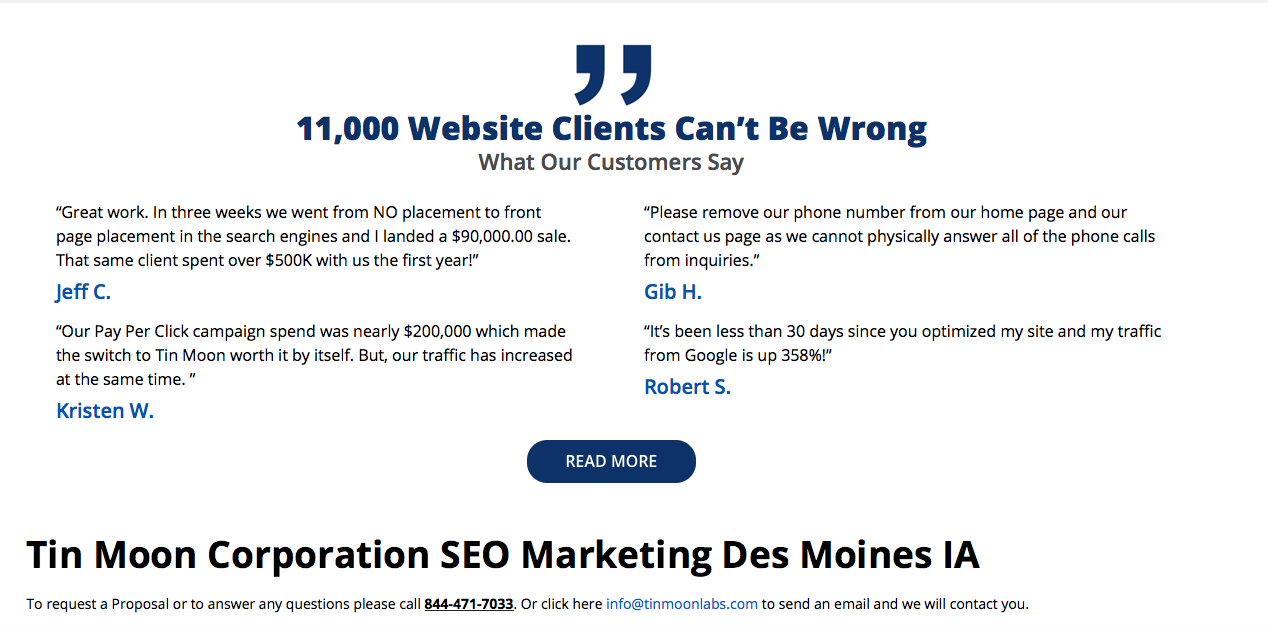 Some of the same quotes appear on a separate page, under the "success stories" tab: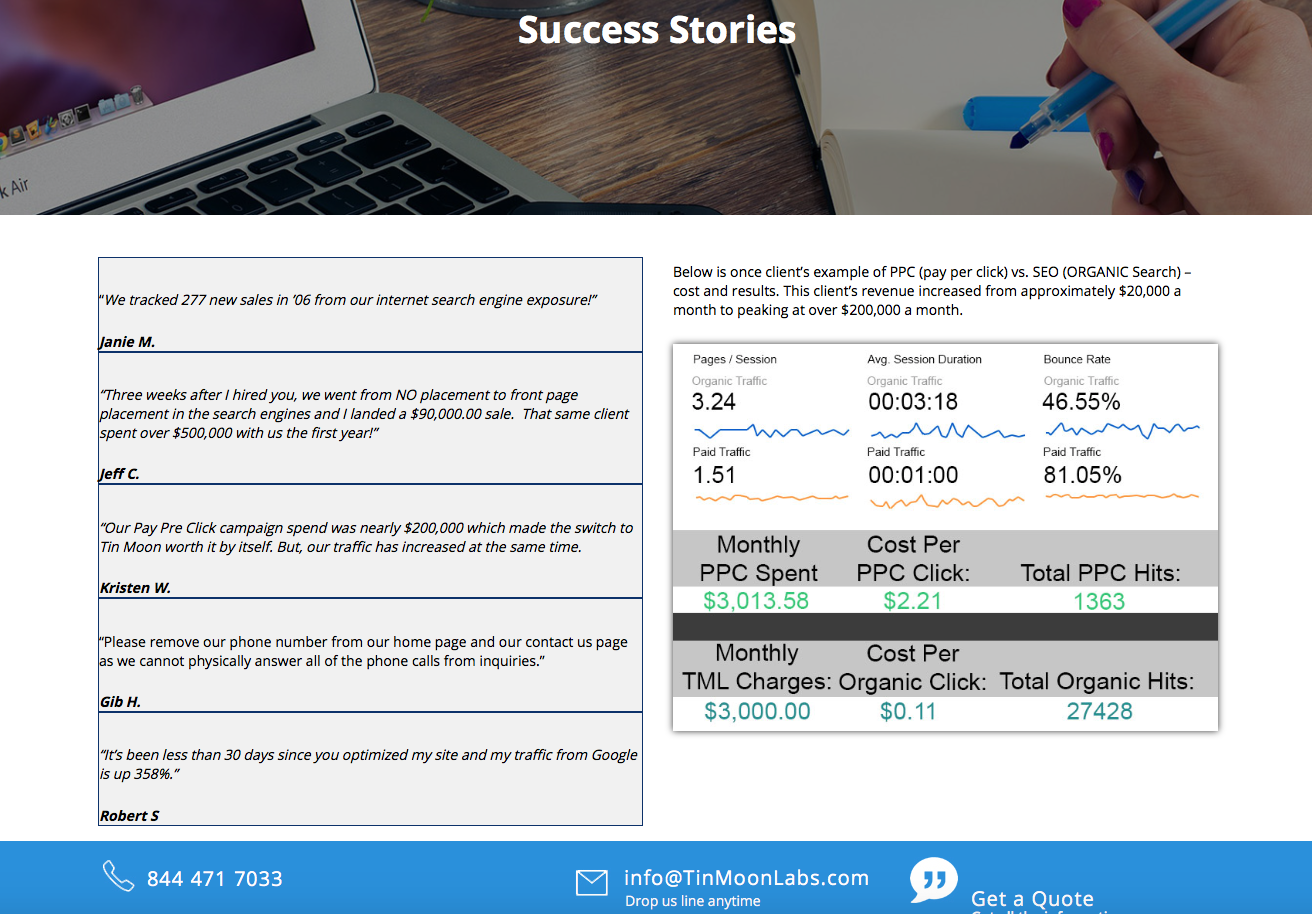 In a February 21 news release and amended personal financial disclosure, Blum claimed Tin Moon was "not a functioning company in 2016." How can the firm have acquired 11,000 customers since then?
Assuming those clients exist, they were customers of some other McCally-linked firm, not Tin Moon.
On the right side of Tin Moon's "Why SEO" page, a visitor sees "one client's report showing PPC (Pay per Click) vs. SEO (ORGANIC Search) – cost and results. This client's revenue increased from approximately $20,000 a month to peaking at over $200,000 a month."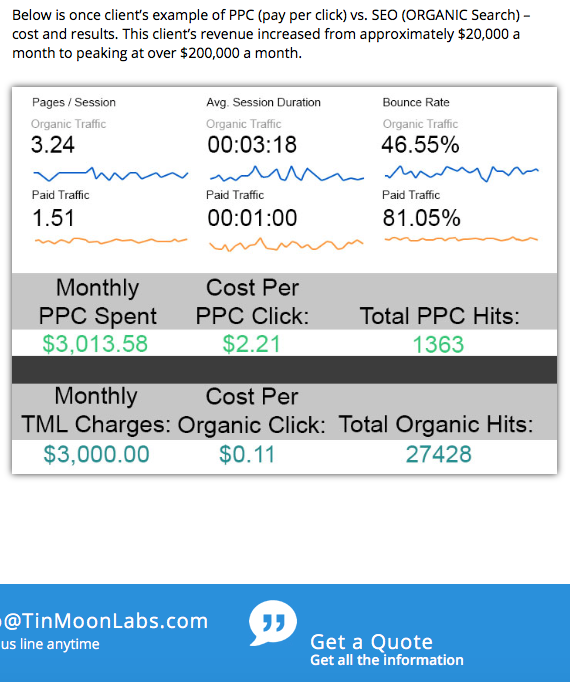 The same report, with identical introductory language, appears on the "success stories" page of Web Edge Digital Marketing, a company based in Tampa, Florida.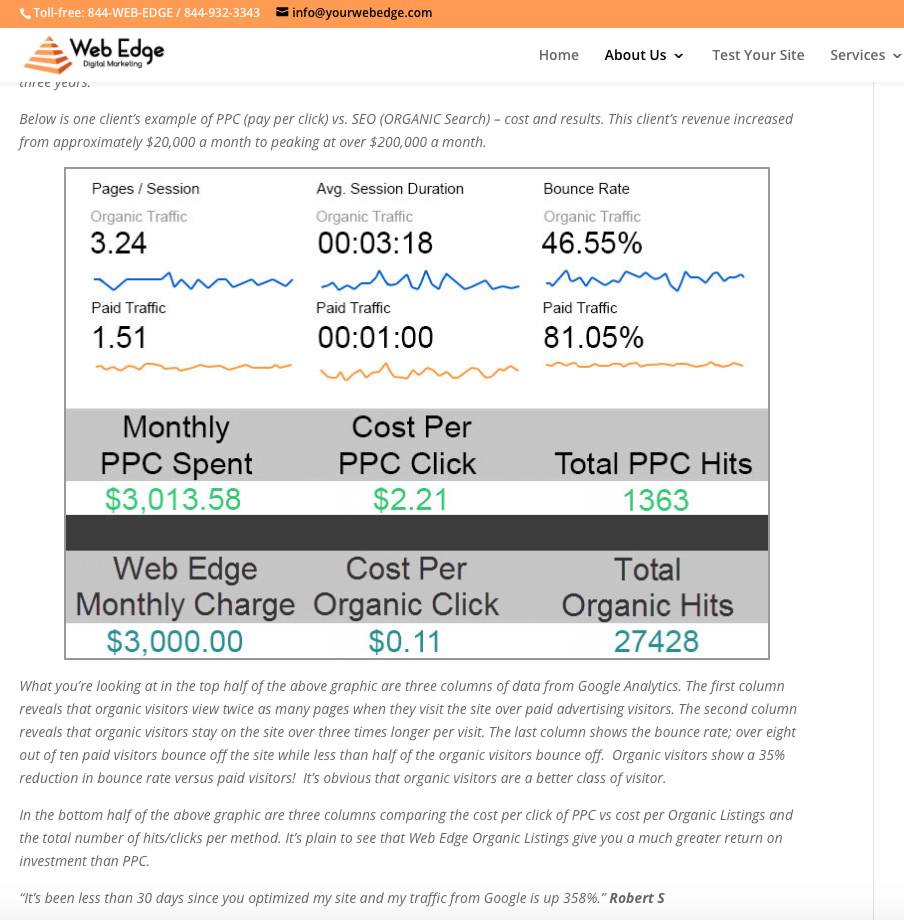 Tin Moon's "About Us" page lists McCally as "Chief Technology Officer and Director of SEO Activity and Research."
Web Edge lists McCally as its "Chief Technology Officer and Director of SEO," with the same description in his bio.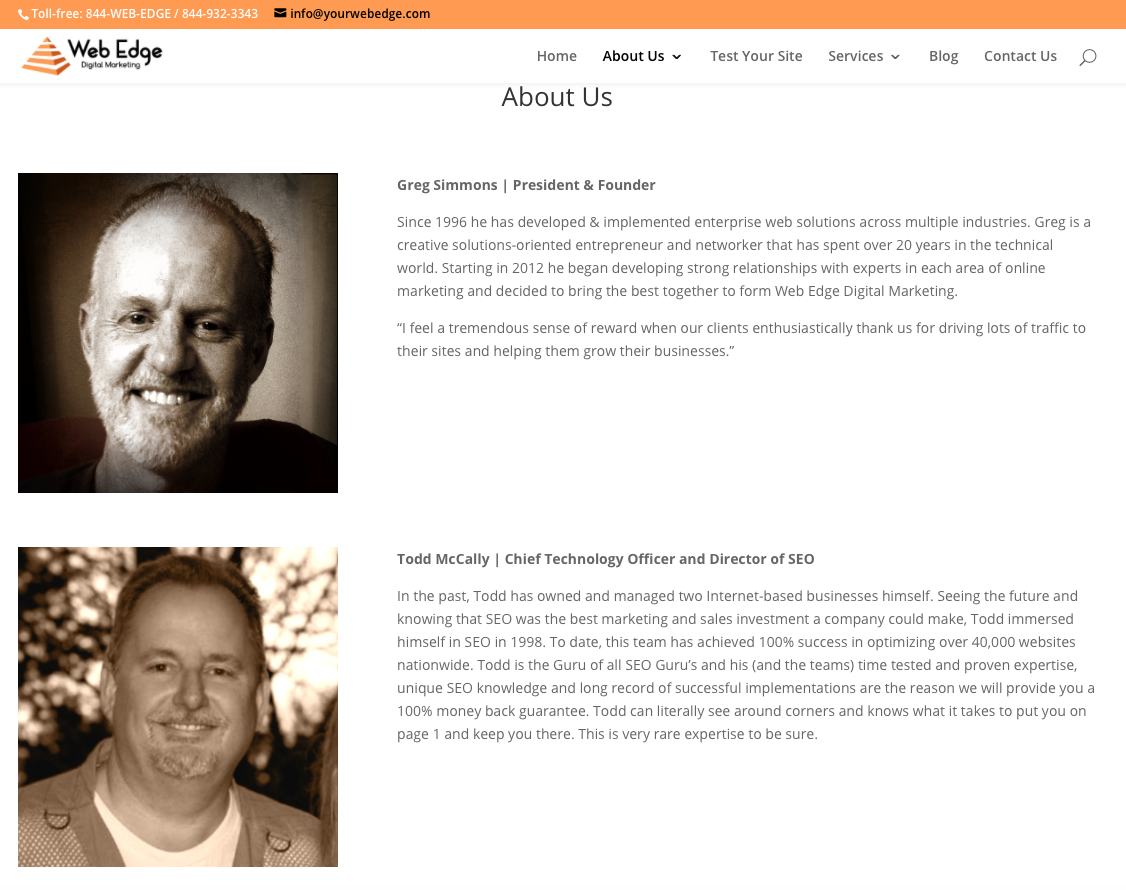 The same testimonials from clients "Janie M.," "Jeff C.," "Kristen W.," and "Gib H." appear on both Tin Moon's site (see above) and Web Edge: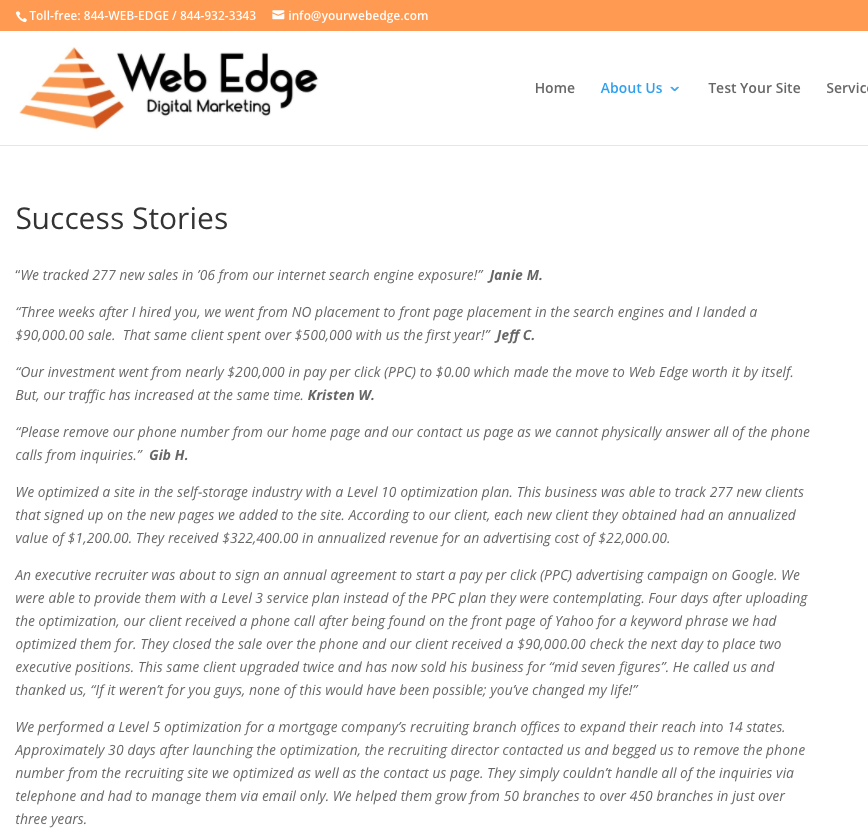 I have been unable to reach McCally, but Greg Simmons, president and founder of Web Edge, spoke to me by phone on February 23. He explained that McCally's company GetMePlacement.com and Web Edge have a "parent company/child company" or "mentoring" relationship. McCally's team handle the SEO work for Simmons' company, and "I lean on them for their reputation."
Simmons does mostly sales and some website design for Web Edge; he uses GetMePlacement for SEO because "when you're a digital marketing company, it's great if you can cover all bases." McCally's company also handles reputation management for some Web Edge clients, occasionally using third parties to do that work.
Ryan Foley reported for the Associated Press that Tin Moon solicits companies that have received warning letters from the Food and Drug Administration. Does Web Edge help push FDA letters down the Google search results? "I haven't heard of that," Simmons told me. "That seems kind of a little bit morally objectionable." His reputation management work has involved trying to downplay online postings like a customer complaint or an unflattering news story, such as failing a health inspection years ago because of a problem long since fixed.
Was Simmons aware that the success stories on his website were identical to those posted on other websites? Yes, "we're all affiliates of GetMePlacement.com." Do the companies have shareholders in common? No, "it's a licensing agreement, so we pay for a software license."
Does it concern him that the success stories are not his clients? "No, it's actually comforting to me, because, you know, I know that this stuff works. And I'm a starting business, I don't really have any client success stories yet. I'm working on them [...] It takes a while to get that kind of data, and that kind of validation."
Simmons found McCally through business broker pages online and "briefly talked to a couple other affiliates" for a sense of how the system works. He told me he's never spoken with Blum, but he did reach out to Tin Moon's President Ed Graham a couple of weeks ago for marketing tips. Graham "was telling me certain things that I didn't realize that I could leverage the parent company for, that he's doing well with."
Simmons had the impression Tin Moon's been in businesses only a few months longer than he has (about a year). "He said also that they really haven't really concentrated on the SEO business as much as their cornerstone business, which I believe is the software business." (Graham is also president of Blum's construction software company Digital Canal.) Simmons said Graham shared some of "what has worked for them" in getting their clients to buy SEO services. I was unable to reach Graham by phone to confirm.
Ty Henderson is founder and chief strategist at Relevance Digital Marketing, a year-old company based in Rockwall, Texas. McCally is listed as Director of SEO.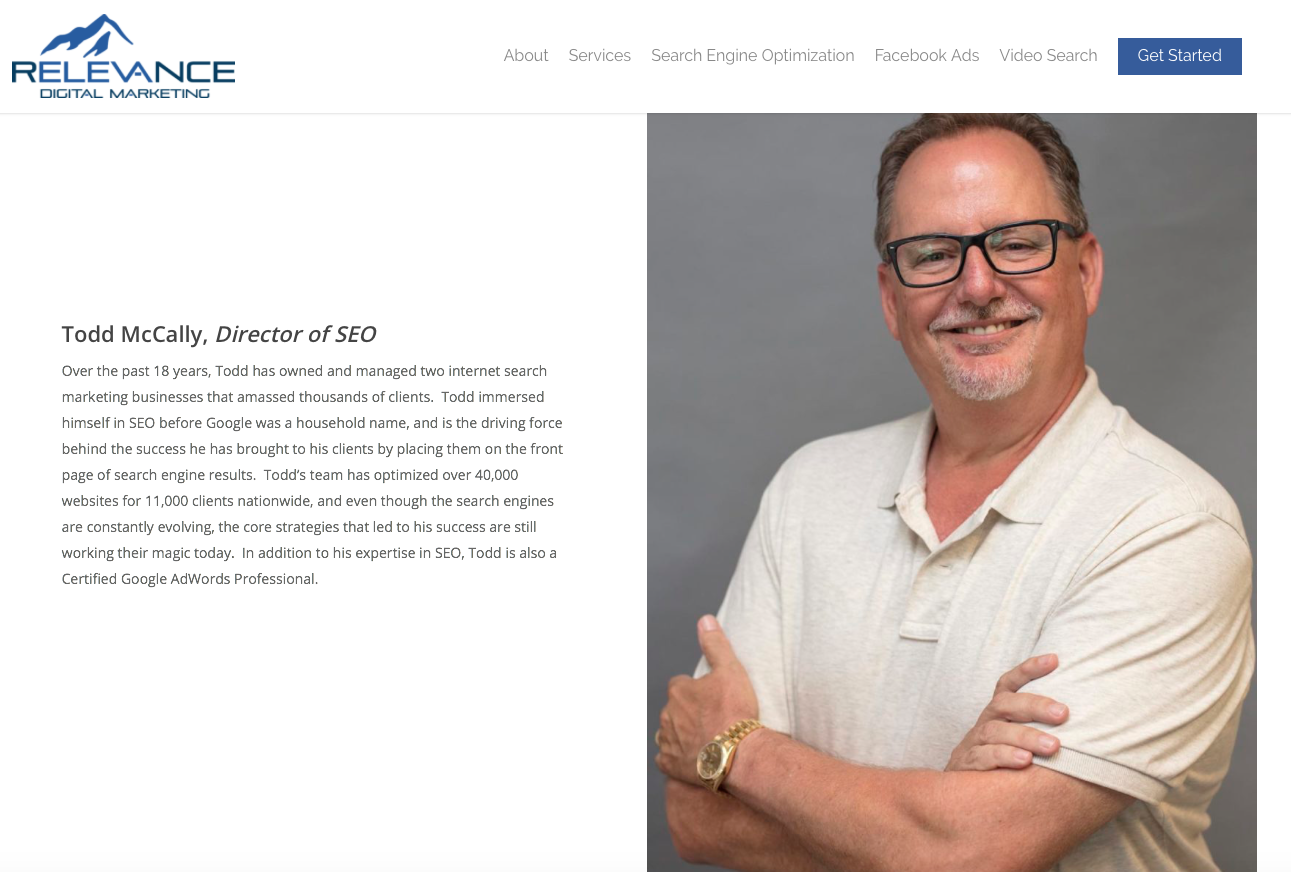 Speaking by phone on February 23, Henderson told me he "bought into an affiliate arrangement with GetMePlacement." He described the terms much like Simmons had.
Henderson has posted McCally's client success stories on his website because "Todd's group does my SEO work. Now, you won't see anything like that regarding any other type of client," for whom Relevance does the work in house. SEO is a relatively small portion of his business, Henderson added. Mostly he offers digital advertising services, especially Facebook ads, along with website development and graphic design.
Relevance also contracts with McCally's group for reputation management, because that's "more of an SEO function." Has his firm marketed services to companies that received warning letters from the FDA? "Oh, not that I know of," he said, laughing. Henderson was perplexed that someone from a Iowa politics website would be interested in his business model. Like Simmons, he was unaware of any of this week's media coverage surrounding Tin Moon and didn't know Blum was a member of Congress before our interview. He said he hadn't dealt with any other GetMePlacement affiliates--just with the parent company.
Seeing identical client testimonials on multiple websites made me wonder whether the whole network of McCally-linked firms might be an elaborate scam. After all, until yesterday, Tin Moon touted a promotional video in which Blum's Congressional chief of staff John Ferland pretended to be a satisfied customer.
Were any of these companies providing real-world services? Henderson assured me that when he has referred Relevance clients to GetMePlacement, the SEO work has gotten done. "It's a real business, absolutely." McCally's company gives "tremendous" support to affiliates. He knew nothing about Tin Moon or Blum, but speculated, "I seriously doubt that Todd has any interest in Iowa politics."
Final note: The website development page on Tin Moon's site cites a "working relationship with The Stevens Company." That firm has the same Dubuque address (2728 Asbury Road) as Tin Moon and Digital Canal, another firm Blum owns. I called several businesses named as customers. All confirmed that The Stevens Company had indeed built their websites.
For those who are interested, other sites that list McCally in a leadership role include First Page Placement: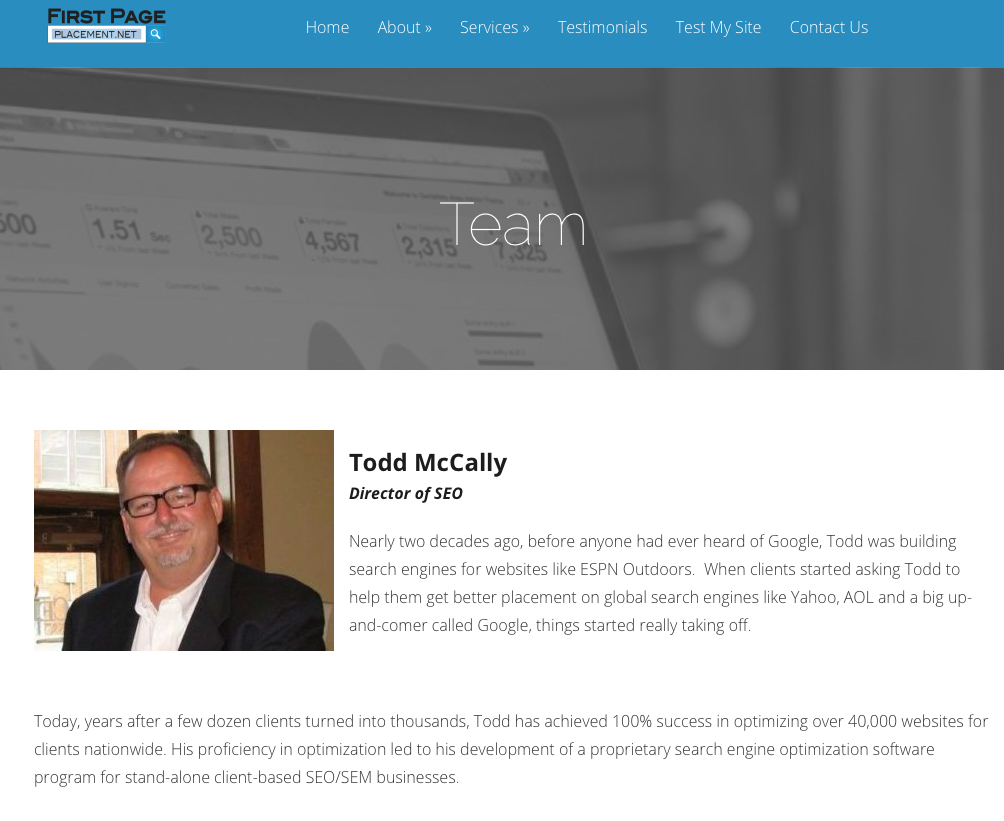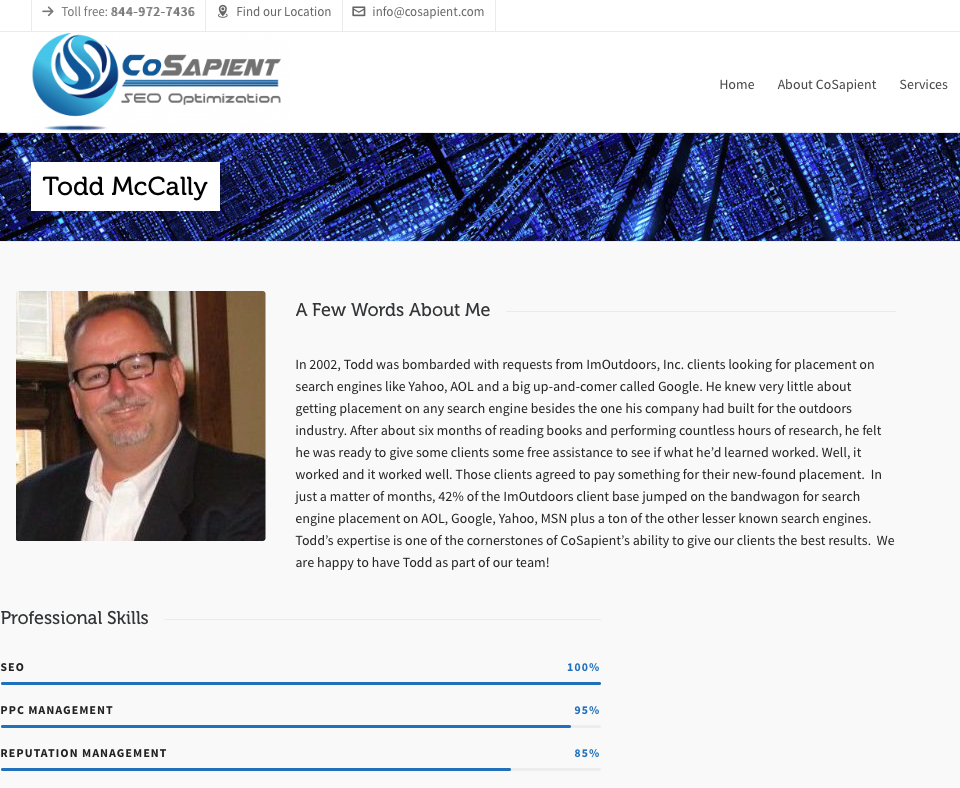 Page One Guru highlights some of the same testimonials: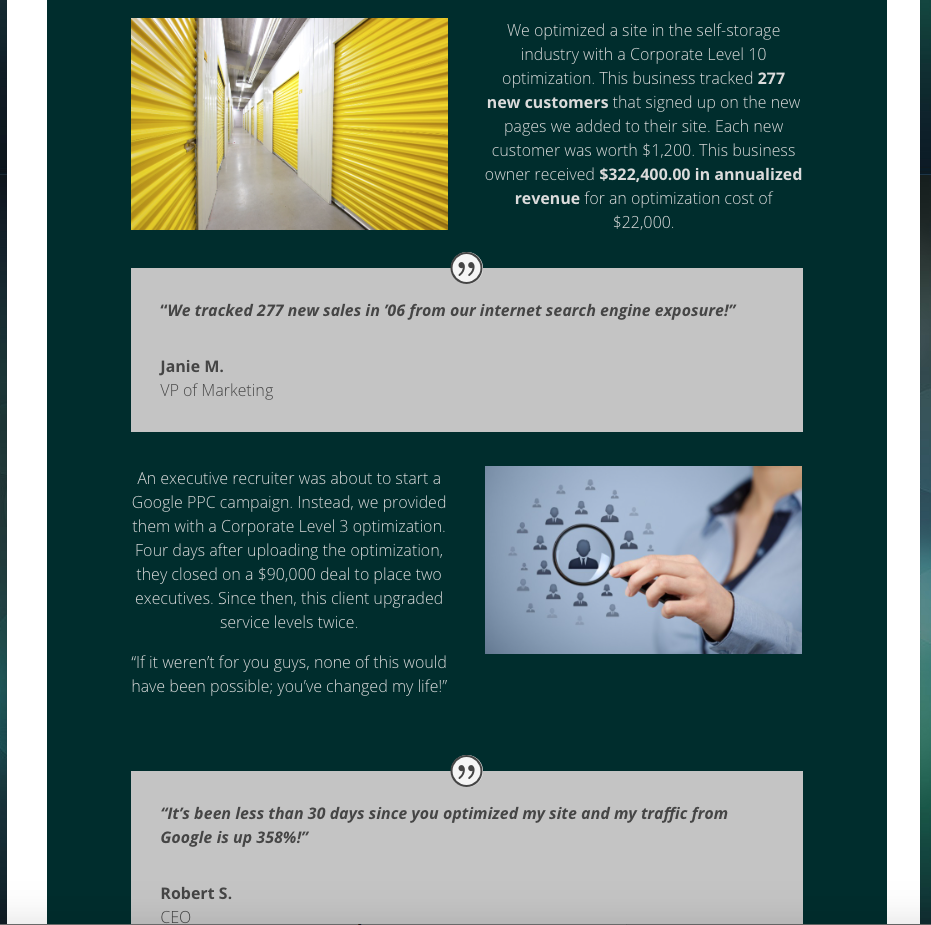 As does First Page Placement: