As signs mount that national GOP strategists are ready to let his district go, two-term Representative Rod Blum seems to be staking his political career on appealing to fans of President Donald Trump.
While some vulnerable Republicans keep their distance from an unpopular president, Blum welcomed Trump to Iowa's first Congressional district in July and continues to praise trade policies that hurt the farm economy. More recently, he has sought attention by portraying himself as the news media's victim.

WHY BLUM'S IN TROUBLE
On paper, IA-01 has only a slight Democratic lean, D+1 on the Cook Partisan Voting Index. Its 20 counties contain 162,660 active registered Democrats, 139,913 Republicans, and 186,753 no-party voters, according to the latest figures from the Iowa Secretary of State's office. Voters in the first district favored Barack Obama in 2012 by a 56.2 percent to 42.5 percent margin but voted for Trump by 48.7 percent to 45.2 percent four years later. Blum outperformed the top of the GOP ticket, winning re-election with 53.7 percent of the vote.
Democrats signaled early last year that Blum would be among their top House GOP targets. The Cook Political Report was the first national forecast to move this seat to the toss-up column last October, followed by Sabato's Crystal Ball in March and Inside Elections/Roll Call this summer. FiveThirtyEight.com's House forecast rates IA-01 as "lean Democrat," giving challenger Abby Finkenauer a 5 in 7 chance to win. Finkenauer and Blum have the same home base in Dubuque, the district's third-largest city after Cedar Rapids and Waterloo. UPDATE: Both Sabato's Crystal Ball and the Cook Political Report changed their ratings on this race to "lean Democrat" on September 6.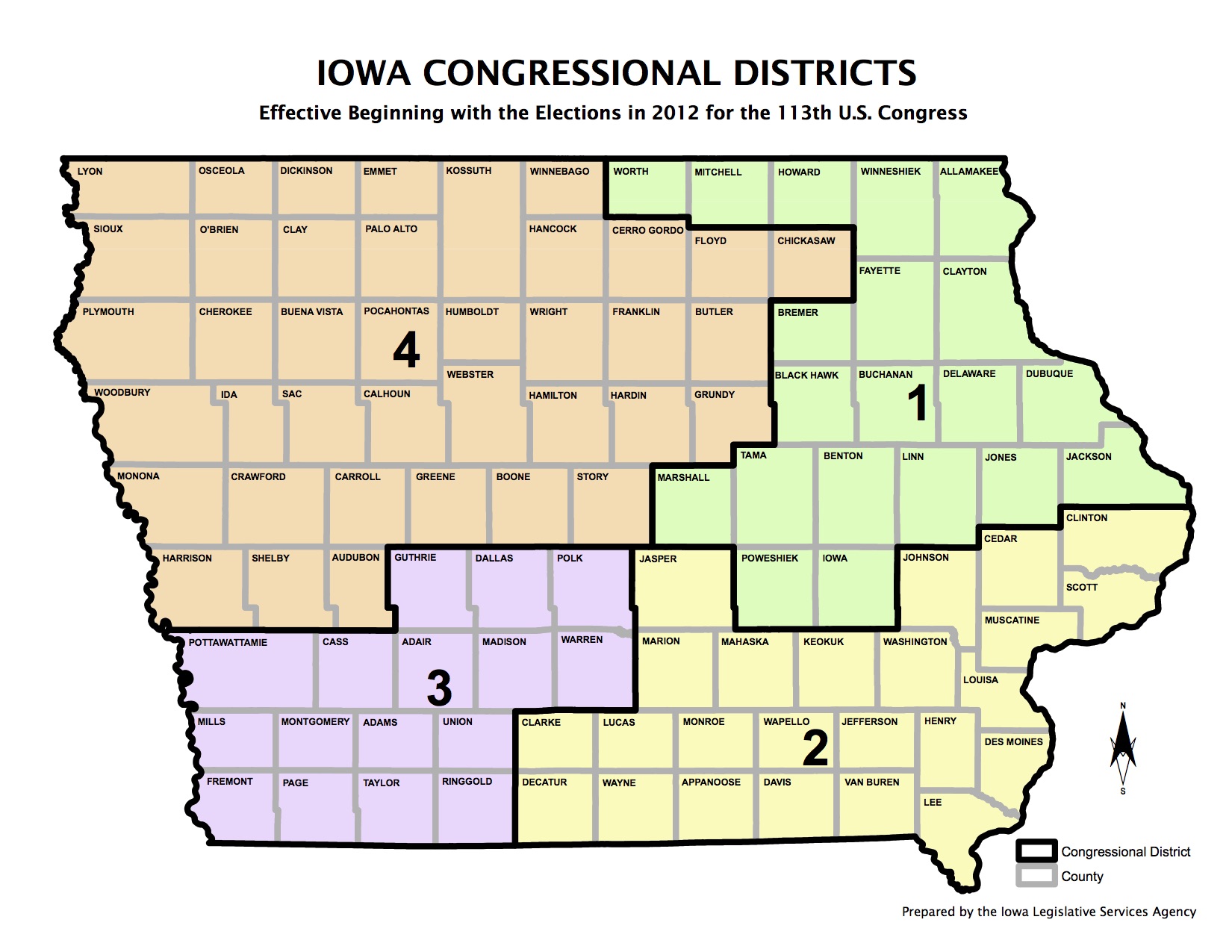 The National Republican Congressional Committee spent $1.6 million in IA-01 during the last cycle, mostly against Democratic nominee Monica Vernon. But the NRCC hasn't reserved air time in Blum's district for this fall. The New York Times reported in early August that IA-01 was among the U.S. House seats "that Republicans see slipping out of reach." Politico's Alex Isenstadt reported on August 31, "Behind the scenes, senior party strategists have begun polling to determine which incumbents may be beyond saving." Blum is one of the House Republicans "most in jeopardy of getting cut off."
Outside spenders often take their cue from party committees. Many conservative groups paid for advertising or direct mail in IA-01 in 2016. The most generous was the American Action Network, which spent nearly $700,000 against Vernon. The cavalry will likely focus on saving other Republicans this time.
With more than $1.6 million cash on hand as of June 30, Blum has the resources to run a district-wide campaign. He should also be able to self-fund if necessary, having loaned his campaign $100,000 in 2014 and another $500,000 last year. Nevertheless, being abandoned by his party would hurt his prospects. Finkenauer out-raised the incumbent during the second quarter and can expect plenty of help from Democratic-aligned groups.
Blum needs a strong turnout from aggrieved voters who helped swing northeast Iowa so heavily to Trump two years ago. Cultivating an image as the target of unfair media attacks appears to be part of his strategy.
A TRUMP-LIKE CAMPAIGN AGAINST JOURNALISTS WHO EMBARRASSED HIM
I can't recall observing a more thin-skinned elected official than Blum. Maybe he's always had that personality, or maybe his trouble handling criticism stems from his relatively late start to politics. (He was in his mid-50s the first time he ran for Congress in 2012.)
Blum's meltdown during a May 2017 interview was quite the spectacle. KCRG reporter Josh Scheinblum questioned the unusual policy of checking IDs before town-hall meetings. Blum said he wanted to make sure those who attended were his constituents. Some might say he represents all Iowans, that the decisions he makes in Congress affect the whole state, Scheinblum countered. "I don't represent all Iowans," Blum replied. "I represent my–the first district of Iowa. That would be like saying, shouldn't I be able to, even though I live in Dubuque, go vote in Iowa City?"
When Scheinblum asked a logical follow-up ("Would you still take donations from a Republican who lived in Iowa City?"), Blum lost it. "I'm done. This is ridiculous, this is ridiculous. He's gonna sit here and just badger me." He stormed out of the room less than two minutes after the interview began, muttering about the reporter's allegedly "unbelievable" conduct.
That incident generated some unflattering national press for Blum, so you'd think he would avoid calling attention to it now. Many politicians would have found a way to smooth things over with KCRG, the most-watched station for local news in the district. (The Cedar Rapids market covers most of the IA-01 counties.)
Instead, this past week Blum alluded to the clash in a post from his campaign's Facebook page. Note that he misrepresented Scheinblum's query, which was about a hypothetical GOP donor from Iowa City, not out of state.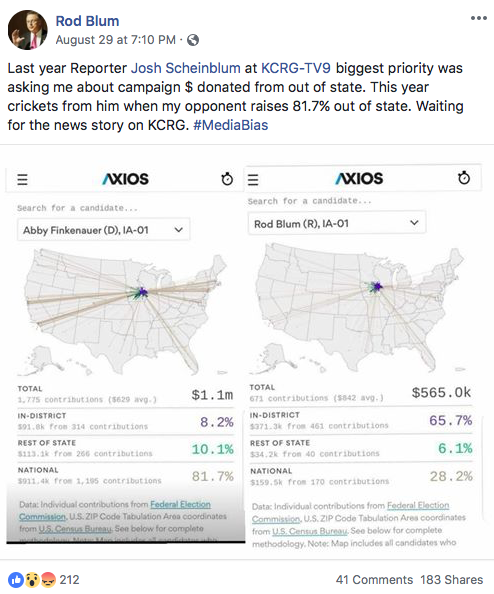 Blum's next target was Associated Press reporter Ryan Foley. Whose fault was it that Foley was able to write this lede about the shady internet company Tin Moon in February?
A congressman from Iowa violated House ethics rules by failing to disclose his ownership role in a new company, a mysterious outfit that featured his top federal staffer in a false testimonial promoting its services, an Associated Press review shows.
At that time, Blum denounced the "politics of personal destruction" and blamed the "Democrat attack machine" for treating his "administrative oversight" as a scandal. He also claimed his business "was worth basically nothing in value and not functioning," even though Tin Moon's website featured phony "success stories" and claims of 11,000 satisfied clients.
Foley incurred Blum's wrath again in June, asking why his office "spent $400,000 on mass mailings and mass communications" from January 2017 through the first quarter of this year, more than anyone else in the U.S. House. Before AP published that story, Blum took to Twitter complaining about the inquiry.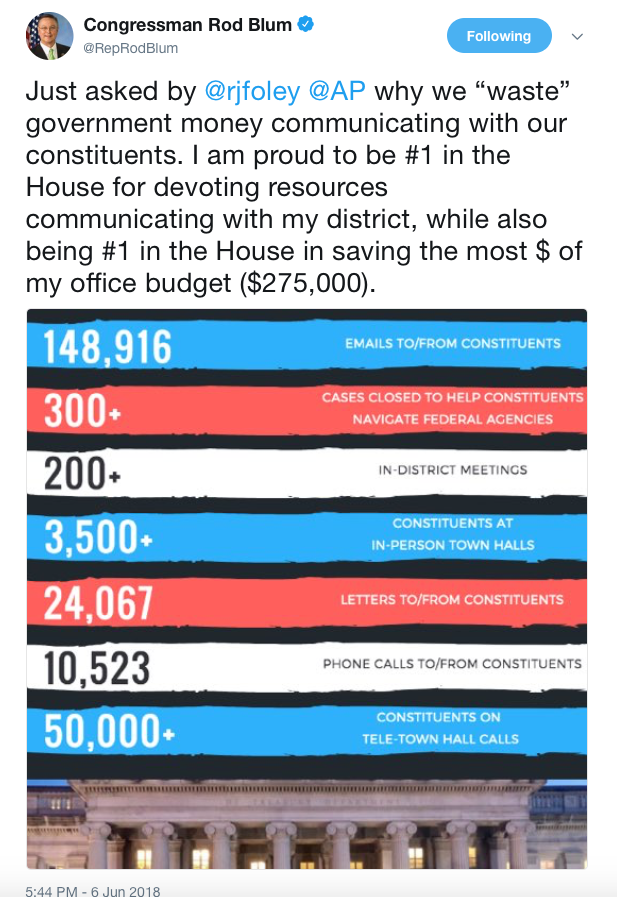 Foley defended his question, noting that "My email to your spokeswoman also never used the word 'waste' – but did use variations of 'spend' three times." Blum (or perhaps a staffer handling social media) fired back: "Nice try Ryan. You're implying that communicating with our constituents is wasteful spending. Why wasn't your question why we saved more money than any other House office? Maybe because you're biased?"
No one should be surprised a journalist asked about outsized expenditures of taxpayer funds on constituent mail. Iowa's other three U.S. House members "collectively spent less than $20,000 on such communications" during the same period Blum's office spent $400,000, Foley reported.
The story is also newsworthy because many of Blum's official Congressional mailings resemble campaign materials. This one reached voters in Linn County a few weeks ago. The front features a quote from Vice President Mike Pence giving Blum credit for the Trump administration's approval of federal funding for a flood wall in Cedar Rapids. Bleeding Heartland published pictures of several other taxpayer-funded Blum mailings here.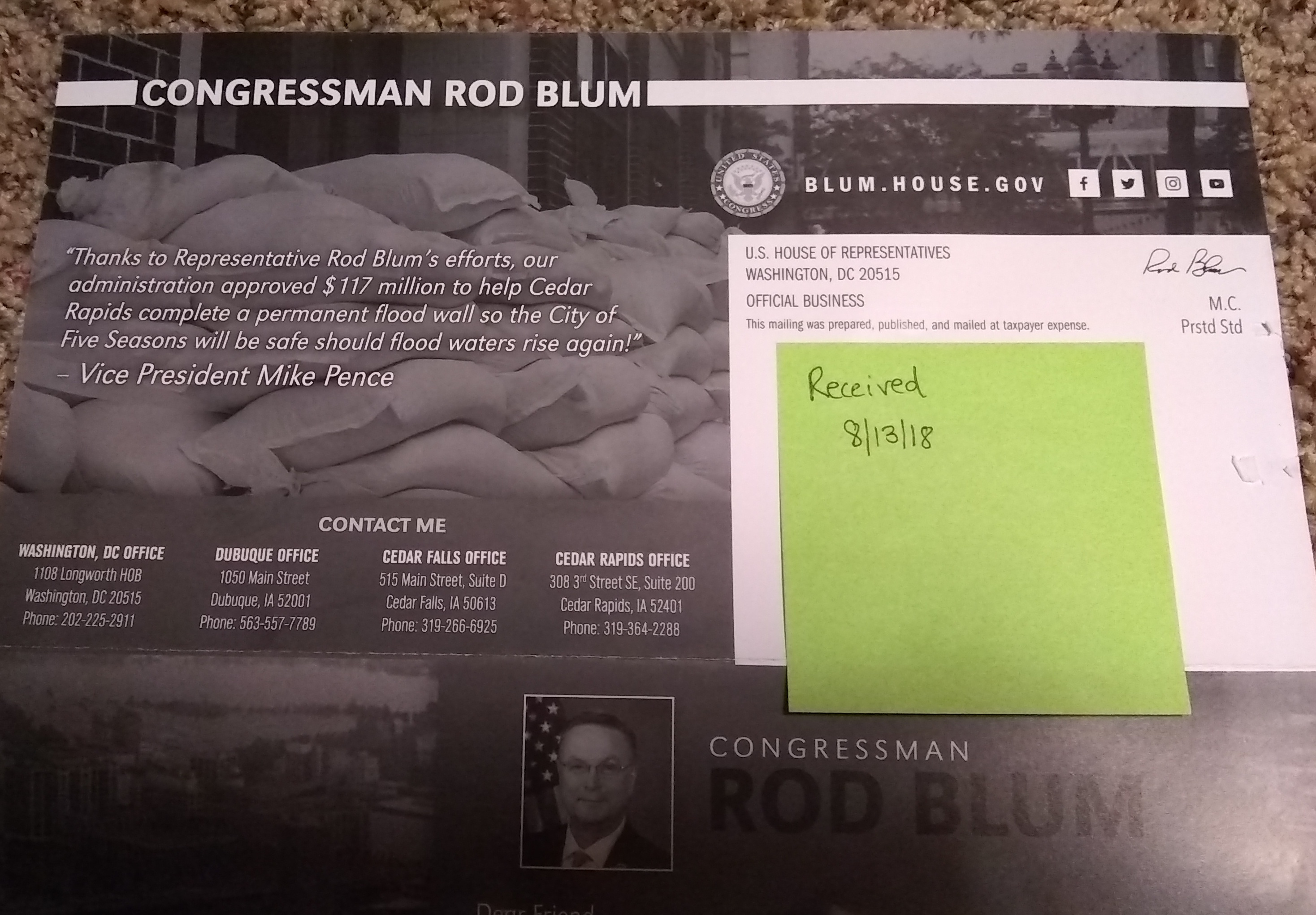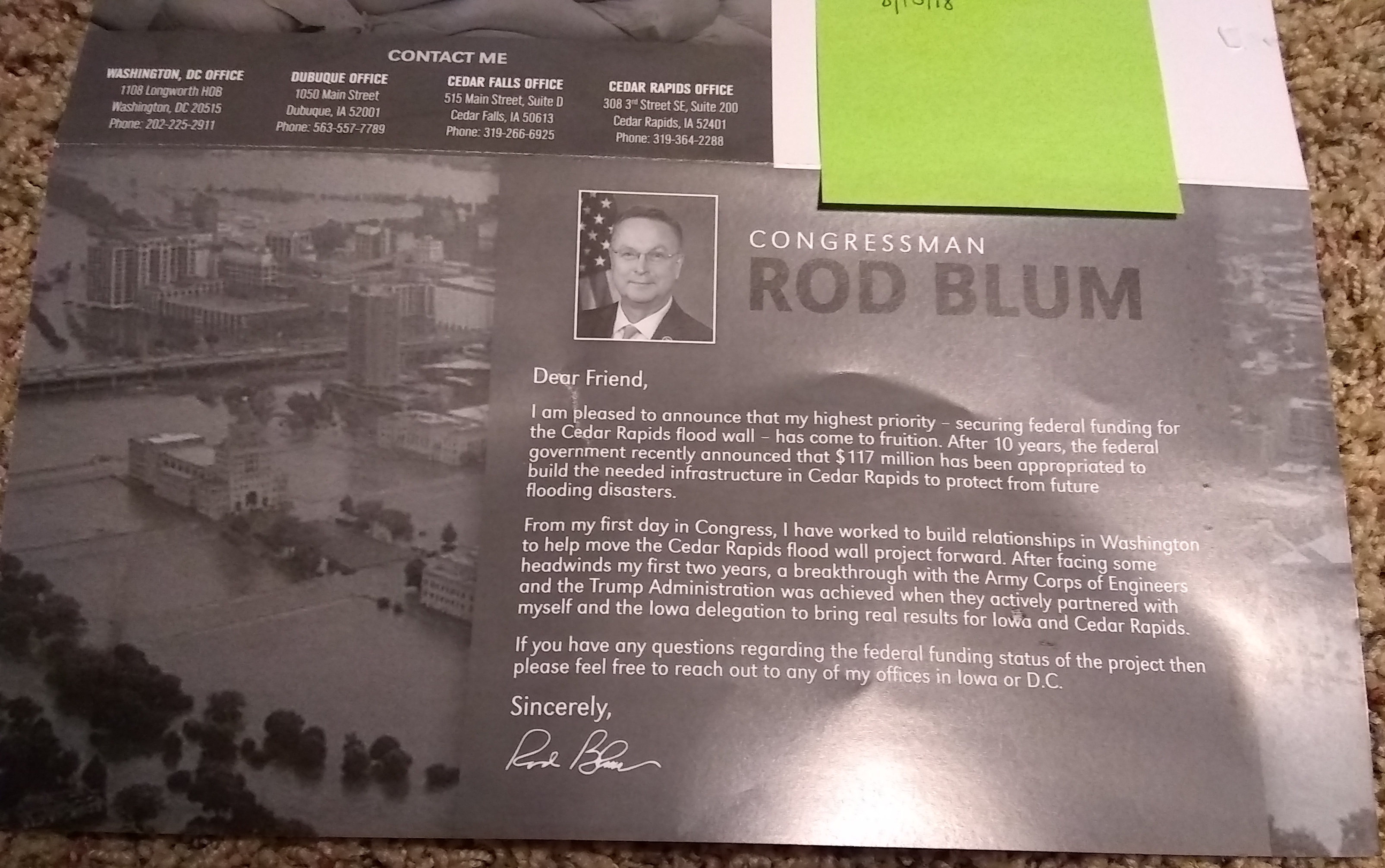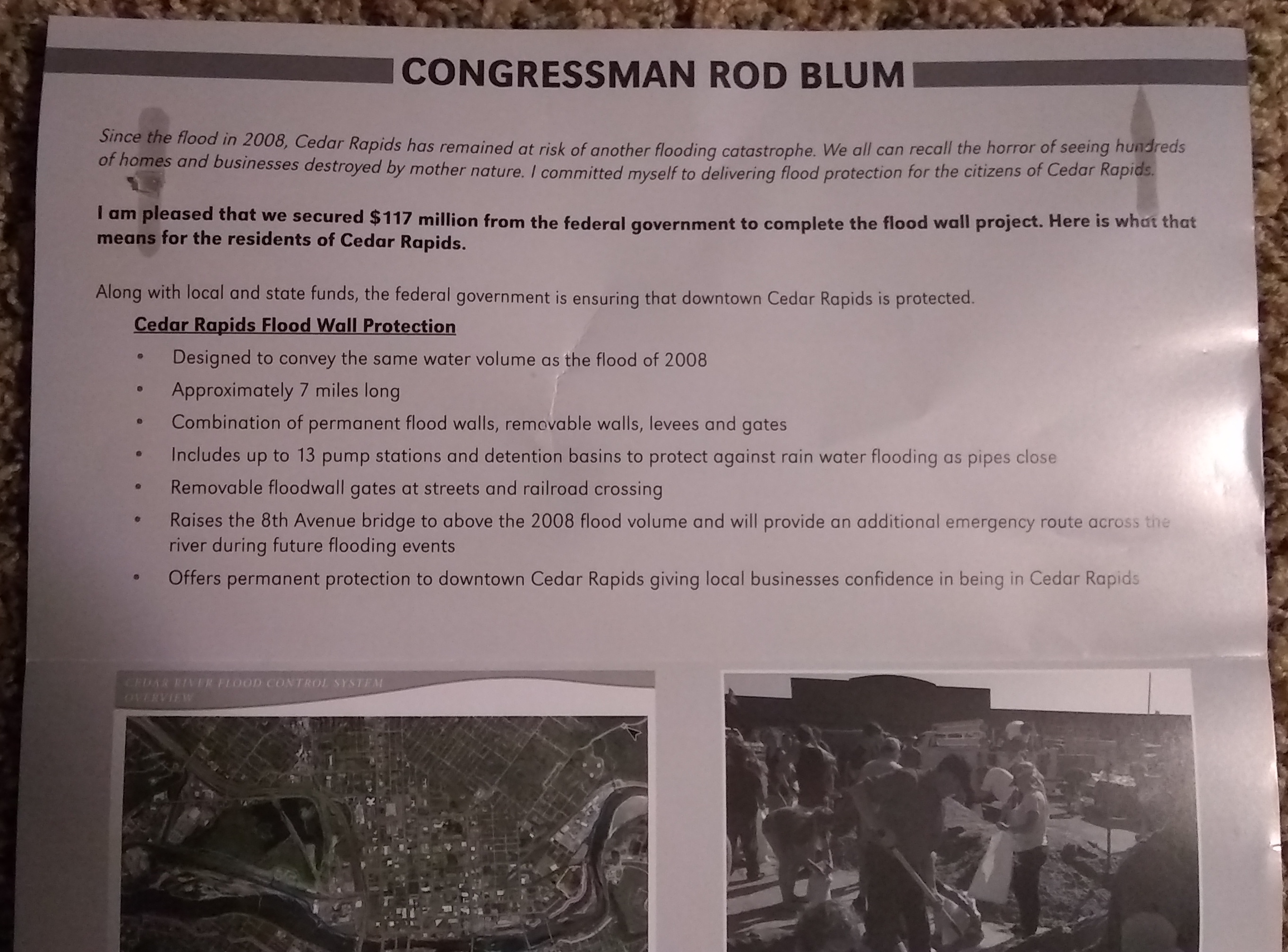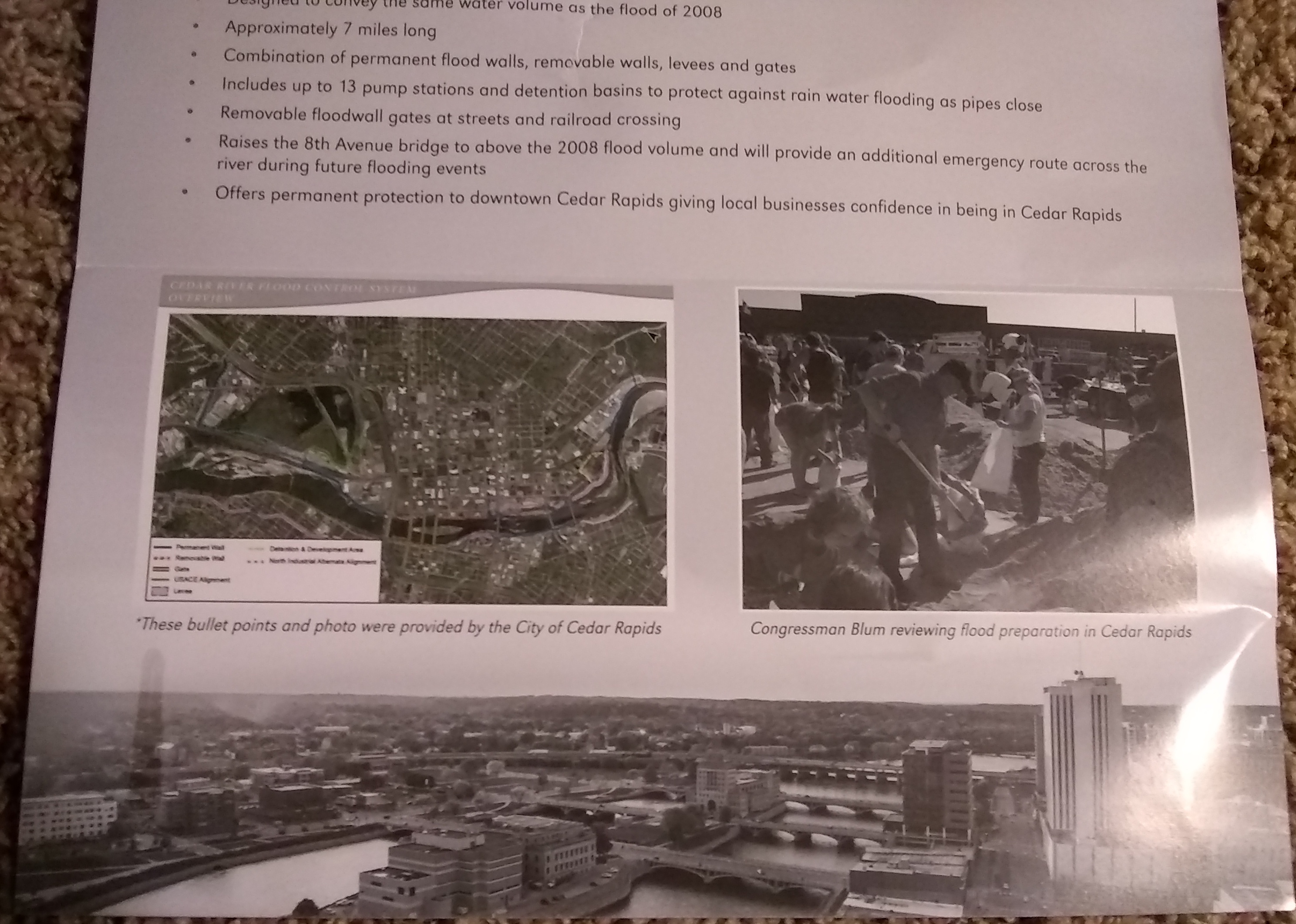 In any event, Blum took his grudge against Foley to another level on August 31.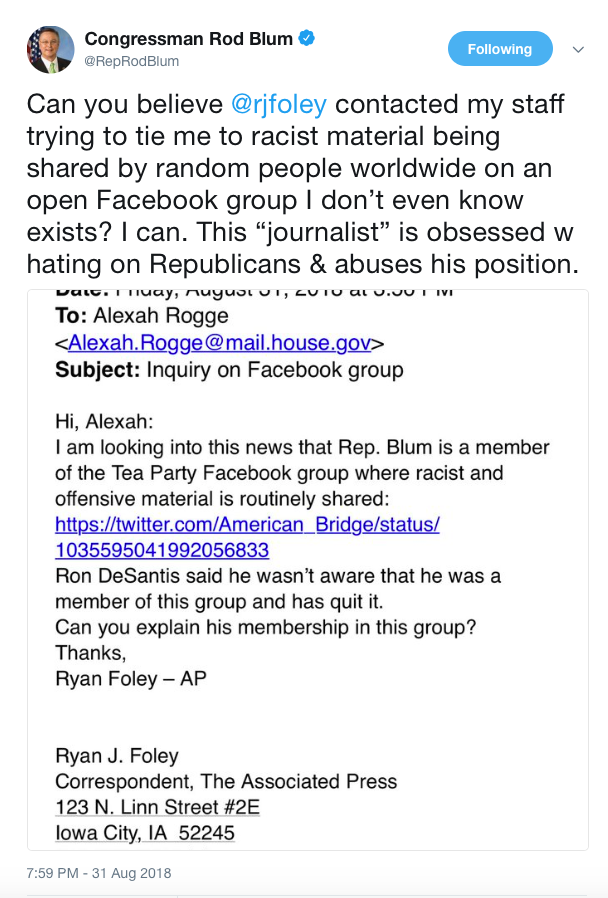 "Hating on Republicans" would be publishing a story about that Facebook group without giving Blum's office a chance to respond. Foley even suggested a way out: "Ron DeSantis said he wasn't aware that he was a member in this group and has quit it." All Blum's staffer needed to say was hey, we've never heard of that group, it looks like someone added the congressman years ago and he's never actively participated.
But no, Blum tweeted out a picture of Foley's e-mail, doxxing him in the process. It wasn't the first time Blum had posted this reporter's cell phone number on Twitter, but this tweet garnered much more attention. Numerous people pointed out that Twitter's policies prohibit sharing personal information, such as "non-public, personal phone numbers," without consent. Several national publications reported on Blum's unprofessional conduct. The Hill, one of the most-read websites in Washington, went with the headline, "GOP lawmaker tweets out reporter's cell number over emailed question."
Blum deleted the offending tweet on September 2, but incredibly, his office re-posted the attack, this time with a cropped photo excluding Foley's contact information.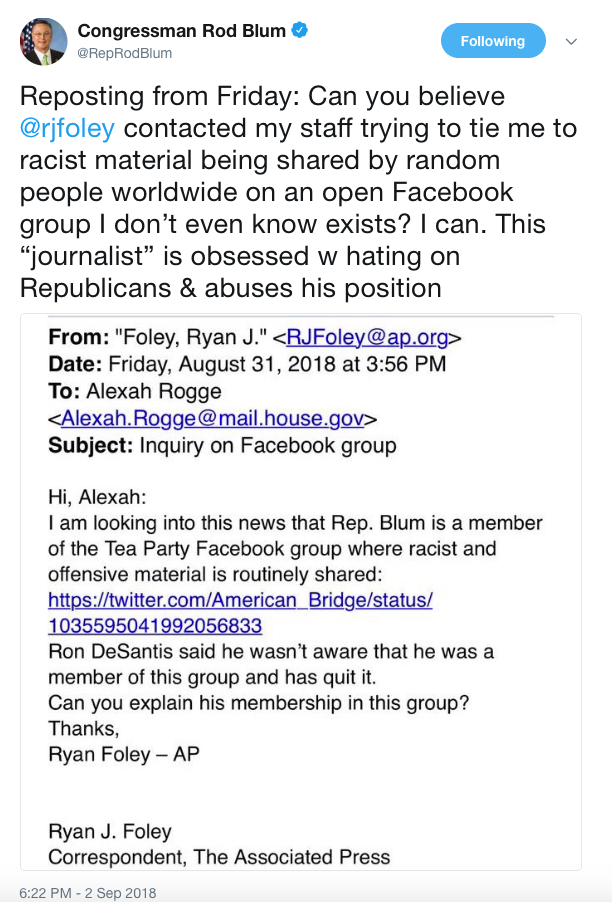 Like the president he has embraced, Blum wants badly to be seen as the victim of a "journalist," in scare quotes.
And like Trump, Blum hasn't learned yet to stop tweeting when he's in a hole.
UPDATE: Foley reported on September 4 that "The House Ethics Committee is investigating whether U.S. Rep. Rod Blum of Iowa violated any rules" in connection with the internet company Tin Moon. Investigators will announce their findings by December 17. Although Blum has amended his personal financial disclosure form to list his ownership stake,
Experts on House rules have told AP that Blum and his chief of staff John Ferland also may have committed other violations.

Since 2016, the company had promoted itself with an online ad in which Ferland falsely posed as a satisfied customer. The ad said that Ferland was a representative of Digital Canal, a software company that Blum also owns.

Ferland has never had any role with Digital Canal and was director of Blum's congressional district office at the time. He has said he recorded the video at the request of Graham, who is president of Digital Canal and the treasurer of Blum's re-election campaign. The company took down that video after AP's story, which noted that House resources can't be used to promote private businesses.

The company also eventually removed any reference to Blum on its website, which had featured an official photo of Blum wearing his congressional pin and referred to him as Tin Moon's CEO.
Here's that video:
SECOND UPDATE: Iowa Starting Line reported on September 5 that there's a catch with the federal funding for the Cedar Rapids flood wall:
Last month, city leaders were informed by the U.S. Army Corps of Engineers that $41 million of the federal funding that was announced in July will instead be a low-interest loan that the city must repay over 30 years. That would present a significant increase in costs to the city to build the wall needed to prevent against future catastrophic floods.

Mayor Brad Hart and City Manager Jeff Pomeranz wrote to Congressman Rod Blum in early August about their "grave concern" that Cedar Rapids may not receive the full $117 million.
Click through to read the letter in full.
Meanwhile, an uncharacteristically sloppy September 5 story by Barbara Rodriguez for the Des Moines Register let a staffer for Blum smear journalists.
"We have great relationships with most reporters in our district — those who report the facts, those who choose to report on newsworthy topics affecting our communities, and those who do not let their biased viewpoints impact their reporting," said Alexah Rogge, Blum's communications director, in an email. "Unfortunately, there has been an ongoing concern with a few reporters who neglect these pillars of responsible journalism in exchange for advancing their own personal, biased opinions."
As originally published, the Register's article failed to provide any context on Foley's past coverage of Blum. The Register later updated the article with a statement from Associated Press editor Scott McFetridge, defending Foley's work and noting that his "exclusive reporting prompted the House Ethics Committee investigation that was announced yesterday into Congressman Blum's previously undisclosed business that he started while in Congress."
Still, a "he said/she said frame" doesn't adequately inform the Register's readers about what is really going on here. No one has refuted any facts in AP's reporting about the internet company Tin Moon or Blum's spending on taxpayer-funded mailings to constituents. Those articles were not "personal, biased opinions," they were grounded in newsworthy, verifiable facts about a member of Congress.
Final note: Rodriguez inaccurately stated that "Blum's district voted heavily for Trump in 2016." As mentioned above, Trump outpolled Hillary Clinton in the IA-01 counties by only 3.5 percent. A large swing toward Republicans in presidential voting (from a 56.2 percent to 42.5 percent margin for Obama in 2012 to 48.7 percent to 45.2 percent for Trump) is not the same as a large majority for Trump in the last election.